The blockbuster rush of March might be over, but apparently April is the new indie and semi-indiepile-up. This week we got Rick and Morty's VR game, Full Throttle Remastered, Voodoo Vince Remastered, Late Shift, and Everything. Next week: Dawn of War III, Outlast 2, What Remains of Edith Finch, Wilson's Heart, and probably some I'm forgetting. Crazy.
But the news keeps piling on too. Call of Duty is returning to World War II next week, EA's giving away copies of Syberia II, N++ added 2,000 more levels, Patrice Desilet's ambitious human-documentary project got another teaser, and more.
This is gaming news for April 17 to 21.
Time travel
Getting ready to play the newly-released Syberia 3 and need a refresher on what came before? EA is currently giving away 2004's Syberia II through Origin's "On the House" program. And don't forget, there's lots of inexpensive gaming to be had this week—both StarCraft and Saints Row II are also free.
D-Day
Rumors have been swirling lately that Call of Duty would be returning to World War II this year. True rumors, as it turns out—this week a timer launched at Call of Duty 's official website, counting down to the "worldwide reveal" of Call of Duty: WWII next Wednesday.
Not the best name, maybe, but I guess it's a smidgen better than Battlefield 1. We'll have a trailer and more presumably next week.
It's official
Last week we showed off the leaked Star Wars Battlefront II trailer, with Darth Maul in all his double-ended lightsaber glory. That trailer was confirmed/expanded upon over the weekend during Star Wars Celebration, and so here's a full two minutes of footage.
Some preliminary details have been released too. There is indeed a singleplayer campaign, as well as space dogfighting. I'm still a bit disappointed with the player cap though—24 in dogfights and 40 on ground maps. Really would've liked to see DICE hit its traditional 64-player cap for this one. We'll see how it fares when it releases November 17, though.
Guarded response
The first episode of Telltale's Guardians of the Galaxy game released this week, and the general sentiment seems tepid at best—I've heard a lot of grumbling about the "Telltale Formula," which is never a great sign. Here's hoping it gets better by the end though, and a trailer for those who want a peek:
Four. Thousand.
N++ was so large I'd already resigned myself to never completing it. We're talking 2,000 levels of excellent high-precision ninja platforming to struggle through. And now? This week the devs released a free N++ Ultimate Edition update, raising the number of levels to over 4,000.
Now I'll never finish it twice.
Coming of the Dawn
Dawn of War III is in open "beta" this weekend, with the official launch planned for next week. I guess that means it's time for a launch trailer, "Fragments of War."
Well, okay
Bandai Namco teased a new game with a "Prepare to Dine" tagline last week, which called to mind Dark Souls. And while I didn't expect another Dark Souls, I expected something…sort-of Dark Souls-y?
Instead Bandai Namco revealed Code Vein, an action-RPG about vampires from the God Eater team. It looks fine, if you were expecting a God Eater game, but the art style is distinctly not-at-all-like-Dark-Souls and I don't really know why Bandai Namco took that marketing tack. Seems like a way to leave Souls fans deeply disappointed before they've even had hands-on with Code Vein, but oh well. Here are some screenshots: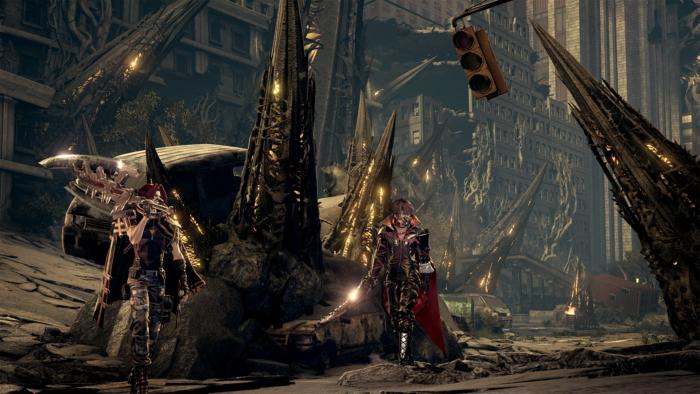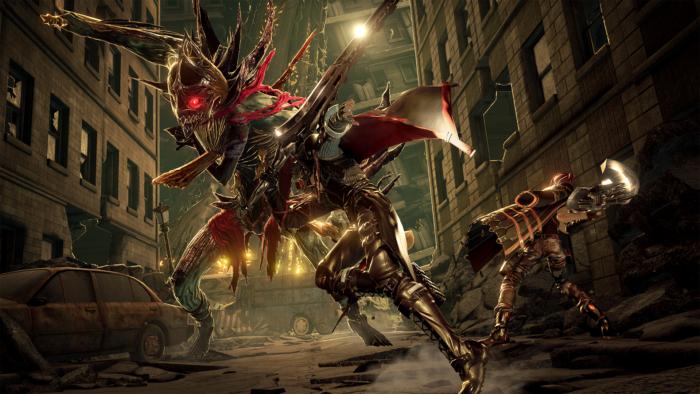 Wilder-lands
In my Ghost Recon: Wildlands review I mentioned that the game occupied some bastard zone between its old Tom Clancy tactical roots and the ridiculous antics of Just Cause, and ended up not doing either justice. Judging by this new Narco Road DLC, Ubisoft is doubling down on the Just Cause-ification of Ghost Recon though. You'll have to decide whether that's a good thing or not.
The (Human) Odyssey
Patrice Desilets, him of Assassin's Creed fame and then later Ubisoft-bought-my-company-out-from-under-me fame, finally has another teaser for Ancestors: The Humankind Odyssey, his…I don't even know. Documentary about life as an ape, maybe? Hopefully we'll see more of this one at E3.
Old-school felons
If you're one of the (many) people who got involved with Grand Theft Auto in its third iteration and skipped the originals, you might be surprised to know they were top-down games. Now Grand Theft Auto V is going that direction too. Whether to celebrate 20 years of Grand Theft Auto or just because it feels like it, Rockstar is adding a "Tiny Racers" mode to GTA Online next week that mimics the top-down style of the original. Pretty cute.