At a Glance
Expert's Rating
Pros
Attractive, understated chassis
Decent performance for a bargain price
Phenomenal battery life (for a gaming machine)
Cons
Ugly screen
Not very future-proof
Our Verdict
It's not the most powerful gaming laptop ever made, but its base configuration offers a quad-core i5 and a GTX 1050 for only $850. You'll be hard-pressed to find a better deal.
Best Prices Today: Inspiron 15 7000 Gaming
Inexpensive gaming laptops. They're the order of the day, with component prices reaching new lows and non-gaming companies putting out quality products at a bargain. A few years back we were hyped about Lenovo's selling its Y50 for $1,200. Now? You can pick up a Dell Inspiron 15 7000 Gaming notebook for $850. That's with a 1050 thrown in.
Sure, it might not be the most powerful gaming laptop, but getting a system with a dedicated graphics card at this price is crazy. And if it weren't for one major caveat, the Inspiron 15 7000 Gaming would be an insane deal.
Big red
The Inspiron 15 7000 Gaming looks damn good—at least on the outside. Dell put it into a fairly standard chassis, about an inch thick and with the iconic Dell logo on the outside. The fan vents do sport some flashy grills, but otherwise this Inspiron looks like an enterprise laptop. You could take it to work, use it in meetings, and people would say "Ah yes, a Dell. Clearly that person is entering data into spreadsheets." At least, that's what I assume.
That is, if you order the black version. Ours came in bright red (or "Beijing Red" as Dell puts it), and it's much flashier than it needs to be. If you want this for gaming on the down-low, it's better stick to something more traditional.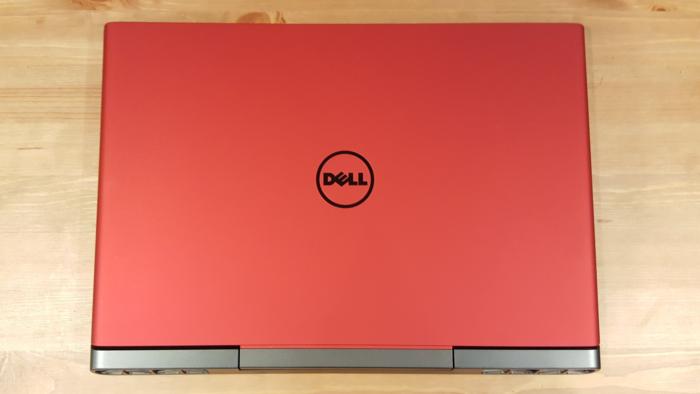 While the chassis is inoffensive, that doesn't hold true once you lift the lid. The Inspiron 15 7000 Gaming has only one real design issue, and it's the screen.
Ah yes, the screen—bane of inexpensive laptops the world over. We had the same complaint about the aforementioned Y50 a few years back. It had excellent internals at fire-sale prices, but with a screen seemingly recycled out of the trash.
The Inspiron 15 7000 Gaming follows in those same footsteps. Its screen is ugly. We're talking light bleed on all four edges, a viewing angle of roughly 15 degrees, muted color reproduction, and what I can only describe as "fuzziness"—even running at the laptop's full 1920×1080 resolution, smaller text looks slightly blurry and indistinct. The display is only 15.6 inches, not a 30-inch monstrosity, so there's no reason it should look fuzzy. Yet here we are.
It's the only beef I have with this laptop. Appearance? Fine. Power? Fine—we'll get to that in a second. Price? Excellent. But this screen is simply awful, and I can't stress that enough. It's a shame, whether you'd use this Inspiron as a cheap gaming laptop or for getting work done. In fact, the latter makes this notebook a particularly hard sell, given the number of quality work-oriented 15-inch laptops in the same price range.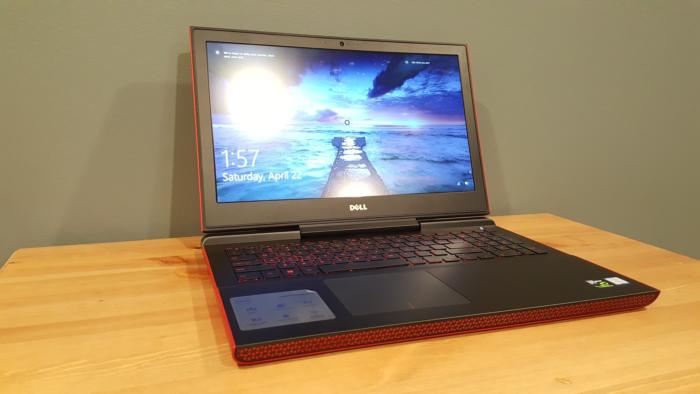 Everything else offers a much better experience. The keyboard and trackpad are both plain but serviceable. The keyboard offers single-color red backlighting, which is useful, if not very bright.
The trackpad is slightly offset to the left, centered under the main keyboard. I find that design a bit annoying and cramped, especially for gaming, but I assume in most situations you'd hook up a mouse for anything serious. The trackpad is responsive though, with good sensitivity out of the box. I was impressed, given the myriad troubles I've had previously with trackpads on inexpensive laptops.
Ports include a lock slot, barrel charging, single USB 3.0, and SD card reader on the left, and an ethernet jack, HDMI out, two more USB 3.0 ports, and a headphone/mic jack on the right.
While we're on the topic: You'll want to use that headphone jack. The Inspiron 15 7000 Gaming's built-in audio is as good as you'd expect from an $850 laptop—or in other words, not that good at all. The speakers work in a pinch, but any gaming will beg for decent headphones.
Performance
Under the hood, this Inspiron is pretty damn solid. Again, it's not a $3,000 gaming beast, but our $950 review unit came packed with a quad-core Intel Core i5-7300HQ clocked at 2.5GHz, Nvidia GTX 1050 Ti, 256GB SSD, and 8GB of RAM. Even as a step up from the base configuration with a GTX 1050 and 1TB 5400RPM hybrid drive, it's a modest machine—but even "modest" is surprisingly powerful nowadays.
After running through our usual bevy of benchmarks, I came away impressed with the results. In last year's Rise of the Tomb Raider, for instance, the Inspiron 15 7000 Gaming still managed 44.6 frames per second on Very High settings. Drop down to High and you get 52.8fps.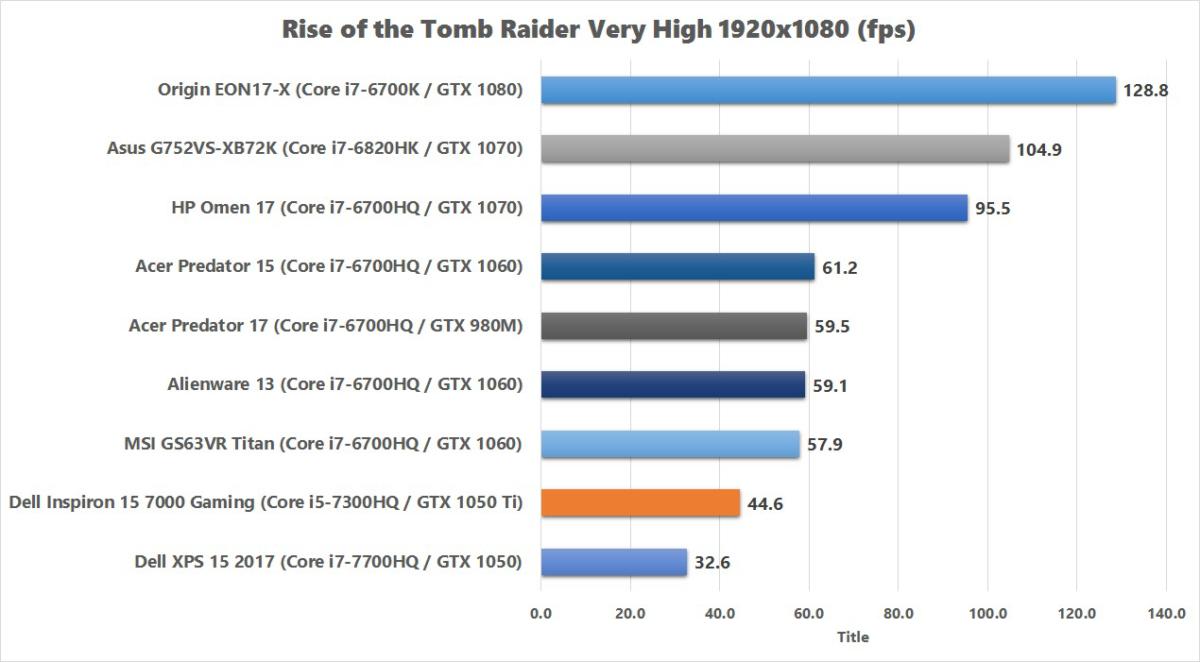 Is that the smooth 60 frames per second at 1080p that PC gamers crave? No, but it's definitely better than I expected from a GTX 1050 Ti in one of 2016's prettiest games.
Head back a few years and the scene looks even better, with the Inspiron 15 7000 Gaming pumping out 56.8fps in Middle-earth: Shadow of Mordor on Ultra with the 4K texture pack installed.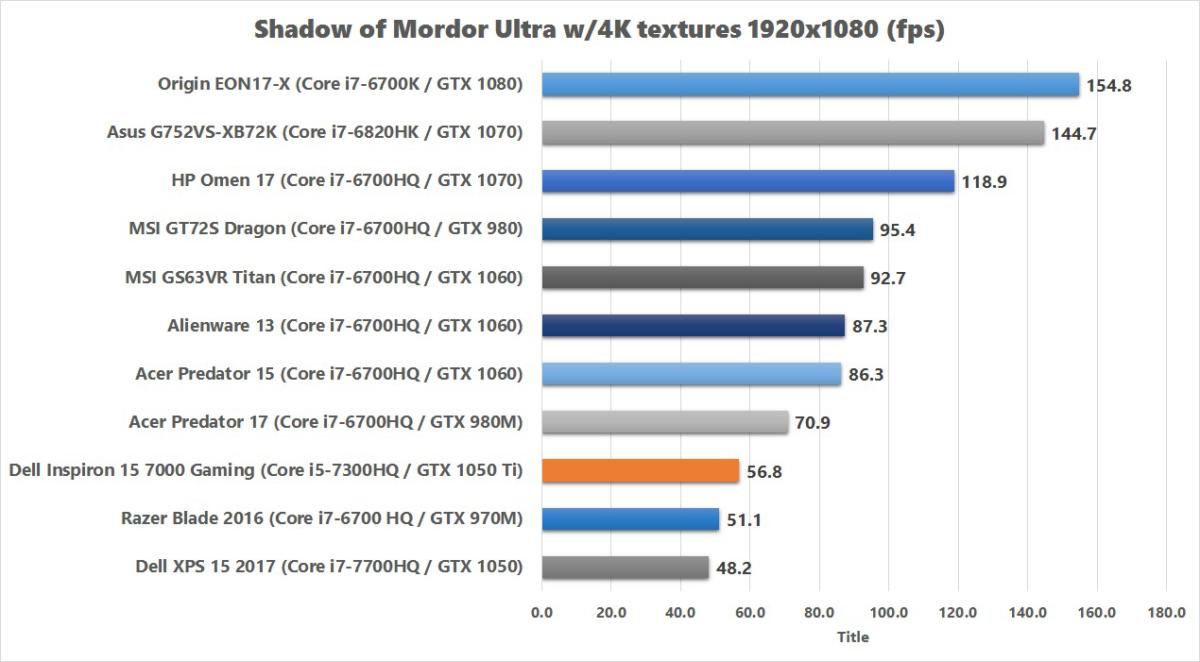 That said, there are better laptops out there. Even moving up to a GTX 1060-equipped machine can score a big bump in performance. As you can see in the charts, the GTX 1060-equipped Alienware 13 managed 87.3fps in Shadow of Mordor and 59.1fps in Rise of the Tomb Raider. Jumping up one more level to the HP Omen 17 and its GTX 1070 netted 118.9fps and 95.5fps, respectively. These machines are also more future-proof, too.
Of course, they cost more. For $850, the Inspiron 15 7000 Gaming's performance is way better than expected.
The Inspiron 15 7000 Gaming's performance holds up well outside of gaming, too. It put up a score of 3,486 in PCMark 8's Work Conventional test at 1080p, which compares favorably to the 1060-equipped Acer Predator 15.
We also put it through our Handbrake encoding benchmark, which involves converting a 30GB MKV file to a smaller MP4 to the Android Tablet preset. It's a CPU-focused test, and the results can also reveal how a system handles itself under heavy thermal load. In this particular benchmark, the more modest Core i5-7300HQ did take a clear second place to the Core i7-6700HQ laptops we've tested. This new midrange quad-core took an hour and six minutes compared to 50 to 55 minute range of the Core i7 quad-cores.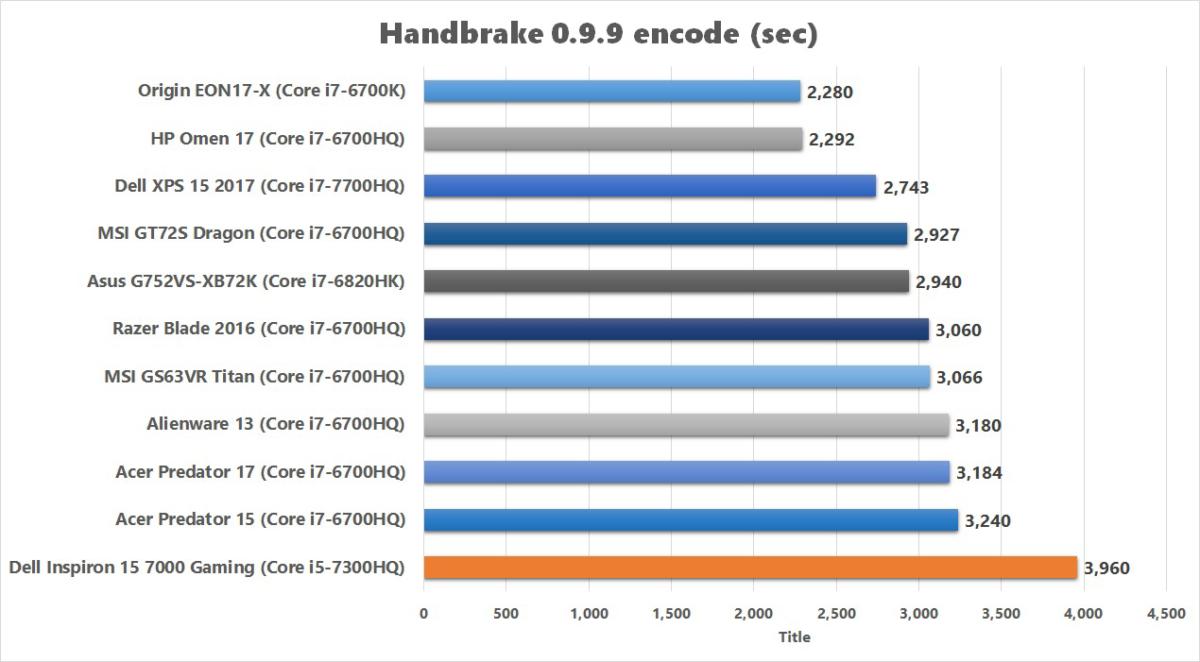 That's absolutely fine, though. You likely won't be using this machine for any heavy content creation, and we didn't see any major issues with throttling of performance.
If that still gets you down, cheer up—the Dell has one huge advantage, and that's in battery life. Typically, gaming laptops have terrible battery life, even when they're running off of integrated graphics. The Inspiron 15 7000 Gaming, however, averaged about eight hours in our battery rundown test.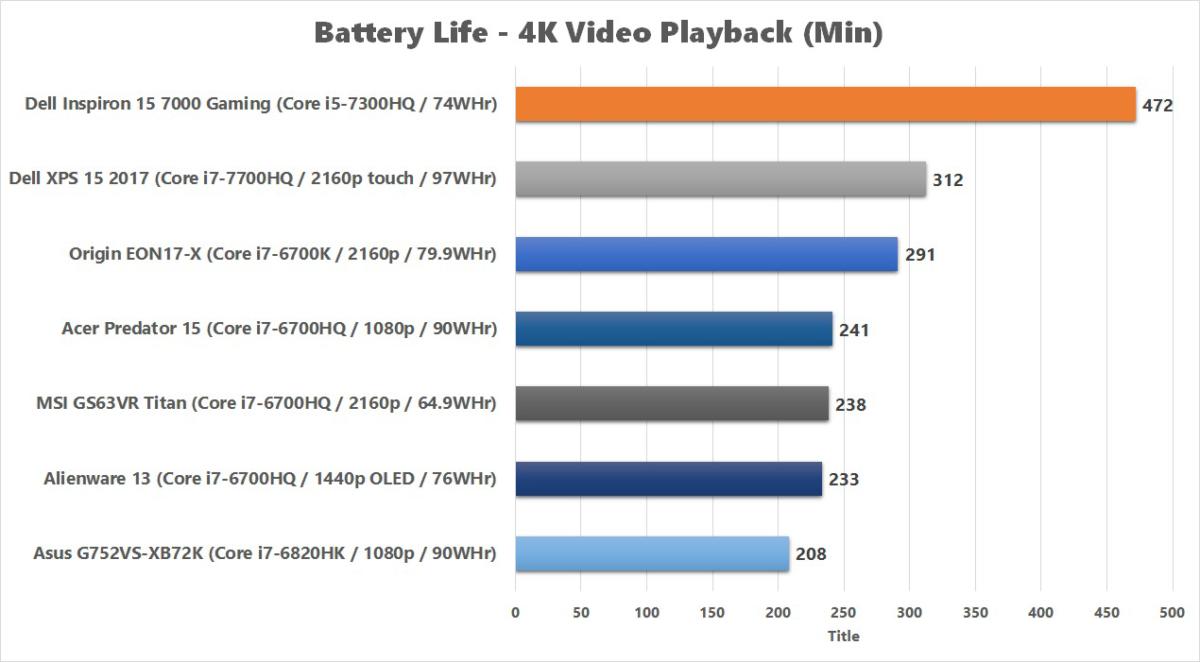 Our benchmark is performed by setting the screen brightness between 250 and 260 nits and audio volume to 50 percent, then plugging in a set of earbuds and playing a 4K video file on loop in Windows 10's Movies & TV app until the machine dies. The Inspiron's runtime is impressive, especially given that the Acer Predator 15 and Alienware 13 lasted just over four hours in the same test. And those two machines lasted longer than I expected of gaming laptops.
Playing games will run the battery dry much faster, of course, but this means you can use this notebook for other tasks without worrying about finding a power outlet.
Bloatware
Okay, I lied a bit about the screen being my only caveat when it comes to the Inspiron 15 7000 Gaming. I forgot about another common problem with inexpensive laptops: preinstalled bloatware. And wow, Dell has packed it into every nook and cranny here.
You'll find the usual offenders, of course—e.g., McAfee. Get ready to wipe that and a couple of random games off your machine and never look back.
But it's Dell's own programs I actually find most annoying. They interrupt you seemingly every 15 minutes to let you know about some other special offer, some bit of software you need to register, some crapola you don't want and don't need. There's a whole folder of stuff here: Dell Customer Connect, Dell Digital Delivery, Dell Notifications (an independent notification system!), Dell Update, SupportAssist, and more.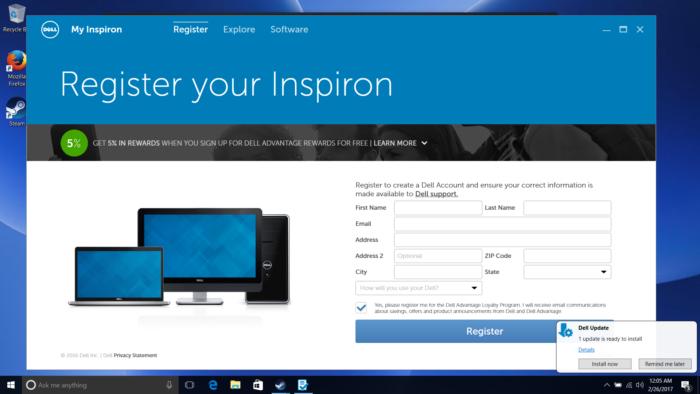 It's frustrating. Frankly, I've gotten used to the experiences offered by Razer, Origin, and even the higher-end laptops from MSI and Asus. Get the laptop, sign in, and…nothing. It's clean. Razer might prompt you with some of its software—Synapse or what have you—the first time you log on, but you can tell it to leave you alone and then enjoy peace and quiet.
These lower-end laptops come crammed with unnecessary software and remind you of that fact every damn day. It's a mess and just an awful user experience for anyone without the patience to seek and destroy all the offending programs. It's one more thing to keep in mind before you purchase an Inspiron 15 7000 Gaming: The price is excellent, but the hidden cost is in the bloatware.
Bottom line
That price is so, so excellent though. I am really and truly amazed at the gaming performance you can get from a sub-$1,000 laptop nowadays, and doubly amazed that this machine comes from Dell.
Granted, it's not incredibly powerful nor future-proof. But it'll play most of today's games at decent enough quality, and will definitely play games like League of Legends, Dota 2, Rocket League, CSGO, Team Fortress 2, and Overwatch—you know, some of the most popular multiplayer games of the day. Hook up a mouse and you're ready to game on the go, all for a starting price of $850. Not bad at all.
Best Prices Today: Inspiron 15 7000 Gaming