At a Glance
Expert's Rating
Pros
Feels okay…for a rubber-dome switch keyboard
Zone RGB lighting
Professional look
Cons
Wrist rest doesn't detach
Priced like an actual mechanical keyboard
Flimsy construction
Our Verdict
Though the G213 Prodigy features a high-end rubber-dome switch, it's not enough to overcome an exorbitant price, flimsy construction, and a massive footprint.
Best Prices Today: Logitech G213 Prodigy
Rubber-dome keyboards are back.
Sure, they've been around here and there. People who don't care or don't know about mechanical keyboards keep the market for them alive and well.
But for enthusiasts, they've been good as dead. Virtually everyone has switched over to mechanical switches, be it the Cherry, Cherry knock-off, or exotic variety.
Thanks to Logitech and Razer, however, the lowly rubber-dome keyboard has regained some prominence. Last year, both companies released keyboards that attempt to incorporate the feel of mechanical switches. These quasi-hybrids come with slick names—Logitech calls its creation a "mech-dome."
Unfortunately, as I learned when testing the Logitech G213 Prodigy, it turns out you don't get quite what the company promises. And you pay quite a bit for the experience, to boot.
Mostly familiar
First, let's talk about how damn big the G213 is. The keyboard itself is clearly modeled on Logitech's G610 and G810 lines. It's the same minimalist black rectangle, with a smattering of media keys in the top right and white indicator lights spanning the center.
The G213 does sport a few notable differences, though. First, the G213 uses a rocker instead of a wheel to adjust volume. Second, the "stop" button is now a square, allowing you to easily locate it among the other, circular media keys—it's great for moments of panic when the audio suddenly blasts. The indicator lights are squares instead of rectangles, too.
Huge changes, I know. As I said, the G213 is clearly modeled off its mechanical G610 cousin—with one exception: a massive, nondetachable wrist rest extending from the bottom edge.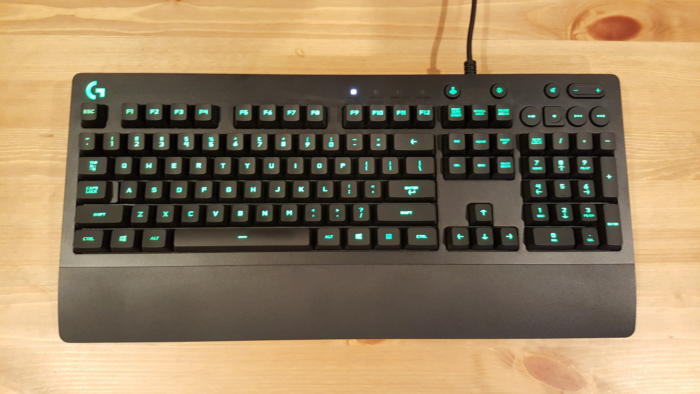 On the one hand, the wrist rest, which is slightly sloped, is comfy enough despite being just naked plastic. On the other hand, it adds a solid two inches of plastic to the keyboard's size. That's fine, as long as you want a wrist rest, but it does make the G213 seem oversized when you remove it from the box.
Worse still is the visible seam between the wrist rest and the keyboard itself, which makes it appear detachable even though the two are—as far as I could tell—firmly fastened together. Why Logitech didn't just make the damn thing removable, I'm not sure, but with a non-negotiable depth of about a foot, the G213 is one of the largest keyboards I've ever seen. Be prepared.
Build quality has also suffered, with Logitech no doubt cutting corners to keep the G213's price down. The keyboard has a disturbing amount of flex, particularly with the feet raised. Go ahead—press down on the top edge of the keyboard, and watch it bend in scary ways. You might not notice it while typing, but it reveals a certain "budget" quality that's neither reflected in Logitech's positioning of this keyboard nor its price.
I was also disappointed by the G213's RGB lighting. It's noticeably more uneven and spotty than Logitech's higher-priced keyboards, which is unusual given that lighting is typically a Logitech strength. Letters exhibit both vertical and horizontal banding, especially the Function row and the accompanying Escape key. Not a good look.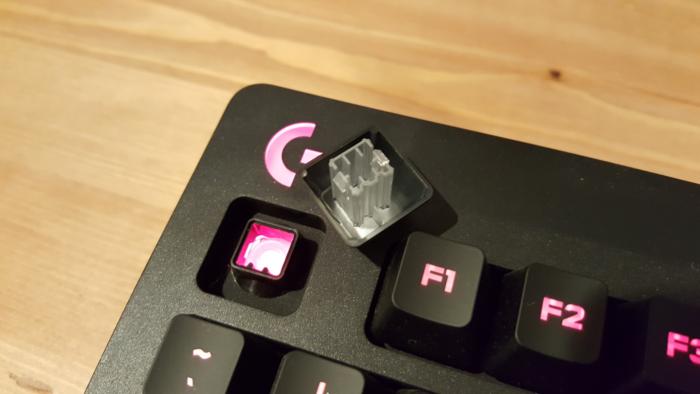 It's also zone lighting, not the per-key lighting you find on more expensive keyboards. That means you don't get the cool reactive lighting effects that the G610 and other Logitech models are known for.
Switch it up
While the G213 may seem like a G610 clone, you know what they say: It's what's inside that counts. And inside, the G213 is, not so secretly, a rubber-dome keyboard.
While Razer uses "mecha-membrane" as its marketing term, Logitech opted for "mech-dome," which I don't think is quite as catchy. But the gist is: This is a rubber-dome keyboard tuned to feel like its mechanical counterparts.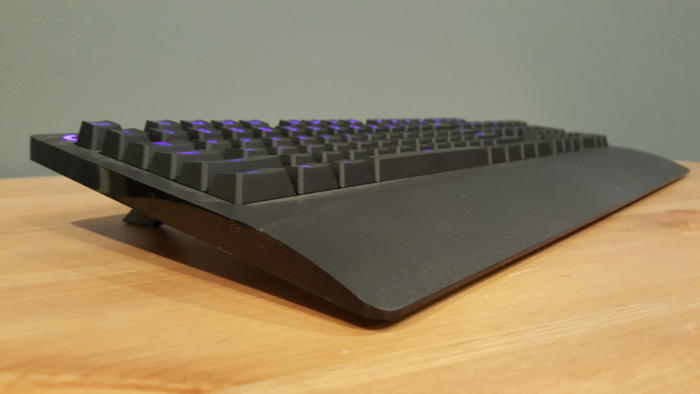 Featuring a 4mm travel distance and requiring 50g of force, Logitech has attempted to make a rubber-dome keyboard without the mushiness usually associated with one. These "mech-dome" switches are most analogous to Cherry's MX Brown switch—the chunky feel of rubber domes is somewhat similar to an MX Brown's signature tactile bump. The G213's keycaps also have the rattly quality I associate with mechanical keyboards.
Does it feel better than the cheap $20 keyboard-and-mouse sets you can grab for budget builds? Sure. Nice rubber-dome keyboards do exist.
But "nice rubber-dome keyboard" is as far as I'm willing to go here. The G213 is just a standard rubber-dome keyboard with a bit more play to its keys. It lacks the psychological trickery of Razer's Ornata, which masks its rubber-dome underpinnings by inserting a "click" sound into every key press.
It's also definitely not a true hybrid switch. You can't put Logitech's keys in the same class as Topre's cult-classic rubber-dome/mechanical hybrid.
When tested against actual MX Browns, the G213 is mushy. It has that same "bubble wrap" feel I always associate with rubber domes—a stiff up-front resistance followed by a popping sensation as the dome compresses, then the key strikes the backplate full force.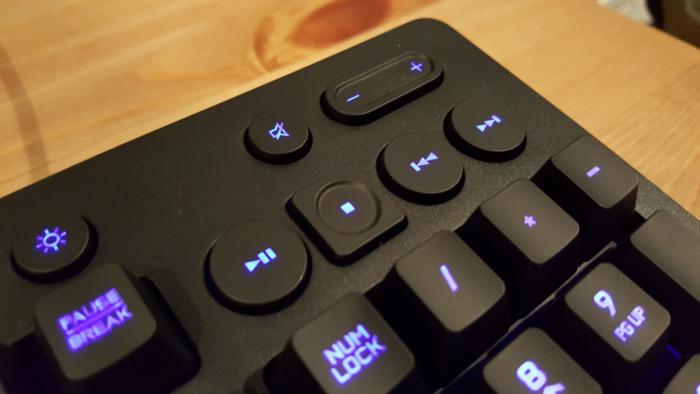 It's not a very pleasant typing experience. Quick bouts of typing can be maddeningly imprecise—I've found myself flubbing keystrokes at least a few times a minute, either reversing letters or missing them altogether. And as someone who uses Cherry Browns and Blues day-to-day, my wrists sorely missed the relief that comes from not having to bottom out keys to activate.
So the G213 isn't on par with a mechanical—not in the slightest. However, it's certainly in a different category than Logitech's $12 K120, the generic rubber-dome keyboard of choice for many budget-conscious PC users and office buildings.
Price
The G213's inability to compete with a full-fledged mechanical keyboard wouldn't matter if it weren't priced like one. At $70 MSRP, there are plenty of Cherry MX-equipped boards you could buy—including Logitech's own G610 which, while listed at $120, is perpetually on-sale for around $85.
Sure, you won't find one of Logitech's RGB models for that cheap, but I'd take a better typing experience over flashy lights.
Bottom line
It's hard for me to imagine a reason to buy a G213. It's not that Logitech's made a bad keyboard—it is, as I said, a high-class rubber-dome keyboard. Is there an enthusiast market for that, though? Rubber domes are popular because they're cheap. Charging almost as much as a real mechanical board for noticeably worse performance? Bizarre.
At $30, the G213 might be an easier recommendation, a better option for those who want an affordable upgrade from a generic cubicle keyboard. But at this price and with this many problems, it's best to look elsewhere.
Best Prices Today: Logitech G213 Prodigy