When the siren songs of Facebook, Twitter, and [insert your favorite site here] are calling, it can be hard to focus on the task at hand. A popular way to enforce focus is to just turn off your Wi-Fi connection until that term paper, quarterly report, or data entry is done.
If that's your go-to strategy, the Windows 10 Creators Update has a helpful new tool that will remember to restore your internet connection for you. That's right, your Wi-Fi now has a snooze button.
To get started, click on the Wi-Fi icon in your taskbar, and when the panel listing all the available Wi-Fi connections appears, click the Wi-Fi tile in the lower-left corner.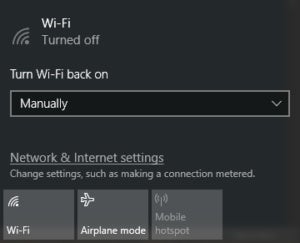 Next, the panel as pictured here appears. By default, your Wi-Fi will only be restored if you activate it manually by clicking the Wi-Fi tile. If you want it to turn on automatically after a set time, click the drop-down menu under Turn Wi-Fi back on.
Here you'll see options for turning it back on in an hour, four hours, or one day.
As this is a new feature, the options are limited, but if the Wi-Fi "snooze" feature proves popular, Microsoft may add a few more options or even let you set your own break period. For now, however, the one, four, and twenty-four hour periods will do.
Choose your preferred internet-free period, and then work away until the internet, and the beckoning of Pinterest, returns.
Note: When you purchase something after clicking links in our articles, we may earn a small commission. Read our affiliate link policy for more details.
Ian is an independent writer based in Israel who has never met a tech subject he didn't like. He primarily covers Windows, PC and gaming hardware, video and music streaming services, social networks, and browsers. When he's not covering the news he's working on how-to tips for PC users, or tuning his eGPU setup.