When the siren songs of Facebook, Twitter, and [insert your favorite site here] are calling, it can be hard to focus on the task at hand. A popular way to enforce focus is to just turn off your Wi-Fi connection until that term paper, quarterly report, or data entry is done.
If that's your go-to strategy, the Windows 10 Creators Update has a helpful new tool that will remember to restore your internet connection for you. That's right, your Wi-Fi now has a snooze button.
To get started, click on the Wi-Fi icon in your taskbar, and when the panel listing all the available Wi-Fi connections appears, click the Wi-Fi tile in the lower-left corner.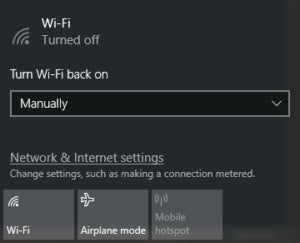 Next, the panel as pictured here appears. By default, your Wi-Fi will only be restored if you activate it manually by clicking the Wi-Fi tile. If you want it to turn on automatically after a set time, click the drop-down menu under Turn Wi-Fi back on.
Here you'll see options for turning it back on in an hour, four hours, or one day.
As this is a new feature, the options are limited, but if the Wi-Fi "snooze" feature proves popular, Microsoft may add a few more options or even let you set your own break period. For now, however, the one, four, and twenty-four hour periods will do.
Choose your preferred internet-free period, and then work away until the internet, and the beckoning of Pinterest, returns.