Acer's Nitro 5 laptop is designed for the casual gamer who feels lucky. This person may not game often, and may never have tinkered with a PC's cooling system (as many seasoned gamers have) to get maximum power without singeing precious CPUs or GPUs. But the Nitro 5 will let these casual gamers adjust the fan speed themselves, giving them an unprecedented amount of control over delicate thermals.
Mentioned in this article
Acer Predator 21 X gaming laptop
Acer offered some tantalizing details on the Nitro 5, which is due to ship in July. With prices starting at $800, the laptop targets the growing number of casual gamers. These users won't shell out for the huge, expensive Predator 21 X, but they still want good gaming performance in a PC they can tote around. Acer says the Nitro 5 is carefully balanced to give them exactly what they need: "all of the really important, necessary features without going too far overboard," said Acer.
Those features include a gamers' choice of an Intel or AMD rig, albeit with substantial differences in playing power. For those who need serious horse power for graphics intensive games, stick with a model packing Intel's "Kaby Lake" Core i5 or i7 processors, paired with Nvidia's GeForce GTX 1050 or 1050 Ti graphics for discrete graphics.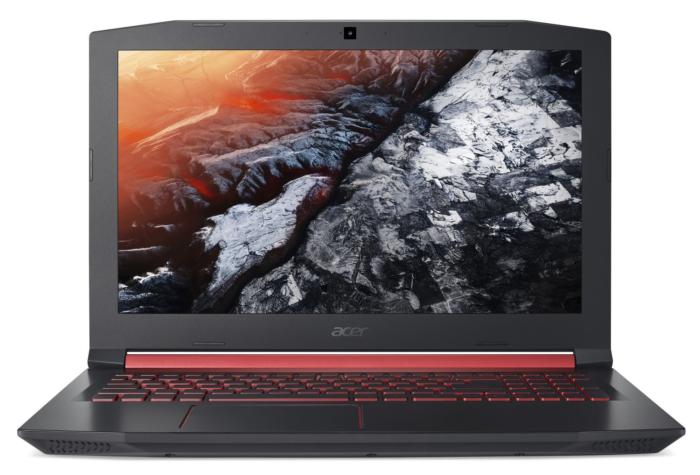 The AMD-flavored Nitro 5 is perfect for those who want to play e-Sports games like Counter-Strike: Global Offensive or Dota 2, and don't mind playing regular AAA titles with most graphics settings on low. This laptop comes packed with seventh-generation AMD A-Series, FX, A12, or 10 APUs and Radeon RX 550 discrete graphics.
Both the AMD and Intel flavors of the Nitro 5 support up to 32GB of DDR4 2400MHz RAM and Windows 10. Select models will also come with a PCIe SSD up to 512GB. The SSD models can also be paired with a hard drive (up to 2TB) for storage.
As for the display, all Nitro 5 models feature a 15.6-inch 1080p IPS display. Meanwhile, Dolby Audio Premium and Acer TrueHarmony sound technologies promise something better than the usual tinny laptop output.
The overall look of the laptop is pure gamer with a matte black chassis, a red hinge between the keyboard and display, and a red backlit keyboard with the WASD control keys getting a bolder outline for easier identification.
The most intriguing feature of this laptop, however, is a new thermal solution called Acer CoolBoost. This technology will let the user adjust the rpm-speed of the laptop's fans.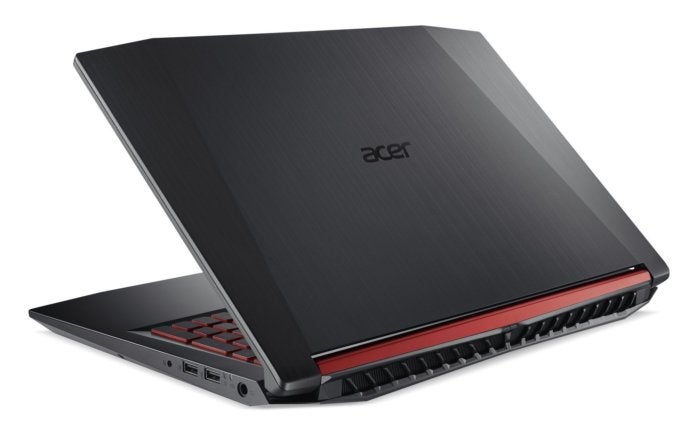 We're assuming Acer is building in some level of restraint to prevent reckless users who don't know any better from, say, turning off all the fans and toasting their hardware. Still, anyone familiar with PC thermals is probably looking a bit askance at this, as if you were letting someone run with scissors. Or maybe it's annoying that hardcore gamers had to walk uphill both ways to adjust the fans on their PC, and now amateurs get a free ride. We'll certainly be interested to see how this works.
The Nitro 5 also has a Gigabit ethernet port, 802.11ac Wi-Fi (2×2 MIMO), one USB 3.1 Type-C (Gen 1) port, one USB 3.0 port, two USB 2.0 ports, and an HDMI 2.0 port supporting up to 90Hz refresh rates to a compatible external display.
The impact on you at home: The Nitro 5 sure does look nice and will suit not only casual gamers, but dedicated gamers looking for a new portable rig on a budget. If you're interested in AMD hardware, however, you might want to wait a few months.
Around late summer or early fall we expect to see AMD's new Ryzen processors hit laptops. Ryzen boosted performance by more than 50 percent over AMD's older processors on the desktop; we're expecting to see about the same difference in performance for laptops. The first round of AMD-powered gamer laptops will probably be premium models, but towards the end of the year there may very well be some budget gaming laptops rocking higher performing Ryzen chips. That's just speculation—but don't say we didn't warn you.