Today's deal is one for the budget PC builders: Right now, Amazon's selling an EVGA GeForce GTX 1050 Ti SC Gaming graphics card for $116. That's $34 off MSRP for this factory overclocked model, and one of the best prices we've seen. It's also the most hassle-free price available—Newegg is also offering a discount on the same card, but for $140 after a $10 mail-in rebate.
There is, however, a catch. In order to take advantage of this price, you have to be an Amazon Prime member. You can circumvent this issue by signing up for a free trial, though. Doing so will also net you free two-day shipping on the purchase (as well as most others during the trial period).
As a factory overclocked model, the EVGA GeForce GTX 1050 Ti SC Gaming comes with a bit of extra oomph out of the box, with a base clock of 1354MHz and a boost clock of 1468MHz. (Reference speeds are 1290MHz base clock and 1392MHz boost clock.) It also comes with 4GB of GDDR5 memory that runs at 7Gbps and uses a 128-bit bus.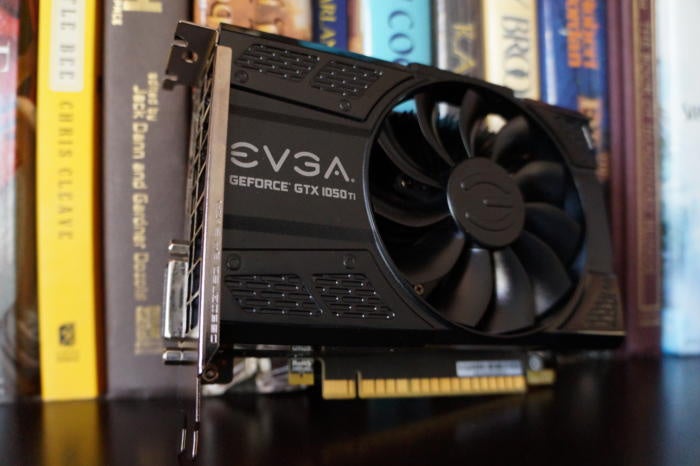 We reviewed this very graphics card when it launched, and even at full price we said the EVGA GTX 1050 Ti SC Gaming was the budget graphics card to buy. It runs cool, sips power, and blows AMD's rival Radeon RX 460 out of the water in performance. The card's powerful enough to deliver 1080p gaming performance with a mixture of Medium to High settings at 60 frames per second—outpowering both the Xbox One and the PlayStation 4. At this price, it's even more compelling.
Though it doesn't support VR, the 1050 Ti SC Gaming does support other features that launched with Nvidia's Pascal architecture, like Nvidia Ansel. It also of course supports Nvidia G-Sync monitors and Nvidia GameStream. But what makes this particular 1050 Ti card great is that it's ultra-compact—perfect for a mini-ITX build designed to travel.
Another nice touch: EVGA's card doesn't require a supplementary power pin connector, which makes it ideal for turning a boxed prebuilt PC into an impromptu gaming machine. Just slap it in your motherboard and start playing.
There's no given end date to this sale, so this deal can end at any time.