At a Glance
Expert's Rating
Pros
Bright, bouncy audio
Passive noise cancellation
Removable cable
Cons
Looks and feels like a cheaper headset than it is
Software isn't flexible enough for advanced users
Small sound stage and poor 7.1 reproduction
Our Verdict
Sennheiser's GSP 350 headset isn't a looker, and its $140 price tag is steep for a wired headset. But its sound quality is on par with the best headsets in its tier.
Sennheiser's GSP 350 is one of three gaming headsets I've tested from mainstream audio favorites Sennheiser and Audio-Technica. Many gaming headsets are overpriced, given their feature sets and audio quality, and Internet forums often recommend buying a good pair of headphones and a separate microphone instead. That's why I thought I'd investigate a specific niche of headsets: ones made by the very same companies that produce excellent studio headphones.
I've also looked at Sennheiser's latest Game Zero model, as well as Audio-Technica's ATH-AG1X. Of the three, the Sennheiser GSP 350 is the affordable option at $140. Yes, really. It's also pretty dull-looking. Nevertheless, it delivers where it counts.
This review is part of our roundup of best gaming headsets. Go there for details on competing products and how we tested them.
Drab looks
First things first: The Sennheiser GSP 350 is drab. Dowdy, even. While Sennheiser's Game Zero could double as a sleek pair of studio headphones and Audio-Technica's ATH-AG1X is a flashy, space-age take, the GSP 350 looks like it belongs to an air-traffic controller.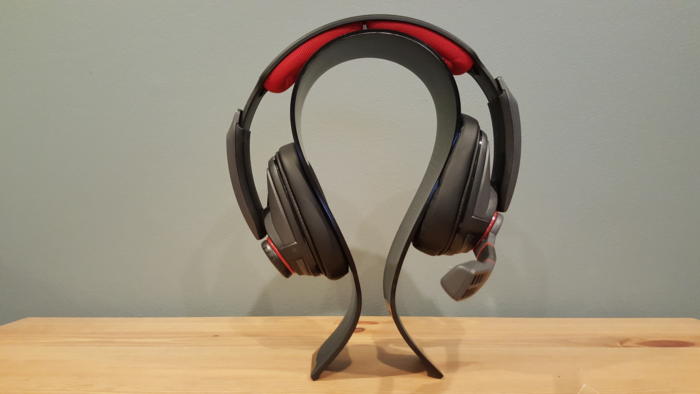 It's not just the telltale blocky, oversized silhouette that gives that impression. The color scheme is all wrong. Technically, the GSP 350 is black-and-red, like 90 percent of all gaming headsets. But under any light it looks more like a muted gray-and-red—and not a particularly attractive gray or red, either. More like a black headset that someone left out in the sun for a while, mixed with a weird maroon color.
I'm not a huge fan, obviously. It seems retro, but not purposefully retro in a way people might appreciate. Just weirdly retro.
There's also a lot of plastic in this headset. I'm surprised because normally that's done for price and weight reasons, but the GSP 350 isn't particularly cheap or lightweight. It's actually flimsier than most competitors in its price tier. I would've at least liked to see a metal headband for durability's sake.
It's comfortable enough, however, and that matters more, because you can't see it while it sits on your head. Padding on the ears is generous, though the cups themselves are a bit small. My ears tended to rub against the sides. I'd also like a bit more padding on the headband, though you can extend the headband and transfer more of the pressure to your jaw. The ears grip pretty tightly.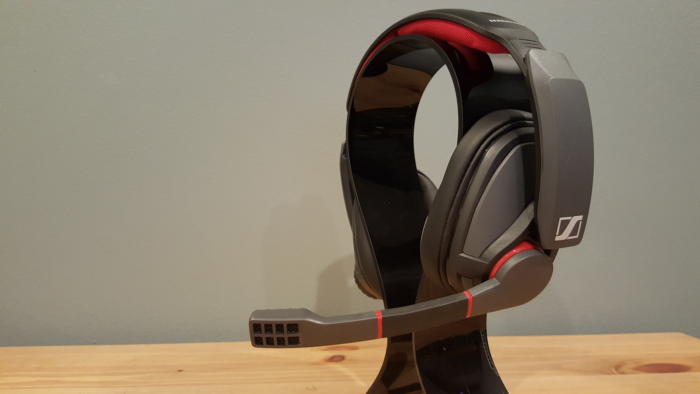 That tight fit does have a benefit: a solid amount of passive noise cancellation. I barely heard a thing when I banged on my mechanical keyboard all day, even with games or music kept at a reasonable volume. (A volume dial sits on the outside of the right ear.) I couldn't hear anyone talking to me while I had them on, either. It comes a lot closer than many of its competitors do to near-perfect isolation.
I have mixed feelings about the microphone. I would prefer it to be removable, or more hidden—this one is very conspicuous. As a result, you can't really use the GSP 350 outside of your home. It has a stiff flip-to-mute joint, too, though it's convenient otherwise.
Unlike the microphone, the cable is removable—same as the pricier Game Zero. The cord does have one design oddity: The cable is split into two pieces, but the headset comes with only one possible configuration. The GSP 350 is analog-out to micro-USB, which then plugs into an inline control box that runs to the PC and terminates in USB-A. I don't know why Sennheiser wouldn't simply fuse it into one cable and simplify the whole process. Is anyone connecting with micro USB?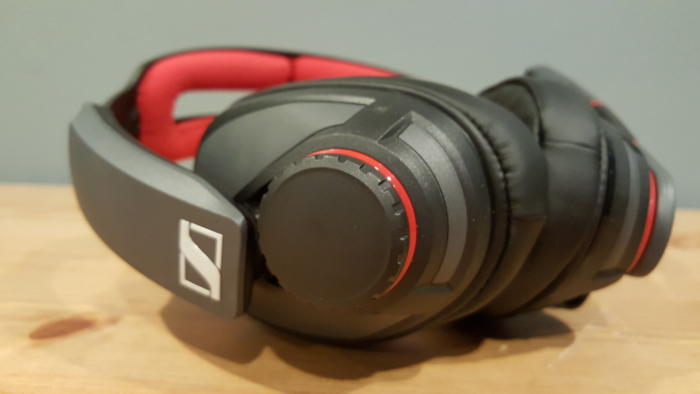 That's a small quibble, though, because the GSP 350 is functional. It could be prettier or more comfortable, but it still offers more than many other headsets we've reviewed.
Packs a punch
The GSP 350 makes up for its aesthetic shortcomings with high-quality sound, comparable to what we experienced with the original HyperX Cloud and Logitech's G633/G933 models. Unlike most gaming headsets, the GSP 350 puts an emphasis on the higher frequencies, especially the upper-mids. It's a bright sound, not harsh like some of the lower-end Corsair offerings. You get excellent clarity when listening to dialogue, gunshots, guitars, and snare hits.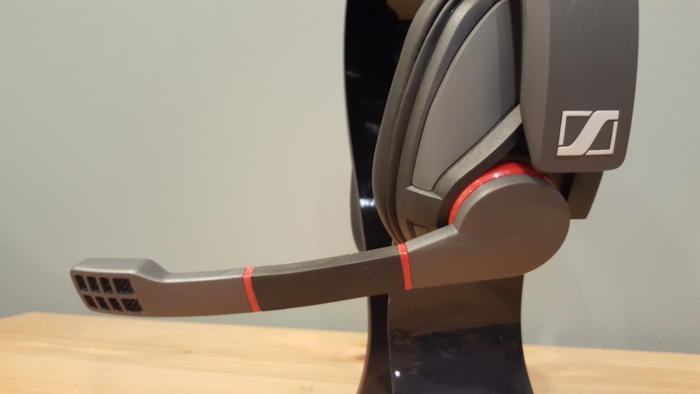 However, like Sennheiser's Game Zero headset, bass is underrepresented. Adjusting the EQ settings via Sennheiser's software doesn't help much. Sennheiser doesn't offer a 7-band equalizer to mess with, just "Music," "Esport," and "Game" presets. "Game" seems to have the most extra bass, but if you want real control you'll need to run your own EQ software. You can also use Sennheiser's software to turn Dolby on/off and control the amount of sidetone piped through.
Sennheiser's understated-but-precise bass frequencies nevertheless sound good. They're cleaner than those in most headsets, especially with the volume cranked. The one complaint I have has to do with the density of the audio. The GSP 350 does not offer the wide sound stage of Sennheiser's Game Zero or HyperX's Cloud.
This deficiency undercuts Sennheiser's virtual 7.1 implementation. You get solid stereo directionality and a bit of front/back wiggle, but the GSP 350 gives the tightly-packed feel of listening on headphones, not the sense of a wide-open room (as you'll get with better headsets).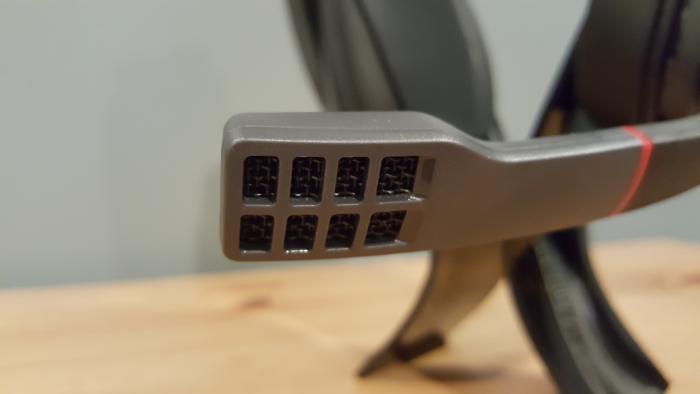 As for the microphone, it's decent. Voice reproduction is solid, although the bass is a bit underwhelming. The mic could be a bit louder, too—and it's a problem exacerbated by its rigid shape, meaning you can't just bend it closer. The mic also has a tendency to pick up more sibilance more than I'd like. Then again, I haven't been particularly impressed with any microphone in the sub-$200 headset range. Overall, the GSP 350 is fine, and it's right on par with the competition.
Bottom line
Sennheiser's GSP 350 is priced maybe just a bit too high—$140 is just about as expensive as you can get with mainstream wired gaming headsets these days. It'd be more competitive in the $100 to $120 range, duking it out with headsets from Logitech, Razer, and the like.
But it's got the Sennheiser name and, with a few caveats, Sennheiser sound. The build quality should be better for a headset that costs this much, but punchy audio and a good-enough-for-the-price microphone make the GSP 350 worth the cash. And unlike the Game Zero, the GSP 350 is still cheaper than buying a good pair of headphones and a separate microphone.