Microsoft recently unveiled a helpful new addition to its family features that are part of your Microsoft Account. Users who need it can now get a shared family calendar on Outlook.com.
Prior to this, Family settings were mostly for managing the activity of children, such as limiting screen time, viewing activity reports, or finding their device locations on a map. Adults in the family, meanwhile, were merely administrators of their children's computer access. The addition of a family calendar changes that.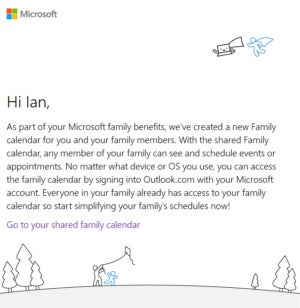 The shared calendar is created automatically as part of connecting a family to your Microsoft Account. To get started go to account.microsoft.com/family and create your family. The process is very simple. To add an adult click the Add adult icon, enter their email address, and click Send invitation—they will then have to accept the email invitation to join your family. If you know the adult's email password, you can also sign that person in to join the family automatically.
Adding a child is similar except you start by clicking the Add a child button, and then add the child's email address. Your child must have an email address to be added to the family; there is no way to add an "offline" account or one that is not connected to an email account.
Once you've created your family, you should receive a notification via email that the calendar has been created. This may not happen right away as the new feature is still rolling out. You can also check by going to Outlook Calendar and look for Family calendar under Other calendars.
With the family calendar, everyone in your family can use it to schedule their extra-curricular activities, view upcoming family events, or whatever else makes sense for your household.