Microsoft is still a newcomer to the world of laptops and tablets, but it's an old hand at peripherals—and a well regarded one at that. When the sleek new Surface Laptop starts shipping on June 15 it will do so alongside a refined version of Microsoft's Arc Mouse carrying the Surface name.
A successor to the Arc Touch Mouse, the $80 Surface Arc Mouse sheds the divided touch zones, turning the front of the peripheral into one big touch pad. You can still use the mouse to do the usual right- and left-clicks, but there's no division between the areas. That may feel odd for some, though you can just opt for touch gestures instead. Tap the touch surface with two fingers, for example, as a substitute for the right-click.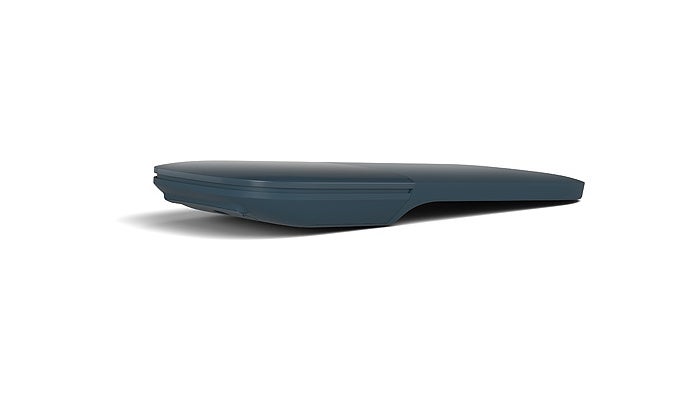 Since this is a Surface-branded device, Microsoft is promising high build quality and refined design. The single touch area certainly plays into that, but so does Microsoft's claim of an "optimized structural design," meaning this version should feel sturdier than its predecessors.
As this is an Arc Mouse it can flatten for easier storage during travel. Microsoft is also bringing its love of clicks and snaps to the Arc Mouse. One of the features touted in Microsoft's promotional video for the Surface Arc is a "better snap."
The impact on you at home: This is a wireless mouse that connects via Bluetooth 4.0 and can work within 16.4 feet in an office environment, or double that in a more open area. Microsoft also says it only works with Windows 8 and up. That may be an unbreakable rule as the mouse requires Microsoft's Mouse and Keyboard Center software, which could be regulated to keep out Windows 7 interlopers. The Surface Arc takes two AAA batteries and the company says they'll last up to nine months.
The mouse comes in burgundy, cobalt blue, and light grey to complement the Surface Laptop. The peripheral is available for pre-order now at the Microsoft Store.