At a Glance
Expert's Rating
Pros
Experience any of 1,000+ different points of view
Listen to some pleasant ultra-lite philosophy while doing so
Cons
Some may find it more aggravating than enlightening
Gets a bit rote after a few hours
Our Verdict
Everything asks you to contemplate your place in the universe by inhabiting the point-of-view of hundreds of other creatures, plants, and objects.
Best Prices Today: 1
I have lived a thousand lives.
I've been a single-cell speck in the primordial ooze that gave way to life. I've been a clump of grass, clinging to my makeshift desert oasis. I've been a wolf, tumbling through the icy wastes. I've been a pair of scissors, discarded on a city street. I've been a skyscraper, towering over the same street. I've been a continent, scarcely aware of the skyscrapers built upon it. I've been a planet, a solar system, a galaxy, multiple galaxies—as unknowable to the skyscraper as the skyscraper is to the grain of pollen. I've been a turd, covered in flies.
I've been, in a word, everything.
All god's creatures
Everything is about perspective, its goal nothing less than simulating the entire universe. Each and every object, from a single electron to clusters of galaxies, is hypothetically represented here.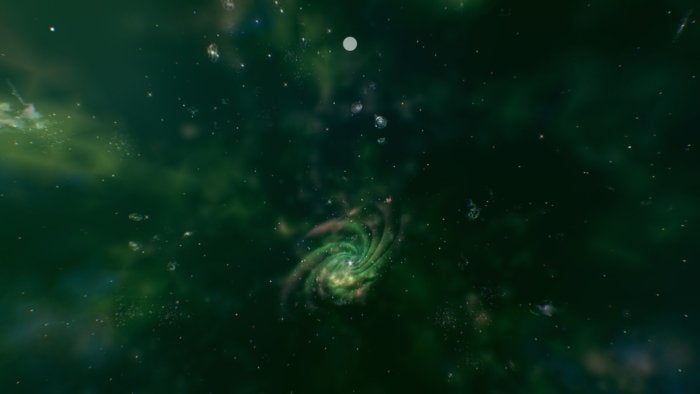 Playable, too. Controllable. In Everything you have the power to take on any point-of-view you'd like, either "Ascending" to a larger object or "Descending" to a smaller one. From a galaxy you might descend to a sun, from a sun to a planet, a continent, a tree, a cow, a rabbit, a blade of grass, a discarded cork, a ladybug, a skin flake floating through the air, an oxygen atom, an electron, and then—surprise—back to a galaxy.
This is but one of near-infinite paths, and only in one direction. You could also reverse—say, from a ladybug back to a cork or something else entirely, such as a napkin tossed about by the breeze.
Objects are arranged in different tiers, each of which is its own self-contained "snow globe" structure. To give them some quick names: Atomic, Microscopic, Small (scissors), Large (buildings), Largest (continents), Solar Systems, Galaxies. You move from one tier to the next by finding either the largest or smallest object in that sphere and Ascending/Descending out to the next.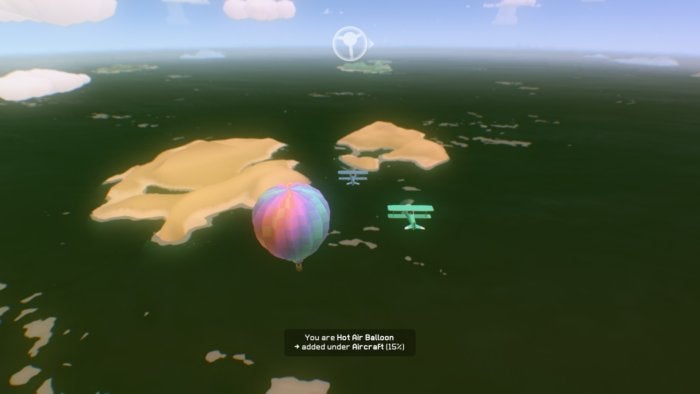 It feels clinical to approach Everything as game first, philosophy second, but that's the lens it presents. More than developer David O'Reilly's previous project Mountain, Everything is comfortable working in the language of video games. The player unlocks new capabilities by engaging with more of Everything's world, in what's perhaps the weirdest use of pseudo-RPG mechanics I've ever seen, and there's even a menu item telling you how many of its objects you've inhabited—a goal, of sorts.
And it's important that Everything is a game. It really is. Everything may seem limited, but what little control it affords the player is absolutely essential. The physical act of inhabiting these myriad objects, of "walking a mile in their shoes" so to speak, is vital to Everything's themes of Cosmos/Kosmos and of an interconnected universe.
Not that Everything is particularly subtle about its philosophy. Wander for a few minutes and you'll inevitably stumble upon a new audio recording of late philosopher Alan Watts, himself an outspoken proponent of Cosmos.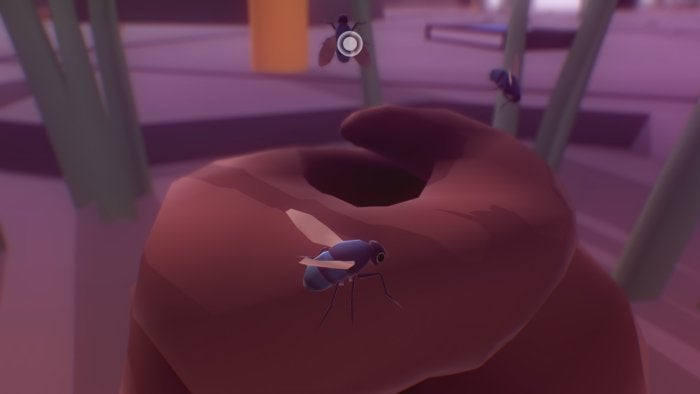 If Everything provides an interactive component that helps players first connect and empathize with the plight of a castoff shoe, or chewed gum on a sidewalk, Watts is what guides those thoughts in a semi-productive direction.
Everything could be an isolating experience. One's tempted to look at it and see humanity's insignificance. We don't sit and wonder what pollen thinks about all day as it tumbles through the air, and yet on a universal scale we are nothing but pollen.
Pull the camera back far enough, take the wide view, and there's a tendency I think to focus on what Carl Sagan termed "deprovincializations" in his book Pale Blue Dot. "Our commonsense institutions can be mistaken. Our preferences don't count. We do not live in a privileged reference frame," he wrote. "Far from being at the center of the Galaxy, our Sun with its entourage of dim and tiny planets lies in an undistinguished sector of an obscure spiral arm." All of humanity's hopes and dreams, all its ambitions, so far amount to nothing more than a handful of deep space probes and 7.5 billion people on one of many planets.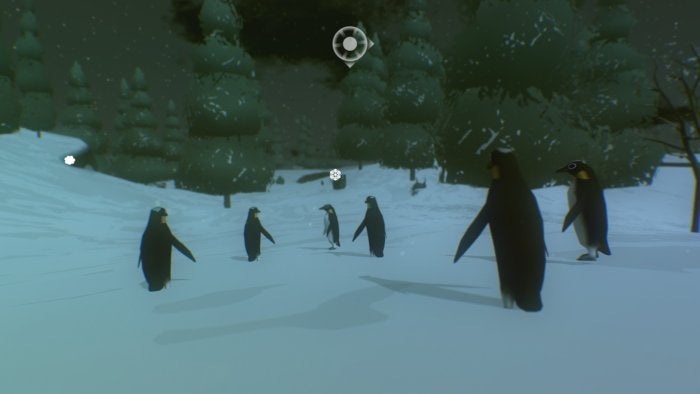 Bolstered by Watts, Everything takes this information and uses it as an affirmation. We are not isolated. No man is an island. Instead we are all a part of a grand universal organism, each of us behaving in our own small way, living out our own small lives, but inextricably connected on a level we may only ever sense subconsciously.
It's Sagan's "We are made of star stuff," with more of a literary spin. We are not just made of the same materials as the stars, but quite literally are the stars. Each and every twinkling light in the sky, each speck of sand those stars illuminate, each atom that forms those grains of sand—we're all of it.
Whether or not you agree with Watts and his brand of 1960s-style thinking, or perhaps find him aggravating, Everything is a compelling companion piece for his philosophy. The ideas aren't new or novel by any means, not even when Watts was alive, but there's something irreplaceable about seeing the similarities for yourself—in seeing the way a skyscraper resembles a tree resembles a mushroom in their respective ecosystems.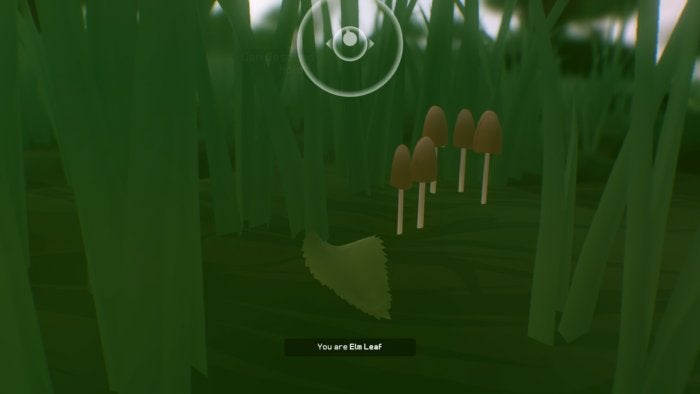 It's fascinating, and testament to the power of interactive media in heretofore unexplored or under-served fields like philosophy, spirituality, and science. You may arrive at the game simply for the novelty of "being" an orangutan for a few minutes, but there's much more to discover if you're willing to engage with it.
I even came to accept its most controversial aspect—larger mammals roll across the ground instead of walking. At first I thought it was a bug, then a design choice based on budget constraints. But no, smaller animals walk, albeit in a skittish cartoon fashion. It must've been a conscious decision to make the larger animals roll.
And I've come to love it as a quirk that echoes Watts, that the universe is interconnected, that the universe is this grandiose and amazing construct—but also, fun. As absurd, in many ways, as it is awe-inspiring.
Bottom line
Everything is not for everyone. It's one part art-house film, one part nature documentary, one part guided meditation. While easily approached and casually consumed, it's a game that nevertheless wants more from you, a game that asks you to quietly reflect on yourself and your place in the Cosmos.
Engage and you may discover one of your favorite games of 2017. If not? Well, it's at least unique, and uniquely ambitious.
Best Prices Today: Everything