Harman Kardon's Invoke speaker, the Microsoft Cortana-powered answer to the Google Home and Amazon Echo, will ship this fall according to a preview page with the first official images of the tabletop device.
Though pricing hasn't yet been revealed, Harman Kardon said that the Invoke will perform three major tasks: make and receive calls with Skype, control popular music services like Microsoft Groove, and "get things done" with Cortana, Microsoft's digital assistant.
Microsoft said it would team up last year with Harman Kardon as part of a new Internet of Things initiative powered by Cortana. Though the initial partnership was expected inside connected cars, it appears both companies will leap into homes first. Harman was showing off the new Invoke on a preview page on its website that's since be unpublished, inviting potential buyers to sign up. Thurrott.com first noted the page earlier.
Why this matters: Though Microsoft was once neck and neck with Siri and Gogle in developing digital assistants, recent moves by Amazon and Google to put them into the home have left Microsoft appearing to lag behind. Even now, the Invoke will ship in the fall, many months after both rivals. While we shouldn't write off the Invoke yet, Microsoft needs to tell us how it's just a single piece of a Cortana-powered ecosystem that presumably spans the PC to your home to maybe your car.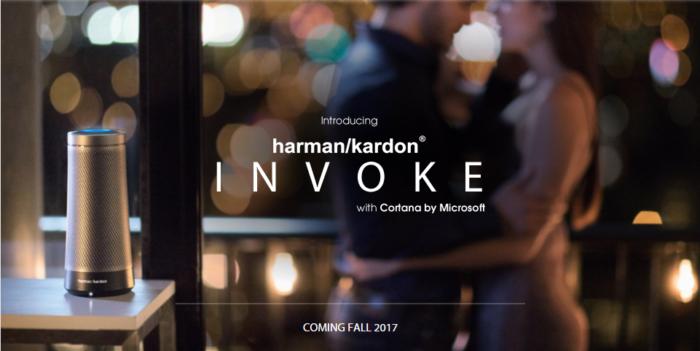 Learning new Cortana skills
Microsoft has been testing Cortana's interaction with the new speaker with a limited subset of Windows Insiders for a few weeks, according to MSPoweruser, including both the Windows 10 version of Cortana as well as the Android app.
The new Devices submenu within Cortana advertises how to set up the new Invoke speaker, connecting it to popular music apps including Microsoft Groove, iHeartRadio, Pandora, TuneIn, and Spotify. The Harman Kardon page implies that it will be able to serve as a speaker for audio-only Skype calls, and answer the standard gamut of Cortana queries, set reminders, and more.
That Microsoft is apparently finalizing its IoT plans right before its hosts its Build developer conference this week is telling, as it implies that Microsoft will have much more to say about the Cortana-powered devices. These "Cortana skills" connect services, bots, Universal Windows apps, Android apps, and websites with Cortana, according to the Cortana Skills Kit page that is currently in public preview.
"Excellent skills take advantage of Cortana's contextual knowledge of the user to do something useful and clever for them," the page states. Once invoked, certain skills can manipulate Cortana to begin a conversation between it and the user, it adds.
Microsoft also plans to host a session on "Cortana advanced language and voice skill design" on Thursday, May 11, according to a schedule of events at Build. Is there a Cortana-powered ecosystem in our future? Let's hope so.