HP's Elite x2 could be the right Surface clone at the right time. On Monday, Microsoft's Panos Panay crushed our dreams (and those of many others, no doubt) when he said there'd be no Surface Pro 5 in the near future to replace the rapidly aging Surface Pro 4. C'mon, Microsoft, it's been 18 months—only Apple can string its users along for years!
Enter HP's Elite x2 1012 G2. Announced Wednesday, it'll ship in July with a starting price of $1,099. Read on to see how it offers all the updated parts we'd love to have in the Surface Pro 4, let alone the mythical Surface Pro 5.
Why this matters: HP's Elite x2 is filling a void. Microsoft's Surface products are supposed to be flagship, aspirational devices that lead the entire PC industry into a brighter and more innovative future. By definition, a flagship shouldn't look too dusty. If Microsoft's not moving on the Surface Pro 4, that gives a company like HP an opportunity to step in and offer something fresher.
Kaby Lake, please
Just going by the specs released at announcement, HP's Elite x2 1012 G2 jumps ahead of the Surface Pro 4 in several key ways. Our number-one gripe about the Surface Pro 4 is its 6th-generation Skylake complement of CPUs. Granted, Kaby Lake's an incremental improvement over Skylake, but its advances in performance and battery life are good-to-haves in any portable PC.
HP's Elite x2 offers four Kaby Lake options:
Core i3 7100U with Intel HD Graphics 620 (2.4GHz, 3MB cache, 2 cores)
Core i5-7200U with Intel HD Graphics 620 (2.5GHz-3.1GHz, 3MB cache, 2 cores)
Core i5-7300U with Intel HD Graphics 620 (2.6GHz-3.5GHz, 3MB cache, 2 cores)
Core i7-7600U with Intel HD Graphics 620 (2.8GHz-3.9GHz, 4MB cache, 2 cores)
The Elite x2 will offer a maximum of 16GB of RAM and 1TB of SSD storage, compared to 16GB and 256GB for the Surface Pro 4. The base $1,099 Elite x2 in the United States will have the Core i3 CPU, 4GB of LPDDR3-1866 SDRAM, and 128GB M.2 SATA SSD.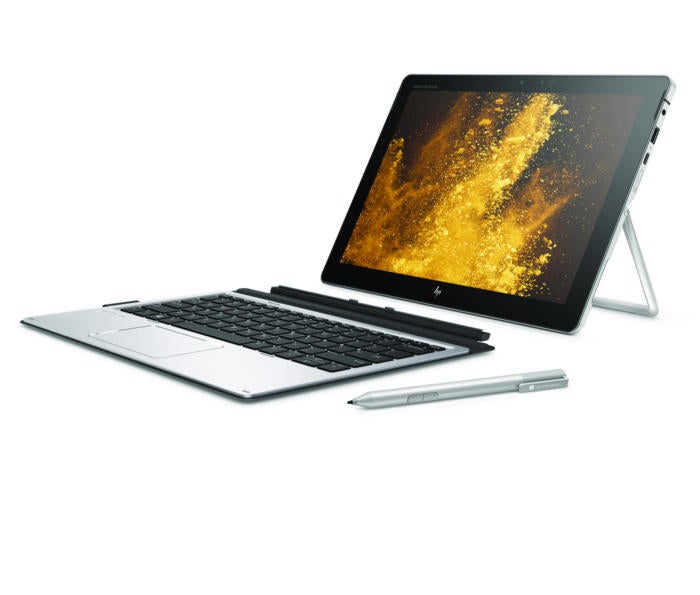 The closest Surface Pro 4 in configuration and price to the Elite x2's base model has a Core i5, 4GB of RAM, and 128GB PCIe SSD, for $849 (discounted from $999). The Core i5's graphics is Intel's older HD Graphics 520. It's worth noting that the Core i7 Surface Pro 4 offers Intel's more powerful Iris graphics, while the new Elite x2s have no such option.
The HP Elite x2's touch display is now the same diagonal width as the Surface: 12.3 inches, up from 12 inches in the Elite x2 1012 G1 model we tested last year. The resolution also increases, from full HD (1920×1080 pixels) to WQXGA+ (2736×1824 pixels). Corning Gorilla Glass continues to protect it. The display has a rear kickstand with a good 165 degrees of tilt.
With the Elite x2 you also get what looks like a nicer keyboard (all models include a pen, too). There are actually two keyboards, and the one you get will depend on the model you buy. We have little information about the Advanced Keyboard, however, other than that it has NFC and a Smart Card reader.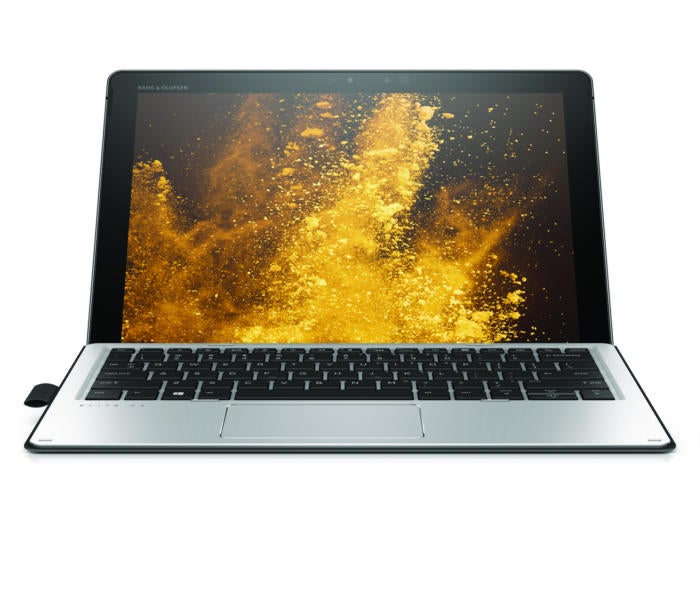 The base $1,099 model comes with the new Collaboration Keyboard, designed to support videoconferencing. The Collaboration Keyboard has buttons dedicated to calendar, call answer/end, and presentation functions. As for typing, the keys are backlit and have a good 1.5mm of travel, plus there's a large clickpad. There's even a pen loop and an easily cleaned polyurethane back cover. It's all wrapped in an aluminum keyboard deck that could feel sturdier than the lighter, plastic Type Cover and Signature Type Cover for the Surface Pro 4.
What we don't yet know is whether the magnetic connection between the keyboard and the tablet will be stronger this time around. When we reviewed an Elite x2 a scant year ago, it seemed too easy for the keyboard to separate from the tablet while sitting on a lap.
And you can open it up and replace things!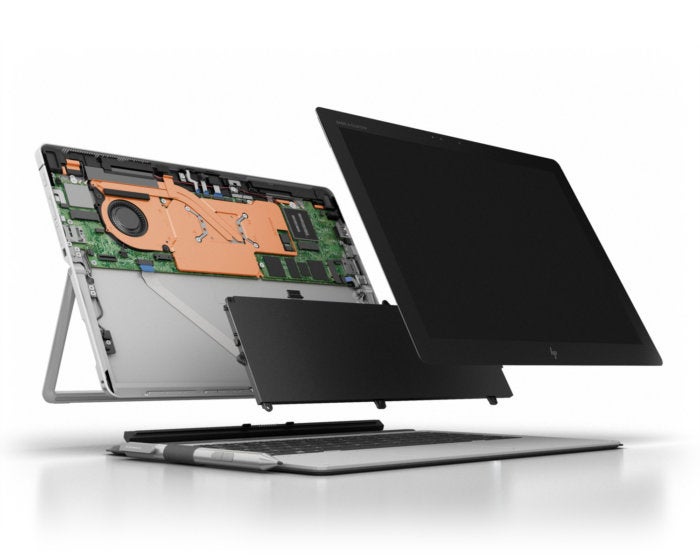 The Elite x2 retains one big advantage over the Surface Pro 4: You can actually open up the Elite x2 for repairs. To be fair, it takes time and money to make a tablet serviceable, and the Elite x2 isn't cheap. But you don't have to be a corporation (the Elite x2's target market) to appreciate being able to open up the back and, say, replace the display or the battery, and even the SSD and Wi-Fi card.
HP's Elite x2 debuts with many features we wish the Surface Pro 4 had. While we won't know whether the Elite x2 truly does compete with the Surface Pro until we can review it, the up-to-date hardware it contains certainly gives it a promising head start.