AT&T has an interesting offer for anyone looking to become a cord-cutter. New subscribers to DirecTV Now will get a free Amazon Fire TV Stick with Alexa Voice Remote when they prepay for one month of the live TV online streaming service.
The basic DirecTV Now package costs $35 per month, which means if you stop your DirecTV Now subscription after one month, you're essentially getting the Fire TV Stick for $5 off. DirecTV Now offered a similar deal when it first launched in late 2016.
Five dollars off isn't much of a deal by itself, but don't forget you also get the DirecTV Now service for a month. The basic "Live a Little" package features channels such as AMC, Cartoon Network, Comedy Central, CNN, Disney, ESPN, FS1 and FX. There are three other higher-priced packages available too, as well as add-ons for additional costs such as Cinemax, HBO, and Starz.
As for the Fire TV Stick with the Alexa remote, it's a nice little streaming device. It's not quite as handy as Chromecast, which lets you send content from your phone to your TV, but as a cheap way to access streaming services in your living room, it's a fine choice.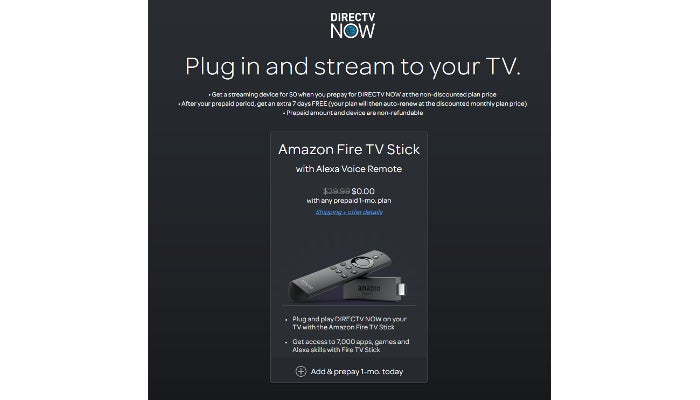 [ Today's deal: Free Amazon Fire TV Stick with Alexa Voice Remote with 1-month DirecTV Now subscription ]
Note: When you purchase something after clicking links in our articles, we may earn a small commission. Read our affiliate link policy for more details.
Ian is an independent writer based in Israel who has never met a tech subject he didn't like. He primarily covers Windows, PC and gaming hardware, video and music streaming services, social networks, and browsers. When he's not covering the news he's working on how-to tips for PC users, or tuning his eGPU setup.