Seven long months after the next-generation "Volta" graphics architecture debuted in the Tesla V100 for data centers, the Nvidia Titan V finally brings the bleeding-edge tech to PCs in traditional graphics card form. But make no mistake: This golden-clad monster targets data scientists, with a tensor core-laden hardware configuration designed to optimize deep learning tasks. You won't want to buy this $3,000 GPU to play Destiny 2.
But that doesn't mean we humble PC gamers can't glean information from Volta's current AI-centric incarnations. Here are five key things you need to know about the Titan V and Nvidia's Volta GPU.
Editor's note: This article was originally published on May 11, 2017 but was updated on December 8 to include information from the Titan V.
1. It's not for you, yet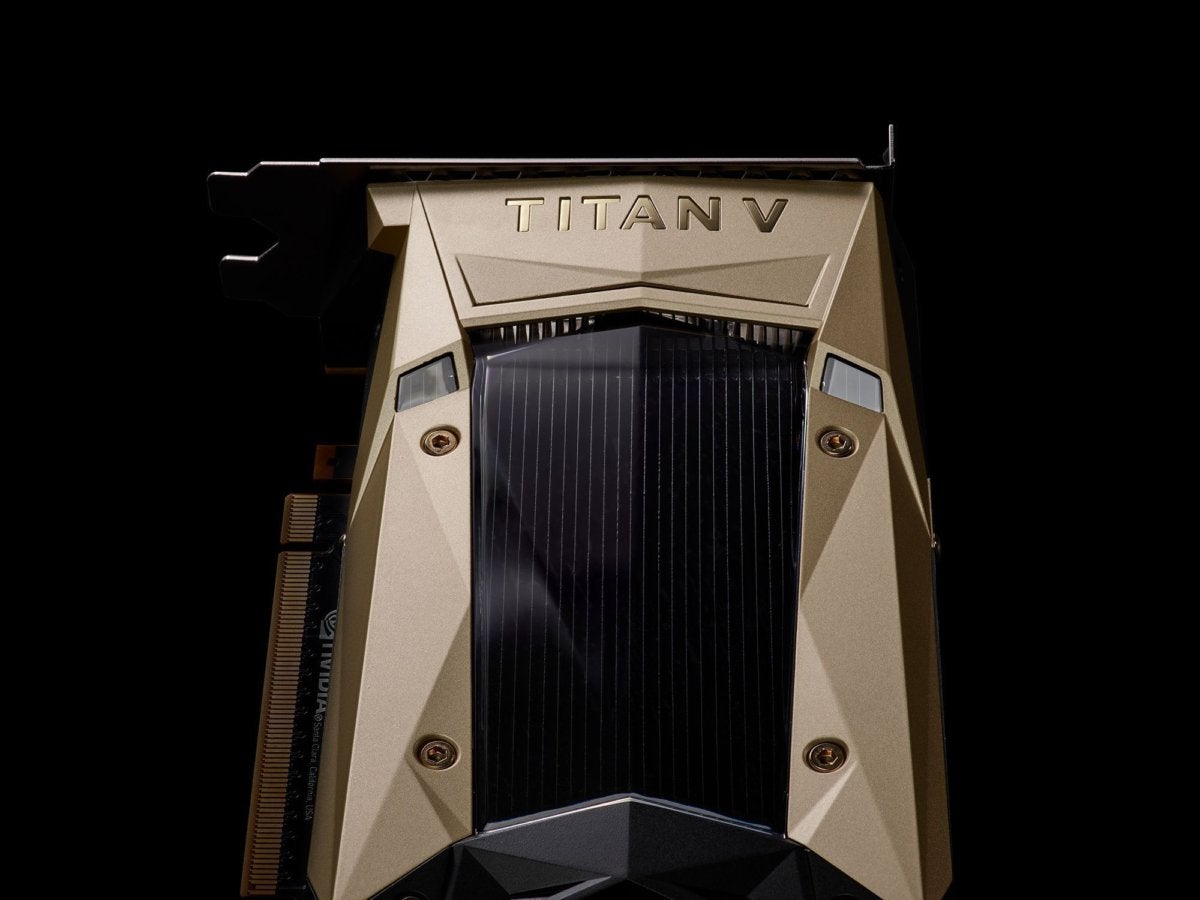 If you're looking for hot details about the future of GeForce graphics cards, well, keep waiting. Like the Pascal GPU architecture before it, Volta's grand reveal comes in the form of a monstrous Tesla V100 GPU built for data centers, and the PC-ready Titan V sticks to the same GPU configuration with a slightly reduced memory system. CEO Jen-Hsun Huang focused on the hardware's AI chops and announced a new $149,000 DGX-1 deep learning system with eight of the Volta processors inside during the V100's launch.
Big spenders get first crack at Volta, while the GTX 10-series consumer graphics cards are still flying off the shelves thanks to cryptocurrency miners. That said, the details Nvidia released about Volta hint at what we might expect from the inevitable next-gen GeForce cards.
2. Volta beats the pants off Pascal
The Titan V and Tesla V100 rock 21 billion transistors and 5,120 CUDA cores running at 1,455MHz. That downright dwarfs Pascal's flagship data center GPU, the Tesla P100, which packs 15 billion transistors and 3,840 CUDA cores running at a slightly faster 1,480MHz maximum clock speed.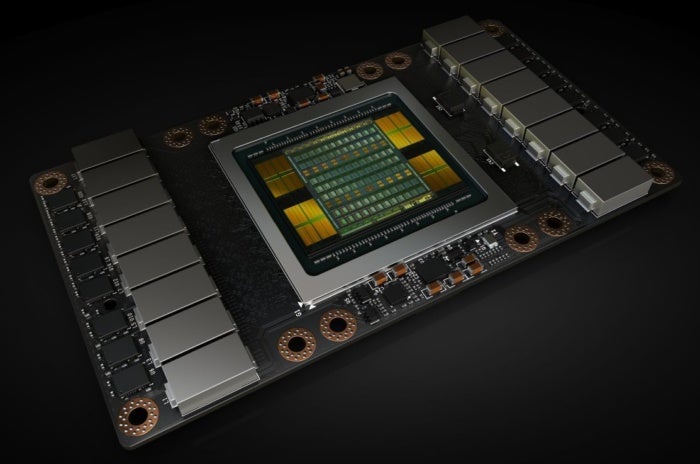 The GTX 1080 Ti is the fastest consumer GPU
Gigabyte Aorus GeForce GTX 1080 Ti
Price When Reviewed:
$719.99
It's impossible to know what GeForce graphics cards based on Volta will look like, but the Titan Xp wound up with a full-blown implementation of the Tesla P100's Pascal GPU, and it's the fastest gaming GPU in the world. Heck, the GeForce GTX 1080 Ti sports a slightly nerfed version with 3,584 CUDA cores, and it can still game at 4K resolution without breaking a sweat.
Nvidia says the Tesla V100 offers 1.5 times the teraflops performance of its Pascal predecessor. For yet another point of reference, the Titan V packs four times as many CUDA cores as the GeForce GTX 1060, twice as many as the beastly GTX 1080, and 320 texture units compared to the GTX 1080 Ti's 224.
3. Cutting-edge tech showcase
Nvidia spared no expense in preparing Volta's flagship. The GV100 GPU inside the Titan V and Tesla V100 use TSMC's new 12nm "FFN" manufacturing process technology, an upgrade over the 16nm tech that GTX 10-series GPUs rely on. Smaller transistors mean better performance and power efficiency.
It also includes 640 "tensor cores" designed to greatly accelerate machine learning, and the Tesla V100 supports the second-gen version of Nvidia's NVLink technology, which the company says surpasses PCIe transfer speeds by a whopping tenfold.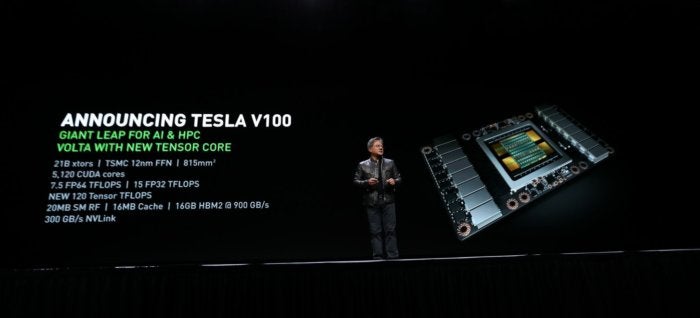 None of that matters to PC gamers, though. What could matter is the memory. Like AMD Radeon Fury and Radeon Vega graphics cards, this data center GPU includes high-bandwidth memory technology—16GB of second-gen HBM2 in the Tesla V100, in fact, with peak speeds of 900GB/s. That's damned fast. The Titan V sports a similar setup with slightly cut-back capacity and speeds.
The just-launched GTX 1070 Ti uses GDDR5
Gigabyte GeForce GTX 1070 Ti Gaming
Price When Reviewed:
$489.99
But there's no guarantee that HBM2 will wind up in GeForce cards based on the Volta architecture. The GTX 10-series relies on traditional GDDR5 and GDDR5X RAM despite launching after AMD's Fury, and it's no worse for wear because of it. Nvidia will likely ditch HBM2 and stick with the memory we know for at least some of the inevitable Volta-based GeForce cards, given the high price of HBM.
4. Volta is massive
Cramming all that technology into a graphics processor is no easy task. The Volta GPU found in the Tesla V100 is massive, measuring a whopping 815mm squared—literally the limits of the GPU fabrication process being used. By comparison, plus-sized GPUs found in Radeon's Fury cards and recent high-end GeForce chips clock in at roughly 600mm.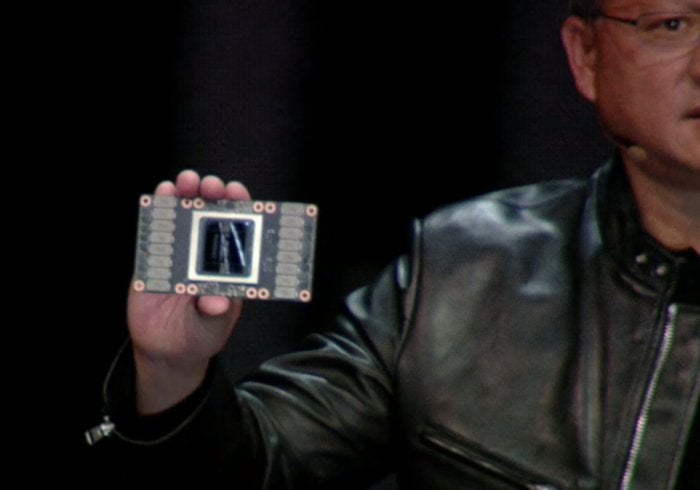 In any case, there's never been a GPU this large in a consumer graphics card before. Whether this gigantic version of Volta appears in the GeForce lineup of tomorrow depends on Nvidia's willingness to break new ground. Yields might be better now that TSMC and Nvidia have so many months of Volta production underneath their belts, but consumers won't pay anywhere near the premium that businesses will for something this radical.
5. But GV100 fits into graphics cards
The arrival of the Titan V proves that Nvidia can indeed stuff the massive GV100 GPU into a traditional dual-slot graphics card, which is mighty impressive indeed. The immense space savings provided by HBM2 likely plays a part in that.
If Nvidia decided to drop a variant of the full-fat, 5,120 CUDA core GPU into a GeForce GTX 1180 Ti (or whatever), I'd expect them to keep 8GB of HBM2 onboard, bringing the cutting-edge memory to the GeForce lineup for the first time. Traditional VRAM might flat-out not fit into a graphics card with a GPU this massive.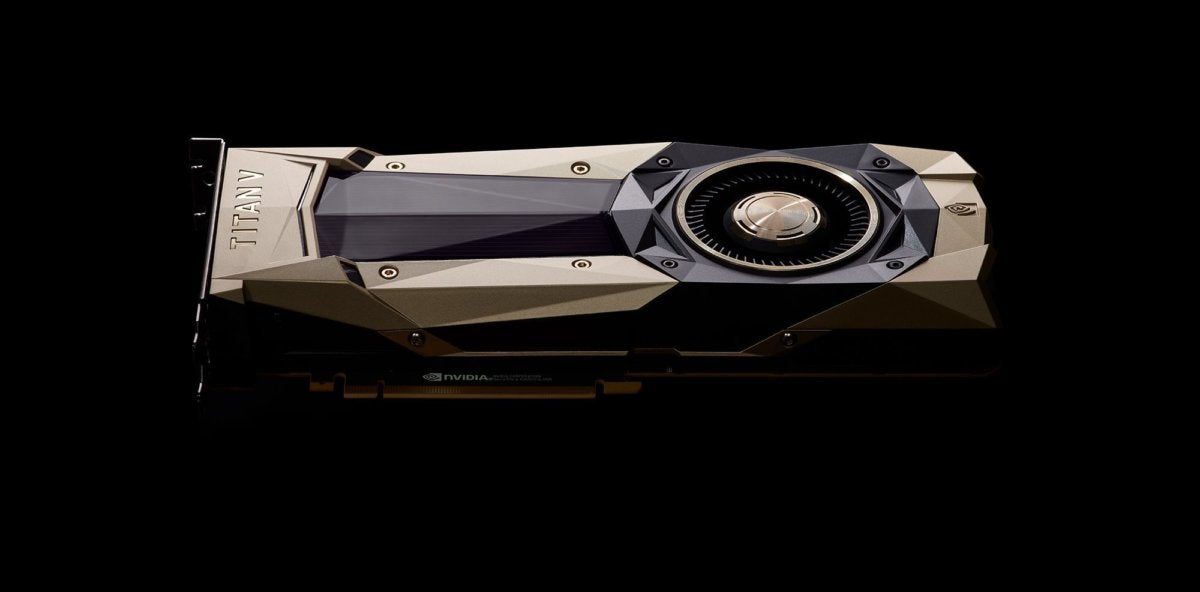 Memory manufacturers have already announced that GDDR6 will be coming to graphics cards in 2018. It's unknown whether next-gen GeForce cards will include that, but considering how well the GDDR5 and GDDR5X VRAM in the GTX 10-series performs, expect non-flagship GeForce Volta cards to stick to traditional memory configurations.
Consumer Volta cards will almost undoubtedly ditch the relentlessly compute-centric tensor cores found in the Titan V. That could give Nvidia more room to cram in game-boosting technologies. Also note that the full-fat GP102 "Pascal" GPU gained an extra 100MHz of clock speed in the move from the Tesla data center card to the GTX 1080 Ti.
When will Volta come to GeForce cards?
But the real question is when we can expect to see Volta-based GeForce graphics cards. The GTX 10-series launched a mere month after Pascal's release at GTC 2016. It's already been seven grueling months since Nvidia unveiled Volta and we haven't heard a peep about GeForce offerings.
Mentioned in this article
MSI GeForce GTX 1080 Gaming
Price When Reviewed:
$599.99
Now that the Titan V is in the wild, I'd love to see Nvidia launch a powerful Volta-based GTX 1080 Ti successor during its CES keynote. But nothing in the market is pushing Nvidia to release Volta GeForce cards right now. AMD's much-hyped Radeon Vega cards wound up being unable to beat the GTX 1080—not the Ti version, but the vanilla GTX 1080—in most scenarios, and current GTX 10-series cards are still flying off the shelves thanks to cryptocurrency miners. Hell, many GTX 10-series options are selling for more now than they did when they launched a year and a half ago.
We'll hear more about the next-gen GeForce lineup someday, but whether that'll be sooner or later is very much up in the air. In the meantime, head over to PCWorld's guide to the best graphics cards to find the best fit for your budget today.