At a Glance
Expert's Rating
Pros
No-compromises 1080p and good 1440p performance
Attractive, well-designed custom cooler
Same price as reference cards
Cons
Solid affordable card, but few extras
Far less power efficient than GTX 1060
Our Verdict
Sapphire's 8GB RX 580 Pulse offers a decent overclock and a solid custom cooling solution for just $10 over AMD's baseline price. Definitely buy it over a reference card.
Best Prices Today: Radeon RX 580 Pulse
AMD's new Radeon RX 500-series offers some of the best bang-for-buck graphics cards around, but so far, PCWorld's reviews have mostly focused on custom versions with beefy coolers and premium prices, like the $300 Asus Strix RX 580 Top OC and $260 Sapphire RX 580 Nitro+. What if you're looking to upgrade your PC while keeping costs as low as possible?
Enter more budget-friendly models like Sapphire's new Pulse series. The Pulse cards are designed to give gamers "great value for money," according to Sapphire, and at prices just above AMD's baseline MSRPs. There's only one way to know whether that's more than mere marketing fluff: taking it to the test bench.
Meet the Sapphire Pulse series
Sapphire sent over a pair of Pulse cards for review: the $180 4GB RX 570 Pulse and the $230 8GB RX 580 Pulse. The Pulse series also includes a $200 4GB RX 580 Pulse. (Unfortunately, online retailers are selling the cards with an additional $10 markup at the time of publication.)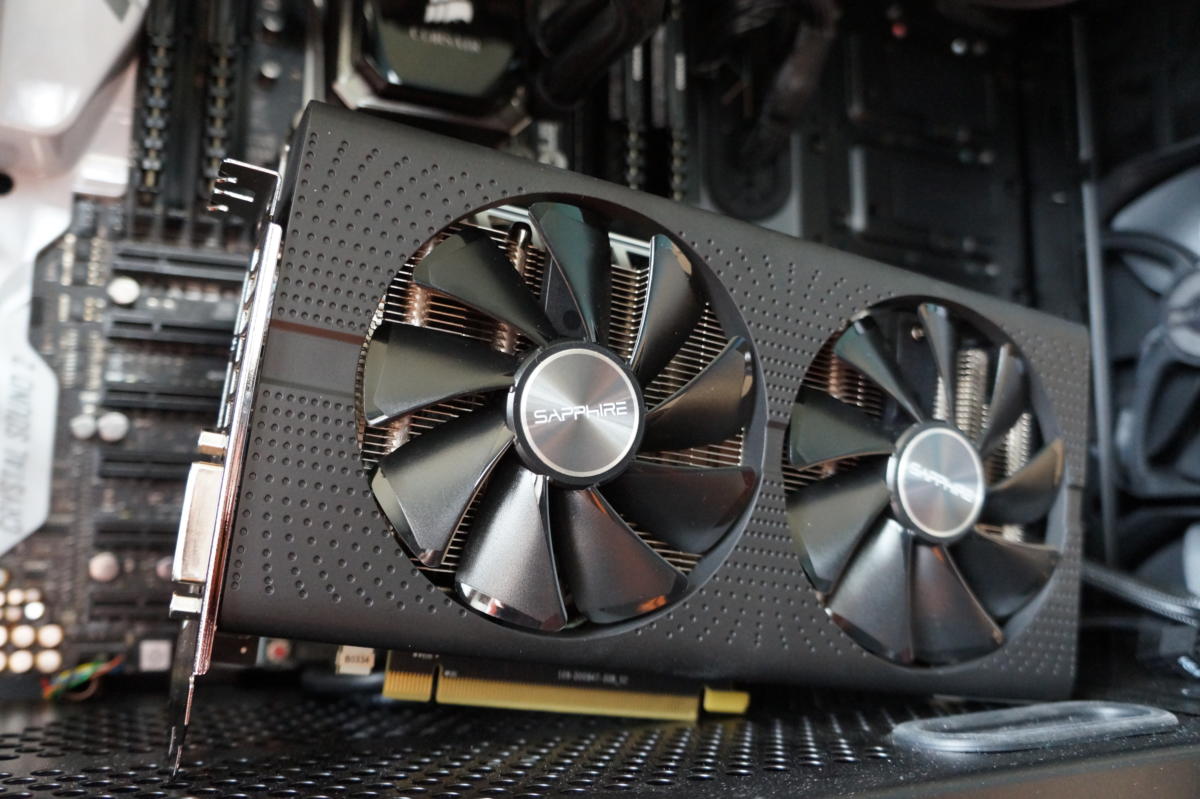 All of the cards match AMD's baseline pricing, with the exception of the $180 RX 570 Pulse we're testing today—RX 570 cards start at $170. But there's a good reason for the premium: It packs Sapphire's Dual-X custom cooler, just like the Radeon RX 580 Pulse cards. If you're pinching pennies or have a tiny case, Sapphire also offers a $170 Mini-ITX 4GB RX 570 Pulse with a single-fan design and reference clock speeds.
The Pulse cards we're testing today include niceties not often found in budget models—and they're visually identical. Both feature Sapphire's Dual-X cooling solution with Quick Connect fans, and the same classy, perforated, black plastic shroud as Sapphire's recent Nitro cards. The cards also rock a silver and black aluminum backplate, shot through with red pulse lines that play to the series name. Under the hood, the cards pack features like Sapphire's black diamond chokes, precision fan control that allows the card to more accurately hit its designated RPM speeds, and the ability to shut off those fans completely when you aren't stressing the GPU.
The port configuration on the two cards is also the same. Both the Sapphire RX 570 Pulse and 8GB RX 580 Pulse rock dual DisplayPorts, dual HDMI ports (which is good for virtual-reality users), and DVI.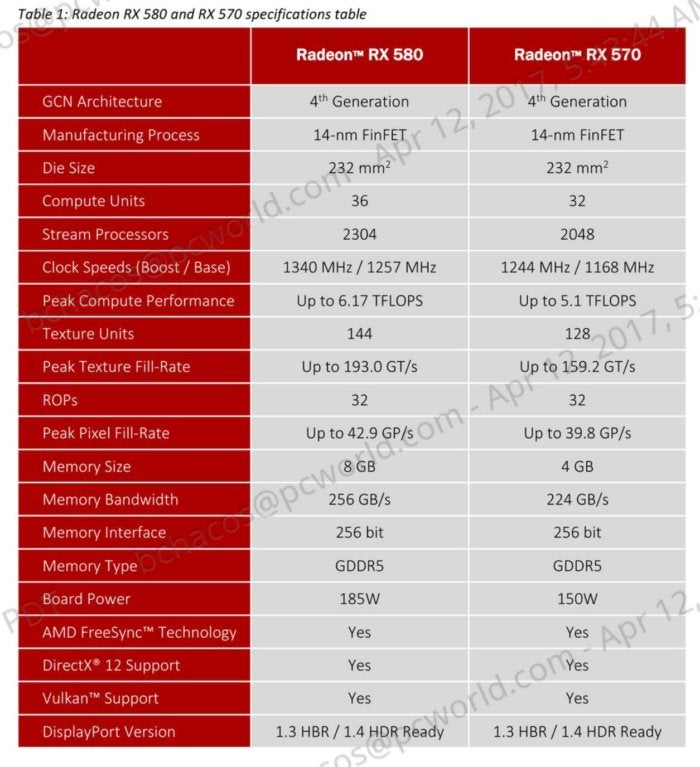 Performance isn't identical though. The chart above shows the technical differences between the reference Radeon RX 570 and RX 580. Sapphire used the extra cooling oomph to apply a 40MHz overclock to the RX 570 Pulse, which helps ease the sting of its $10 premium, and a 26MHz overclock to the RX 580 Pulse. They hit 1,284MHz and 1,366MHz, respectively.
But now for the real question: How does Pulse compare to Sapphire's flagship Nitro brand? It just so happens that I have a Nitro RX 580+ on hand. We'll get in to performance in the coming pages but here's a look at some key differences.
Sapphire Pulse vs. Nitro+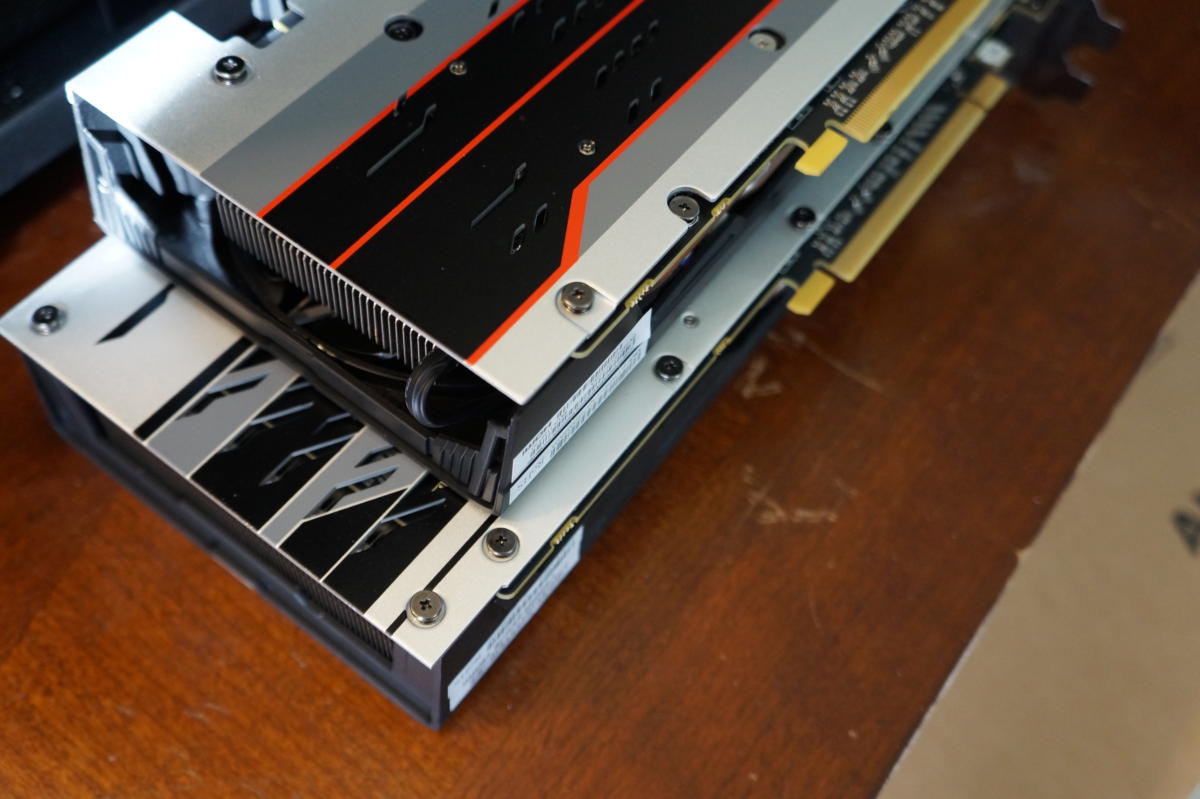 You can see one difference immediately, and no, I'm not talking about the backplate design (for the record, I prefer the Nitro+'s aesthetic). The Nitro+ is both wide and longer than the RX 580 Pulse, to better accommodate the pricier model's more robust cooling solution.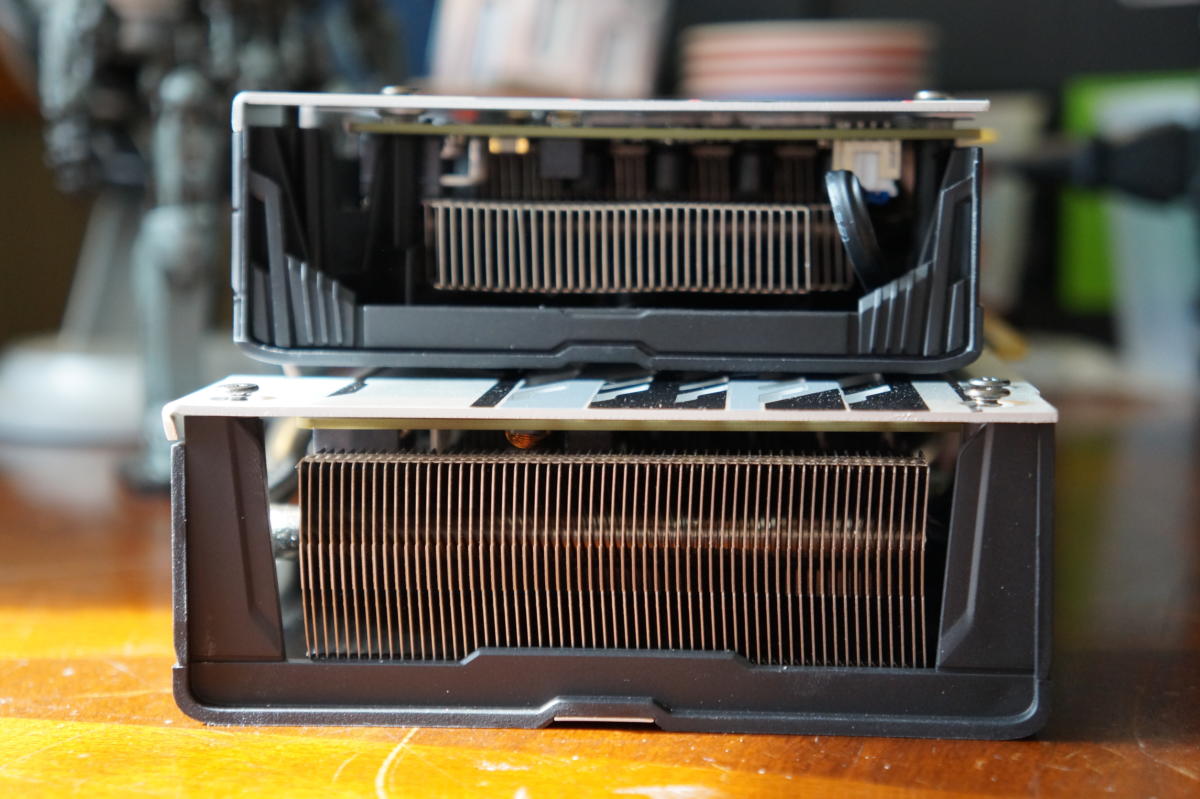 Taking a peek at the end of the cards reveals just how much larger the Nitro+ model's heatsink is compared to the Pulse card's. There's no comparison. Likewise, examining the edge of the cards shows that the Nitro+ includes thick, snaking heat pipes while the Pulse does not.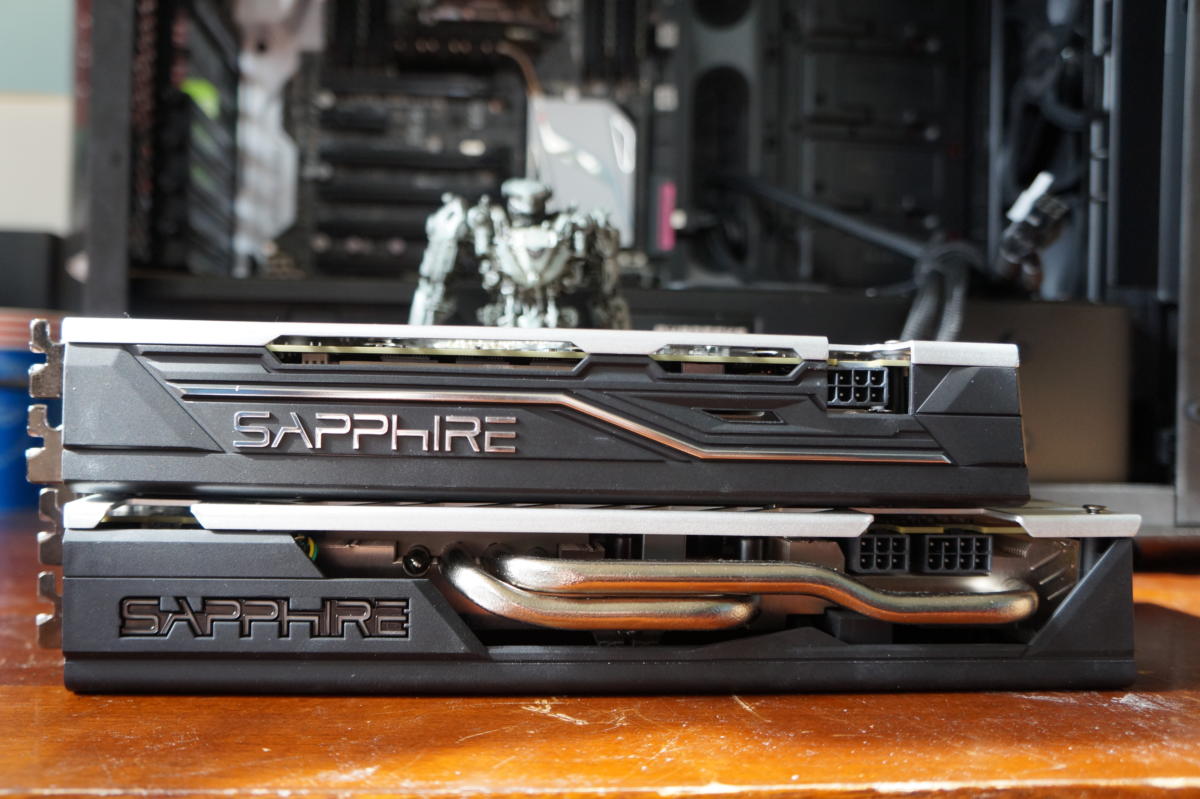 The edge of the cards reveals other key differences if you look closely. The Pulse's Sapphire logo lacks the RGB illumination found on the Nitro+, for one thing. The pricier card also offers dual BIOSes and an optional 6-pin power connector, both of which can potentially be a boon for overclocking. Speaking of which, the Nitro+ offers a higher out-of-the-box overclock, at 1,411MHz vs. the RX 580 Pulse's 1,366MHz.
So you get a lot of extra features for your money with the Nitro+—but are the RX 570 and RX 580 Pulse, the stars of this review, still worthwhile? Let's benchmark!
Next page: System configuration, benchmarks begin
Our test system/The Division benchmarks
We tested Sapphire's Radeon RX 570 Pulse and RX 580 Pulse on PCWorld's dedicated graphics card benchmark system. Our testbed's loaded with high-end components to avoid bottlenecks in other parts of the system and show unfettered graphics performance.
Mentioned in this article
Aorus Radeon RX 570
Price When Reviewed:
$159.99
PCWorld's original RX 570 and RX 580 reviews compared the cards to their closest competition, so for this review we're going to focus on how Sapphire's Pulse series compares to folks who have already decided to pick up a Radeon. To that end, we're comparing the Sapphire RX 570 Pulse ($180) against Gigabyte's Aorus RX 570 ($180 on Newegg) and the older XFX Radeon 470; and the 8GB Sapphire RX 580 Pulse ($230) against the aforementioned 8GB Sapphire RX 580 Nitro+ ($260 on Newegg) and MSI's older, overclocked 8GB RX 480 Gaming X. It'll be fun to see how the RX 570 Pulse stacks up against the overclocked MSI RX 480, too.
Each game's tested using its in-game benchmark at the mentioned graphics presets, with V-sync, frame-rate caps, and all GPU vendor-specific technologies—like AMD TressFX, Nvidia GameWorks options, and FreeSync/G-Sync—disabled. For these cards, we're testing at both 1440p and 1080p resolution.
Let's go!
The Division
The Division, a gorgeous third-person shooter/RPG that mixes elements of Destiny and Gears of War, kicks things off with Ubisoft's new Snowdrop engine. We test the game in DirectX 11 mode; The Division recently rolled out an update that adds DirectX 12 support, but the performance is virtually identical to the DX11 results.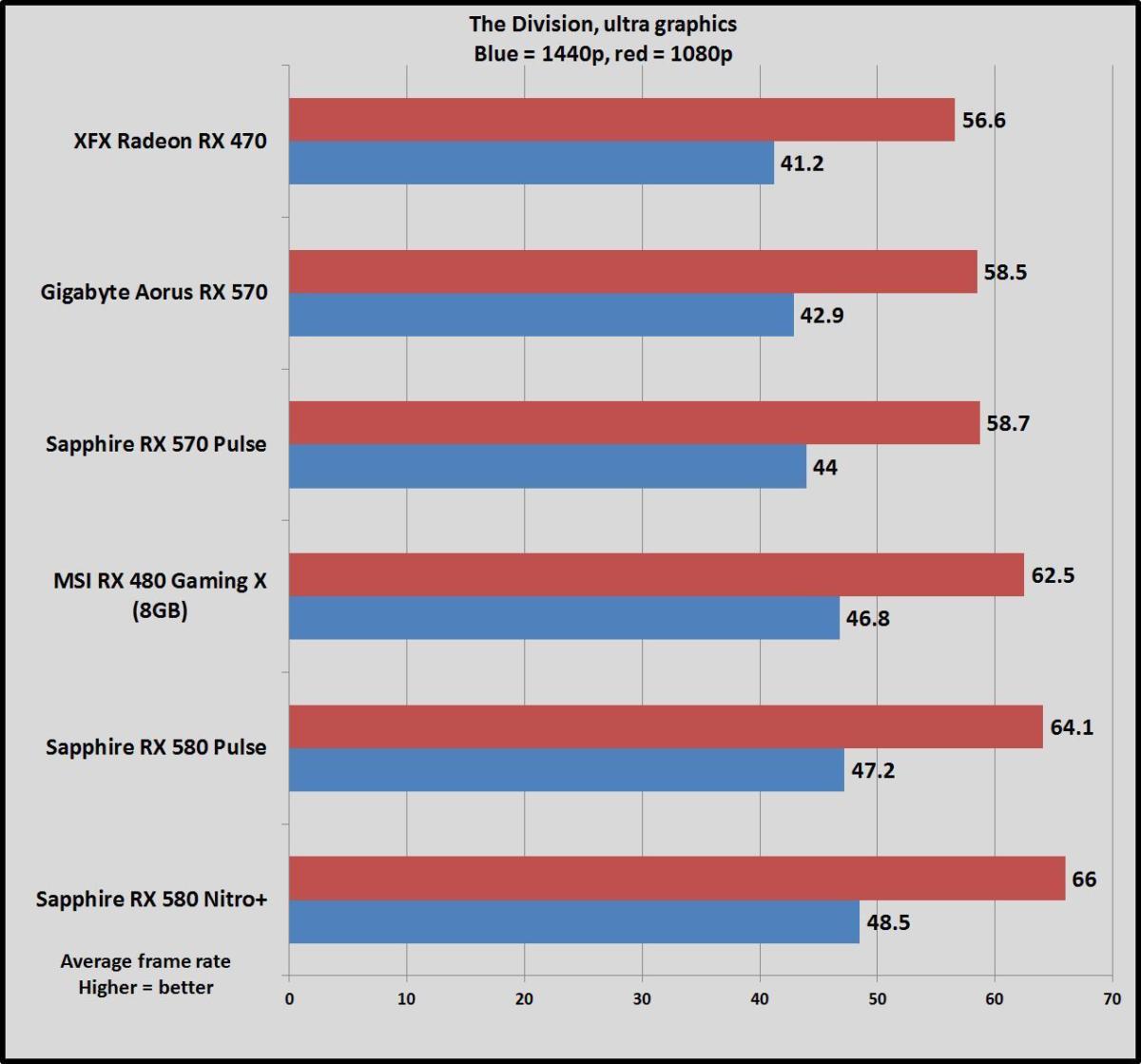 The trends you see here will repeat throughout these game benchmark tests, to such a degree that we won't be commenting on the other gaming results. The Aorus RX 570 and Sapphire RX 570 Pulse are effectively in a dead heat, while the pricier, higher-overclocked Sapphire RX 580 Nitro+ beats its more affordable cousin by a few frames per second.
Even though the RX 580 Pulse hews close to the RX 580's minimum MSRP, it still manages to beat out the overclocked MSI Gaming X, which was a highly regarded (and fast) custom RX 480 card.
Next page: Hitman
Hitman
Hitman's Glacier engine historically favors AMD hardware. It's no surprise, since Hitman's a flagship AMD Gaming Evolved title. That said, GeForce cards certainly don't slouch after recent driver optimizations. We test in both DirectX 11 and DirectX 12 with SSAO disabled.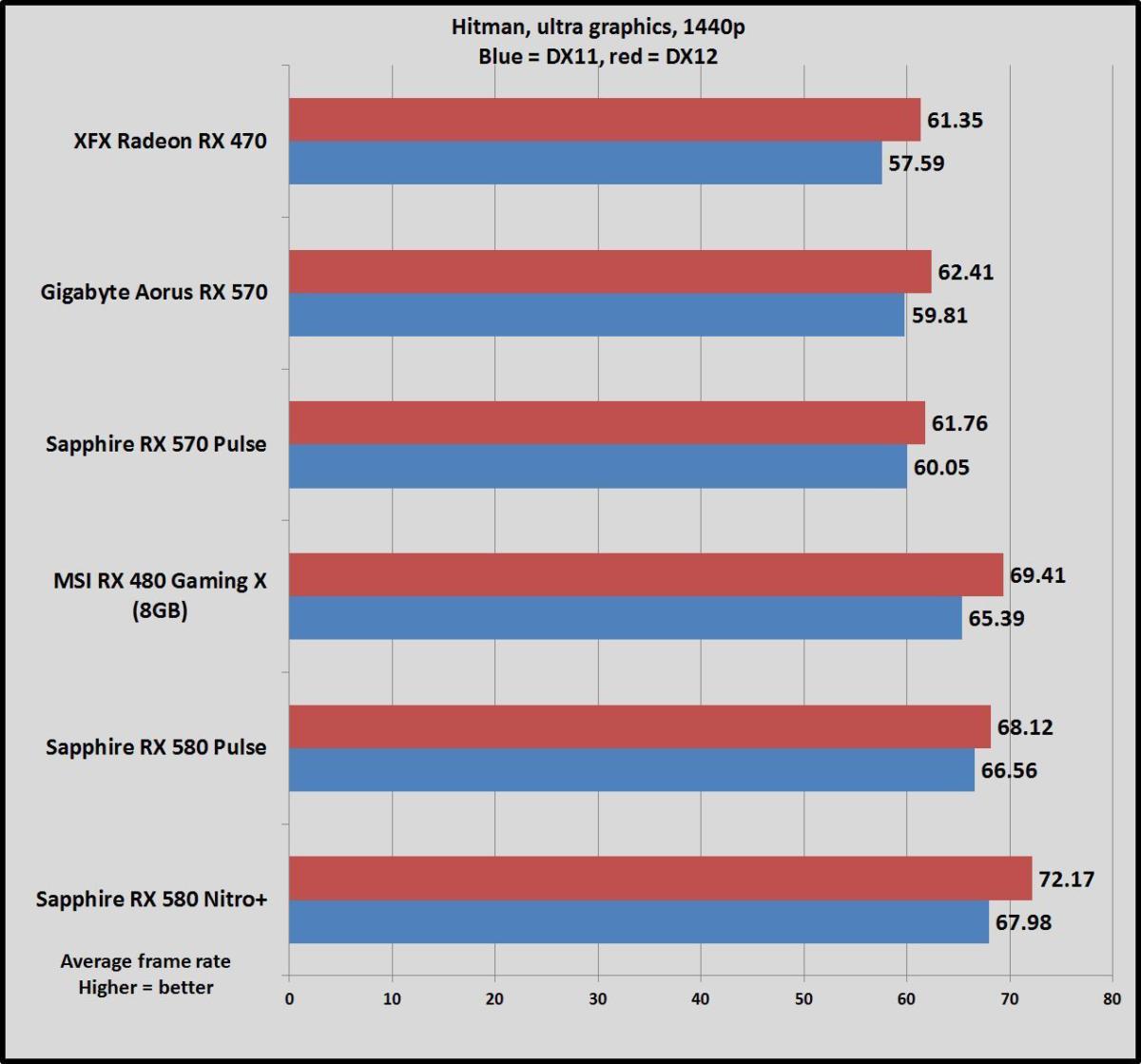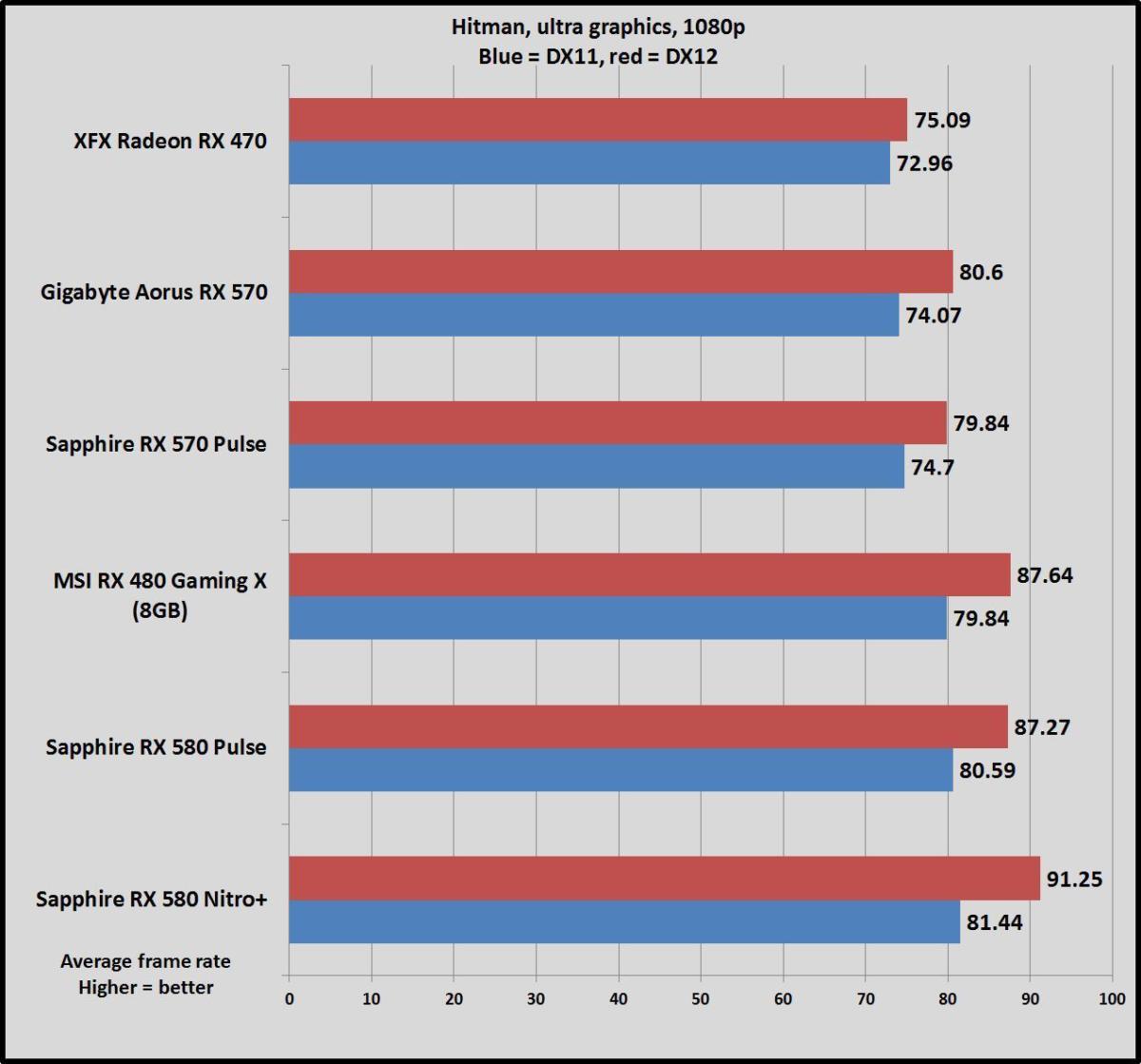 Next page: Rise of the Tomb Raider
Rise of the Tomb Raider
Whereas Hitman adores Radeon GPUs, Rise of the Tomb Raider performs much better on GeForce cards—and it's absolutely gorgeous. We only test the game's DirectX 11 mode, as DX12 results can be erratic.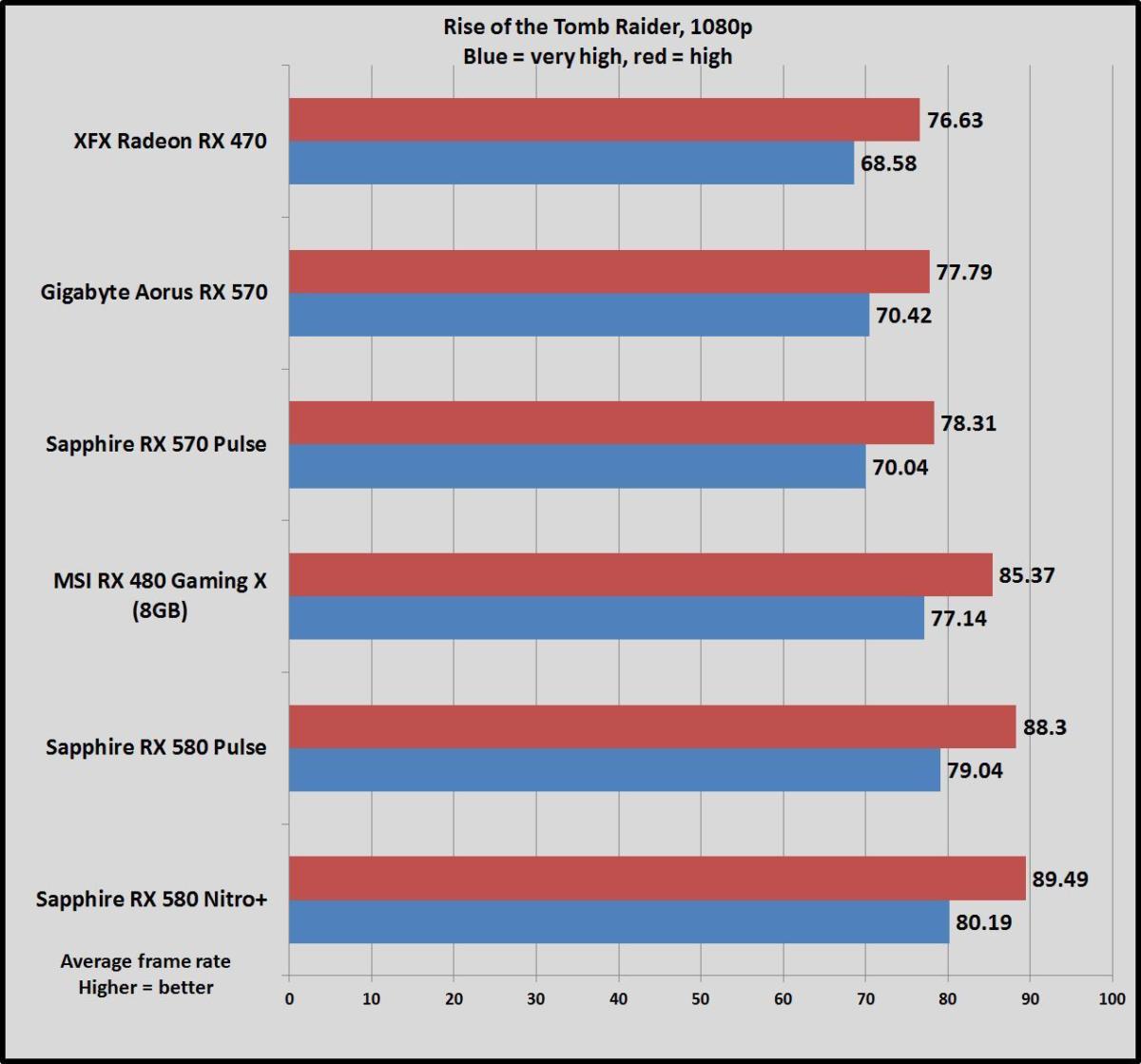 Next page: Far Cry Primal
Far Cry Primal
Far Cry Primal is another Ubisoft game, but it's powered by a different engine than The Division—the latest version of the long-running and well-respected Dunia engine.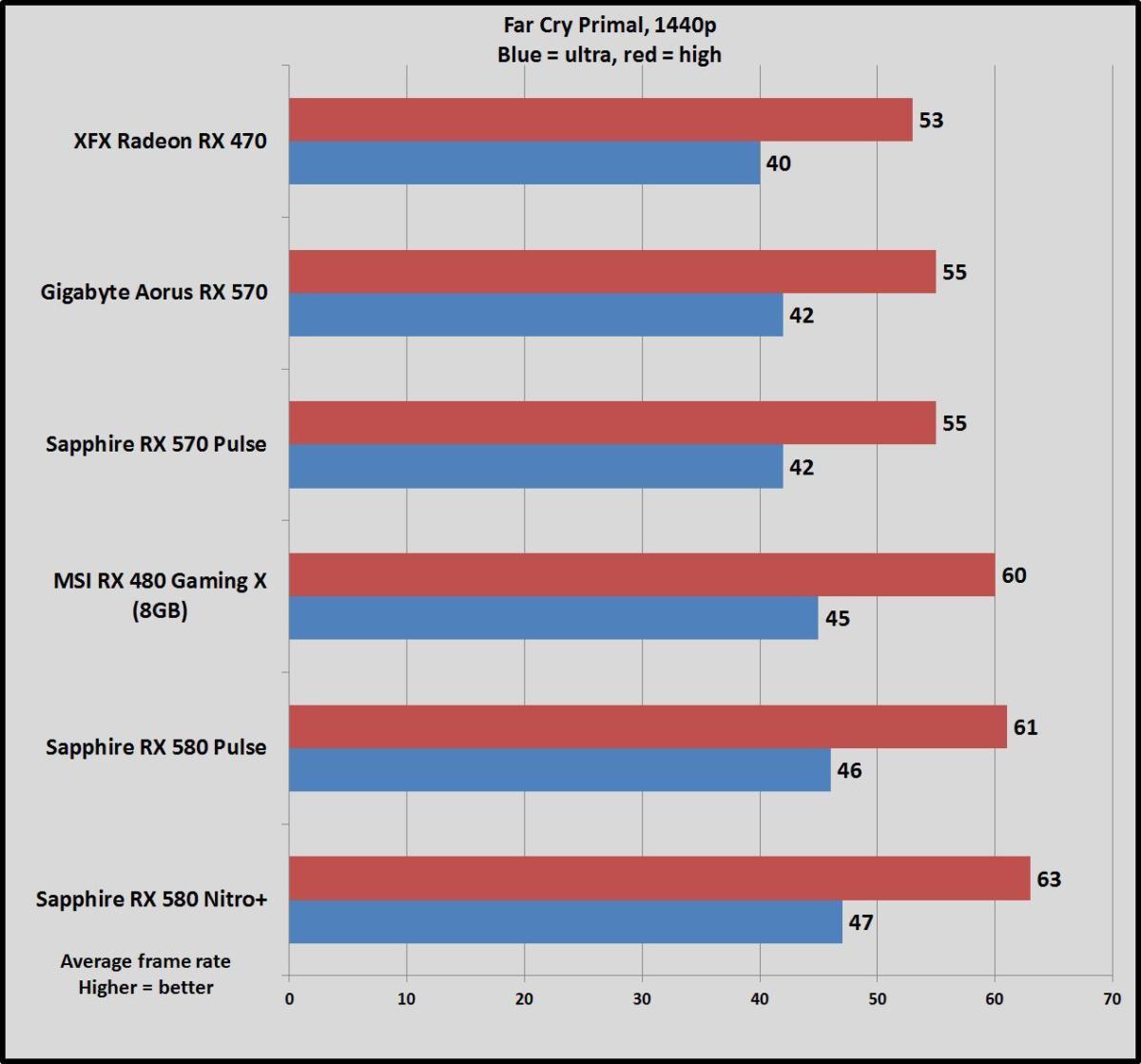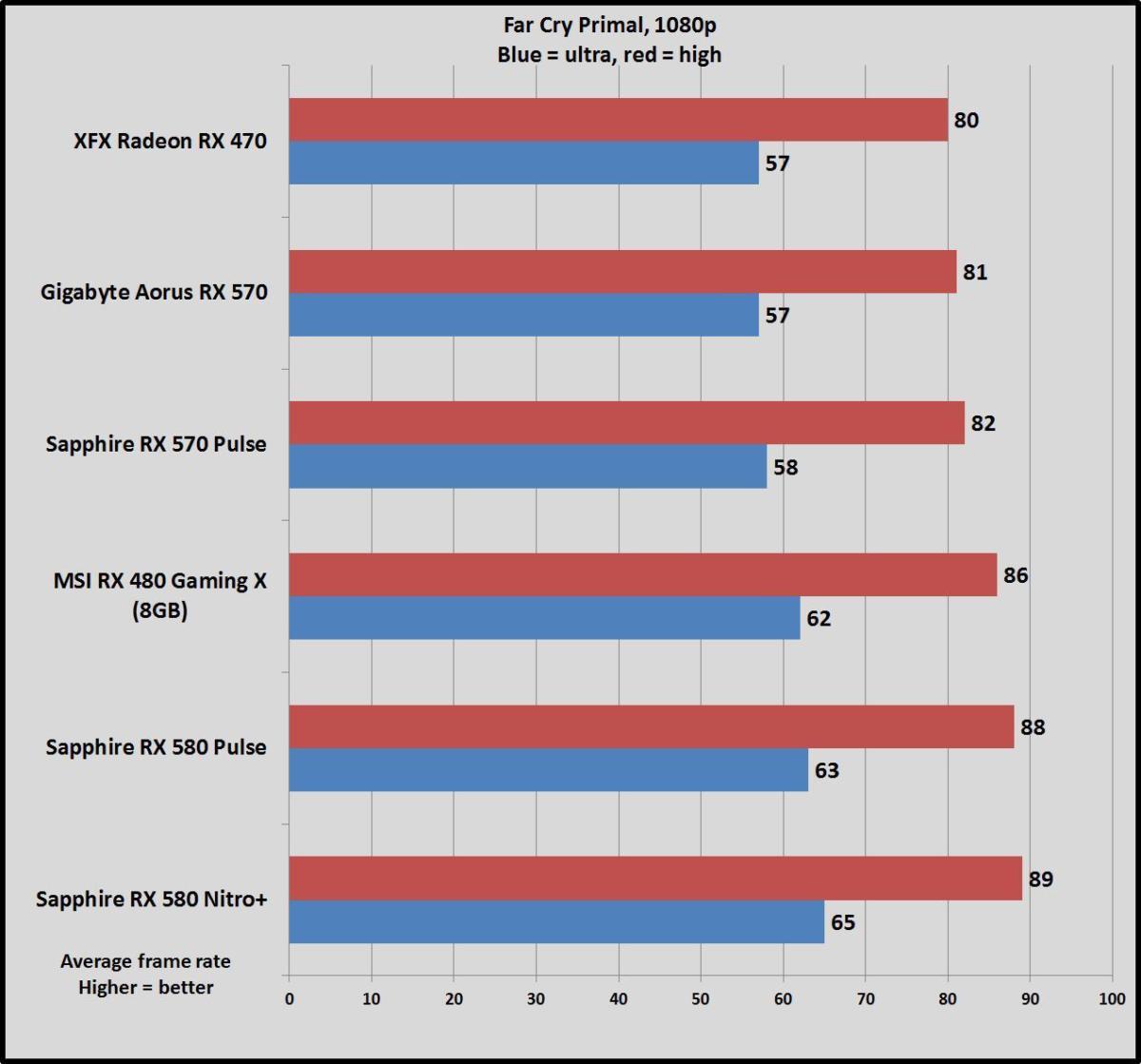 Next page: Ashes of the Singularity
Ashes of the Singularity
Ashes of the Singularity, running on Oxide's custom Nitrous engine, was an early standard-bearer for DirectX 12, and many months later it's still the premier game for seeing what next-gen graphics technologies have to offer. We test the game using the High graphics setting, as the wildly strenuous Crazy and Extreme presets aren't reflective of real-world usage scenarios.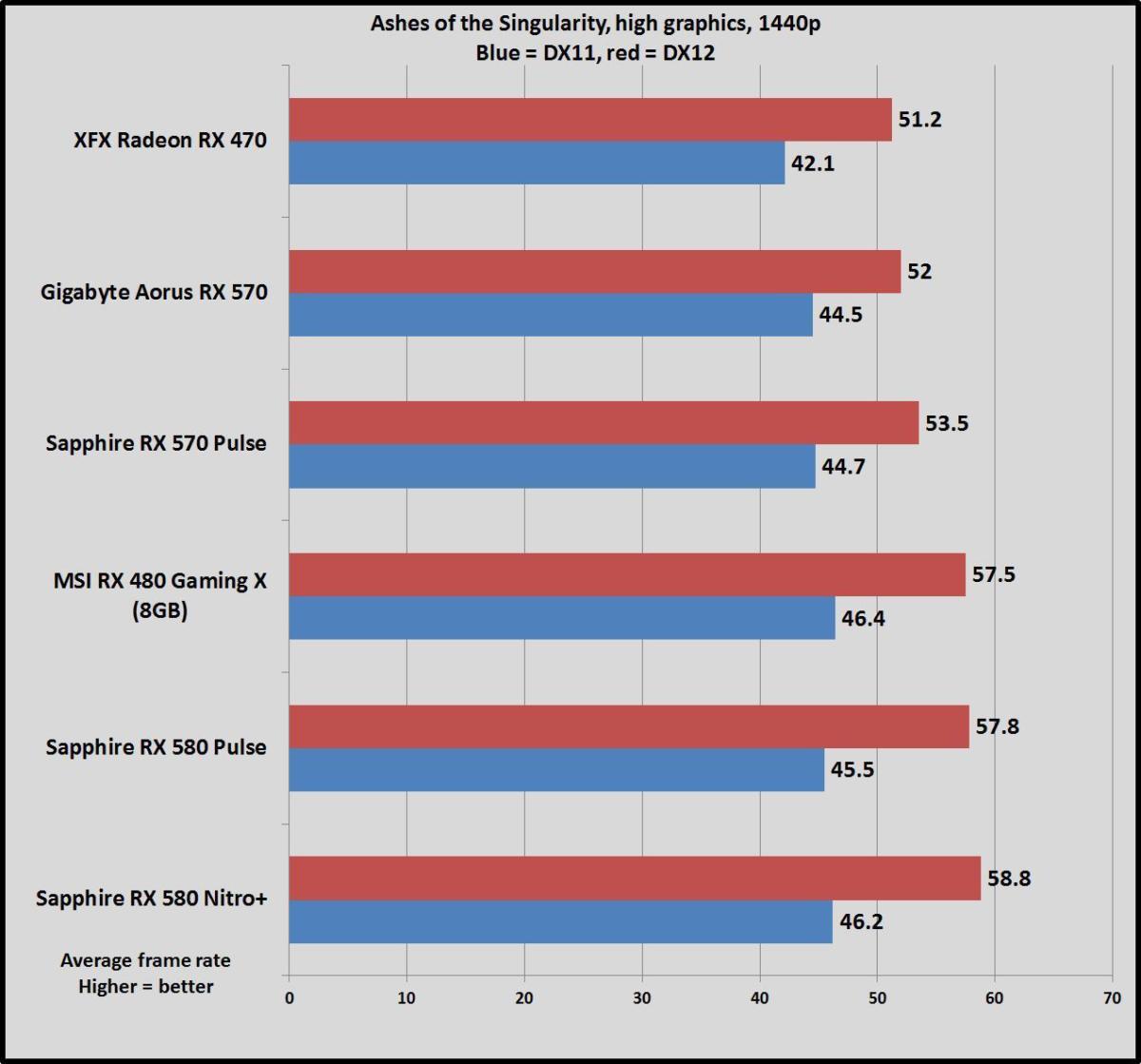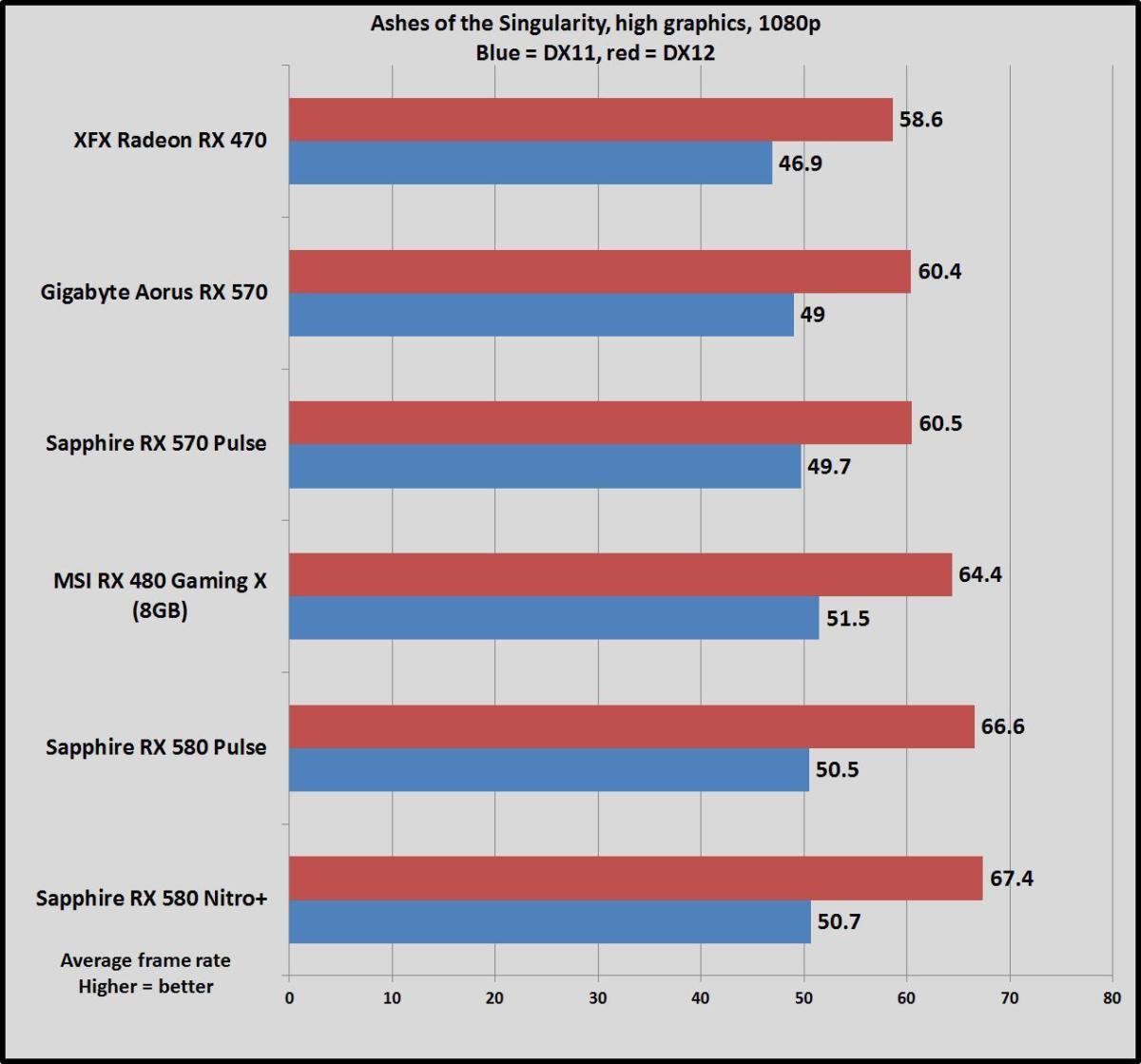 Next page: Synthetic benchmarks
Synthetics, power, and heat
We also tested the Sapphire Pulse cards and their rivals using 3DMark's highly respected DX11 Fire Strike and Fire Strike Ultra synthetic benchmarks, as well as 3DMark's Time Spy benchmark, which tests DirectX 12 performance at 2560×1440 resolution.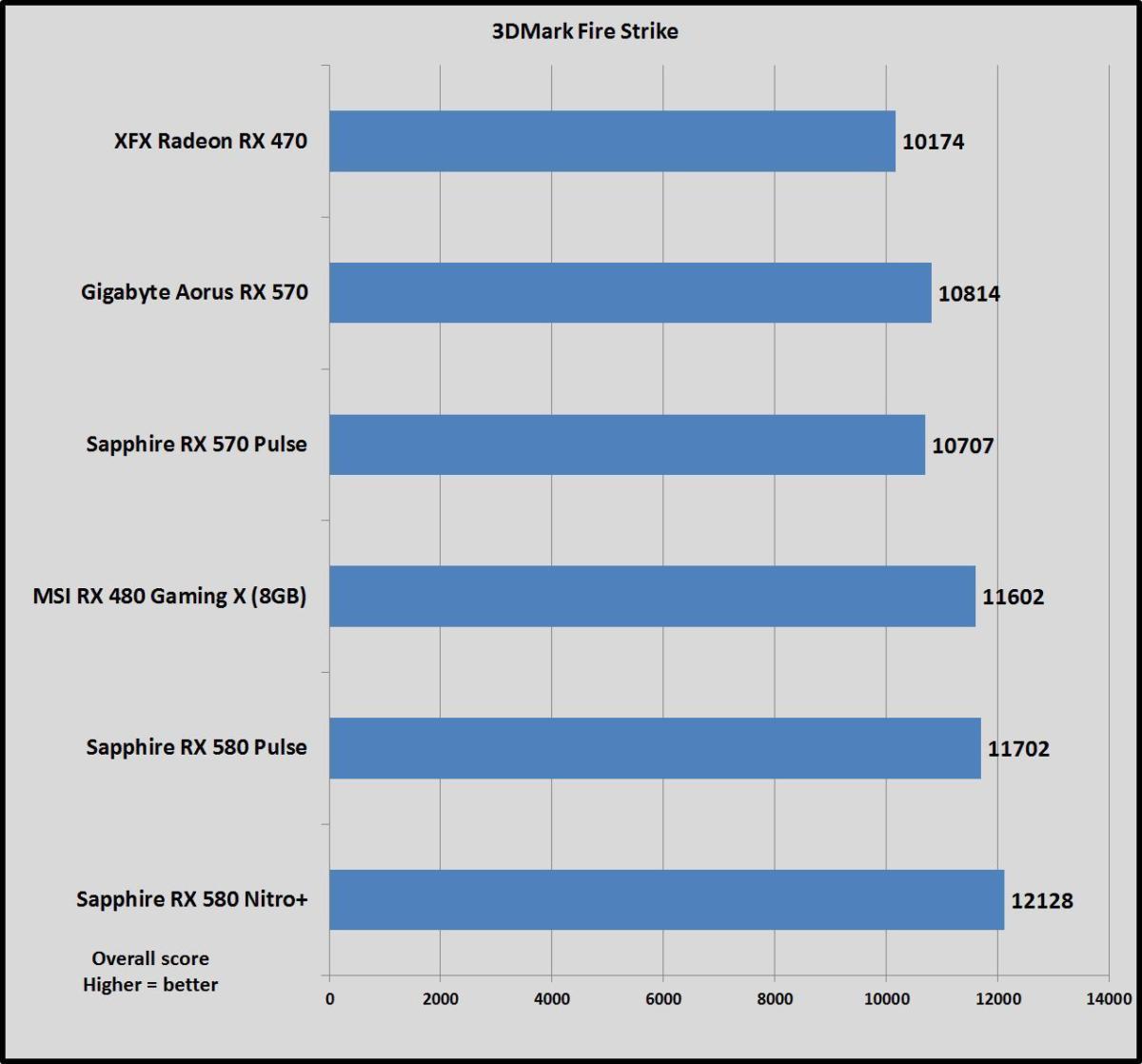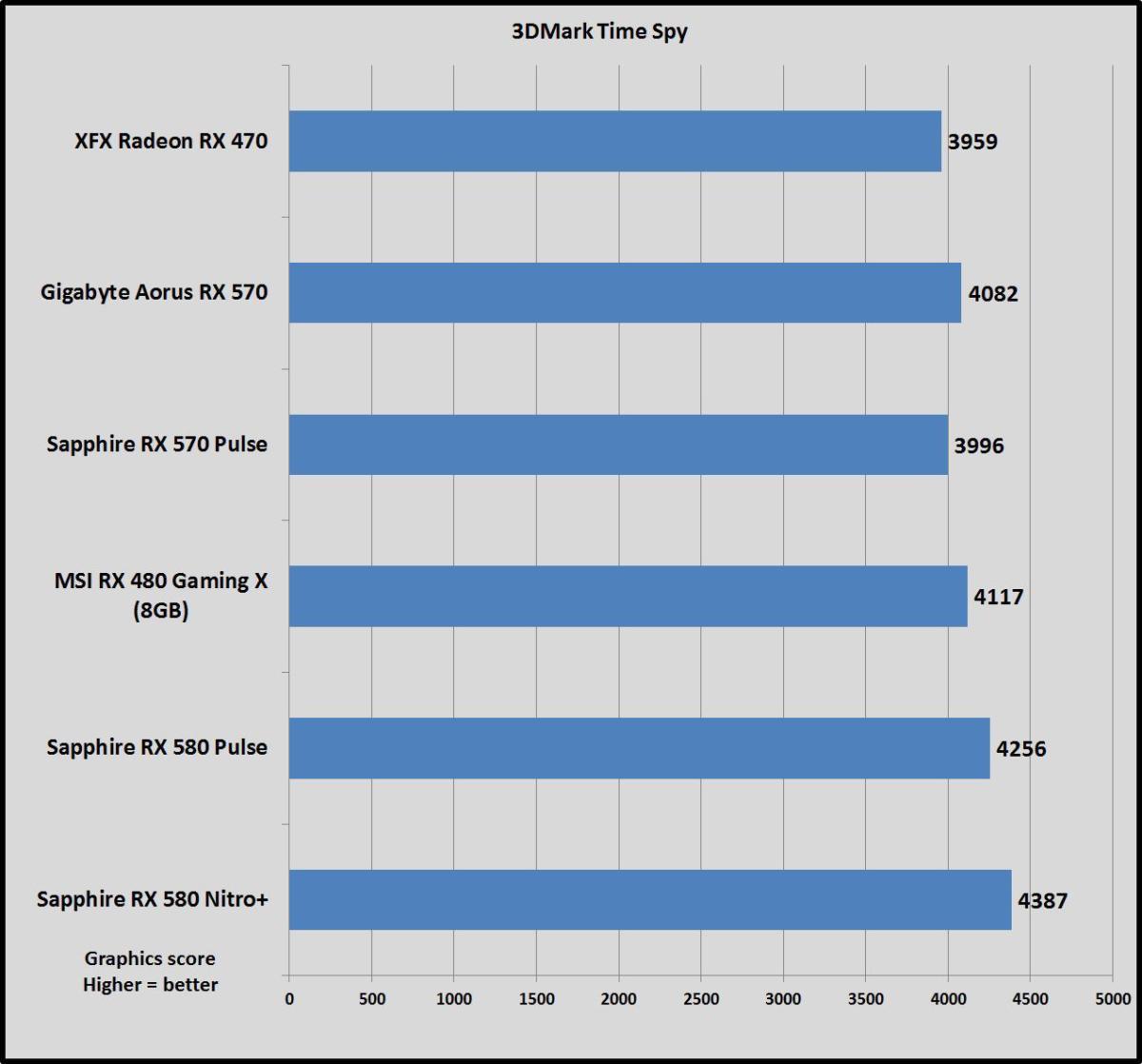 The difference in scores here is much more than the difference in actual in-game frame rates, which is why you don't want to test using synthetic benchmarks alone.
Next page: Power and heat
Power
We test power under load by plugging the entire system into a Watts Up meter, running the intensive Division benchmark at 4K resolution, and noting the peak power draw. Idle power is measured after sitting on the Windows desktop for three minutes with no extra programs or processes running.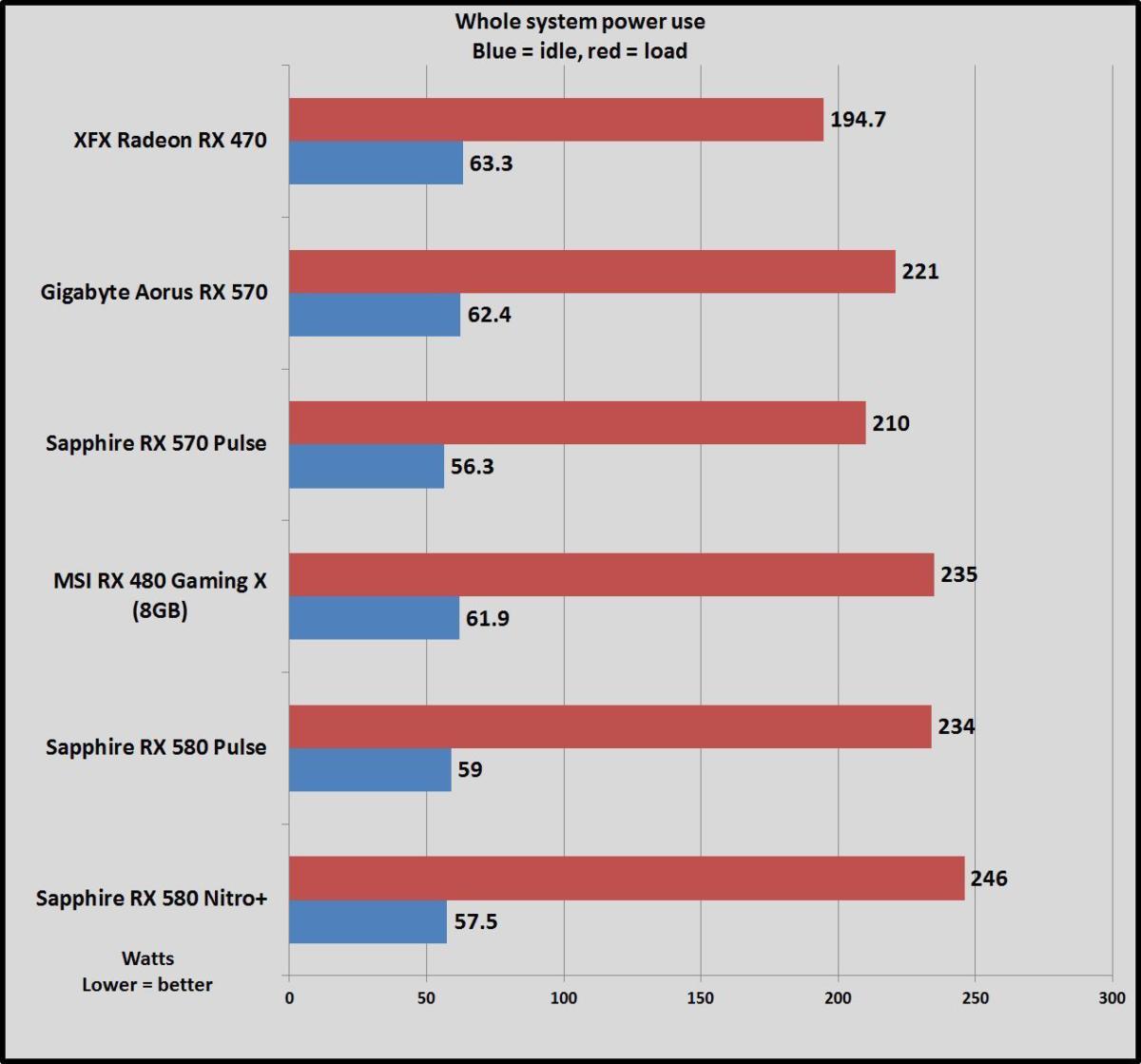 The Pulse cards use slightly less power than their Radeon rivals (though still far more than Nvidia's comparable GeForce cards, which aren't included here).
Heat
We test heat during the same intensive Division benchmark at a strenuous 4K resolution, by running SpeedFan in the background and noting the maximum GPU temperature once the run is over.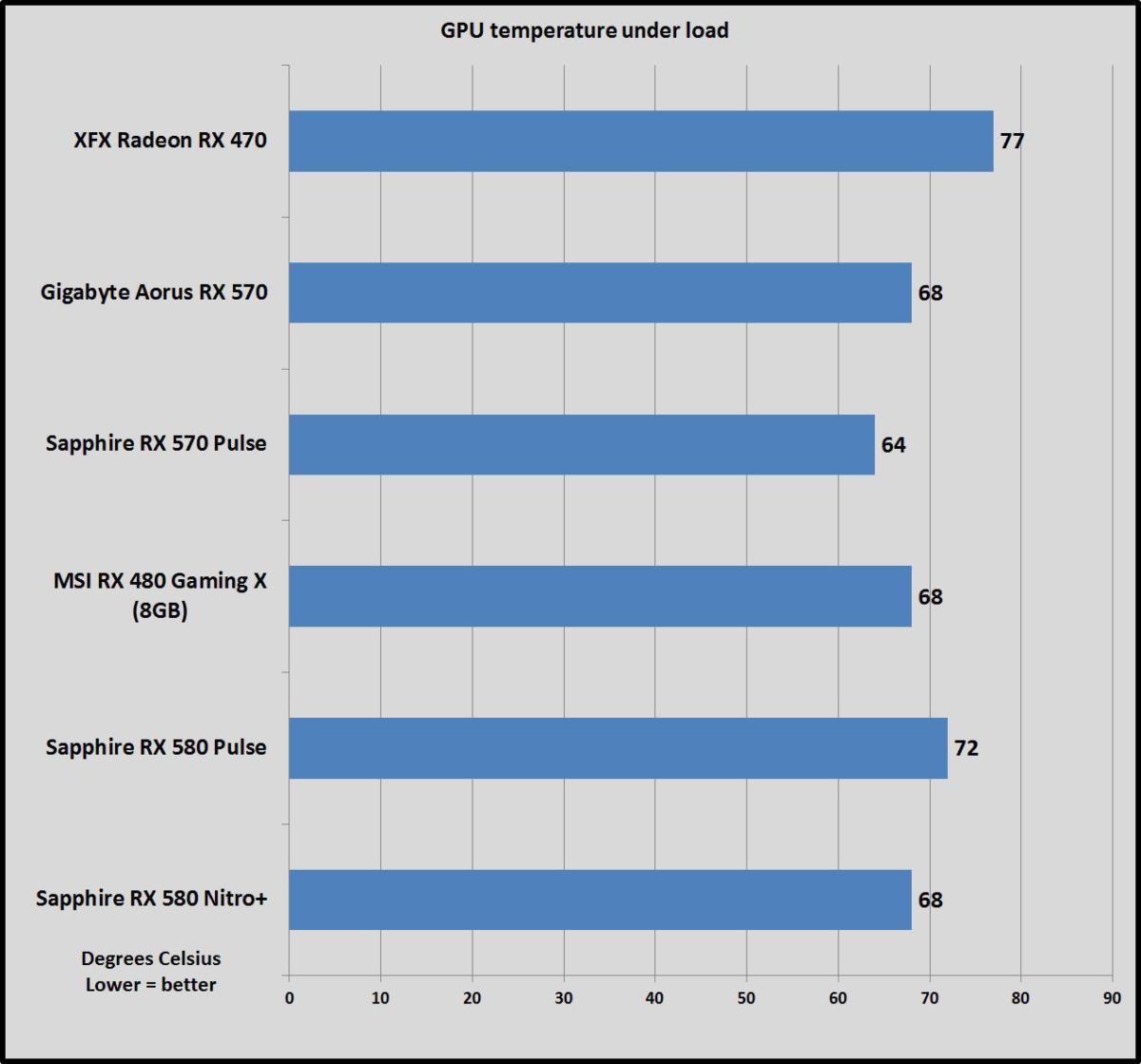 Here's a more noticeable difference between the similar cards. Sapphire's beefier Nitro+ cooler keeps that RX 580 4 degrees (Celsius) cooler than the Pulse model in this test, though the RX 580 Pulse's temperature isn't toasty whatsoever. The RX 580 Pulse is noticeably louder than the Nitro+ at load, but not by much; both cards run quiet inside a closed case.
As far as the RX 570 models go, Sapphire's Pulse manages to run 4 degrees chillier than the Aorus despite both cards sporting similarly designed coolers with similarly thick heatsinks. One key difference between the two: The Aorus RX 570's fans don't shut down under light loads, while the Sapphire Pulse's Dual-X cooler fans go idle. That makes the Pulse quieter when you aren't actually gaming, though again, both cards are acceptably quiet inside a closed case.
Next page: Bottom line
Bottom line
Again, our underlying recommendations remain the same as in PCWorld's original Radeon RX 570 and RX 580 reviews: The RX 570 is the best sub-$200 graphics card you can buy and a 1080p gaming champion; the 4GB RX 580 offers much more versatility at a compelling $200 price point; and the 8GB RX 580 is a great graphics card that trades blows with Nvidia's 6GB GTX 1060. None are compelling upgrades if you already own comparable Radeon RX 400-series hardware. If you want more info, check out PCWorld's guide to the best graphics cards for PC gaming.
So what do we think about Sapphire's budget-oriented Pulse models specifically? It varies by model—largely because of price.
The $230 8GB Sapphire RX 580 Pulse earns our unequivocal recommendation, offering a slight overclock and a custom cooler that stomps on AMD's reference design for the same price as a stock model. This graphics card will chew through 1080p games without compromise, deliver a damned fine 1440p gaming experience (especially paired with an affordable FreeSync monitor), and even run VR games without breaking a sweat. This card delivers a lot of bang for your buck.
The RX 580 Pulse isn't quite as cool or quiet as its pricier $260 Nitro+ cousin but it still delivers fine results in both areas. It's a great graphics card for the price, delivering almost as much pure performance as the Nitro version—but it still leaves breathing room for Sapphire's flagship. The extra money for a Nitro+ gets you a quieter, chillier cooler, a slightly higher overclock, and more robust features for pushing those clock speeds even further—namely, a dual BIOS and an extra power connector. Not too shabby.
We didn't test the $200 4GB Sapphire RX 580 Pulse today, but since it features the exact same custom cooling design as these and the same underlying tech as the 8GB model, we feel safe recommending it without hesitation.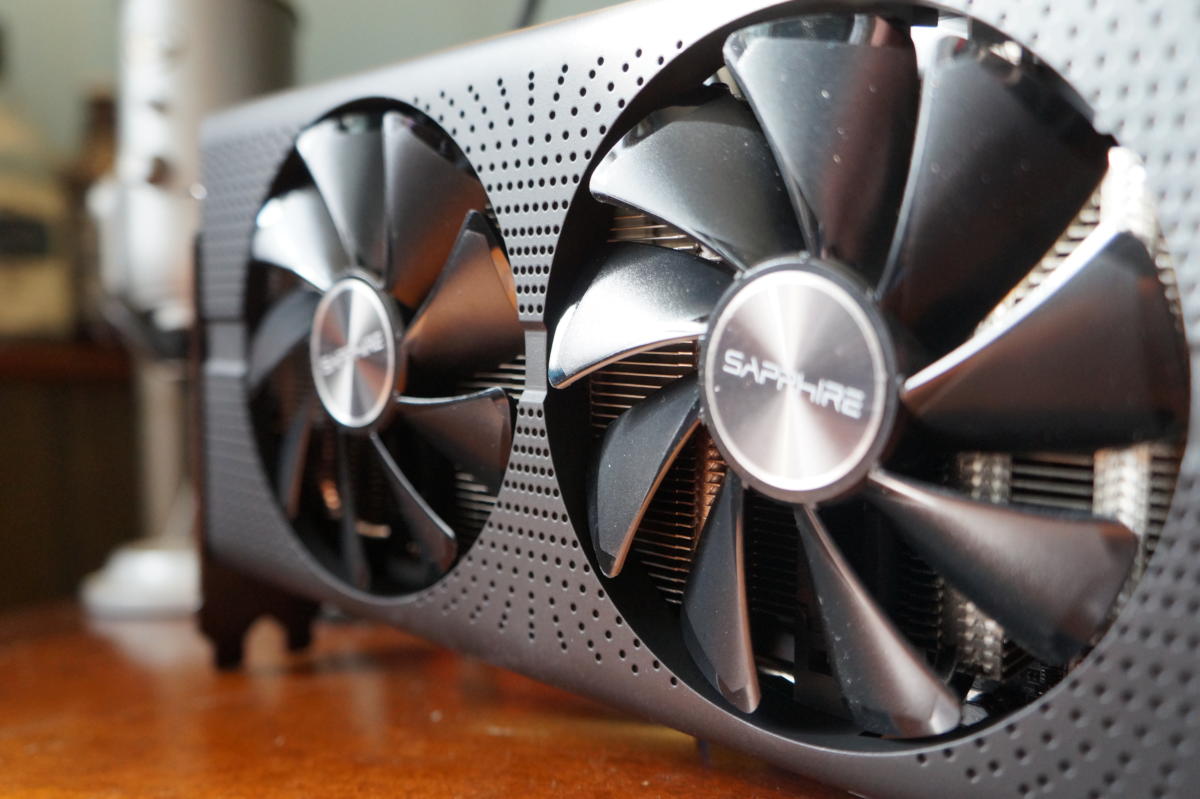 The $180 Sapphire RX 570 Pulse is a stellar card for 1080p gaming. The minor $10 bump over the RX 570's MSRP gets you a lot of extras. The only thing that keeps us from recommending it flat-out is that at that cost, it's brushing up against entry-level $200 4GB RX 580 cards that can simply do more because of their extra potency—a long-standing Radeon sin that started with the confusingly priced RX 470 a year ago.
The RX 570 Pulse trades performance blows with the $180 Aorus RX 570, which packs a custom cooler of its own, yet Sapphire's card runs 4 degrees chillier. Unfortunately, online retailers are currently selling all Pulse series cards with a $10 markup—a bummer for hardware that hangs its hat on value. At $10 less than the Pulse, Gigabyte's card is probably the better buy in this extremely price-sensitive segment, but if you can find the RX 570 Pulse at Sapphire's $180 price, pick it up in a heartbeat—or find an extra $20 and step up to the 4GB RX 580 Pulse instead.
Editor's note: This article was updated to correct pricing info. The original version listed Sapphire's Pulse cards at $10 more, but after publication, Sapphire representatives reached out to say that the higher pricing online is due to retailer markups.
Best Prices Today: Radeon RX 580 Pulse