Peanut butter and jelly. Han Solo and Chewie. Expensive electronics and liquid. One of these things is not like the others. Anyone who has suffered a keyboard spill or fished a smartphone from a toilet bowl knows that liquids and electronics often aren't compatible.
But, when it comes to PC cooling, sealed all-in-one (AIO) liquid cooling systems—also known as closed-loop coolers—are safe, effective, and easy to install. Indeed, in such instances, water is a PC's friend!
While the stock air cooler that ships with most CPUs is perfectly adequate for everyday computing, that heatsink-and-fan combo will struggle to cool gaming systems and other high-performance PCs. At the other end of the spectrum, hardline cooling—which uses rigid tubes and a liquid reservoir—can look spectacular but requires careful planning, user-assembly, and a significant investment in leak testing. It's the perfect project for plumbers, but for those taking their first steps in advanced PC cooling techniques, an AIO is the way to go.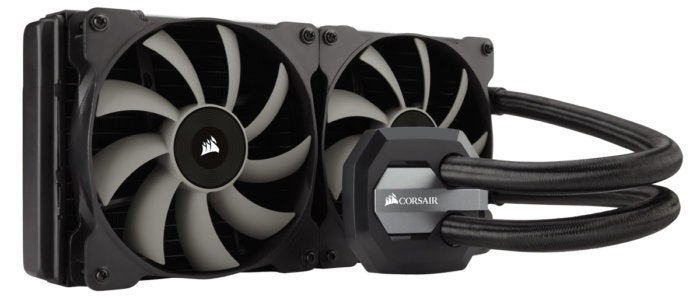 Here's everything you need to know about closed-loop AIO coolers, from how they function, to how to pick one for your needs, to the steps for installation.
How closed-loop liquid coolers work
AIO coolers work in a similar way to a car radiator. A pump, positioned on top of your CPU, circulates a special liquid (usually a combination of distilled water and a thermally conductive fluid) around a soft tubing system, configured in a closed loop. Heat is transferred from your CPU to the liquid via a copper plate on the base of the pump.
The warm liquid travels through the tubing to a radiator, which can be mounted near the top, front, or rear of your PC case. Heat is then dissipated from the radiator with the help of fans, which can be mounted in various configurations for optimal cooling. The cooled liquid then travels back to your CPU, where the process begins again.
As AIO coolers are available with various radiator sizes, they can be put to work in a wide range of PC form factors. That said, they're best suited to medium and large desktops. Most coolers are fitted to processors, but some can also be used for graphics cards, too.
Choosing a closed-loop liquid cooler
Today, we'll be installing an NZXT Kraken X62 AIO Cooler ($160 on Amazon) in a typical gaming PC rig. It'll be employed to cool a 4GHz Intel Core i7-6700K CPU ($330 on Amazon) which, with a 91-watt TDP, can get a little toasty under load.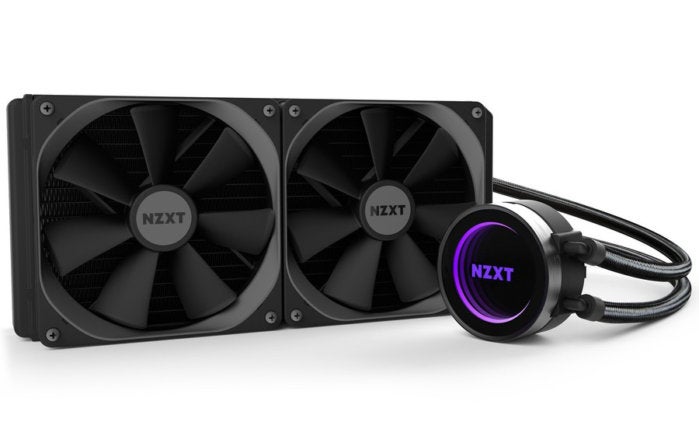 Before settling on an AIO model, I always recommend that you spend some time reading reviews of the leading contenders, including user reviews on Reddit's Build a PC subreddit and sites like PCPartPicker.
Mentioned in this article
NZXT Kraken X62 All-in-One CPU Liquid Cooling System Cooling, Black RL-KRX62-01
Price When Reviewed:
$159.99
You'll obviously need to find a closed-loop liquid cooler that fits inside your PC case. AIOs are available in single and dual-fan configurations, with the latter supporting longer radiators. As mentioned, you can install the radiator in various positions in your case, but you'll need sufficient clearance for the radiator itself and the cooler's tubing (which has some degree of movement for routing), and to ensure the integrated fans can spin freely. Some cases will allow you to remove unused drive bays or entire drive cages, which can ease installation.
Take some time to investigate the space available in your case and research how other users have installed single or dual-fan radiators in your model.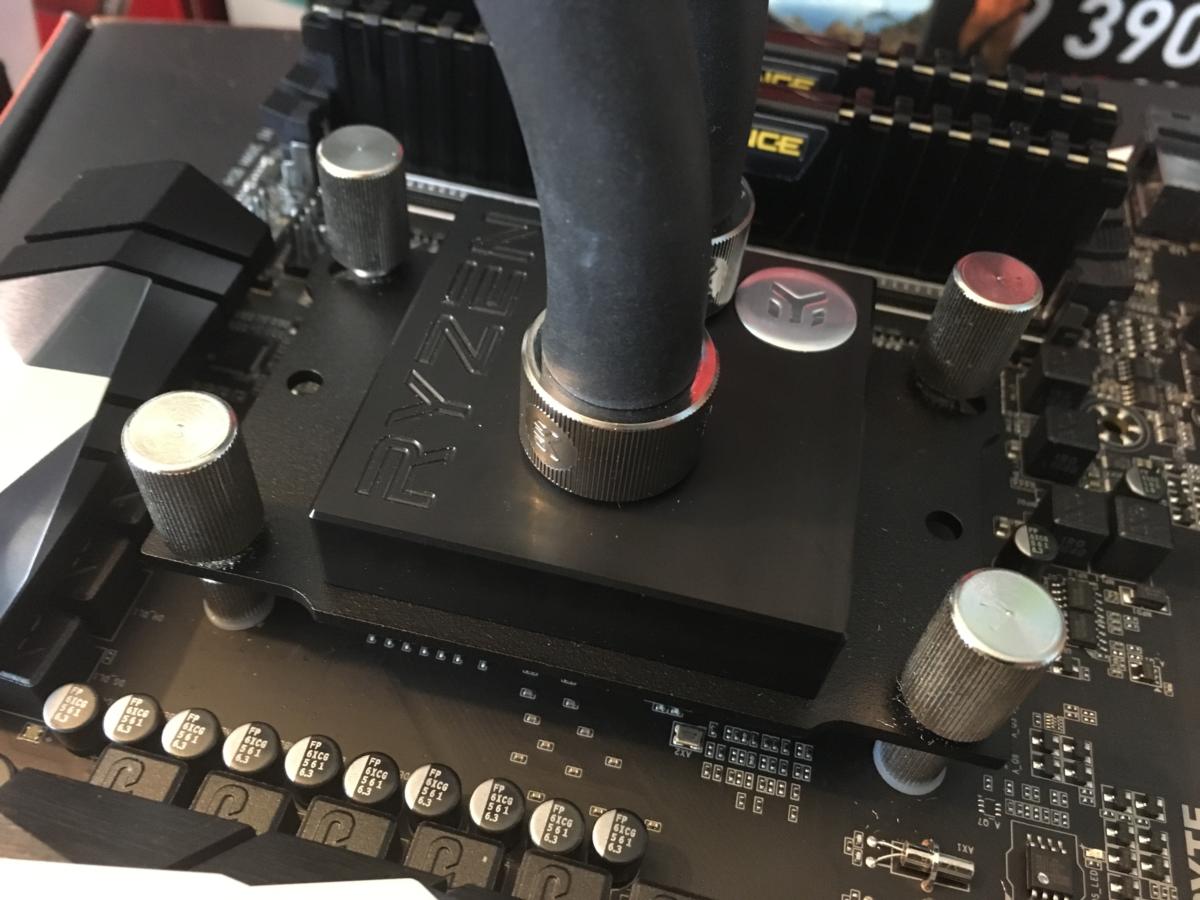 As AIO cooling systems include moving parts, such as the pump and radiator fans, not only should you consider cooling performance (CPU and system temperatures) in your research, but you should also look for low noise output, long-term pump and fan durability, and—of course—zero leaks. Specification sheets and expert reviews are useful for building a short list, but it's important to understand how a cooler maintains performance over time. Think year one, two, and three, alongside day 1,one, two, and three.
Be sure to check the manufacturer's warranty policy and support options. Some coolers benefit from long-term warranties (up to five or even six years) but find out whether this applies to third-party components that could suffer leak damage. If you need to return the cooler (and other parts), does the manufacturer cover two-way shipping? How quick and easy is the returns experience? All of these factors combined should help you identify the best AIO liquid cooler for your needs and your budget.
Mentioned in this article
Corsair Hydro Series H100i v2
Price When Reviewed:
$129.99
As with most PC parts, you'll find that AIO components originate from a small number of specialist OEM manufacturers that supply the major brands—Asetek being one example. Check out the full range of models from Cooler Master, Corsair, SilverStone, EVGA, and NZXT to find the right combination of size, features, and performance.
PCWorld's graphics card testing system has been cooled by a Corsair H100 ($102 on Amazon) for several years, with no complaints whatsoever.
Next page: How to install a closed-loop liquid cooler
Installing a closed-loop liquid cooler
The NZXT Kraken X62 is designed for larger PC cases, boasting a full-length (315 x 143 x 30mm) radiator and twin 140mm fans for high performance. Like most coolers, it supports a range of modern Intel and AMD CPU sockets courtesy of dedicated mounting brackets.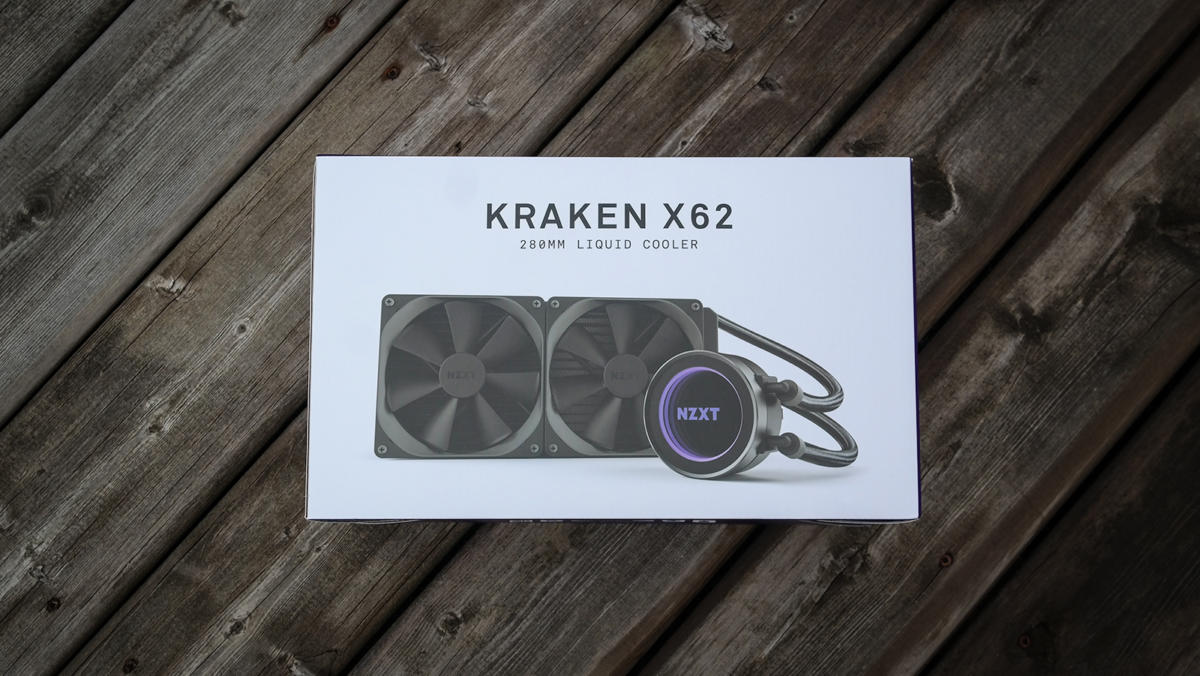 The box also includes motherboard standoffs, mounting screws, a power cable set and Mini-USB cable for controlling the pump and integrated RGB LEDs.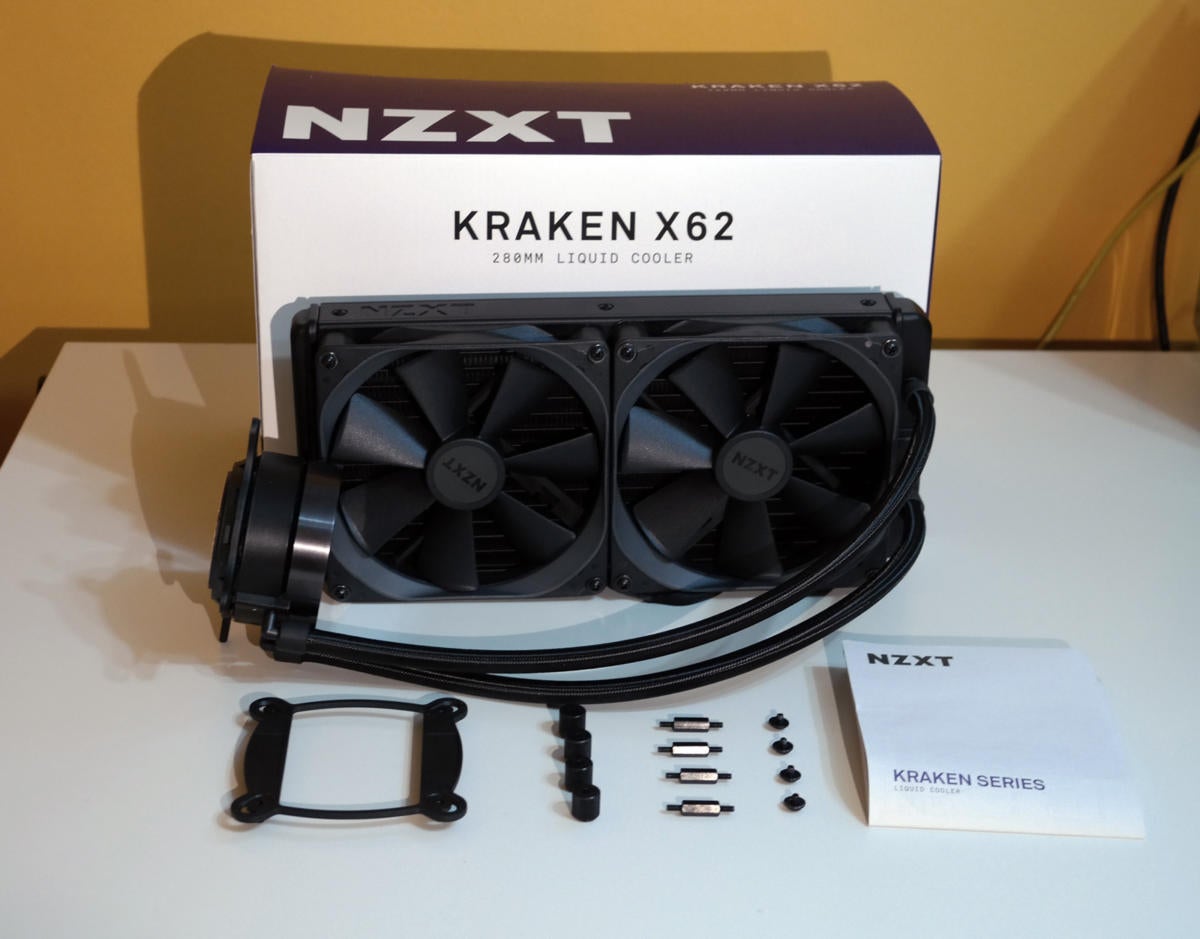 Prepare your PC
A little preparation is required before you can install a closed-loop cooler. You'll need access to all sides of your PC case (and potentially the top), so remove all panels and, if necessary, remove any components that are likely to get in your way during installation. GPUs, RAM modules, and drive cages are prime suspects.
Let's assume you're replacing a stock heatsink and fan assembly with your new AIO cooler. Unplug the CPU fan, then carefully loosen the retaining pins that hold the heatsink in place. You can now lift off the heatsink, exposing the top of the CPU.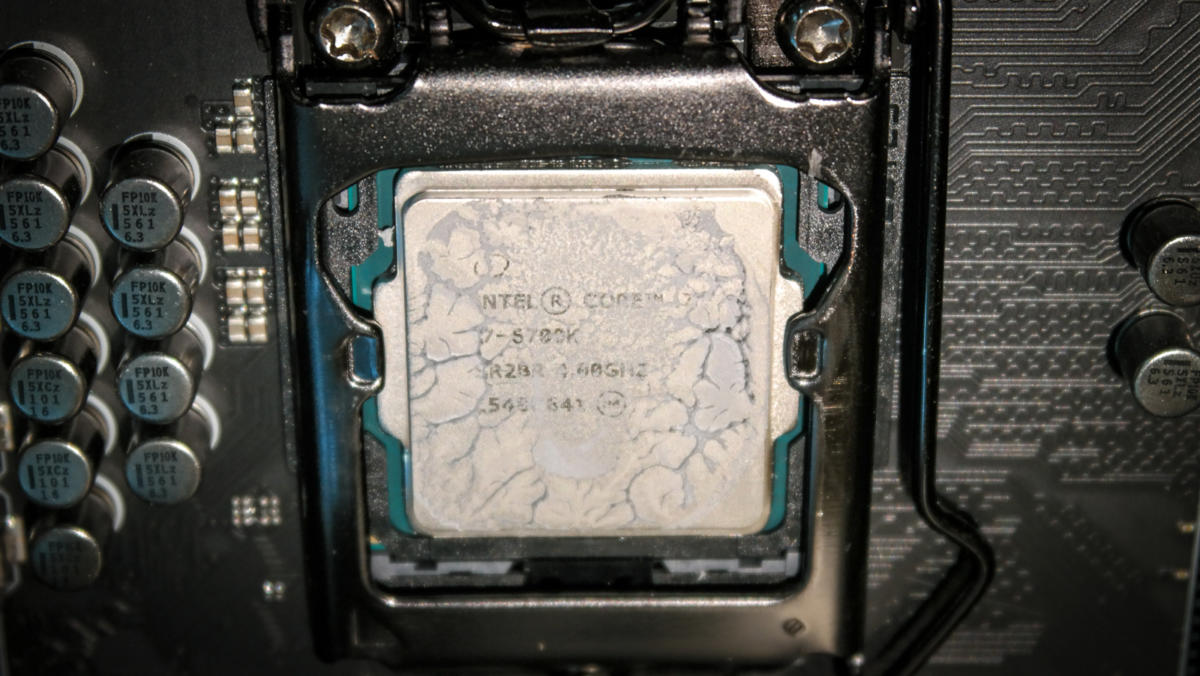 You'll probably see some thermal paste residue on the top surface of the CPU. This needs to be cleaned off to ensure your new AIO cooler pump has a strong thermal contact with the CPU. For cleaning, you can use a lint-free cloth (coffee filter paper also works well) with 90 percent-plus isopropyl rubbing alcohol.
Alternatively, try a specialist cleaner such as Artic Silver ArtiClean, which emulsifies and dissolves the existing thermal grease. It's bundled with a purifying solution that further prepares the CPU surface for the pump's integrated thermal pad.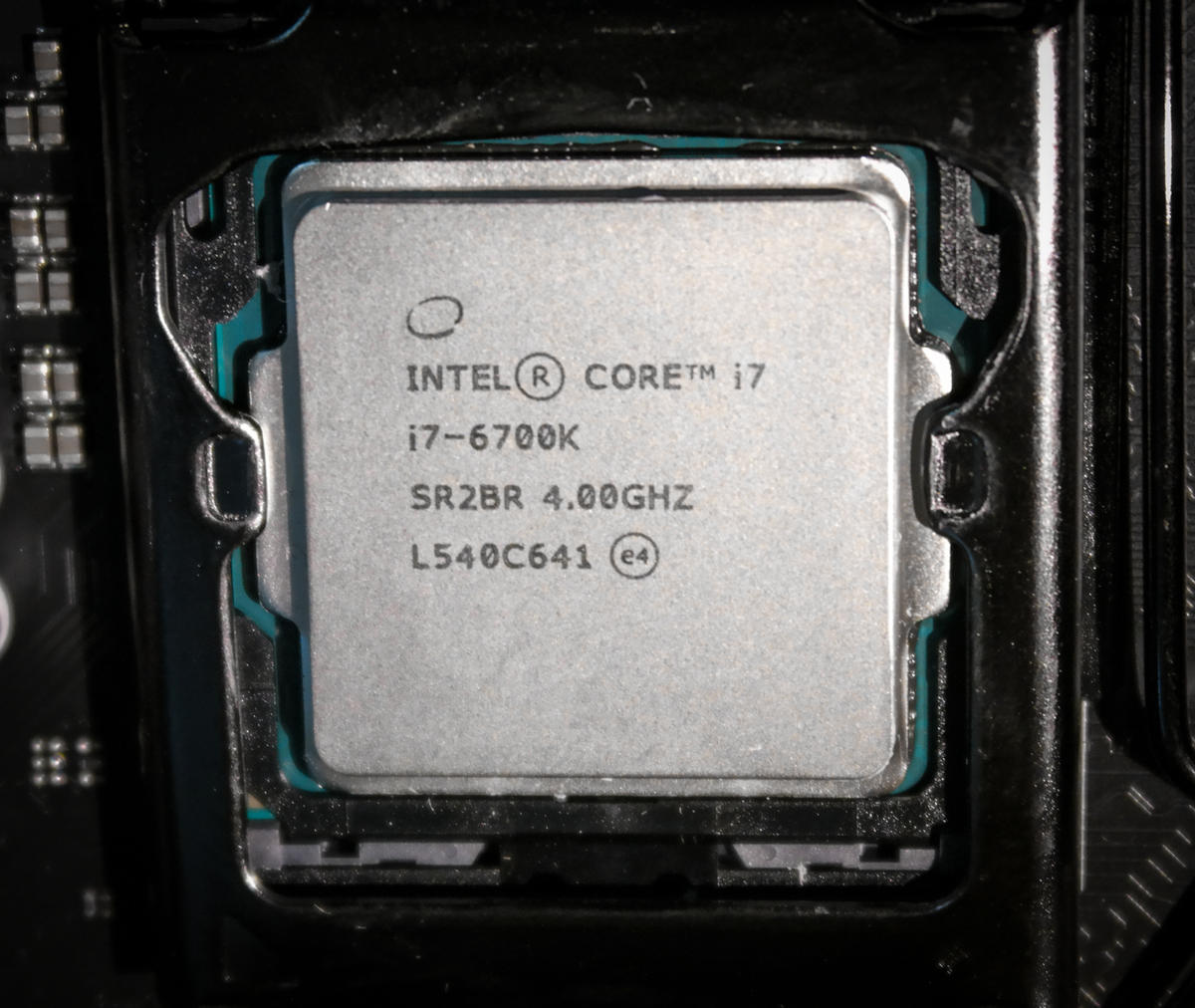 Install the pump backplate
With a sparkling CPU and free access to your case, you can make a start on installing the new cooler. The first job is to install a backplate on the rear of your motherboard, behind the CPU, that will be used to secure the pump assembly on top of the processor.
You should find a range of brackets included with your cooler which complement various AMD and Intel socket designs. The bracket may be equipped with adjustable mounts—be sure to check your closed-loop liquid cooler's manual to ensure you select the right position.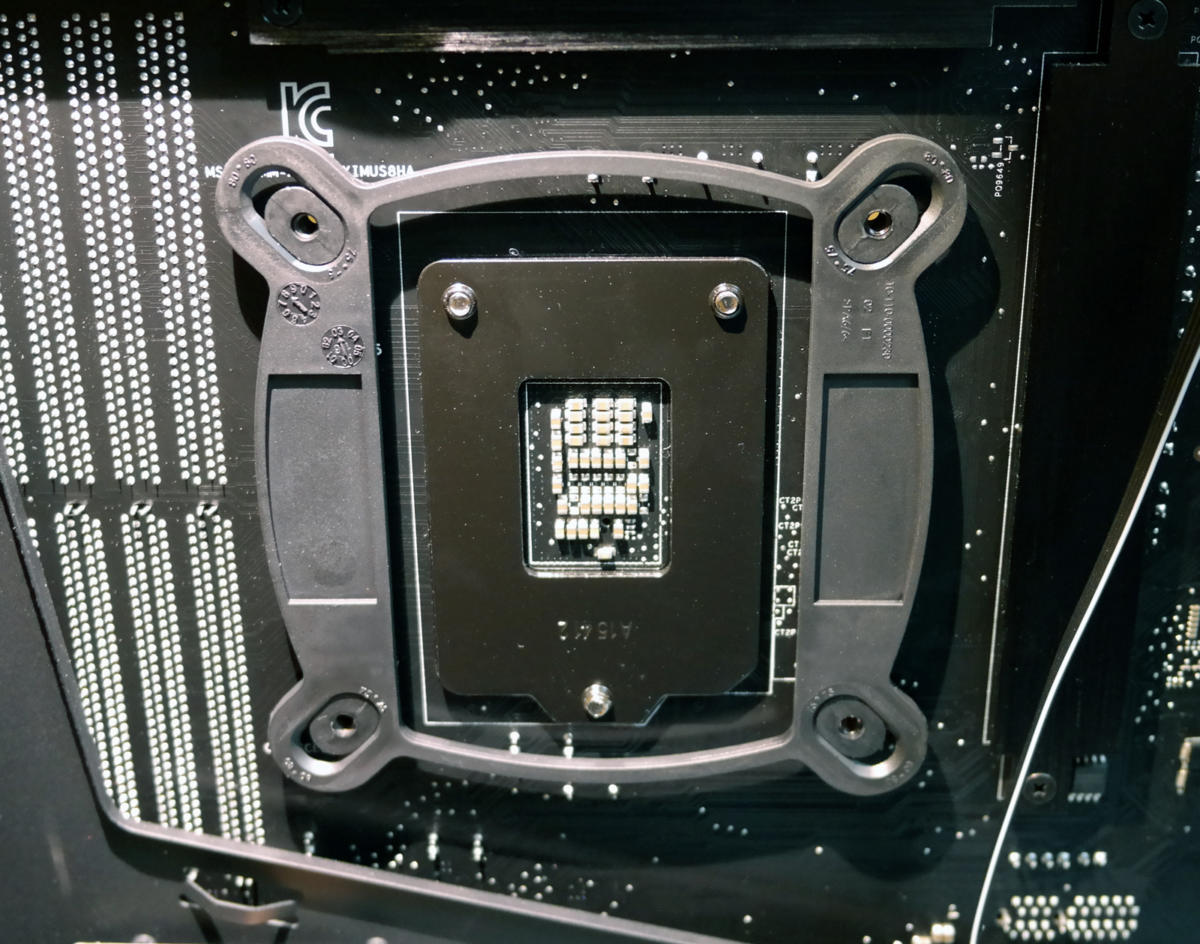 I'm going with the LGA1151 bracket, which is designed for the Intel Core i7-6700K installed in this PC. Before installing, I need to move four sliders on the bracket to their innermost positions, which guarantees the correct fit for my motherboard.
On the rear of the motherboard, you should notice four holes surrounding the processor. Insert the bracket's mounting points into these holes, then move around to the front of the motherboard. Secure the bracket in place with four screw-in standoffs.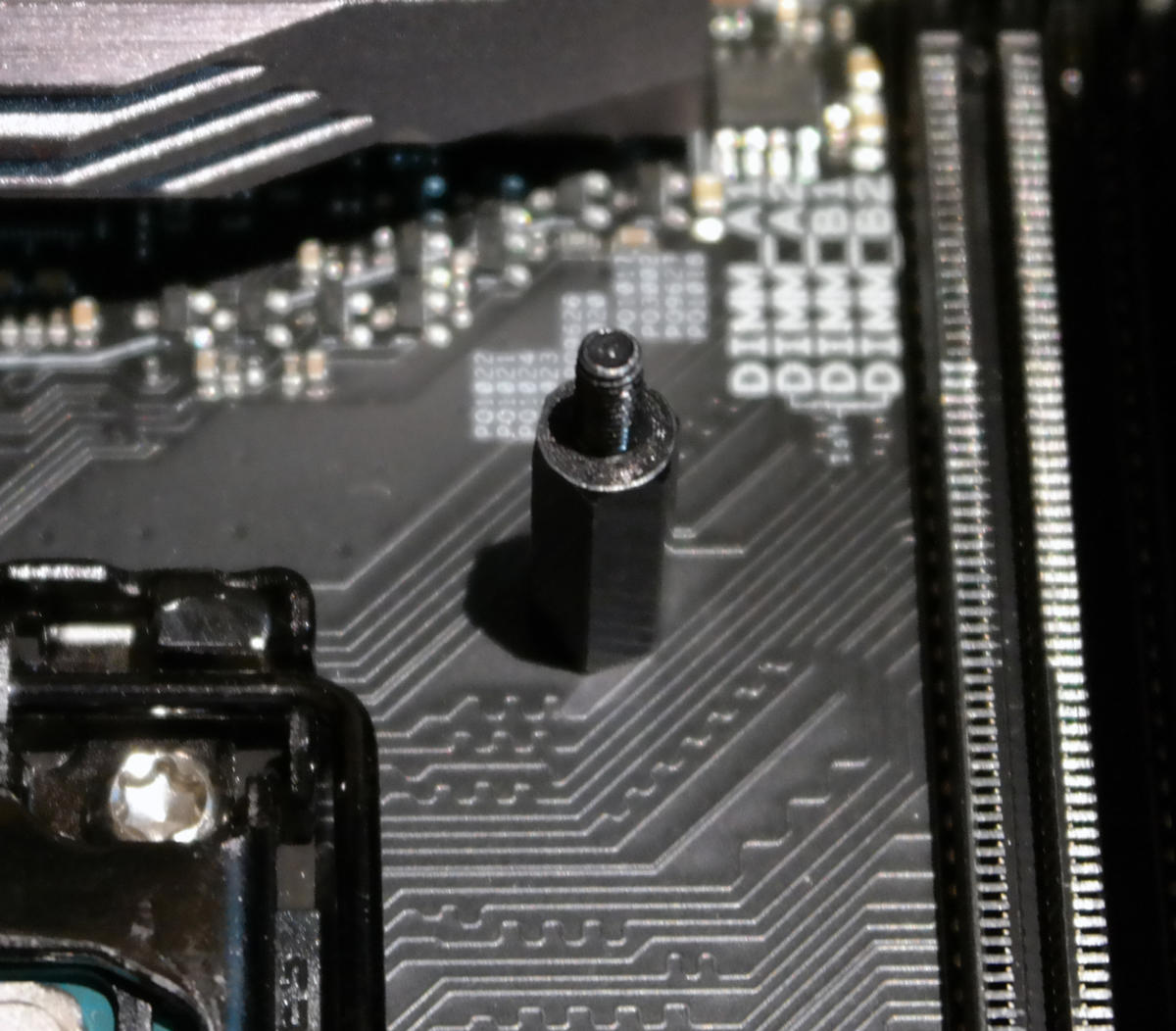 You may notice that the rear bracket remains a little loose at this point, despite the standoffs being tightly connected. That's expected, so don't worry—everything will tighten up once the pump is connected.
Install the radiator fans
Before we connect the pump to the motherboard, let's get the radiator fans installed. These ship loose in the box, so they need to be secured to the radiator before slotting the assembly into the case. You can install fans on either side of the radiator, depending on available room in your case and airflow preference.
The Kraken X62 ships with two fans, which I've found to be more than adequate to cool a powerful gaming PC with a high-end GPU. I mount these on the interior of the radiator (that is, the side nearest PC's internals) to push air through the radiator grills and out of the case. Alternatively, you can mount the fans on the opposite side of the radiator to pull air through the grills. There are continual debates on whether "push" or "pull" configurations perform better. I prefer the aesthetics of push configurations, but feel free to experiment in your own case.
Installing fans on both sides of the radiator creates a "push/pull" configuration, where warm air inside the case is pushed through the radiator by one set of fans and then pulled out of the case by the second set of fans. Obviously, this configuration requires more space inside the PC (and will increase noise output) but can enhance cooling performance. That said, many modern coolers are supplied with high-performance static pressure fans (like the Aer P models bundled with the Kraken X62) and the difference may be negligible.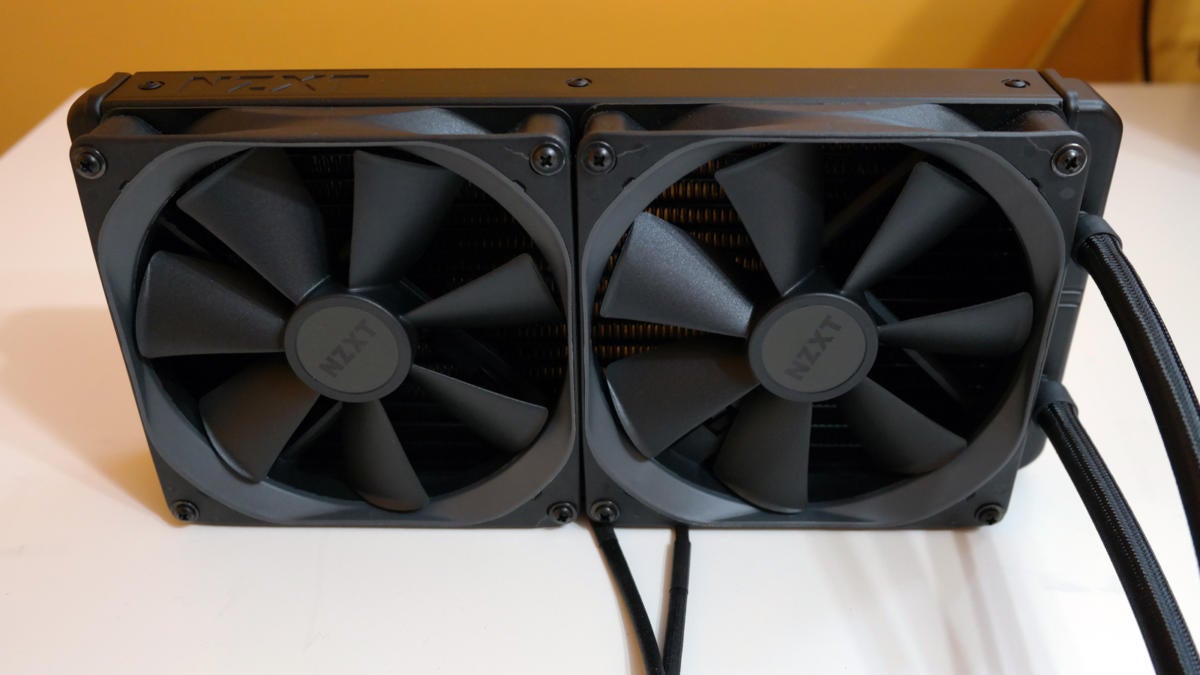 Whichever configuration you choose, be sure to check for any arrows or labels printed on the fans that show you the direction of airflow. The last thing you need is your fans pushing warm air from the radiator back into the case! The fans supplied with the Kraken X62 don't provide much of a clue, but airflow direction is from the side with the black NZXT logo to the side with the purple sticker.
Connect the fans to the radiator using the screws supplied. You'll need to position the fans to ensure their cables can reach the motherboard fan headers neatly. Trial and error is the way forward here, but I found that positioning the wires toward the rear of the case in a central position worked best for cable management.
Install the radiator
With the radiator fans in place, we can now get on with installing the cooler into the case. You can choose to secure the radiator first, or the pump. I find it easier to secure the radiator, then screw down the pump.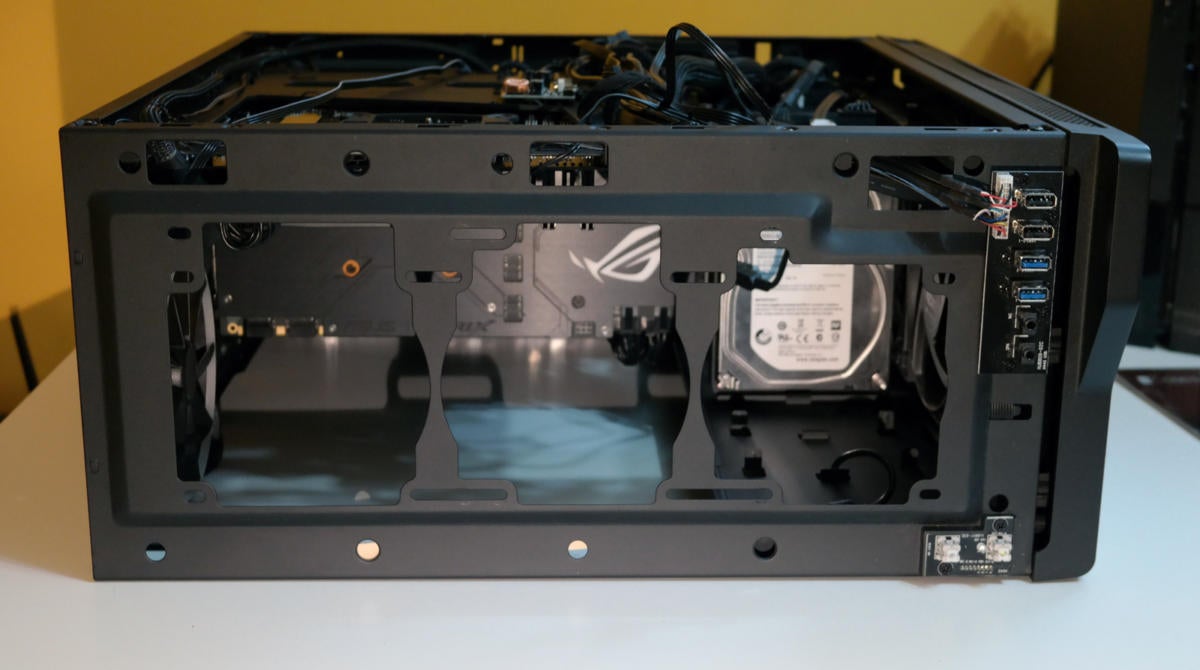 A good modern gaming PC case should include mounting points for a radiator. As mentioned, I'm installing this cooler at the top of my case, where a series of screw holes are available to secure the radiator.
Carefully insert the radiator into the case, ensuring that you thread the fan cables through any necessary slots as required. Be careful not to bash the pump or kink the rubber hoses that connect it to the radiator as you orientate the cooler into position. When you're ready, use the supplied screws and washers to secure the radiator in place.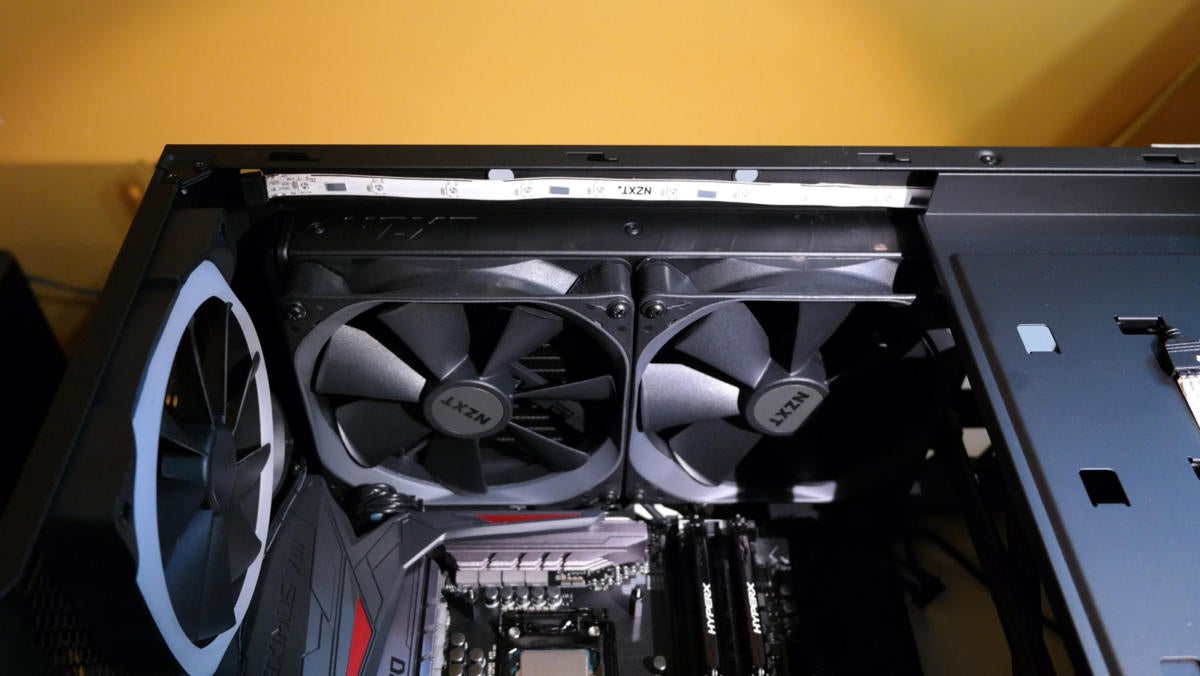 Install the pump
Our next step is to secure the pump to the motherboard and CPU. You'll notice that the pump has an integrated retention bracket that should fit neatly over the motherboard standoffs we installed earlier. You may need to connect this bracket to the pump if you haven't done so already.
Place the pump on to the CPU (checking orientation to ensure that any branding or graphics are displayed correctly), ensuring the standoffs go through the holes on the retention brackets. Check the radiator tubing to ensure there are no kinks or blockages, then secure the cooler with the supplied thumbscrews. Once installed, you should find that the front and rear brackets are now tight.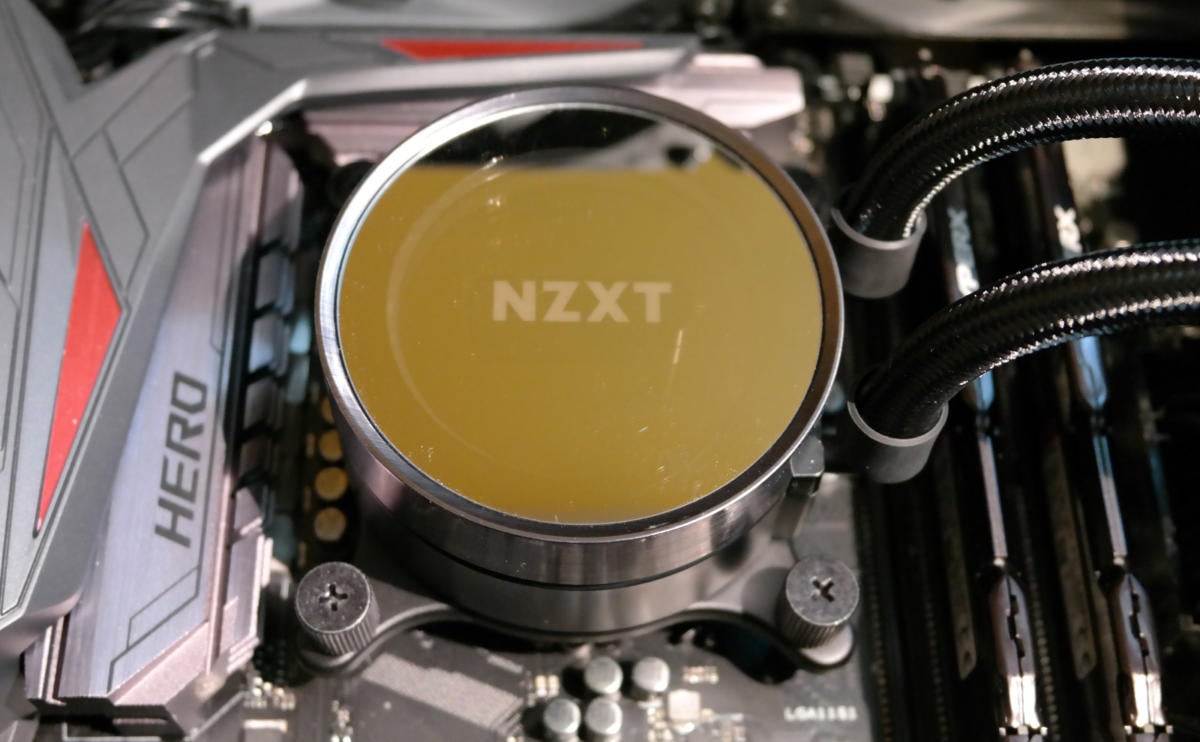 Connect the cables
Now that the pump and radiator are in place, we can connect the necessary power and control cables to the motherboard. The Kraken X62's pump, like some competing closed-loop liquid coolers, is equipped with integrated RGB LEDs so there are a host of cables to hook up.
First is the power cable, which connects to the top of the pump.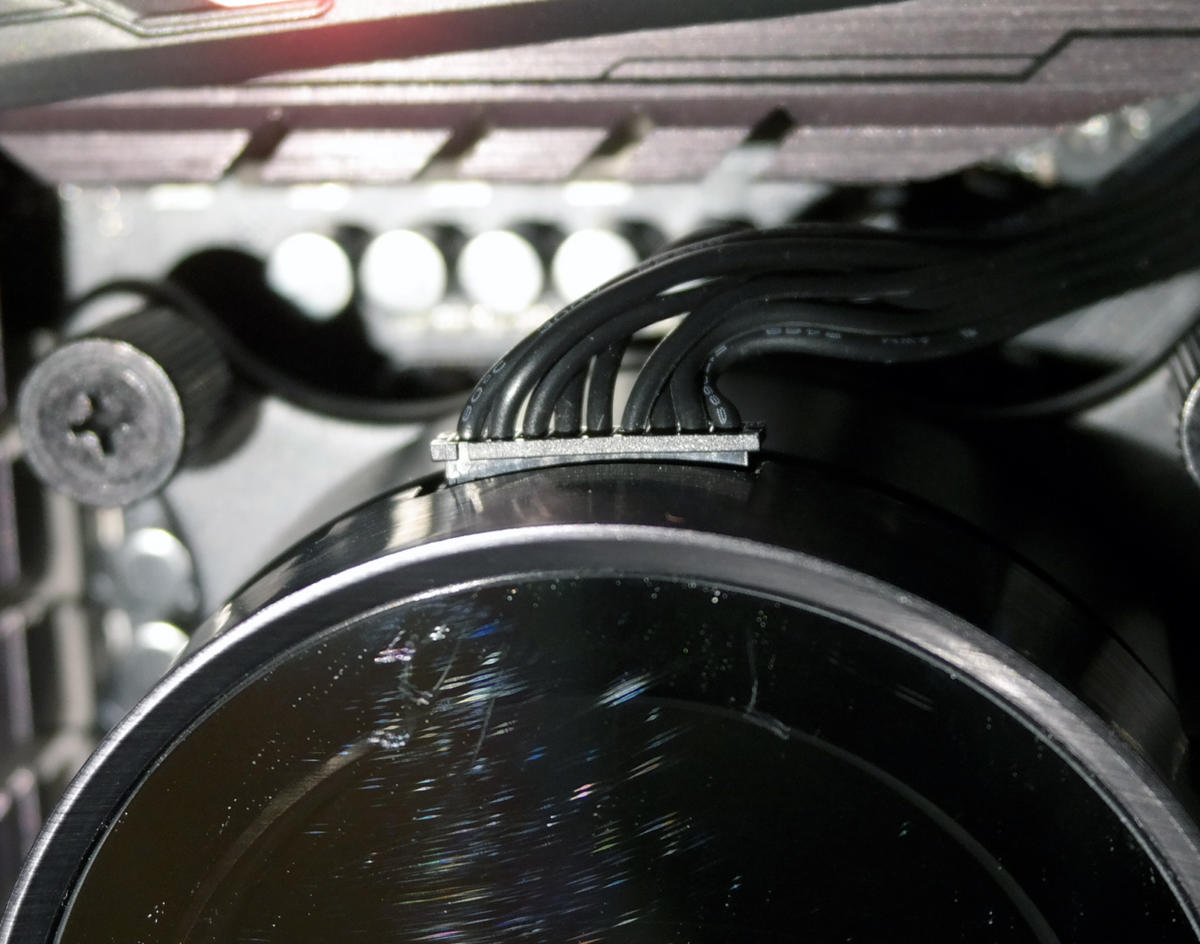 Three sets of connectors run from the other end of this cable. The first is a three-pin connector for the pump tach, which controls and monitors the pump speed. It should be connected to the CPU_FAN header on your motherboard.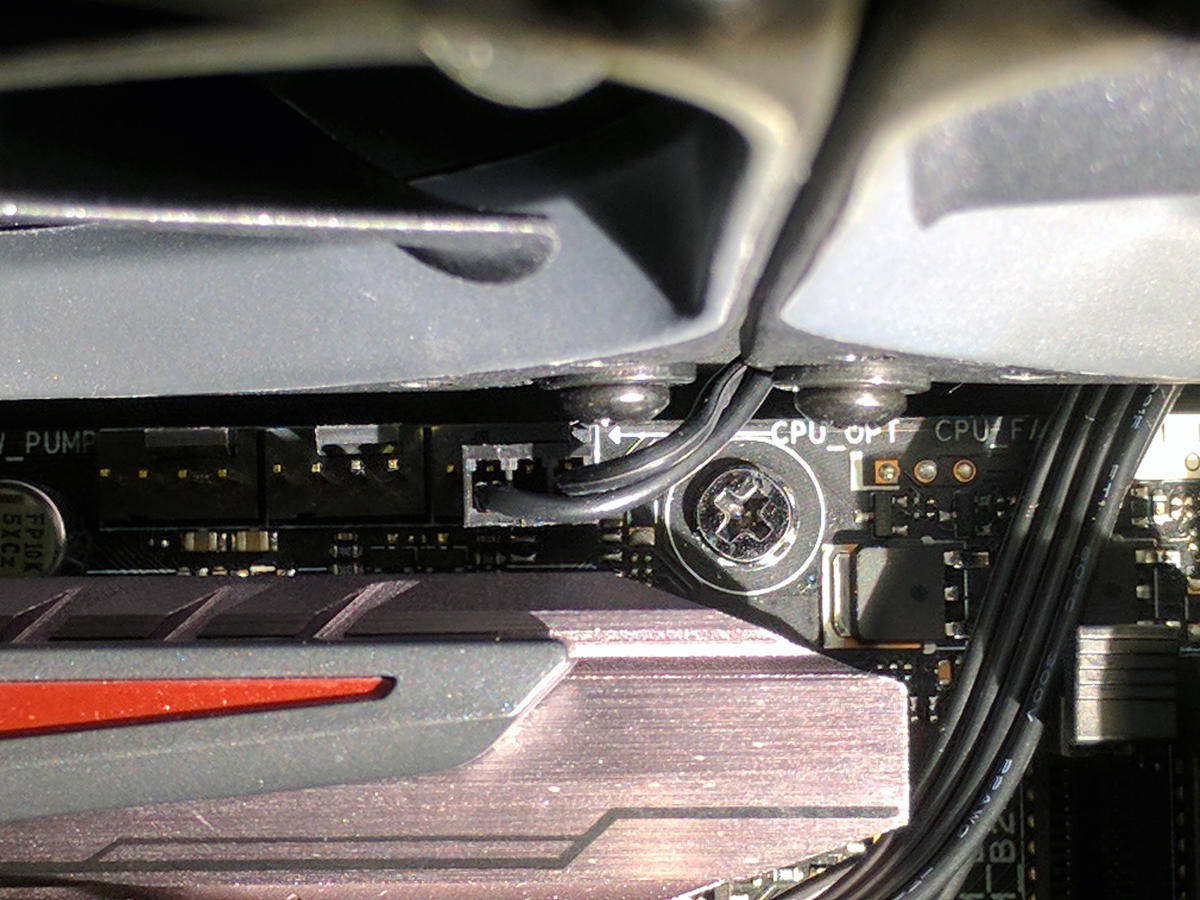 The second is a standard SATA power connector, which can be plugged into a relevant connector attached to your power supply.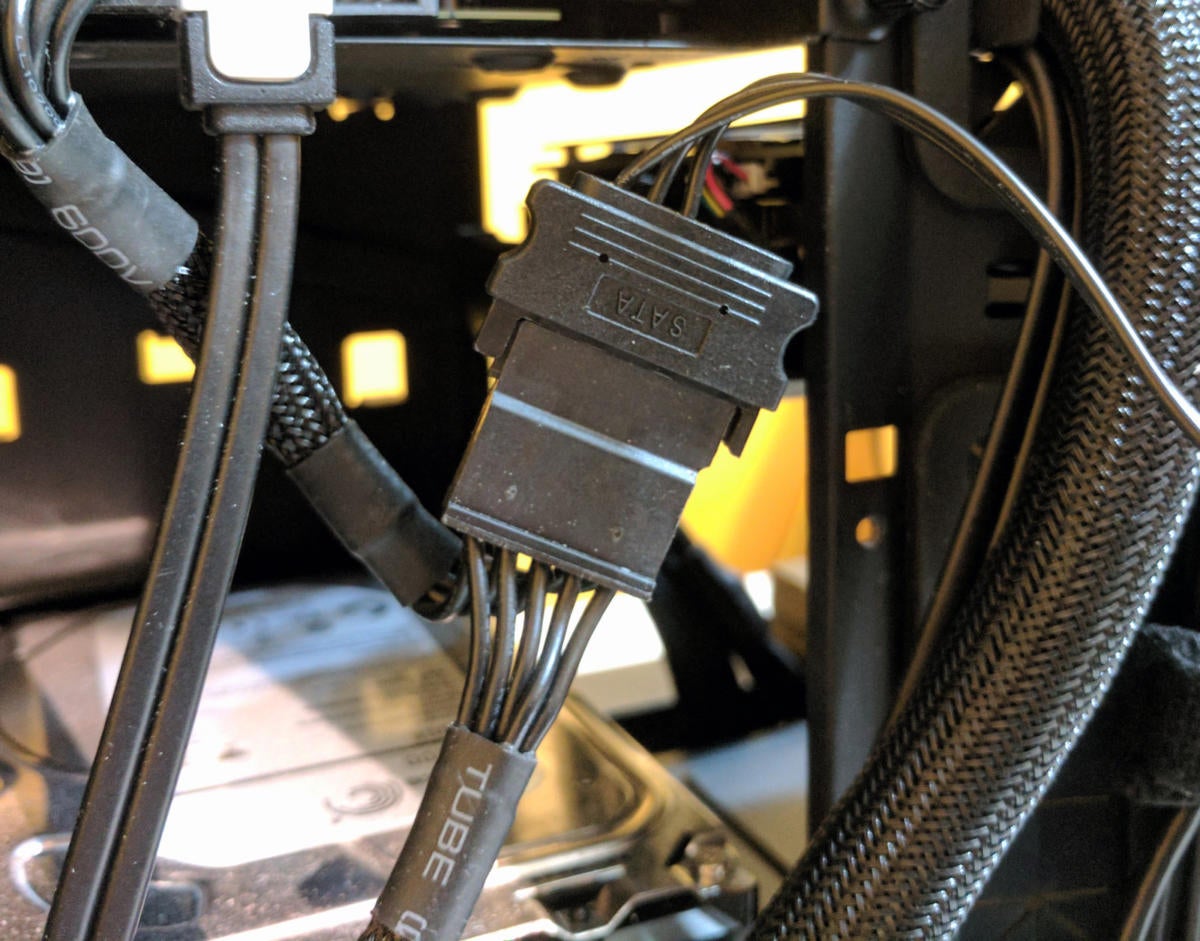 The third set of connectors on the power cable are for the radiator fans. Four fan connectors are available for push-pull configurations, but on this installation, we'll be only using two of them. Slot the fan cables into the four-pin connectors as required.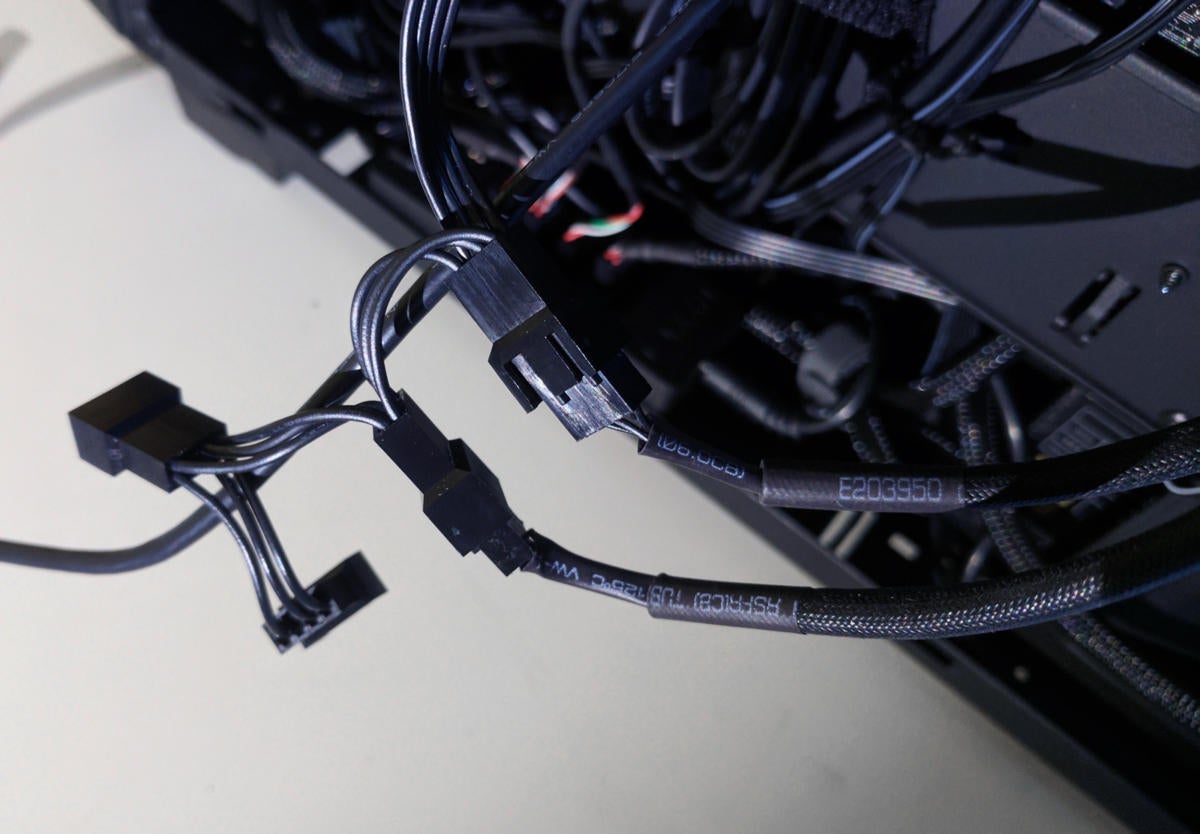 Finally, a Mini-USB cable, for controlling the pump LEDs, connects between the pump and a spare USB 2.0 internal header on your motherboard.
With that, your AIO closed-loop liquid cooler installation is complete. You're ready to test!
Next page: First power on, AIO cooler software
Power on: First check
You may not want to close your PC case fully before reconnecting the power cables and checking that everything works, though. Hit the power switch and, as a first test, be sure that the radiator fans spin and that the pump is operating. Listen for a gurgle or two as the liquid begins to flow through the system. For closed-loop liquid coolers fitted with integrated lighting, illumination is a sure sign that the pump has power.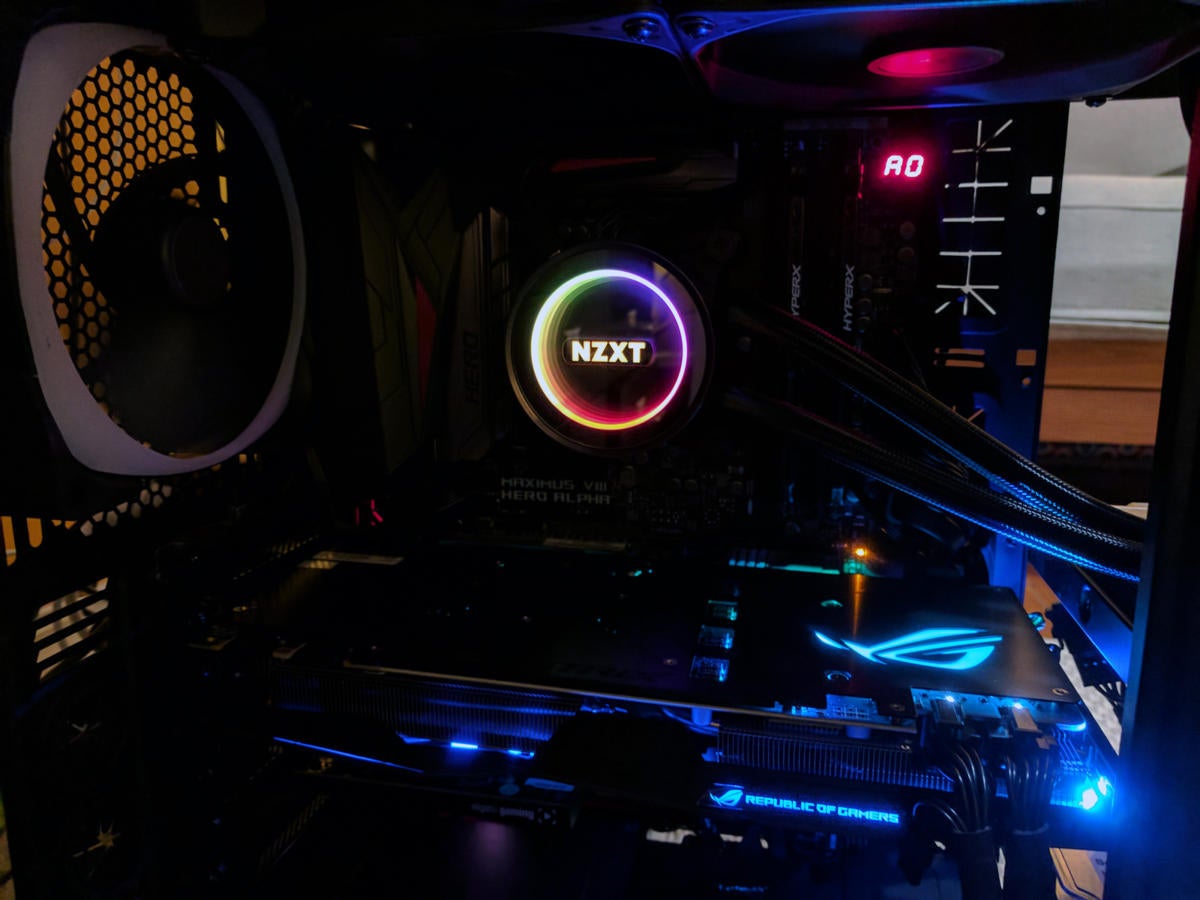 If you find that the PC refuses to power up, or closes down quickly, then it's likely the processor is overheating. Double check that all the cooler's cables are correctly connected. If they are, you may need to reseat the pump on the CPU to ensure a good thermal connection.
Once your PC is running properly, close up the case and we'll install the cooler's controller software.
Next page: The hardware's software
Fine-tuning your liquid cooler with software
While your new closed-loop liquid cooler should spin up and cool your CPU as soon as you hit the power button, installing its supporting software allows you to monitor and fine-tune its performance.
The NZXT Kraken X62 is accompanied by a desktop application called CAM that offers a range of features. Some of these are exclusively designed for NZXT hardware but others, such as temperature monitoring or in-game FPS overlays, work with any PC. Liquid coolers from other manufacturers offer management software of their own.
Install the app and, once you've created an account, you'll get your first opportunity to see how your new cooler is performing. As you can see from the screenshot below, my Intel Core i7 is running at a cool 14°C when idle. At a glance, you can also check out the CPU fan speed (meaning the radiator fans), GPU temperature and fan speeds, RAM load, and storage usage.
Tweaking AIO cooler performance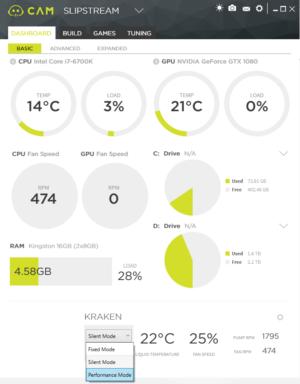 Your cooler will be automatically configured with a default profile that defines the AIO's fan and pump speeds for any given temperature. As your CPU temperature rises, for example, when you fire up the latest AAA blockbuster game, those speeds will increase accordingly to prevent the CPU overheating. Higher temperatures can lead to CPU performance throttling, which will impact the action on screen, so it makes sense to keep your processor cool. On the other hand, higher fan speeds can lead to increased noise output, spoiling your enjoyment of the game. It's no surprise that the trick is to balance maximum cooling with minimum noise.
The NZXT Kraken X62 offers a selection of three profile presets alongside a custom option which allows you to set your own speed curve. The latter allows you to precisely define the rate at which fan and pump speeds increase as temperatures rise.
At the bottom of the window, a drop-down menu allows you to switch easily between the default Silent Mode (which limits noise output), a Fixed Mode (which balances noise and temperature control), and Performance Mode (which maximizes cooling). Additionally, real-time stats help you monitor current cooling performance. You can see your current liquid temperature, fan speed percentage, and pump and fan revolutions per minute (RPM).
For more precise control, hit the gear icon to the right and you'll be taken to the Tuning tab. Now you'll see independent controls for the fan and pump, alongside graphic displays of the speed curves for each component.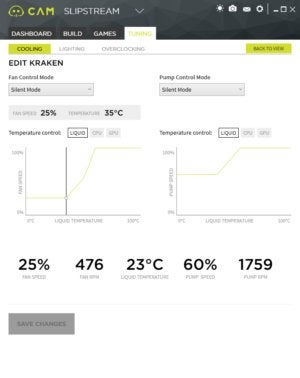 In the screenshot above, you can see the settings for the Kraken's Silent Mode. This maintains fan speeds at 25 percent until the liquid temperature reaches 35°C. If the temperature rises further, fan speeds will increase—up to 100 percent if required.
It's a similar story with pump speeds, which are set to 60 percent until the liquid temperature reaches 35°C, after which the pump will work harder to cool your CPU.
In terms of profile differences, Fixed Mode speeds are faster and the curve is sharper, so those speeds accelerate more rapidly when temperature thresholds are met. Meanwhile, Performance Mode sees higher opening fan and pump speeds, which maximizes cooling performance—handy if you plan on overclocking your processor.
If you find that none of these profiles work for you (and, for the record, the default Silent Mode has worked just fine for me) then custom settings will allow you to create your own speed curves, with fine drag-and-drop controls.
Cooling with color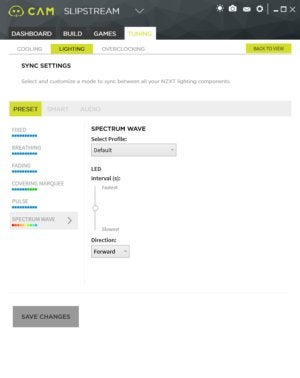 One additional feature you'll increasingly see pop up on closed-loop liquid coolers is integrated RGB lighting. It's no longer sufficient for a cooler just to cool your PC. Nowadays, a cooler also has to look cool while it's cooling!
Dig a little deeper into the controller app and you may well find lighting controls. Alongside the aesthetic benefits of creating an internal lightshow in your PC case, there are more functional features available, such as changing the color of integrated lighting to match your CPU temperature. When you see that red flash, you'll immediately know your PC is racing!
In a world where seemingly every gaming PC component is available with twinkly lights, selecting an AIO cooler with RGB lighting adds a little more excitement to what is a highly functional piece of kit.
Mentioned in this article
NZXT Kraken X62 All-in-One CPU Liquid Cooling System Cooling, Black RL-KRX62-01
Price When Reviewed:
$159.99
So, if you've been thinking about enhancing your PC with an all-in-one, but haven't quite built up the courage to do so, I hope this walkthrough has shown you not only that it's safe and easy to install a liquid cooler, but also a lot of fun too.