Surprise! Nvidia very quietly announced an affordable new graphics card late Tuesday for e-sports and HTPC enthusiasts, dubbed the GeForce GT 1030.
The new GeForce card notably lacks the "X" in GTX, going instead with the more mundane GT—a name we haven't seen since the 700 series. That's because the new GT 1030, while still using the Pascal architecture, is a low-power card purpose built to fight off the Radeon RX 550 introduced in April.
Mentioned in this article
ZOTAC GeForce GT 1030 2GB
Price When Reviewed:
$69.99
It's about time that Nvidia and AMD returned to the low-end of the budget gaming spectrum after largely ignoring this segment for a years. As the RX 550 is to the RX 560, so the GT 1030 is (almost) to the GTX 1050. Instead of the 1050's 640 CUDA cores, the GT 1030 has 384—a little more than half—the memory interface width is 64-bit on the GT 1030 instead of 128 on the 1050.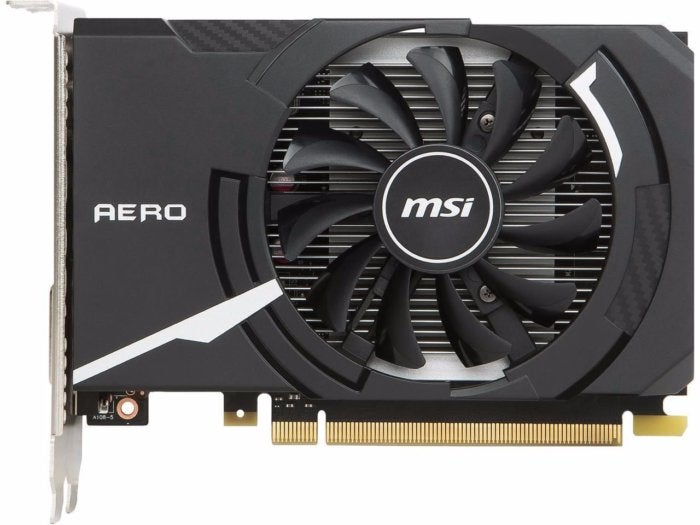 The GeForce GT 1030 also packs 2GB of of vRAM, a boost clock of 1468MHz, and a maximum resolution of 7680-by-4320 at 60Hz. The reference build calls for one DisplayPort 1.4, HDMI 2.0b with HDCP 2.2, and one Dual-link DVI. It's also a dual-slot card, but card makers are already announcing low-profile, single-slot options, such as these EVGA, Gigabyte, and Zotac models. Nvidia recommends a 300W system power supply for use with the GT 1030.
The card seems ideal for e-sports gaming, or replacing integrated graphics in home theater PCs or productivity machines, especially given its multi-monitor support. As it's not a GTX card, it lacks support for premium GeForce features like G-Sync, Ansel, and GameStream, though it does play nice with the GeForce Experience app.
The impact on you at home: We haven't had a chance to review this item yet, but we're thinking it should outpunch the Radeon RX 550. That's based on specs alone, however, so don't take that to the bank until reviewers put the card through its paces. As for pricing, it remains competitive with the RX 550 at an $80 MSRP, though most GT 1030 cards available right now from Newegg are priced at $70 to $75.
Still, if you're looking at the GT 1030 for gaming, consider your options. The GeForce TX 1050 is priced around $110 right now, and if you're interested in AMD you can get the Radeon RX 560 for $100. Both of those cards are far more capable than the GT 1030 for a relatively small bump in price. Still, if all you're interested in is some extra oomph for eSports or watching 4K videos, then the GT 1030 should work fine.