Nvidia's not the only graphics card maker with "FE" cards anymore—but the "F" in AMD's debut Radeon Vega card stands for "frontier" rather than "founders," and it definitely isn't for PC gamers. In fact, the one tidbit that is relevant for gamers may disappoint, as it seems likely that consumer versions of Vega are further off than expected.
After months of teasing, AMD finally took the wraps off an actual graphics card based on its hotly anticipated Vega graphics architecture during the company's Financial Analyst Day livestream late Tuesday. An on-stage demo revealed the Radeon Vega Frontier Edition tearing through Sniper Elite 4 at between 60 and 70 frames per second at 4K resolution. It's hard to draw an exact comparison since AMD didn't reveal the graphics settings, but assuming the fidelity was very high, this particular Vega's likely punching somewhere around the GeForce GTX 1080 to GTX 1080 Ti range.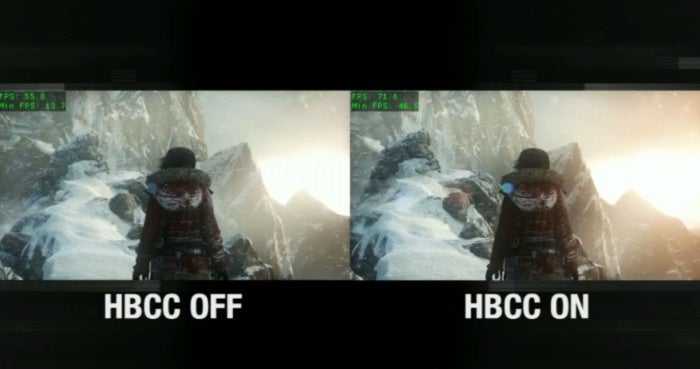 Another demo capped Rise of the Tomb Raider at 2GB of memory to show that the card's radical high-bandwidth cache controller can significantly increase minimum and average frame rates in VRAM-constrained scenarios, as shown in the image above.
But don't let those tidbits fool you. The Radeon Vega Founders Edition targets "data scientists, immersion engineers, and product designers" rather than PC gamers as AMD strives to break into a crucial new high-margin business. The Radeon card's whopping 16GB of ultra-fast HBM2 memory would be overkill for gaming, but it must have professional users dancing in anticipation.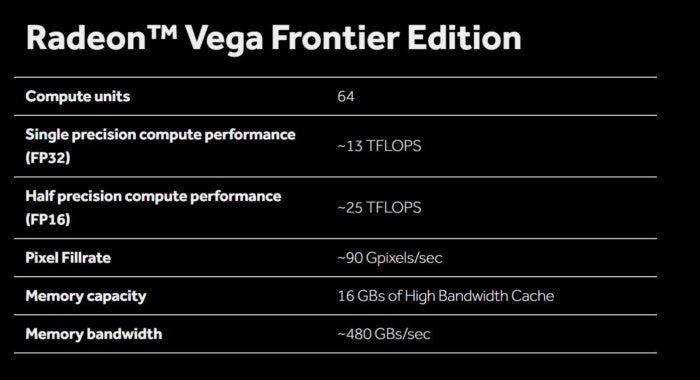 The rest of AMD's demos and tech specs focused solely on compute tasks rather than gaming scenarios, comparing the Vega Frontier Edition against Nvidia's data-center graphics options as opposed to its GeForce lineup. You can see them above; I won't go into details since GPU-compute tasks aren't PCWorld's focus.
Beyond those brief compute-related specs, AMD didn't reveal much that wasn't already disclosed in January's Radeon Vega technical preview, aside from the fact that it appears Frontier Edition models will be available with both traditional air cooling and Fury X-like closed-loop liquid cooling solutions. Oh, and Vega seems to need dual 8-pin power connectors, as you can see in the image below.
Gamers patiently awaiting Vega will find a glint of relevant information lurking at the very bottom of Radeon boss Raja Koduri's Vega Frontier Edition introduction post, though; namely, this paragraph:
"The Radeon Vega Frontier Edition graphics card is going to empower the pioneers creating the next generation of gaming experiences, but it does beg one question: Can you game on a Radeon Vega Frontier Edition? The answer is yes, absolutely. But because this graphics card is optimized for professional use cases (and priced accordingly), if gaming is your primary reason for buying a GPU, I'd suggest waiting just a little while longer for the lower-priced, gaming-optimized Radeon RX Vega graphics card. You'll be glad you did."
So the Vega Frontier Edition is going to be pricey—and with this developer-centric model launching in late June, it sounds like a consumer Radeon RX Vega card might not arrive until later (Only one model of consumer Vega, perhaps? Note the singular "card" in Koduri's statement.)
The statement's a bit wishy-washy though, and don't forget that this was an event for financial investors. There's a chance that a consumer Radeon Vega graphics card could be announced at Computex or E3 and launched before the Frontier Edition, but based off the wording in Koduri's post, I wouldn't bet on it. Vega's indeed launching in the second quarter, as AMD promised, just (maybe, probably?) not the version that hordes of gamers are waiting for.
The wait continues—though by the end of the year even AMD's Ryzen-based APUs will come packing Vega GPU cores..