Not necessarily educational, but inspirational. That's the thin line Tropico dev Haemimont Games is aiming for with its newly announced city builder Surviving Mars. Or "colony builder," really.
It's a game about surviving on Mars, if you can believe it. Tooth-and-nail survival, fighting against a planet that's indifferent to our arrival. This is no SimCity or Cities: Skylines. You're not laying down miles of asphalt, zoning blocks for homes and businesses and industry and watching a population magically spring up overnight. Nor is it Tropico, with its comical dictator and his near-infinite powers.
The consequences of failure are so much greater here. People don't just leave your city for a better place, driving off into the sunset as your poor metropolis collapses into debt. At least not at first.
At first, they die.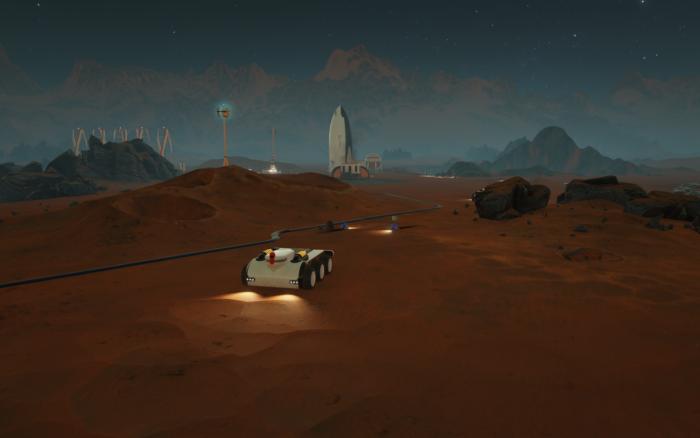 Surviving Mars is about establishing a human presence in a place not fit for humans, and that's a slow and complicated process, with plenty of room for error. Colonists during Earth's own Age of Discovery didn't know what to expect, but arrived in places with food, with water, with something as simple as oxygen.
Mars? We know exactly what to expect, and it's not great. Imagine stepping out on the surface of our neighboring planet and there's just…nothing. None of humanity's basic necessities. No food, water, or air except what you've brought with you.
And so in Haemimont's estimation, the first step isn't humans at all. It's drones. This early stage of colonization took up most of our 30 minute hands-off Surviving Mars demo, while getting us familiar with Haemimont's idea of a science-heavy city builder.
Drones take care of the basics—food, water, shelter, electricity. Once you've landed on Mars you'll send drones off to construct wind turbines and dome shelters and what have you. Robotic mining operations and such too, because all this construction doesn't just come out of nowhere. Like Earth, you need to exploit Mars's potential.
Only later will you bring in humans, building out little dome shelters with different districts for housing, entertainment, and the like. Then the stakes get even higher as a single miscalculation can leave your utopian colony a nu-Roanoke.
Minute to minute Surviving Mars looks a lot like any other city builder, but slower. More deliberate. You only have so many resources at a time, and that limits how fast you can develop as you slowly strip-mine the surface. I'm not sure if that holds true for the final game—as I said, our demo was hands-off. Each game you'll choose a "Sponsor" country to fund the journey, and for all I know playing as the United States or Russia or China or whatever allows for the type of rapid build-up seen in other city builders.
I doubt it though, because that would undermine the tension Haemimont's building. Surviving Mars is the will-they-won't-they of the early Jamestown colony, and you'll need to deal with catastrophe on a regular basis.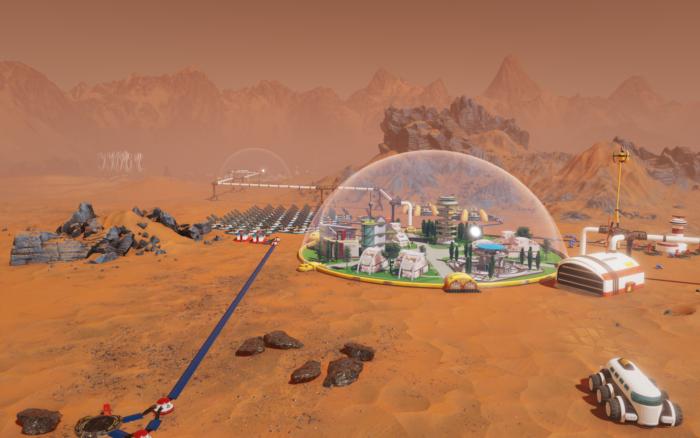 We don't see it during our demo, but a few examples are floated. Say your colony relies on a bank of solar panels for power, and then a dust storm ravages the surface of the planet for days on end. Suddenly your power source is gone, and conditions are too dangerous for your drones to construct a new one. Your colony slowly goes dark, humanity's first foothold on Mars killed by something as simple as wind.
Or: You land on Mars, you get a little drone colony started, everything looks great. To grow bigger you need more supplies though, and as you go to send your rocket back to Earth you realize you have no way to refuel it. (Yes, that's an actual aspect of Surviving Mars.) Without fuel, the rocket sits on Mars like an enormous monument to your failures.
Threats are ever-present when Haemimont's discussing Surviving Mars—think Banished, but hundreds of years in the future. It really is treated as a survival game, first and foremost. Expect your first colony to fail outright, or at least to teeter on the brink of failure.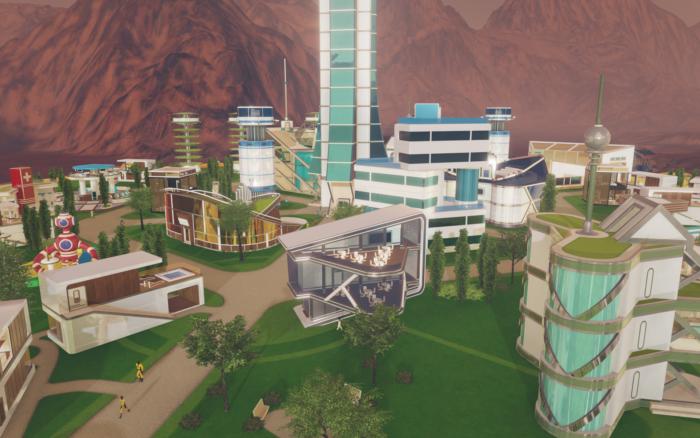 And yet Haemimont wants Surviving Mars to be inspirational. That's the whole reason for the retrofuturist aesthetic, the faux-'60s look of the game. Haemimont says it wants to recapture the optimism of that era, the age when people were excited about space travel, when it seemed like we'd be on Mars by the end of the '80s let alone by the turn of the millennium.
How do you rectify that with a game about entire colonies of humans dying on Mars? Well, I suppose you do it by making those problems seem imminently solvable. Haemimont is quick to talk about all the research that's gone into the game, the papers read and the plans studied.
Surviving Mars is science fiction by today's standards, but only just. The problems humanity will face in Surviving Mars are very real, but so are the solutions—or if they don't quite exist, they're at least not far off. Plausible. Grounded.
If you can get a colony up and running in Surviving Mars, the implication is that humanity can also get one running in real life. It may take some doing, it may take a worldwide investment and a global push, but the possibility is there. And in that way, Haemimont takes a brutal game and spins it into a testament to human survival.
Fascinating, I think.
We'll know more as the game rolls towards its 2018 launch date, and I'm particularly looking forward to getting some hands-on time with the game. A lot of what Haemimont said during our demo sounds great, but there's no substitution for trying it out. Just how hard is it, for example? And what's there for the player to really do once basic day-to-day needs are accounted for?
But I'm about as optimistic as Haemimont's lil' space people. With Tropico, Haemimont proved willing to push the city builder out from its comfort zone, and Surviving Mars seems even more ambitious. Keep an eye on this one.