Google Home is barely six months old, and Google is piling on new features. On Wednesday at its I/O developer conference in Mountain View, the company announced upgrades focused on personalizing your interactions and making them hands-free. Presented by Rishi Chandra, Google's Vice President for Home Products, the new features leapfrog Amazon's popular Echo assistant in some ways, while in other ways Google is just catching up. Here's what Google revealed:
Hands-free calling
"A phone call is still the easiest way" to communicate with others, Chandra said, as he announced the availability of hands-free calling for Google Home. "Just ask the Google assistant to make the call and we can connect you to any land or cell line in the U.S. or Canada completely free," he said.
As Chandra demonstrated by calling his mother, he could make the call without any setup on either end. He asked Google Home to call his mom, and because the device recognizes up to six different voices, it knew to call Rishi's mother and not his wife's mother.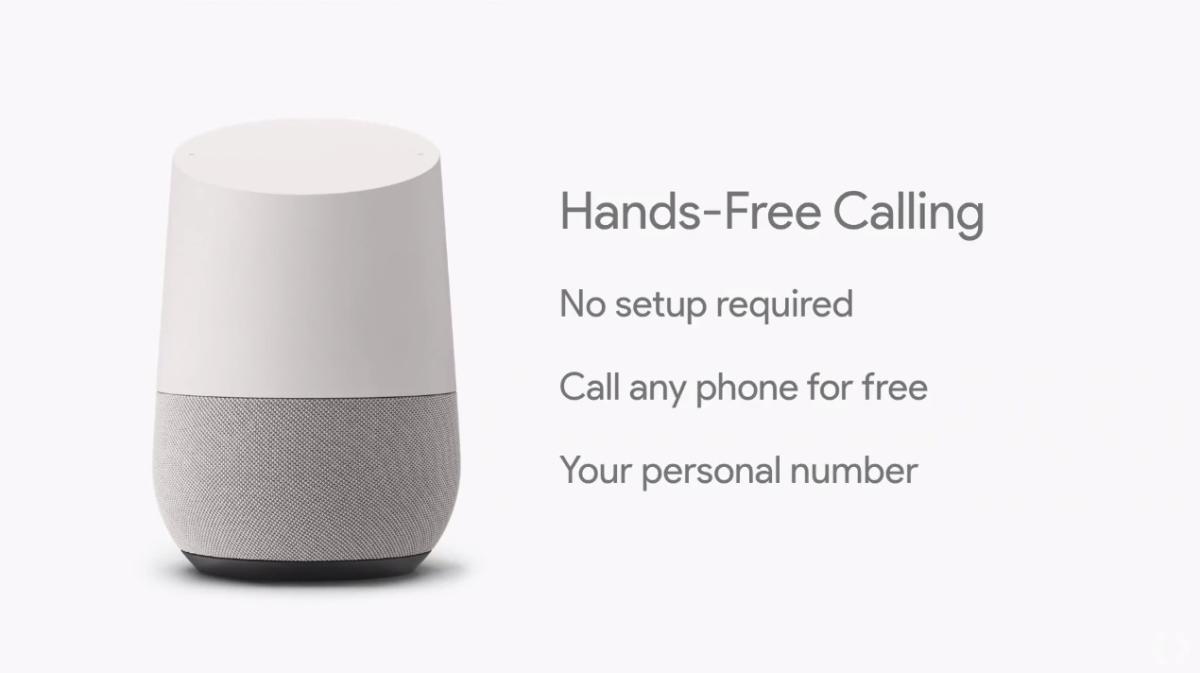 You can also choose between using your cell number as the calling source, or what Chandra called "a private number" via Google Home. The private number is the default (Google didn't provide details about how this number would work). Using your cell number would allow you to be recognized on the other end, but it would also potentially incur calling charges (Chandra didn't provide any details on charges).
Chandra said this service would roll out to all existing Google Home devices over the next few months.
Visual responses
Currently, Google Home only provides audio replies via its built-in speaker. But soon the device will cast visual responses to phones and TVs. Google Home will need some help with this feature, obviously, which is why Chandra also announced an upgrade to Chromecast that will let it show visual responses on a connected TV.
Chandra said the visual response feature would consider the information being cast before deciding on the destination device. "If I want to view the directions, the best place is on my phone," he said. "Google Home will notify my phone automatically and take me straight to Google Maps."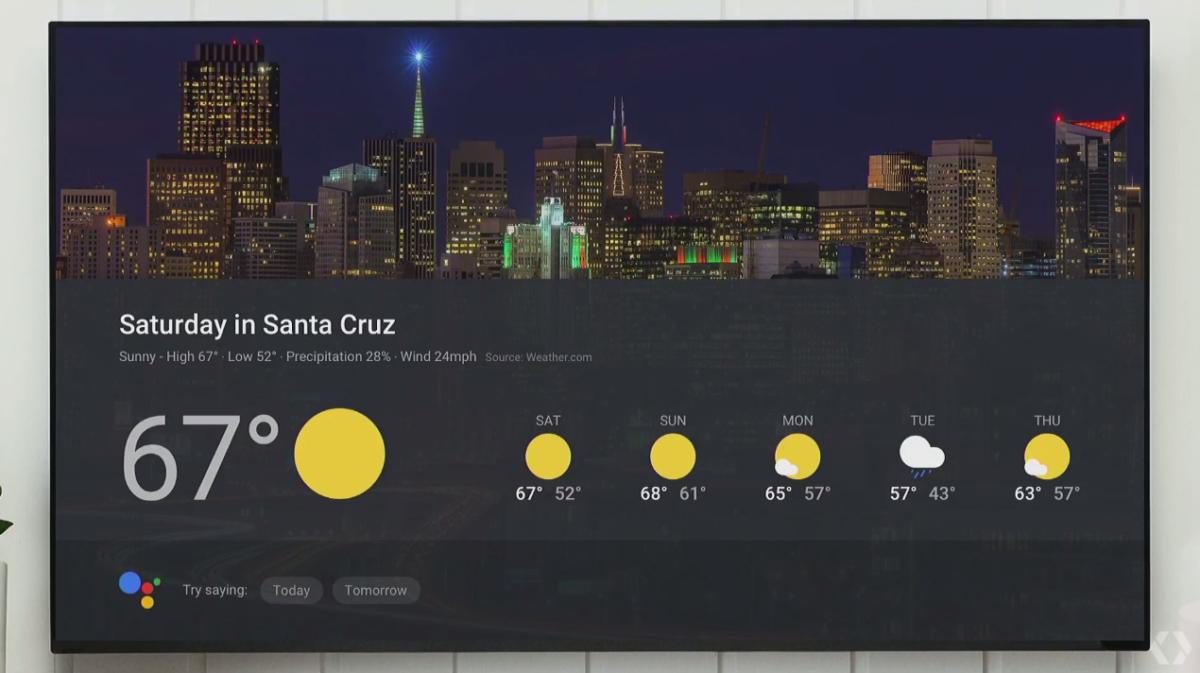 But if you want to look at calendar information or ask the weather, it will route an information card to your TV. As with other services, it will customize its response to the individual by recognizing his or her voice. "Soon you can ask, 'Hey google, what's on YouTube?' and it'll show me my personalized results onscreen," Chandra said. "When you're done say 'OK Google, turn off the TV.'"
Proactive assistance keeps you on track
Google Home's new proactive assistance is designed to think ahead for you, looking at your calendar and other personal data. "We'll start simple with really important things," Chandra said, "like reminders, traffic delays, and flight status changes."
Home will offer assistance by flagging you when you're near the device. In a demo, the Home speaker lit up, and Chandra said, "hey Google, what's up?" to prompt it to provide information. Google didn't specify how Home would detect your presence, but our first guess is it will know you're near via your phone's location.
More music services
Google Home will get more entertainment options in the near future, starting with more music services. "We designed it to be a great speaker," said Chandra, as he announced the availability of Spotify's free music service on Google Home. Chandra also said Google Home would support popular music services SoundCloud and Deezer.
Bluetooth support
All existing Google Home devices will get Bluetooth support so you can stream from iOS and Android devices.
HBONow support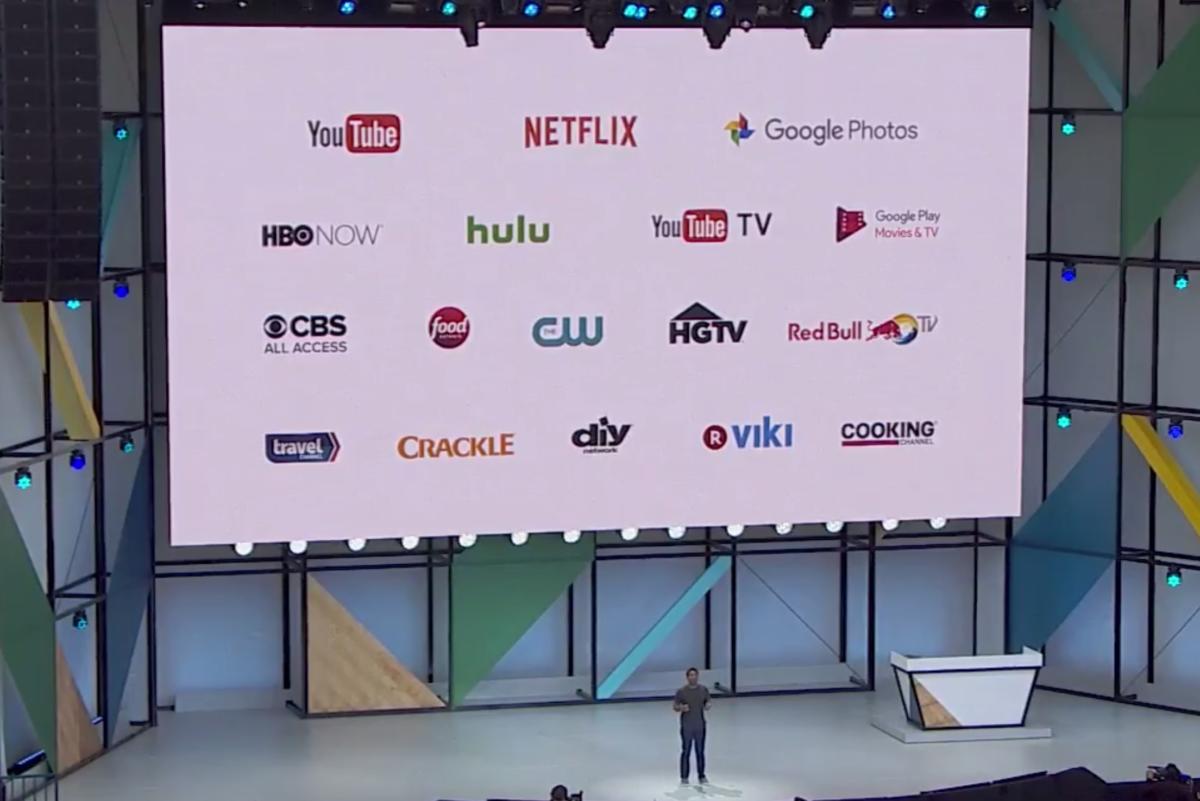 Google Home started with the ability to stream YouTube, Netflix, and Google Photos to TVs. At Google I/O, the company announced a longer list of supported services. The most prominent is HBONow, but the list also includes Hulu. All the services can be launched via Google Home voice command. "Say what you want to watch and we'll play it for you," Chandra said.
Google Home goes global
Google Home started in the United States and later launched in the UK. But starting this summer, Google Home will launch in Canada, Germany, France, Australia, and Japan.
Keeping up with Amazon Echo
Google Home is running hard to catch up with Amazon Echo, which has its own host of services, as well as deeper links with smart-home products than Google Home. On the other hand, Google Home has some advantages on the AI front. These new features will help it keep up, but the race is far from over.