Can you feel that? It's the rumble of the E3 train approaching, as this week we saw glimpses of Destiny 2 and South Park: The Fractured But Whole just a month out from the show, as well as confirmation of Far Cry 5, a new Assassin's Creed, and The Crew 2. I swear, it starts earlier every year.
That, plus ZeniMax sues Samsung, The Witcher heads to Netflix, a Pathfinder RPG, and more. This is gaming news for May 15 to 19.
Destined
Mentioned in this article
Destiny 2
Price When Reviewed:
$59.99
Activision and Bungie showed off the PC version of Destiny 2 for the first time this week, and overall people seem happy with the experience—though a few grumbles about using peer-to-peer connections have surfaced in the aftermath, as even the PC version will lack dedicated servers.
Also, the game's being sold through Battle.net The Blizzard App instead of Steam?
Emphasis on "whole"
I thought the reason Ubisoft took South Park away from Obsidian and gave it to an internal studio was to avoid the kind of delays we saw on Stick of Truth, but it's been just as bumpy a ride for the superhero-themed Fractured But Whole. Originally set for release last year, Ubisoft announced the latest (and hopefully the last) release date this week: October 17, 2017. Almost a year late. Crazy.
There's also a new trailer to go along with the release date.
Pre-E3
Along with the South Park news came info on the rest of Ubisoft's 2017 lineup. If you like sequels? Well, Ubisoft has sequels.
As expected, there'll be another Assassin's Creed this year (probably the rumored Egyptian "Assassin's Creed: Origins"), plus Far Cry 5 and a second run at a racing franchise with The Crew 2. Expect to see more of everything at Ubisoft's E3 press conference next month.
Toddler status
Mentioned in this article
Overwatch – Origins Edition – PC
Price When Reviewed:
$59.99
Overwatch is coming up on a year old, and Blizzard's prepping a celebration. First and foremost: If you're one of the seemingly ten people on Earth who doesn't own the game already, there'll be a free-to-play weekend from May 26 to 29.
There's also a GOTY edition on the way, as well as upcoming changes to the standard loot boxes. For the first time (I think) since launch, Blizzard will be adding emotes and sprays to the standard loot box pool instead of tying them to an event.
Pathfinding
Chris Avellone continues to float around the industry as everyone's favorite RPG writer-for-hire. This week Avellone announced yet another project he'll be contributing to, Pathfinder: Kingmaker, the "very first isometric CRPG based on the highly popular Pathfinder roleplaying game." Surprising it took this long to be honest—Sword Coast Legends did D&D, Torment did Numenera, the whole industry's done Cthulu. Pathfinder's the odd one out.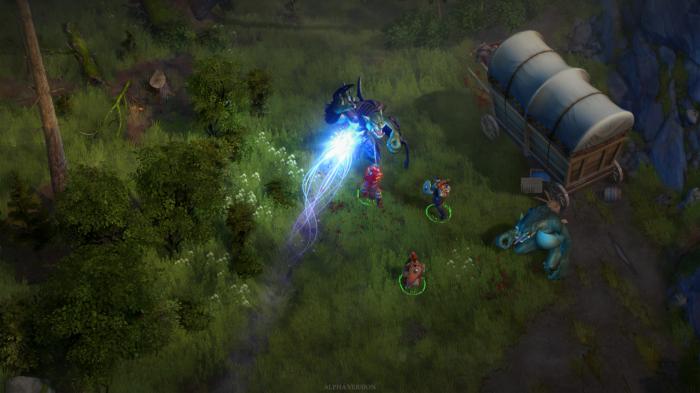 There's nothing much to see yet except that single screenshot and some logos, though more of the game is supposed to be shown off later this month.
More-ment
While we're on the subject, Torment: Tides of Numenera got a mini-expansion/bit of free DLC this week with "Servant of the Tides." Remember those canceled stretch goal companions everyone was upset about? Well one of them, "Oom," is now back with unique abilities and a unique companion quest. The update also adds in the "Voluminous Codex" stretch goal with lore and character information, as well as balance fixes and a raised level cap for completionists.
The shadow looms larger
We're heading steadily towards Middle Earth: Shadow of War's August release date, and the dripfeed of trailers is beginning. This week a new "Dominate the Open World" trailer shows off all the different environments you'll be killing orcs in. Yup, definitely a lot of environments.
Absolute chaos
E3 gets a little bit longer every year. Devolver's doing its part for 2017, joining the likes of Bethesda in offering yet anooooother press conference to consume over the preceding weekend. Expect indie brawler Absolver, a few new titles, and…I don't know. Anything could happen, really. It's Devolver. For all I know, totally (not) real CEO Fork Parker is going to walk out onstage and announce he's stolen everyone's wallets, or that he's decided to leap over a dozen cars in a monster truck or something.
Oh, Devolver's also hosting a free picnic outside E3, if you're in the Los Angeles area that week and have a badge.
Feeling of dread
Multiple times over the last few years I thought "Well, I guess Dreadnought died." Yager first showed me the game in, I don't know, 2015? And even then it'd been around for a few years. Then it stopped showing up to trade shows and I assumed that was it for the tactical space combat game, with its enormous ships and battlefields.
But I guess not. Apparently the game went into open beta this week, with a handful of maps and 50-odd ships to pilot. If it's as good as I remember, then I'd definitely recommend heading over to the official site and grabbing it. I plan to put in some time this weekend.
Kegger
More beta news: The standalone version of Witcher 3 mini-game Gwent is ready to graduate. Progress will be reset as the game moves from closed to open beta on May 24, though CD Projekt did specify that longtime players will be given "Card Kegs" (the game's version of loot boxes) commensurate with their rank, as well as Kegs to match those purchased with real money during the closed beta phase, plus a few perks for participation.
Expect another progress reset when the game eventually goes 1.0, though it's already pretty damn playable in beta form.
Witching hour
Speaking of Witcher-y things, Netflix announced development this week of a Witcher adaptation. It's based on the books, not the games—last I heard the author actually hates the games—so expect some differences. But still, it's Geralt's silver hair on the silver screen.
Jackpot
Payday 2 is perhaps the only game with a DLC structure more complicated than Paradox's games, so it's welcome news that things are about to get simpler. Overkill announced Payday 2 Ultimate Edition this week, with a release date of June 8. The new package will cost $45 and include all DLC released so far. Yes, all of it.
If you already own Payday 2 the DLC is currently on sale for 85 percent off (about $28 total), and you can pick-and-choose your way through it. This is a great deal for people who've held off though, or even people who bought the base game and neglected all the added content.
More good news: All future DLC will be free, and Overkill plans to continue adding content through October of 2018. That's one hell of a tail for a game that released way back in ye olden 2013.
Backup plan
The ZeniMax versus Oculus appeals and further injunctions continue to make their way through court, but ZeniMax ain't stopping there. This week Polygon reported that ZeniMax is also taking the fight to Samsung, alleging that because GearVR is built off Oculus technology it's just as guilty as its desktop-bound cousin.
Now we sit back and see whether Samsung's deep coffers and enormous legal team can outmaneuver ZeniMax's. Get ready for round two.