Microsoft's Surface Pro lineup has remained largely unchanged for the last two generations. Now you can make that three: The new Surface Pro (2017)—no, not the Surface Pro 5—features substantial internal improvements, but otherwise refuses to mess with a good thing.
Ranging in price from just $799 to a whopping $2,699, the Surface Pro is slightly more expensive than its Surface Pro 4 predecessor, which has been discounted from $799 to $699 at Microsoft's store. All of the new Surface Pros are available for preorder, and will ship on June 15, the same day as the Surface Laptop. They'll launch in 26 markets—including the United States, the United Kingdom, France, Germany, India, Taiwan, and more. Type Cover keyboards will cost an additional $129 to $159, Microsoft says.
Perhaps the biggest change is semantic: Microsoft has decided to call the Surface Pro a "laptop" rather than a 2-in-1. Microsoft's not abandoning the idea of a "tablet that can replace your laptop," but the company believes that users now buy Surfaces as laptops, doing everything on them that they'd do on traditional notebooks.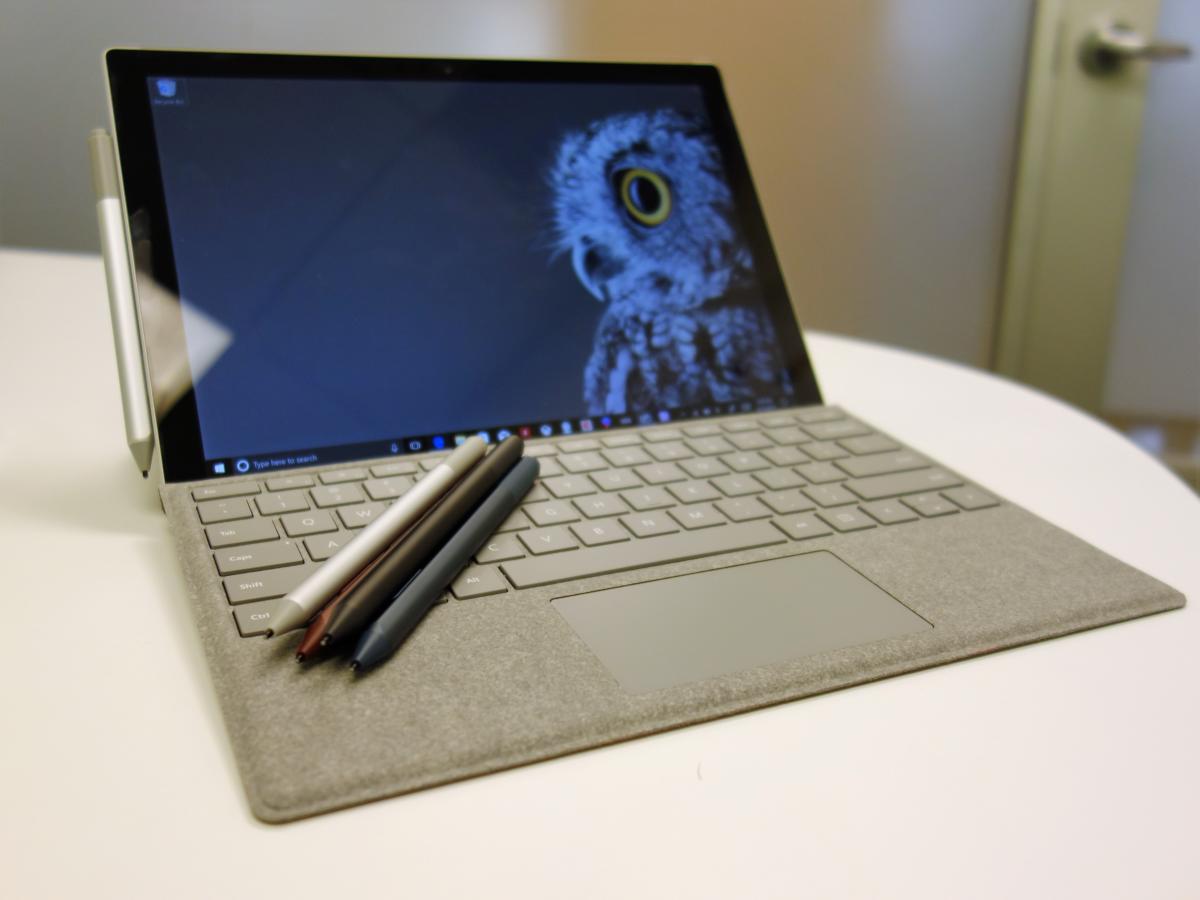 Why this matters: The Surface Pro (2017) gives Microsoft three families, including the high-performance Surface Book with the Performance Base and the more balanced Surface Laptop. What's not clear is where Microsoft is going with this "laptop" rebranding. The Surface Pro's form factor has always had "lapability" issues, and changing the name isn't going to make that go away. The Surface Pro 4 is aging rapidly, however, and we're glad to see this refresh, even if it's mostly internal.
How the Surface Pro stacks up
Microsoft Stores will offer "custom device fittings" to help people find the Surface that's best for them. We've already worked out the pros and cons of a Surface Pro 4 vs. Surface Laptop and Surface Pro 4 vs. Surface Book, and we'll soon have the same for the Surface Pro compared to Microsoft's other products.
Set next to each other, the Surface Pro 4 and the new $799 Surface Pro are virtually indistinguishable, especially when matched up with the Surface Pro 4's Signature Type Cover. Both boast 12.3-inch PixelSense displays, but the new Surface Pro (2017) adds a better keyboard, reclines to a Surface Studio-like 165 degrees, and takes advantage of a new, more sensitive optional Surface Pen. You'll have the choice of either a more traditional Type Cover keyboard ($129) or a new Signature Type Cover with the Alcantara fabric used on the Surface Pro 4, for $159. The Surface Pen will cost $100.
Inside, the differences are much more profound. The new Kaby Lake chips boost performance by 20 percent, and battery life increases from 9 hours to about 13.5 hours, about an hour short of the Surface Laptop's spec. And if you don't like the Surface's fan, you're in luck—there's a new, fanless Core m model, too.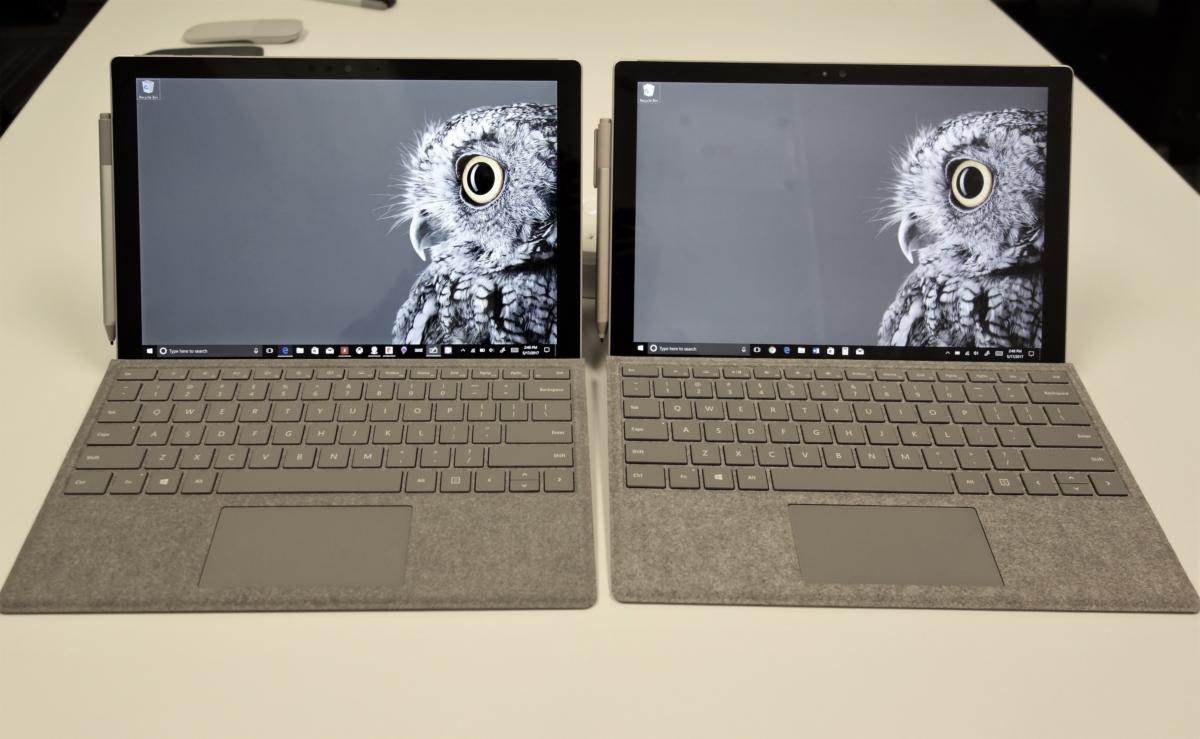 A 'laptop' that looks a lot like a tablet
Some things about the Surface Pro haven't changed. Microsoft still prefers the Surface connector for charging, for instance, rather than the trendy USB-C port.
In other ways, Microsoft's changed course from prior generations. The new Surface Pro will go out the door with an Intel Core m option (it was a later arrival in the prior generation). None of the new Surface Pro devices will be sold with a Surface Pen. That has nothing to do with user reluctance to use the pen, Microsoft says, but merely reflects that Surface owners who choose to upgrade may already own one.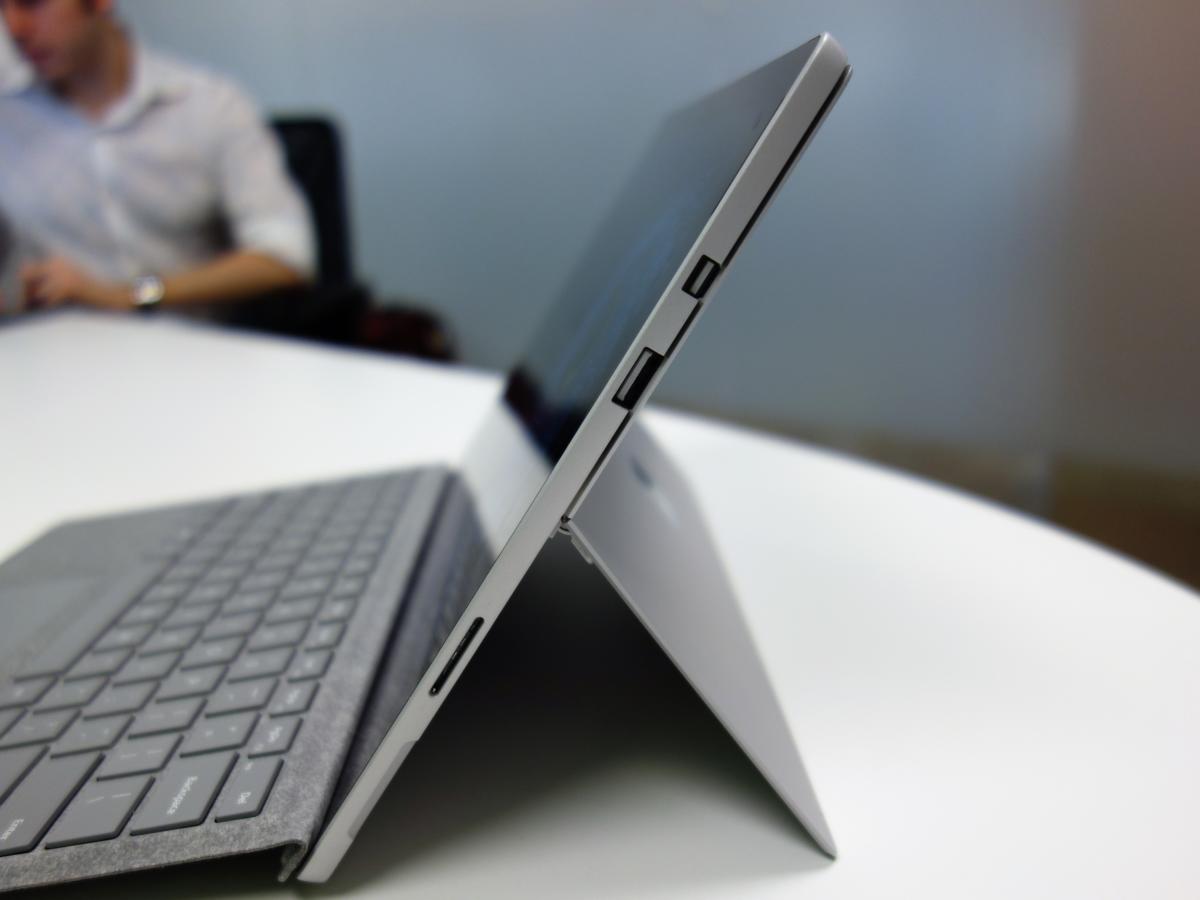 In fact, Microsoft is also using the Surface Pro's launch to show off a new Office app that depends on the pen: Whiteboard, a collaborative app where ink can be applied from multiple users as part of a shared drawing space.
Future Surface Laptop versions this fall will include a dedicated LTE version, and, surprisingly, a version running its new Windows 10 S operating system. That would be a change of pace, as the Surface Pro hardware has always showcased Windows 10 Pro.
Detailed specs
For Surface Pro 4 owners, the new Surface Pro is a tablet that's 20 percent faster, with 50 percent more battery life, all for roughly the same price. If you're wondering how Microsoft eked out more battery life, executives said it was a combination of an increased battery capacity as well as efficiencies in both the new Core chip and the Creators Update of Windows 10.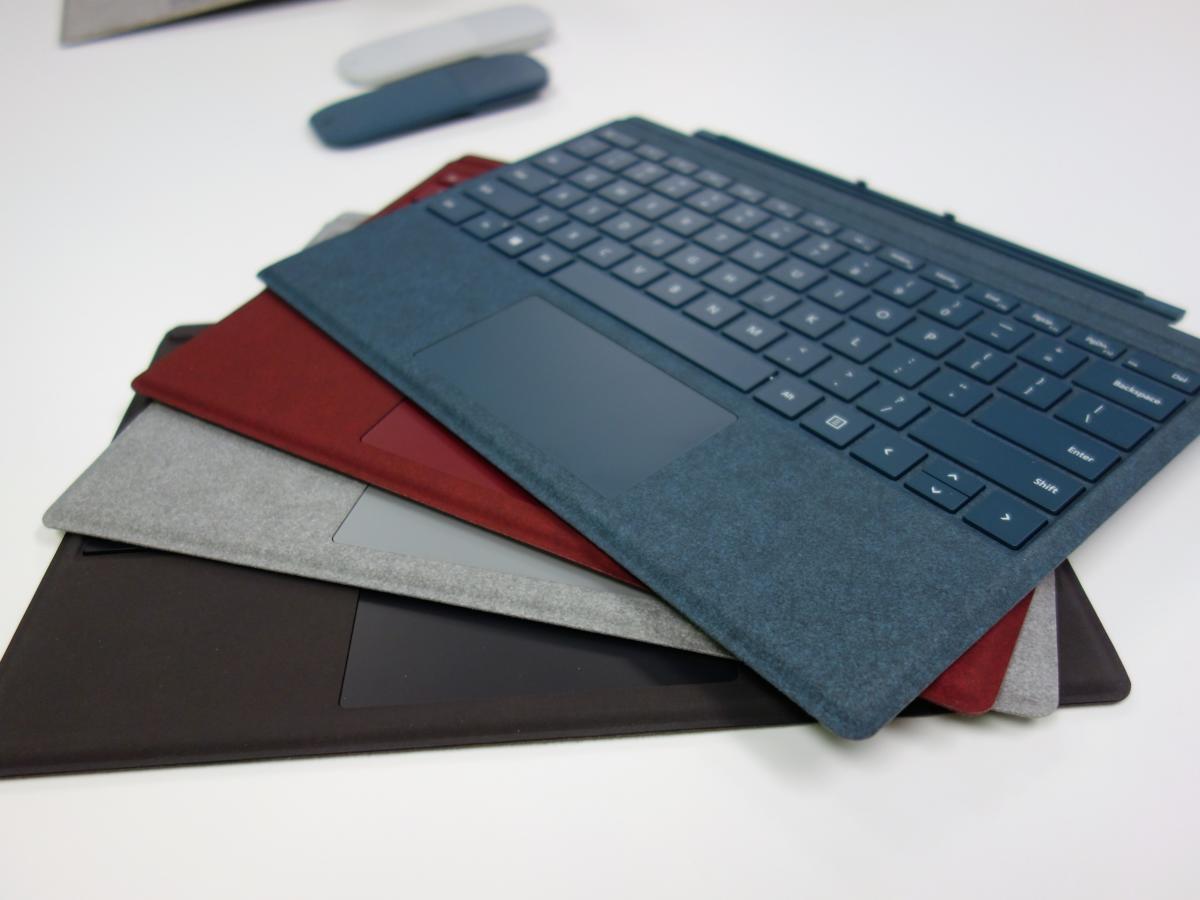 With the new Surface Pro, looks like you'll have a comparable selection of processors, memory, and storage to the Surface Pro 4's. The cheapest $799 model includes an Intel Core m3, 4 GB of RAM, 128 GB SSD, and Intel HD Graphics 615. Two Core i5 models are available: a $999 4GB RAM/128GB SSD version and a $1,299 8GB RAM/256GB SSD model. Both use Intel's HD Graphics 620. Finally, the Core i7 options include a $1,599 8GB RAM/256GB SSD version and a $2,199 16GB RAM/512GB SSD variant. If you want to shell out the big bucks, there's a $2,699 16GB RAM/1 TB SSD option, too. All of the Core i7 models use Intel's Iris Plus Graphics 640.
You'll also be able to select among four colors of accessories: The new Surface Pen, the improved Type Cover, and a Sculpt Mouse will each be available in platinum, burgundy, cobalt blue, or black.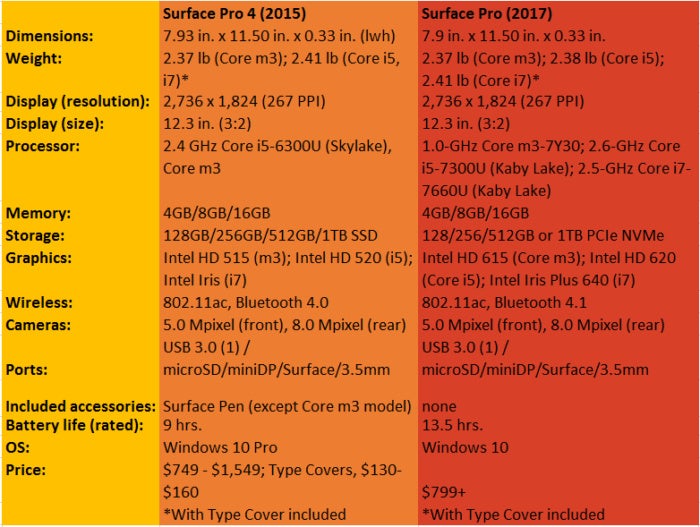 Otherwise, most of the revamped Surface Pro echoes the older Surface Pro 4, including the memory and storage configurations. You'll notice slight improvements here and there, including better Bluetooth connectivity.and the faster NVMe interface for the terabyte storage option. Microsoft executives also said they've rounded the Surface Pro's edges and pushed the cameras further back into the bezel—all recognizable features when someone points them out, but otherwise small details that you may overlook.
One nice feature you will notice, though, is how far back the kickstand reclines, to a nearly flat 165 degrees. Microsoft calls this "Studio Mode," in homage to the Surface Studio. The revamped Surface Pro is also the first Microsoft device other than the Surface Studio that can use the nifty Surface Dial peripheral directly on the screen itself.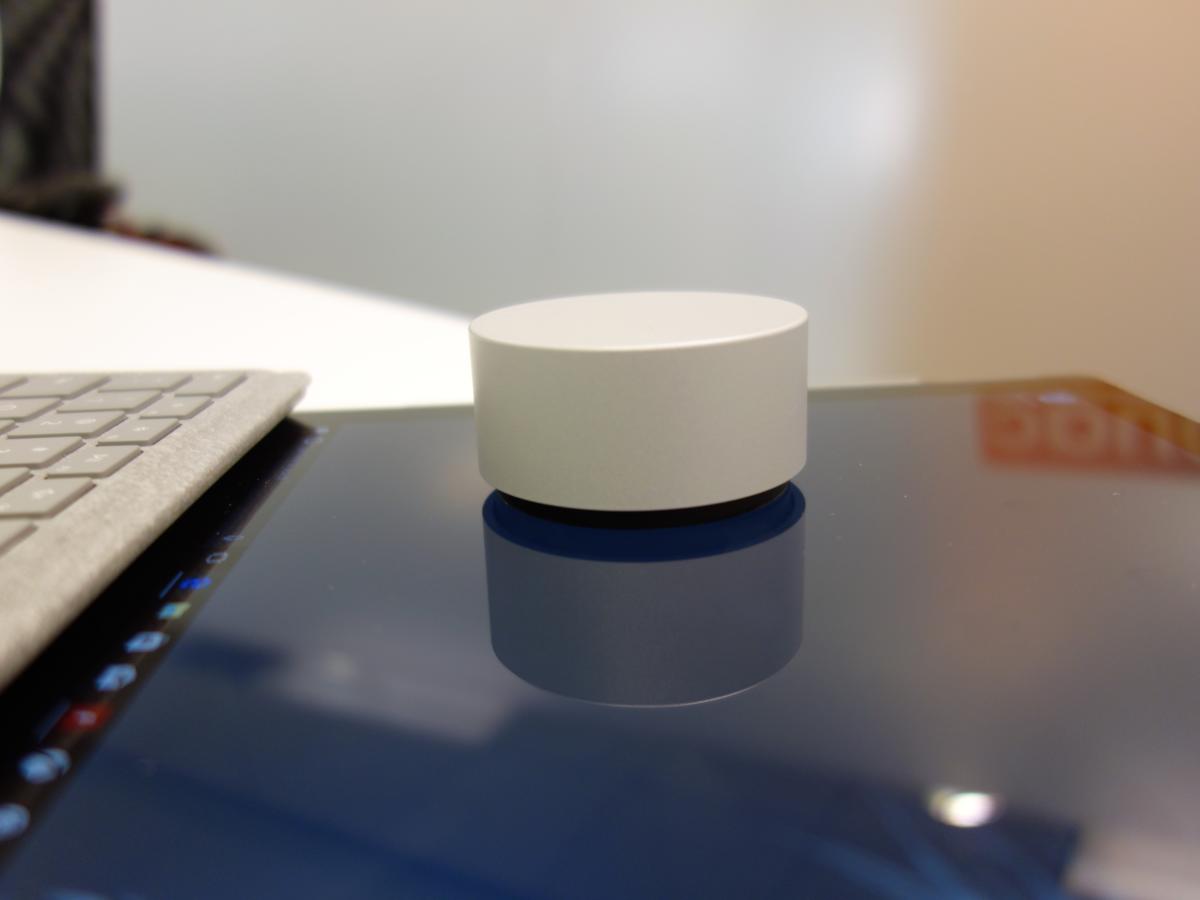 The associated peripherals are largely identical . What Microsoft is calling the Surface Pro Signature Type Cover delivers 1.33mm of key travel, and is bound in the Alcantara fabric that appears on the Surface Pro 4's Signature Type Cover as well as the Surface Laptop's keyboard deck. On paper, the Surface Pro Signature Type Cover appears to be identical to the Surface Pro 4's Signature Type Cover, and felt identical to my fingers, too.
Digital artists have more to like. The redesigned Surface Pen boasts 4,096 levels of pressure accuracy compared to its predecessors' 1,024 levels, and it has tilt support. This means you can ink with the pen, or angle it and shade in brushstrokes with the side of the nib, just like a real pen would. The new Surface Pen is also a little longer and sleeker, and it eliminates the clip. Microsoft's also quite proud of the fact that the new Pen virtually eliminates the pen's latency (now just 26 ms) between when you ink a line on the screen, and when the digital ink actually appears. Finally, like the Studio, Microsoft now offers the option to switch to "enhanced color" from sRGB.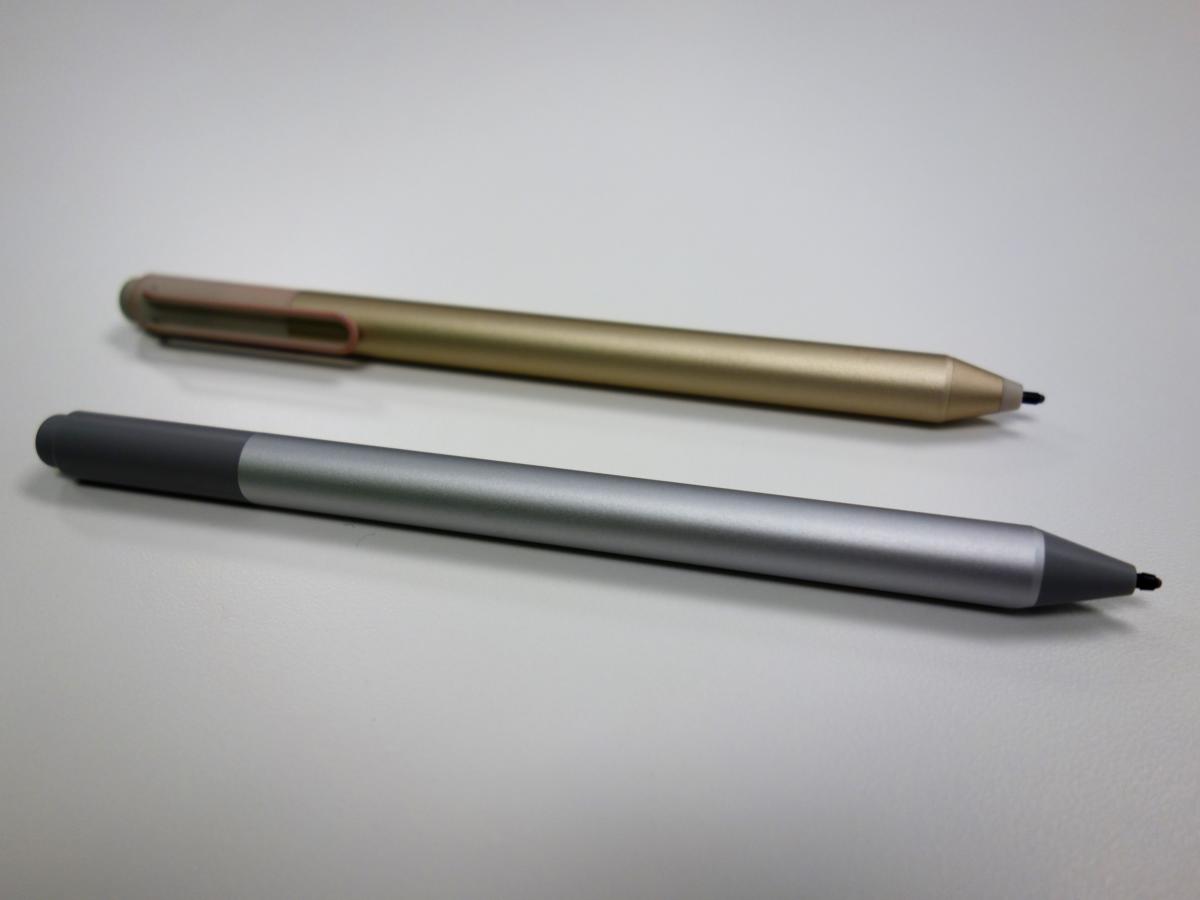 For anyone torn between the Surface Pro 4 and Surface Pro (2017), Microsoft's new tablet—er, laptop—looks like a no-brainer upgrade. We won't know more until we test it, of course, so stay tuned for our review.
This story was updated at 6:33 AM with additional pricing details and other information.