HP's second-generation Spectre x2 is here to distract us from the rumored Microsoft Surface Pro 5 that may never appear, no matter how hard we wish. Announced Monday, the new Spectre x2 beats the aging Surface Pro 4 with much better features for the price, plus it corrects many of the sins of its own original version. The new Spectre x2 is expected to go on sale in June.
Why this matters: The 2-in-1 laptop category is starving for innovation, especially while Microsoft can't or won't upgrade its flagship hardware. HP, with this Spectre x2 and its corporate cousin, the Elite x2, seems to be leading the charge. The better news for consumers: HP tends to stuff a lot into these higher-end PCs.
It's what's inside
The biggest change internally to the Spectre x2 is skipping the low-power, somewhat slower Core M-based chips for Intel's latest 7th-gen Kaby Lake CPUs. To boost the performance even more, HP has opted for Iris Plus graphics versions of the Core i5 and Core i7. With its 64MB of embedded DRAM, Iris Plus should offer a very decent graphics advantage compared to standard HD graphics devices. RAM options will range up to 16GB of LPDDR3, while the SSD will include options up to a 1TB PCIe.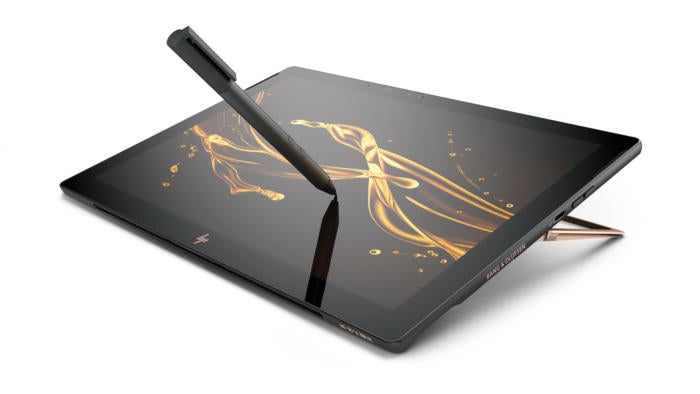 Going outside the box, HP has seriously revamped the Spectre x2's screen to 12.3-inch diagonal size and 3000×2000 resolution screen. Compared to the first gen Spectre x2's 16:9, 1920×1080 panel, this new model has the same aspect ratio as Microsoft's Surface Pro 4 and the same resolution as the Surface Book. The newer screen is IPS and brighter, too, with a maximum of 450 nits, slightly better than the Surface Pro 4 panel's spec.
HP has also cloned the Surface Pro 4's pen tech. The original Spectre x2 used a Wacom-based pen, while the 2nd gen replaces Wacom for N-trig, which Microsoft uses for its own Surface Pen. Microsoft even bought N-trig. The N-trig pen's main appeal to PC makers is its ability to use the capacitive touch layer to sense the pen. Wacom-based devices require a separate digitizer, which adds thickness to the screen.
HP also made some major changes to the Spectre x2's camera setup. The first gen gave you an actual Intel RealSense camera mounted on the rear, but it had no IR camera for use with Microsoft's nifty Windows Hello authentication feature. While the rear-mounted depth-sensing RealSense camera was neat for making 3D scans of objects and people, Windows Hello is far more useful to most people. The new Spectre x2 places an IR camera in front so you can take advantage of Windows Hello.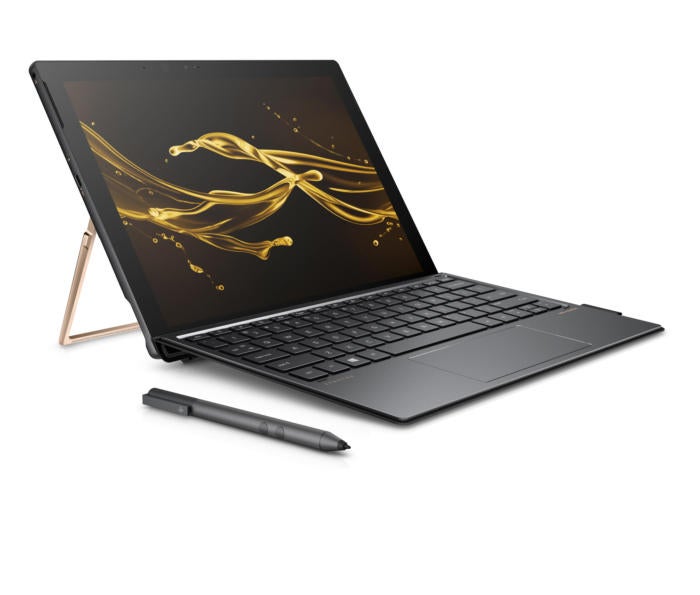 One annoying "feature" of the original Spectre x2 was its slide switch for popping out the kickstand. With the updated model, you just pull it out manually, like the Surface Pro 4. HP said it also increased the strength of the magnets used to keep the keyboard attached to the device to help with "lapability."
Another physical change on the second-generation device that mimicks the Surface Pro 4 are the new Spectre x2's front-firing speakers. The previous gen had side-firing speakers.
For ports, HP goes with a pair of USB-C's, one each on the left and right sides. The ports don't support Thunderbolt 3 and max out at 5Gbps (half that of USB 3.1's full-throttle 10Gbps), but you do get DisplayPort out of both and USB-PD charging. Not having a USB Type A is painful, but HP does at least give you a free dongle in the box (looking at you, Apple.)
HP says battery life is rated at about 7 for video playback on the 41-watt-hour battery. That battery is slightly larger than the 38-watt-hour battery used in the Surface Pro 4.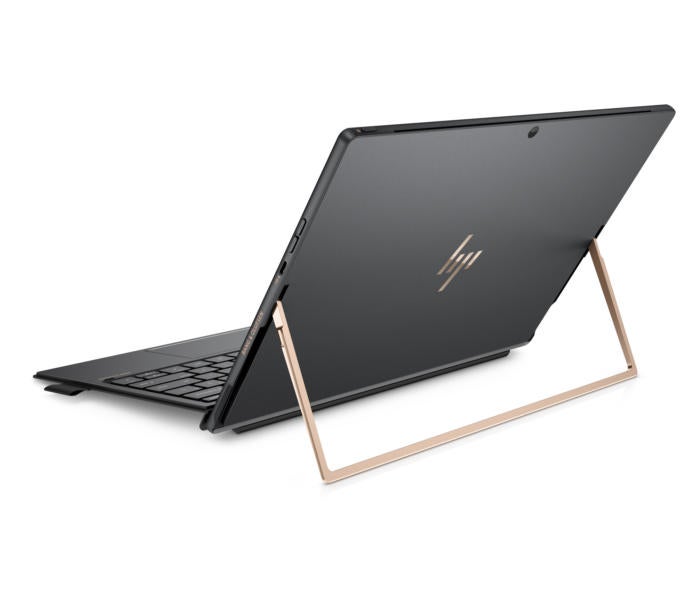 HP doesn't say whether the updated Spectre s2 supports third-party USB-C chargers, but we suspect HP's newfound embrace of USB-C charging means it'll work. The original Spectre x2 was infamous for not supporting USB-C chargers not made by HP.
HP also includes a standard combo analog audio jack and microSD. Gone, it looks like, is the standard LTE modem the previous model had.
The makings of a Surface Pro killer
What really makes the updated Spectre x2 a Surface Pro 4 killer is the price. HP says a Spectre x2 with Core i5 (and Iris Plus graphics, we believe), 8GB of LPDDR3 RAM, and 128GB SSD will be $999 when it goes on sale in June. A Core i7 version with Iris Plus graphics, 8GB of RAM, and a 256GB SSD will hit $1,280.
For $999, Microsoft gives you a Core i5 Skylake-based CPU, 4GB of RAM, and 128GB SSD—and no freaking keyboard. With the keyboard, that Surface Pro 4 will set you back $1,129. Mind you, this is at the end of life for the Surface Pro 4. Last year, it would have cost you closer to $1,400 for a Surface Pro 4 with somewhat comparable hardware.
Let's just say that I don't expect a new Surface Pro 5 to be as cheap as the current Surface Pro 4.