Every time I open my Chromebook and see that an update is available, I get a twinge of excitement. Is this the moment that my Acer Chromebook will finally get Android apps? So far, the answer has always been no, and it doesn't look like that will change anytime soon.
Samsung's new Chromebook Pro starts shipping on Sunday, but Android apps will remain in beta at least through the summer, as reported last week by The Verge.
Google didn't have much to say about the state of Android on Chrome OS during last week's annual Google I/O conference. But the company did run a dedicated I/O session aimed at teaching developers how to target their apps for Chromebooks and larger screen devices, as first spotted by Thurrott.com.
The big takeaway from that session is that Google is grappling with the same issues we've been hearing about for months. At the opening of the session, Google even showed some of its own apps, including Google Maps and Hangouts, that aren't yet tuned for large screen devices.
Basically, the big issues that Android apps need to deal with during the migration to Chromebooks are support for wider screens; including a landscape mode in addition to portrait; allowing for adjusting an app's window size; and tweaking input approaches to suit a laptop with a keyboard and mouse.
The issues aren't just affecting Chromebooks either. Google said these optimizations can improve the experience on Android-based laptops, as well as newer Android phones that have a desktop mode like Samsung's Galaxy S8.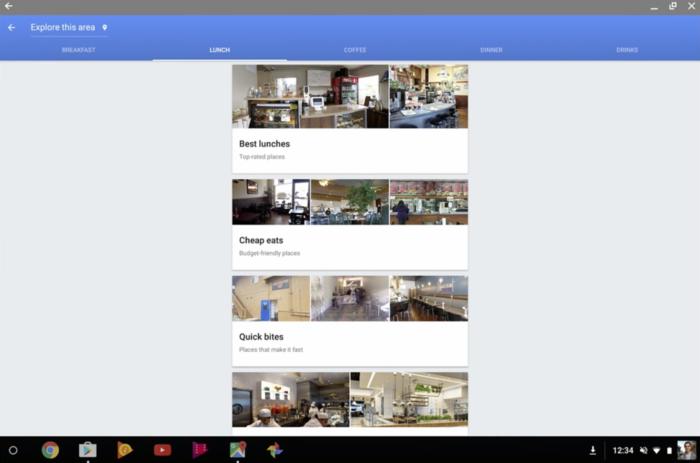 Even if an app is lacking some of these tweaks, they can still work pretty well. The wider-screen issue, for example, just makes some apps look odd. The image above is of Google Maps' explore feature. All the content is in the middle of a screen, while the menu is stretched out across the entire display.
Similarly, not having a landscape mode just means that an app feels cramped on a laptop, but it's still usable.
The bigger issue, however, is window resizing. Some older apps become unstable when you try to resize them on a laptop, because they were never meant to do anything but display on a phone or tablet.
To confront the window-resizing issue, Google's baked several tools in its newest Chrome OS window manager. The system scans apps to see which "era" of Android they were built for. If the app is not density-aware, for example, the app will always display in a maximized window.
Pre-Android N apps, meanwhile, will switch between a fullscreen view and a fixed window size. For Android N and later, most apps are freely resizable, thanks to the windowing features built into Android 7.1. That said, some apps may not use the resizable feature, in which case they would fill the screen.
The impact on you at home Unfortunately, this still doesn't answer the question of when all those older Chromebooks slated for Android support will get it. Currently there are just six Chrome OS devices that support Android apps in the stable channel. Two are in beta, and more than 80 are "planned" to get Android apps in the future, according to Google's Chromium site. Hopefully, this will all be sorted out by the fall, but at this point there's really no point in predicting when the great Android app revolution will happen on Chrome OS.