Microsoft wants you to use Windows 10's inking talents in your everyday work life, and that's why it's offering two new features: a custom collection of pens that will roam with you from device to device, and coming later, the Whiteboard collaborative app.
Both build upon new inking capabilities Microsoft has incrementally added to its hardware and its Windows OS, as well as Office. One of the features of the new Surface Pro (2017), for example, is a more sensitive Surface Pen with tilt capabilities and an almost unnoticeable pen latency, to make digital ink feel smooth and seamless.
Beginning in June, Microsoft will allow Office 365 subscribers to "save" a gallery of pen inks that will roam across devices as well as the Microsoft Excel, PowerPoint, and Word apps. Though the pens are being saved in Office, and not within Windows, the saved ink gallery is consistent with Microsoft's upcoming Fall Creators Update, which builds upon shared Windows experiences across devices.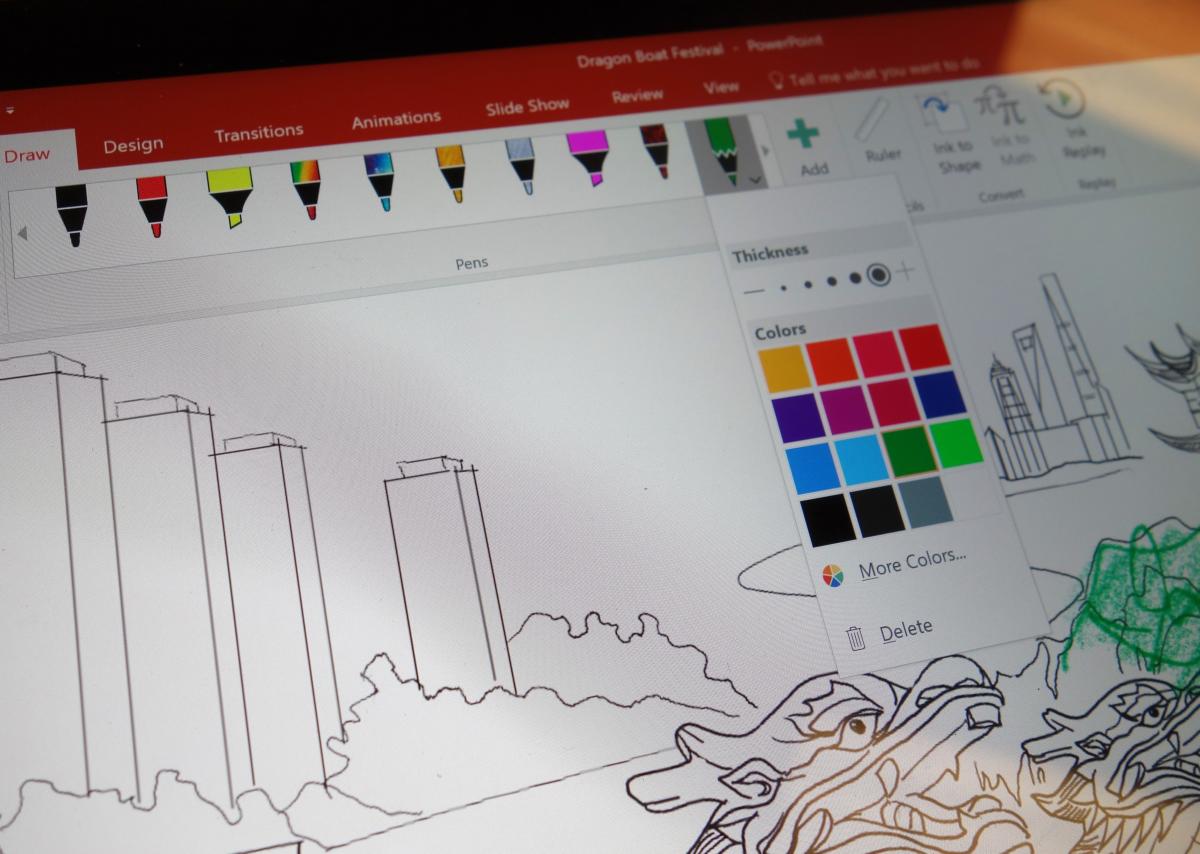 Those inks include "galaxy" and "rainbow" inks, which dynamically change colors as the pen moves across the screen. If a user wants to keep a rainbow pen close at hand, they can save it within Office, along with pencils, highlighters, and more. Sometime in the future—Microsoft's not saying exactly when—one of those Office apps will be Whiteboard.
Why this matters: According to Microsoft, there are 2 million minutes of pen usage per day. That doesn't sound like a lot, especially given the tens of millions of Windows PCs. To its credit, though, Microsoft isn't giving up, banking on collaboration as one of ink's key focal points. Are you going to grab a pen every time you want to huddle in a conference room? Probably not—but the option's there if you want it.
Whiteboard: a true collaborative Office app
If Whiteboard sounds familiar, it should; we first saw it last year as part of the Surface Hub, Microsoft's massive 84-inch collaborative touchscreen. At the time, Whiteboard was a simple collaboration tool, where users could stand up and ink on the screen. If you weren't in the room, though, you couldn't participate, a key limitation Microsoft solved with this iteration of the software.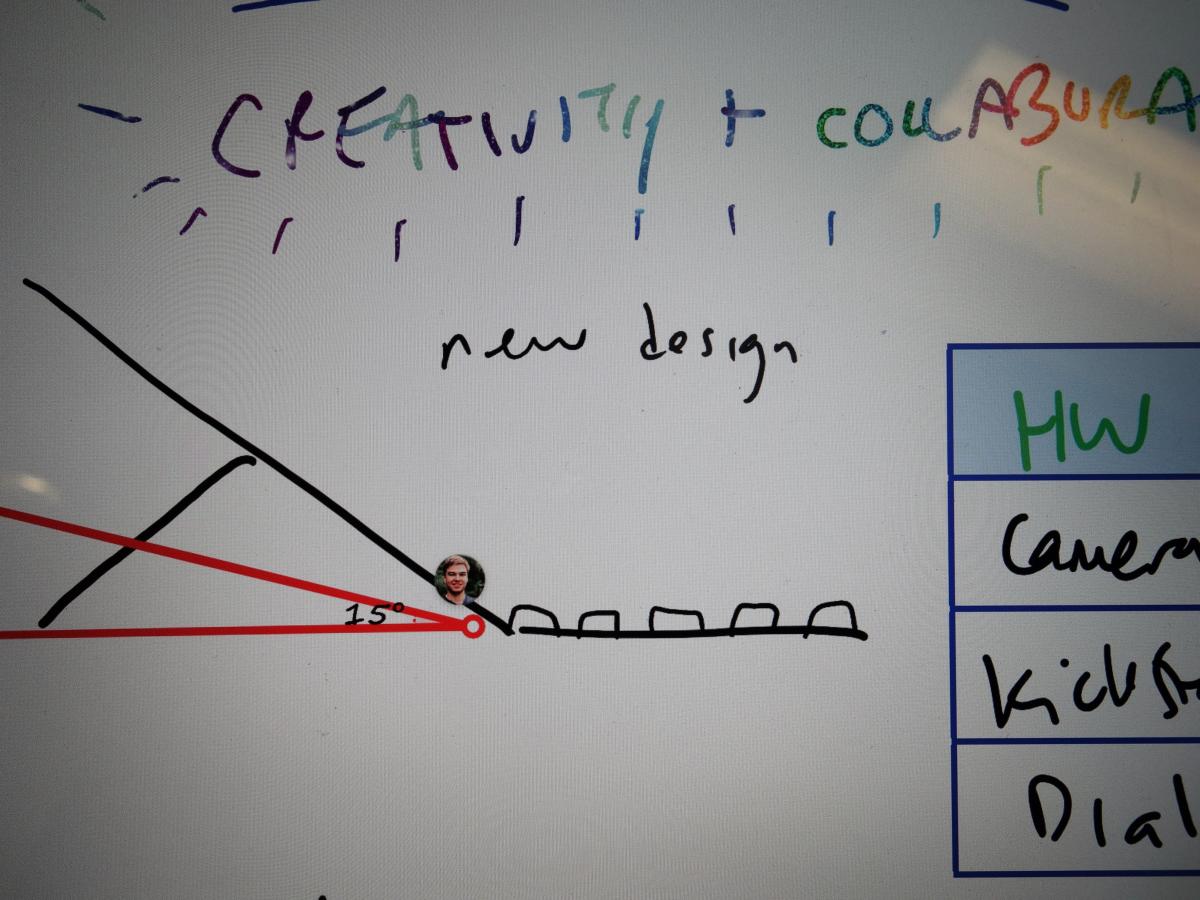 Now, each participant in a Whiteboard workspace can ink on their own tablet or PC, and the content will show up on each other's screen. In a nice touch, a small icon with the person's name will appear and hover next to the ink as each user applies it. Because Whiteboard is due at some point in the future, certain aspects of it, such as the number of supported users, remain undefined for now.
The real magic behind Whiteboard, though, is how Whiteboard treats ink: as the foundation for digital objects that can be manipulated. Ink a triangle, and it transforms into an actual triangle that can be pulled and rotated, even with small numbers displaying the angle sizes. Inked boxes turn into squares, and if they're bisected or trisected, transform into tables with fields that can be filled out.
Whiteboard will be available in preview this summer, and to all Office users this fall, Microsoft said at the launch of the new Surface Pro.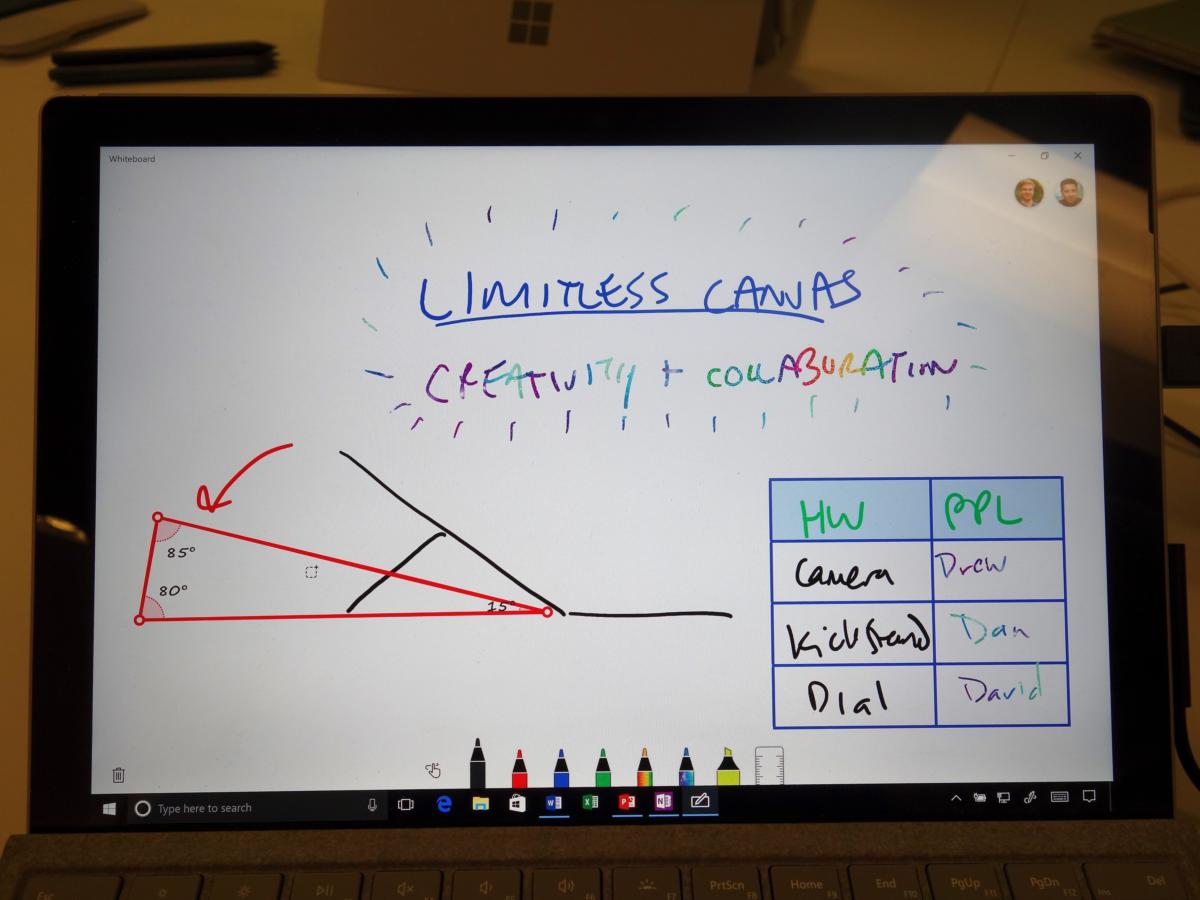 According to Microsoft executives, that sort of interaction via ink will make its way into other parts of Office, too: You'll be able to lasso phrases in Word to select them, and delete them just by crossing them out. An "ink replay" feature, taken from the OneNote Windows app, will also appear in the Office apps (though not, unfortunately, Whiteboard). Replay allows you to scrub back and forth though inked additions just like a video, allowing you to follow a shared project's evolutionary timeline.
Microsoft said additional inking capabilities will come to Office over time, complementing Microsoft's eventual hope that you'll be able to navigate Windows using just your pen.
Story updated at 5:23 AM with additional details.