Maybe it's time to start paying attention to Microsoft's livestreaming play. After acquiring fledgling service Beam last August, then integrating Beam into Windows 10 and the Xbox One, today Microsoft announced a whole raft of changes to make the service more appealing—starting with a new name, Mixer.
Well…not the best start. Sounds like a bad dating site.
The name change is really the least interesting of today's changes though. "More than just the name, we're launching several of the features that you all have been asking for. Features that will unlock a whole new world of possibilities for social streaming, and help viewers find the content they're looking for across the service," wrote Mixer/Beam co-founder Matt Salsamendi in today's announcement.
Social streaming is the key phrase. Beam distinguished itself by touting "livestreaming that's actually live," a.k.a. with minimal one or two second latency, a huge advantage over Twitch's 10 to 15 seconds for non-partners. With low latency, conversations between streamer and audience can be a lot more natural.
Mentioned in this article
Xbox One S 1TB Console – Halo Wars 2 Bundle
Price When Reviewed:
$349.99
It also allows the audience to participate in the game—for instance, voting on choices in Telltale games or judging entries in Jackbox Party Pack, effectively becoming part of the stream. These interactions are possible on YouTube and on Twitch, especially for partners who are given lower-latency streams, but there's no beating the immediacy of one-second latency.
So it's no surprise Mixer is doubling down on this aspect and then some. What Mixer's calling "Co-streaming" goes live today. I'll let Salsamendi explain:
"Starting today, we're launching the first built-in cooperative streaming experience on a streaming platform where up to 4 streamers can combine their streams into a single viewer experience. Co-streaming enables multiple channel streams to be displayed on a single Mixer page. You and up to three other friends can deliver a stream that combines separate stream sources into one shared 'split-screen' view, including a centralized chat experience."
Examples include watching a League of Legends match where you can see four perspectives at once, or doing the same in PlayerUnknown's Battlegrounds, but I imagine it'll be used more to just get friends streaming together. I know quite a few streamers who group up every week, and even a few who've created ad-hoc ways of streaming together (e.g. by overlaying multiple chat windows or going through third-party sites with even more latency) but it's always been a less-than-ideal experience on Twitch and YouTube. Mixer's split-screen solution sounds like an amazing idea, provided it works.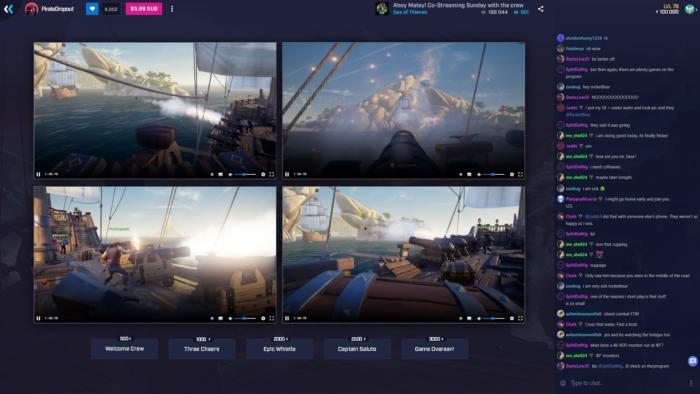 And then there are the smaller changes. "Mixer Create" goes into beta today, a mobile app that allows for streaming on the go. Streaming of mobile games is apparently also on the way in the near future. There's also a new Xbox One Mixer page, as you might expect.
I don't know if it's enough to take on Twitch's entrenched position, but it's a solid play by Microsoft. Check out the new homepage, or read more about today's changes here. It sounds like Mixer's created an excellent toolset—now it just needs an audience, and to get the audience it needs streamers, and to get the streamers it needs an audience. The ol' chicken-and-egg problem.
Perhaps Microsoft will get a boost from Mixer's ubiquity in the Windows 10/Xbox ecosystem though. The company's already promised to stream its E3 press conference over Mixer next month, in 4K no less, which could introduce more people to the service.
Then again, YouTube had everything going for it and botched not one but two attempts to take on Twitch. Never underestimate the power of purple hoodies, I guess.