At a Glance
Expert's Rating
Pros
Stainless steel accents give it a premium feel.
Battery life is impressive and can be stretched for weeks.
The leather strap is equally good for working out and dining out.
Cons
Its bigger, thicker, and less elegant than its predecessor.
No digital crown for scrolling.
Too much fitness and not enough fashion.
Our Verdict
The Huawei Watch 2 is a fine Android Wear 2.0 entry, but it doesn't bring enough to the table to separate it from its peers.
Barely three months into its official release, Android Wear 2.0 should still be enjoying its honeymoon period. But the truth is, it never really had one. Despite a high-profile launch and pent-up anticipation among Android enthusiasts, the roll-out has been less-than-stellar, with few manufacturers supporting it with new models, and most older watches unable to take advantage of the best features.
And the Huawei Watch 2 doesn't do too much to change that narrative. The model I tested, the Classic, is the classier of the two models, with stainless steel accents, a buttery-smooth leather band, and a posh gray face. But even in an extremely small pool of Android Wear 2.0 watches—the LG Sport and Style are the only new 2.0 models—the latest Huawei Watch just doesn't do enough to stand out.
And that's surprising. There was an understated elegance to the original Huawei Watch that made it feel less like a tech product and more like a fashion statement. With the Watch 2 Classic, Huawei has built a very nice follow-up, and most companies would be proud to call their own. But while there are plenty of good things here that certainly improve upon the original Huawei Watch, strapping on the sequel just doesn't generate the same level of excitement.
It's a shame because Huawei is one of the few tech brands that understands how to make a good watch.
Big and bold
At 12.6 mm thick, the Huawei Watch 2 isn't terribly bulky, but it is noticeably chunkier than the original model. For comparison, the original Huawei Watch was 11.3 mm thick, so it's strange to see Huawei and others continue to add to the size of their watches. Notably, there aren't any "ladies" models this time around, though to be fair they were never all that feminine anyway, bejeweled bezels notwithstanding.
But at least those watches had character. The Huawei Watch 2 might be built to fit a certain taste, but it's mostly just a plain, ordinary watch. Its 1.2-inch display is flanked by an etched bezel with numbers every 10 minutes (and slashes every five), and there's a pair of fairly bulbous buttons along the right edge. Despite having a smaller screen, the whole package is markedly bigger than the original Huawei watch, following in the footsteps of the LG Sport and Samsung's Gear S3 with a wearable that's clearly geared toward athletes and outdoor enthusiasts, and large-wristed ones at that.
Speaking of wrists, the strap on the Classic is particularly impressive. It looks and feels like a high-end leather band, but Huawei has fused it with a rubber underside to make it both comfortable and versatile. It's not stiff like the LG Style's band, or rigid like the sport band on the basic Huawei model. After just a couple days of use, it naturally conformed to the contours of my wrist and required much less adjustment than other smartwatches I've used, including the Apple Watch with its various band options. And if you don't like Huawei's band, you can swap it out with any 22 mm band.
Battery powers
Despite its extra bulk, the Huawei Watch 2 didn't feel heavy or cumbersome on my wrist. And while it's bigger than its predecessor, it's a good deal lighter too, but not at the expense of features. There's a heart rate sensor, barometer, NFC chip, GPS, and IP68 water resistance.
Huawei has also addressed one of the major pain points of Android Wear watches: battery life. While its 420mAh battery isn't the biggest in the business, Huawei has managed to squeeze quite a bit of juice out of it. Without an LTE chip to power, the Huawei Watch 2 Classic easily makes it through a day of regular use and well into a second, but with a few tweaks, you can actually push it much longer than that.
Head over to the app list and you'll find a Battery app that isn't on any other Android Wear watch. Inside you'll see your battery percentage, an estimate of the time remaining, and two options: Smart power saving and Watch mode. The first will turn off the always-on screen, dim the brightness, and disable tilt to wake to squeeze out a few extra hours. For example, with 30 percent battery remaining, my estimated time remaining went from 15 hours to 20 hours by flipping the Smart power saving toggle, all without degrading the experience too much.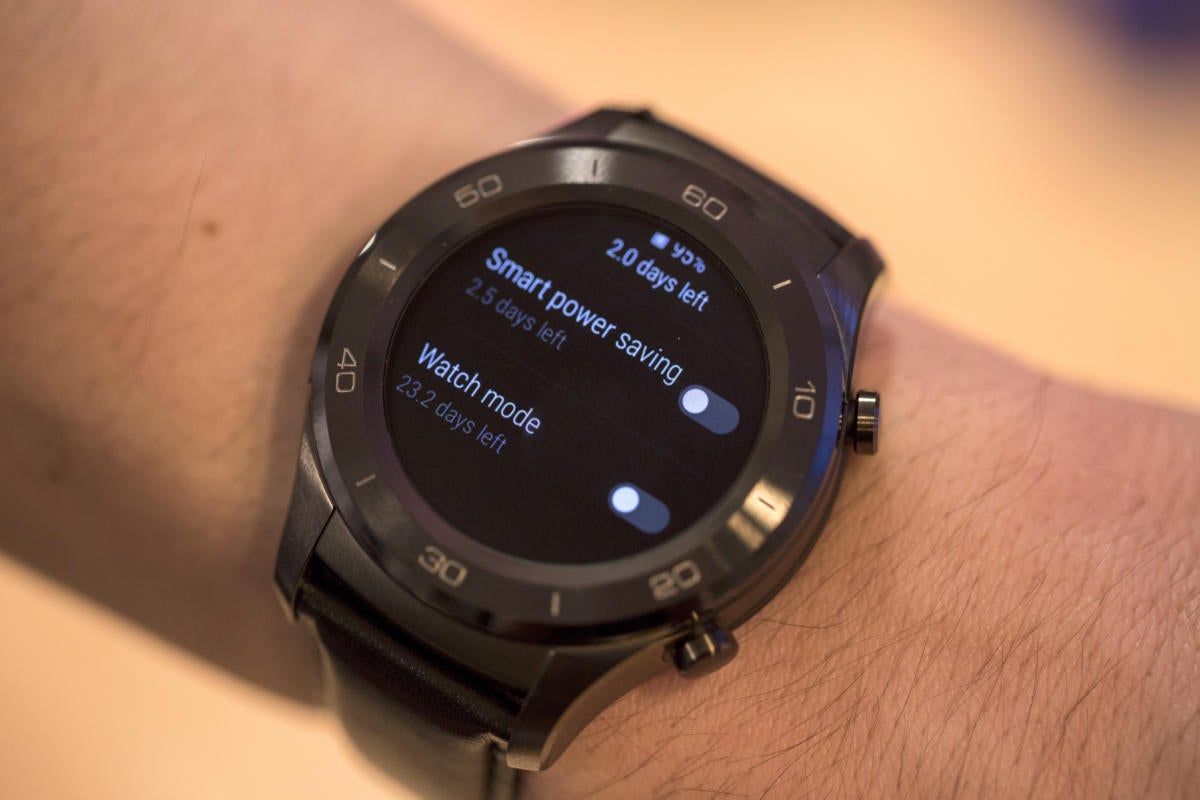 But the killer feature is Watch mode. Enable it and your watch will turn off everything except the clock and pedometer. It utilizes a classic face with simple hour and minute hands, but it keeps your watch from turning into a useless brick on your wrist. Even if you're down to a few ticks on your battery, turning it on will eke out enough so the watch will still tell time until you get to an outlet. Indeed, with that same 30 percent remaining, watch mode estimated a whopping seven days of use. It's by far my favorite feature of the Huawei Watch 2, and I'd love to see Google adopt something similar in Android Wear 3.0.
Pinned down
Once you do plug it in, you'll need to use the fairly flimsy charging cradle that comes in the box. Rather than the puck that was bundled with the original model, the new charger is molded in plastic and sits a bit bulkier on both a nightstand and in a bag.
The Huawei Watch 2 still uses a set of pins to charge, so making the connection isn't as mindless as it is on the Apple Watch or LG Style. The cradle helps cut down on the fumbling—and perhaps Huawei made it this way because too many people woke up to dead watches after missing the connection. But I'd still prefer future models bring full wireless inductive charging.
All of the Android Wear 2.0 trimmings are on display here, including Android Pay, which worked as expected. The lack of an LTE chip is sure to be a bummer for some people, but it's hardly a deal-breaker, especially since it means your battery will last longer. And until the platform matures a bit more, I don't think the extra carrier cost is worth it just to receive notifications and send messages on the off chance that you don't have your phone with you. But if you want LTE, there's a version of the non-Classic model that includes it.
Buttons but no crown
Huawei's watch faces are quite varied and add a touch of personality to your watch, with numerous complications that will put as much information at a glance as possible. My personal favorite Android Wear 2.0 face is still LG's Portions, but the equally data-packed Elements Digital was a fine trade-off.
The two physical buttons on the right side offer some help with navigation, but for the most part you'll be touching the screen a lot. The top button is an app/back/Assistant button, while the bottom can be customized to launch any app on your phone. And that includes any that you download from the Play Store that now lives on the watch.
Neither button offers scrolling like the LG watches do, so navigation is still limited to swipes and taps. After it was introduced with the LG Sport and Style, I had hoped that crown or bezel scrolling would be a staple of Android Wear 2.0 watches, but it looks like we'll need to wait for the third generation. Nevertheless, I instinctively spun the button more times than I care to remember, and I hope crown scrolling becomes a standard feature soon.
Work it out
Fitness is a major feature of Android Wear 2.0 with Google's new Fit apps, and the Huawei Watch 2.0 fully embraces its stock capabilities. But along with the standard functions, Huawei has built in a few of its own exercise tools as well.
There's a heart rate monitor that will show your beats per minute now and for the past six hours. It will also highlight your highest and lowest measurement as well as any cardio exercise you may have done. I tested it against the uber-accurate Apple Watch at random intervals, and the numbers matched up very well. There's also a Daily Tracking app that keeps tabs on the movements you make throughout your day. It's very much like Apple's Activity app, with colored rings for steps, standing, and exercise, and there's even a companion watch face to go with it.
But the star of the show for exercise buffs is the Workout app (not to be confused with Android Wear 2.0's own Fit Workout app). While Google's strength training feature does an excellent job of automatically detecting the difference between sit-ups and squats and keeping track of your reps, Huawei's workout companion is more like a personal trainer that lives on your wrist. You'll have to manually start it and tell it what you want to do, but it'll display broad array of statistics, including heart rate, elevation, and recovery time. You can also set goals and customize a regimen with the training plan (though that requires installation of the Huawei Health app on your phone).
Should you buy it?
With just a handful of watches that can claim they are built for Android Wear 2.0, the Huawei Watch 2 Classic doesn't have a ton of competition. And with Moto and Asus reportedly abandoning the Wear platform, that doesn't seem likely to change anytime soon.
So, comparing it to the current crop, I'd say the Huawei Watch 2 is the best of the bunch. At $370, the Classic model is a little pricey for a non-LTE model, but if you're looking for a fitness-minded watch that you can wear for a night out, you'll be happy with it.
But I can't help but wish that Huawei used more of the original watch in the updated design. Android Wear 2.0 was supposed to be the OS that brought the platform mainstream, adding missing features like Android Pay and Google Assistant to a growing list of wearables. But aside from luxury brands like Tag Heuer and Movado, Android Wear watches have lost far too much of their fashion sense in the transition from version 1 to 2. I don't think I'm alone in wanting a watch that combines the elegance of Android Wear 1.0 with the functionality of Android Wear 2.0 in a package that appeals to a market beyond fitness buffs.
But maybe the third time will be the charm.