Google Slides has become a popular presentation app for those who want to avoid the complexity and cost of Microsoft's PowerPoint. It offers everything you need to create and collaborate on professional-looking slides. But like all Google's productivity apps, its capabilities can be expanded and improved with a few choice Chrome extensions. Here are three you should use with your next presentation.
Auto Resize Speaker Notes
One of Google Slides great features is speaker notes, which allow the presenter to view talking points for each slide. However, a common complaint is that the space allotted for them renders the slide previews small and unreadable, which effectively defeats their purpose.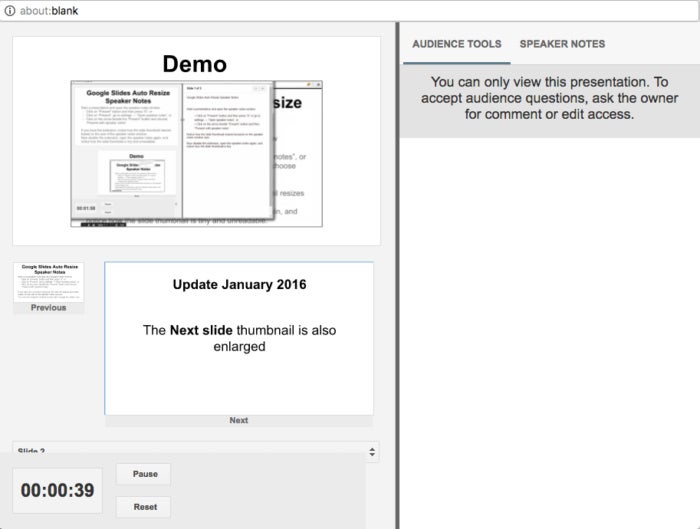 The Auto Resize Speaker Notes extension adds a couple of solutions. First, it automatically enlarges the preview slides when the speakers notes box is resized. You can also resize the preview slides manually by dragging the sidebar. Either way, you'll be able to read the next slide before you display it on the screen behind you.
DriveSlides
Images add life to your presentation slides. Used well, they add drama to your talking points, increase audience engagement, and improve recall of your message. But inserting photos slide by slide when your creating your presentation can be a monotonous time suck.
The DriveSlides extension turns this into a one-click process. Gather all the images you want to use in your presentation into a folder. Then, with that folder highlighted, click the DriveSlides icon in the Chrome toolbar. The slides are created with the images added, and the presentation is saved in the same folder as the images.
SlideSpeech
When some folks can't attend a presentation, we usually email them a copy of the slide deck. But individuals can miss a lot if they simply read the slide contents without the context you've given in the presentation.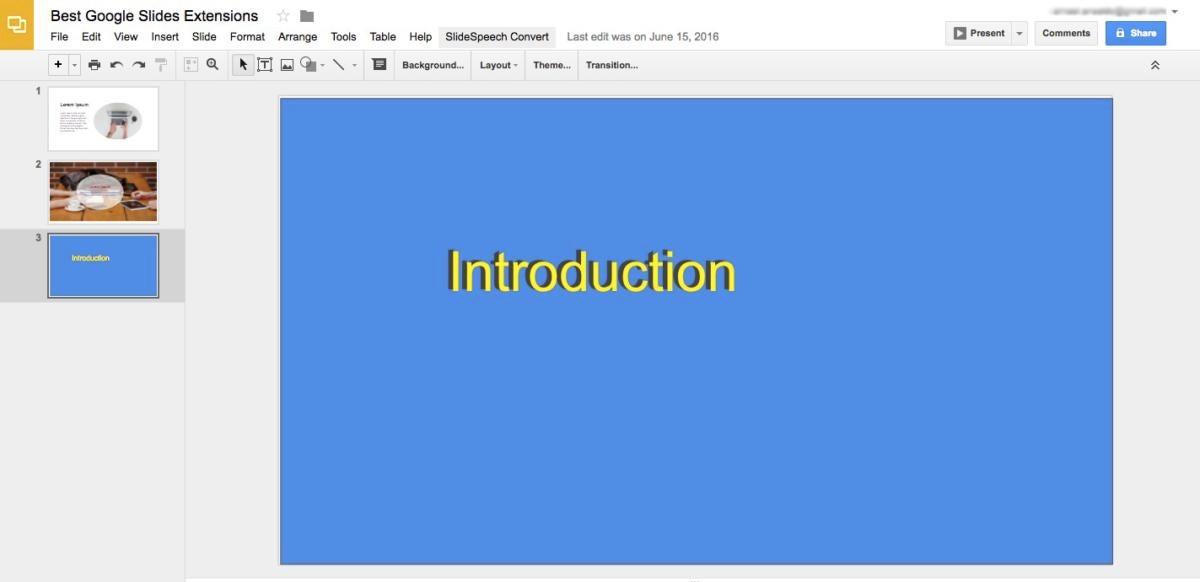 SlideSpeech uses text-to-speech to turn your speaker notes into a voice-over. Select the SlideSpeech Convert option this extension adds to the Slides menu, and it will email you a link to the talking version of the presentation. Just forward it to all the absentees and they can have it "presented" to them in a personable, human-like voice.