At a Glance
Expert's Rating
Pros
A vibrant display, and one of the first tablets to use HDR
Solid value: Kaby Lake performance at a relatively modest price
Excellent battery life
Cons
The Book's foldable keyboard isn't the best on your lap
Galaxy Flow is no substitute for Windows Hello
Legacy devices will need a dongle to connect to USB-C
Our Verdict
Samsung's Galaxy Book two-in-one provides a surprisingly potent combination of price, performance, and battery life, all wrapped up behind an excellent Samsung AMOLED display with HDR.
Samsung's Galaxy Book is a 2-in-1 12-inch tablet with a detachable keyboard that gets pretty much everything you care about right. Its price, performance, and battery life are all among the best we've tested.
While it lacks the razzle-dazzle of flagships like the new Surface Pro, it's still the sort of all-around performer that will attract a buyer looking for good value. Samsung's only real swing and miss is a somewhat gimmicky integration with its Galaxy smartphones, which replaces the Windows Hello features that are becoming more common.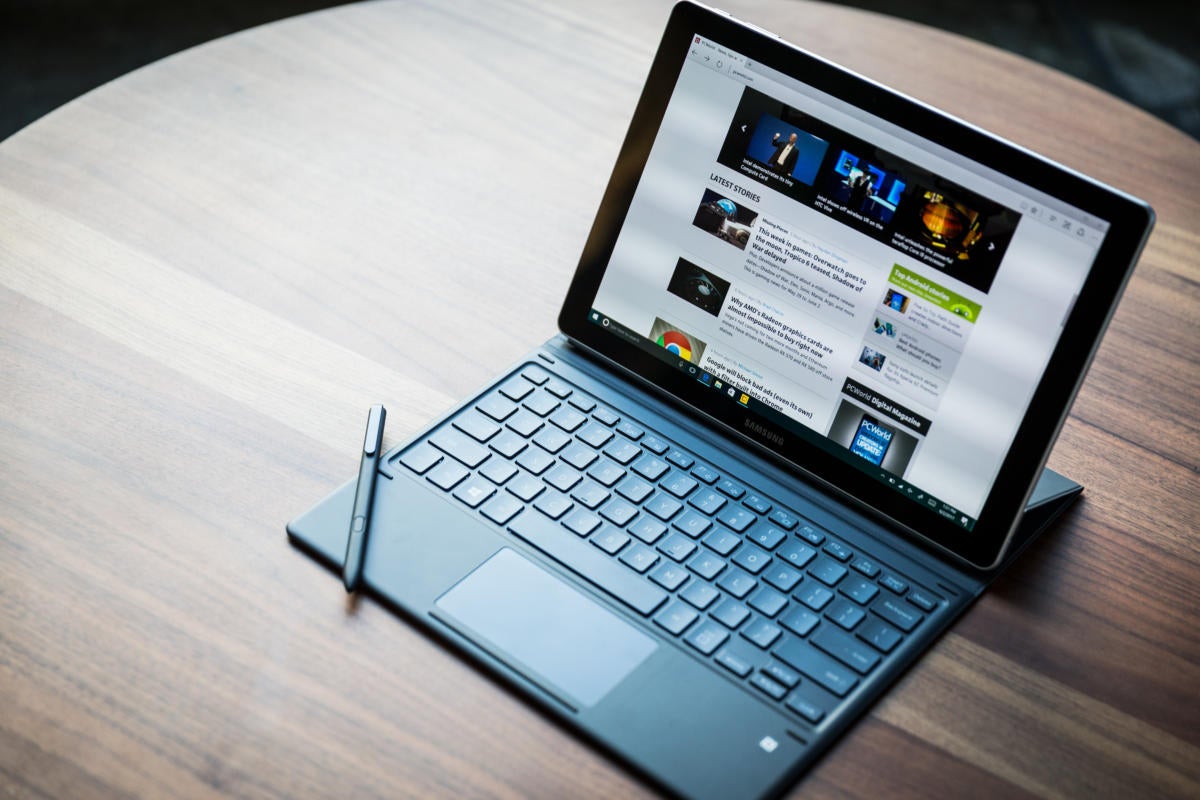 Price: Galaxy Book's value proposition
While some competing 2-in-1 products we've reviewed cost upwards of $1,400, the version of the Samsung Galaxy Book we tested ships for $1,300. The price includes 4GB of RAM and a 128GB SSD, plus optional LTE connectivity via Verizon. A more full-featured version starts with 8GB of RAM and a 256GB SSD. There's also a microSD card slot that accepts cards up to 256GB. Inside you'll find 2×2 802.11ac Wi-Fi plus Bluetooth 4.1 BLE.
The Galaxy Book family also offers a smaller 10.6-inch tablet, with a 7th-generation Core m3 inside, starting at $630. For both sizes, the associated keyboard and pen ship for free, a trend we'd like to see become more common.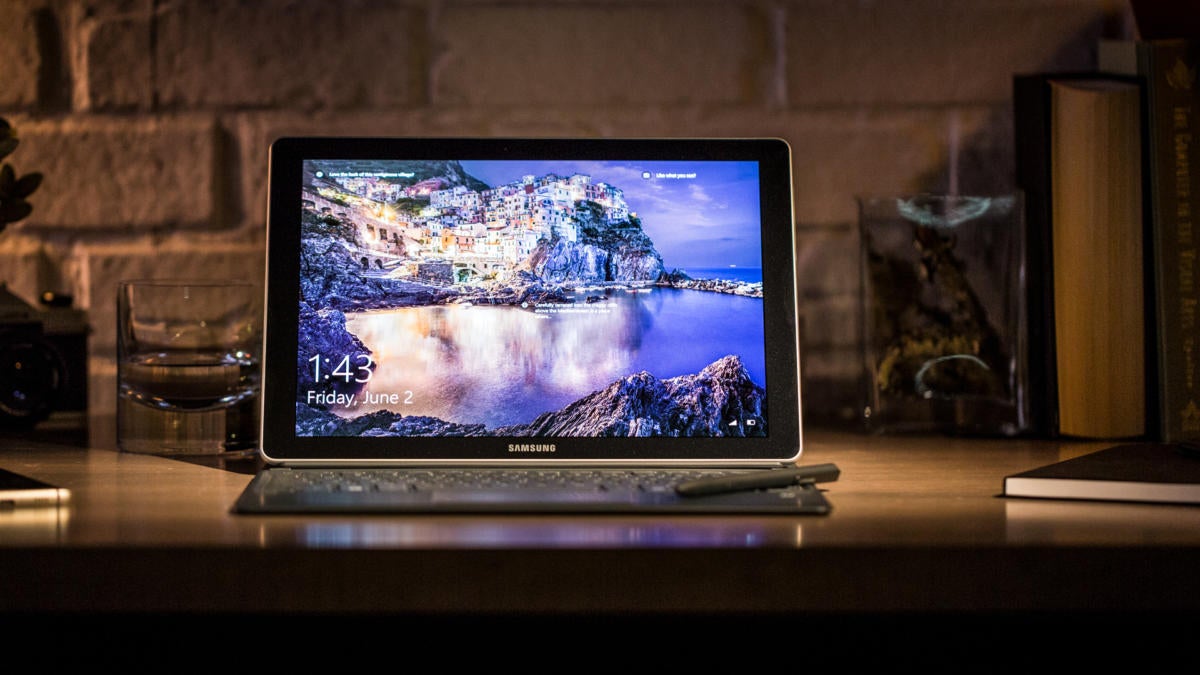 Samsung rightfully earns praise for its bright, vibrant displays, and the Galaxy Book is no different. The 12-inch, 2,160×1,440 Super AMOLED touchscreen shines 355 nits' worth of light into your eyeballs, and displays rich colors—though without the advanced options Microsoft built into its Surface Pro. Part of that has to do with the Galaxy Book's integrated high-dynamic range (HDR) capability, which allows the screen to render brighter brights and deeper blacks. This is a feature typically found on high-end televisions, so the Galaxy Book is unusual, and perhaps unique, among Windows tablets in having it.
I expected the Galaxy Book to lean a bit more upon Samsung's legacy of quality Android tablets, however. It's no crime to exclude a physical Windows button, as the Galaxy Book does. I was a bit surprised, though, to discover that the screen bezel was a bit on the chunky side. The Galaxy Book's dimensions are fine: 11.47 x 7.87 x 0.29 inches, and just over 2.5 pounds with the keyboard attached, or about 2.78 pounds if you add the small, cellular-style USB-C power charger. Still, the tablet felt somewhat awkward to hold in the hand.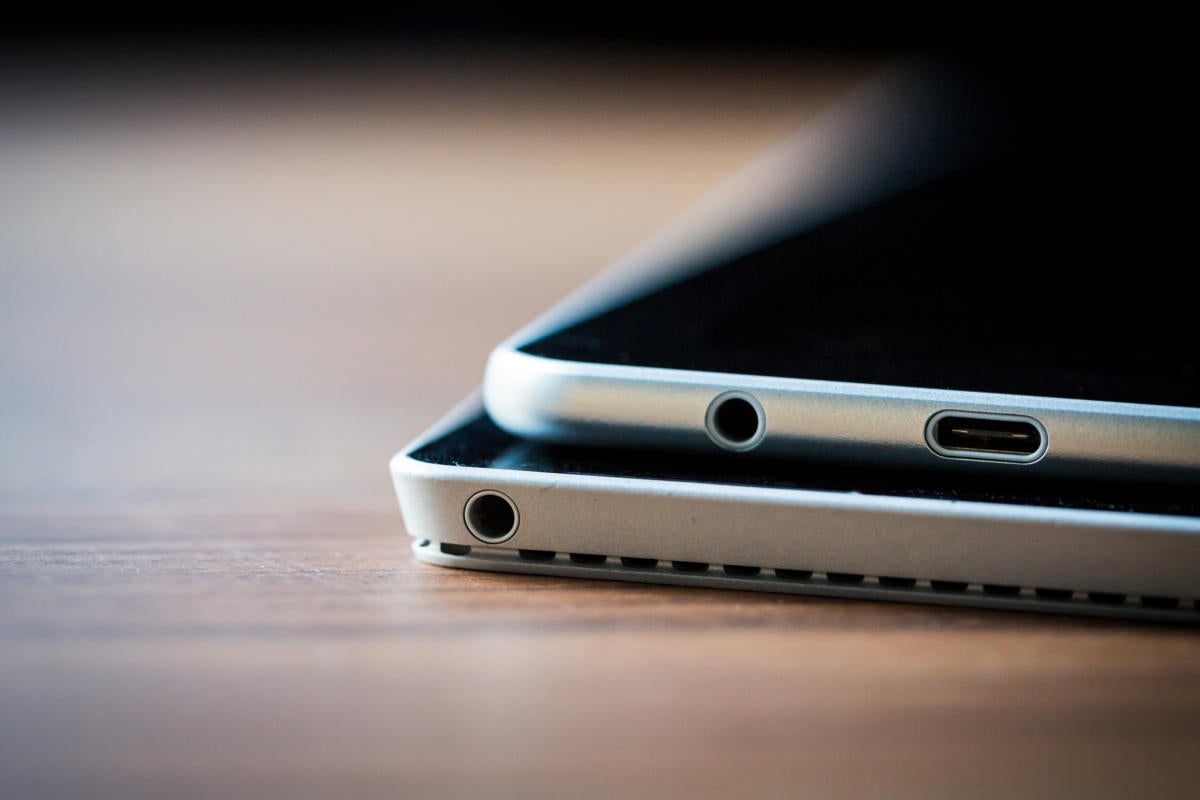 Features: A mobile pedigree, for better and for worse
Unfortunately, buying a Galaxy Book brings up a new consideration for many: what USB standard your peripherals use. Samsung has committed wholeheartedly to USB-C, with a pair of ports than can be used for charging or for peripherals. That's fine for phones like the Samsung Galaxy S8, which use USB-C for charging but rarely connect to a wired USB device. The PC ecosystem encompasses a vast number of legacy devices, however, and you undoubtedly own some pre-USB-C device that you'll want to connect to the Galaxy Book. At least Samsung was somewhat merciful: There's a traditional headphone jack.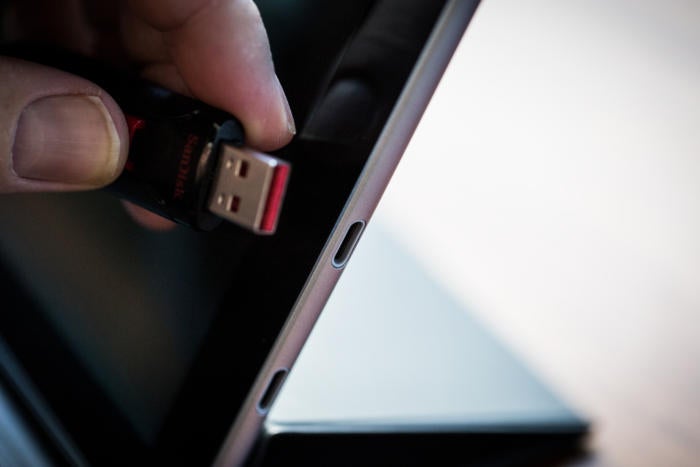 Because the two USB-C connections are the only I/O ports available, you'll either need to invest in USB-C dongles or think about buying new gear. A $20 USB-C hub, with three USB-A connections and an ethernet jack, is one option. Even better, Samsung is currently offering a free multi-port USB-C adapter if you order the Galaxy Book directly from the company.
Samsung clearly tapped its mobile team in other aspects of the design. Some people simply love taking photos with a tablet's rear camera, and Samsung's high-quality 13MP part should serve you well. Photos were sharp and bright, although the tablet can take seconds to focus. A more mundane 5MP camera sits up front.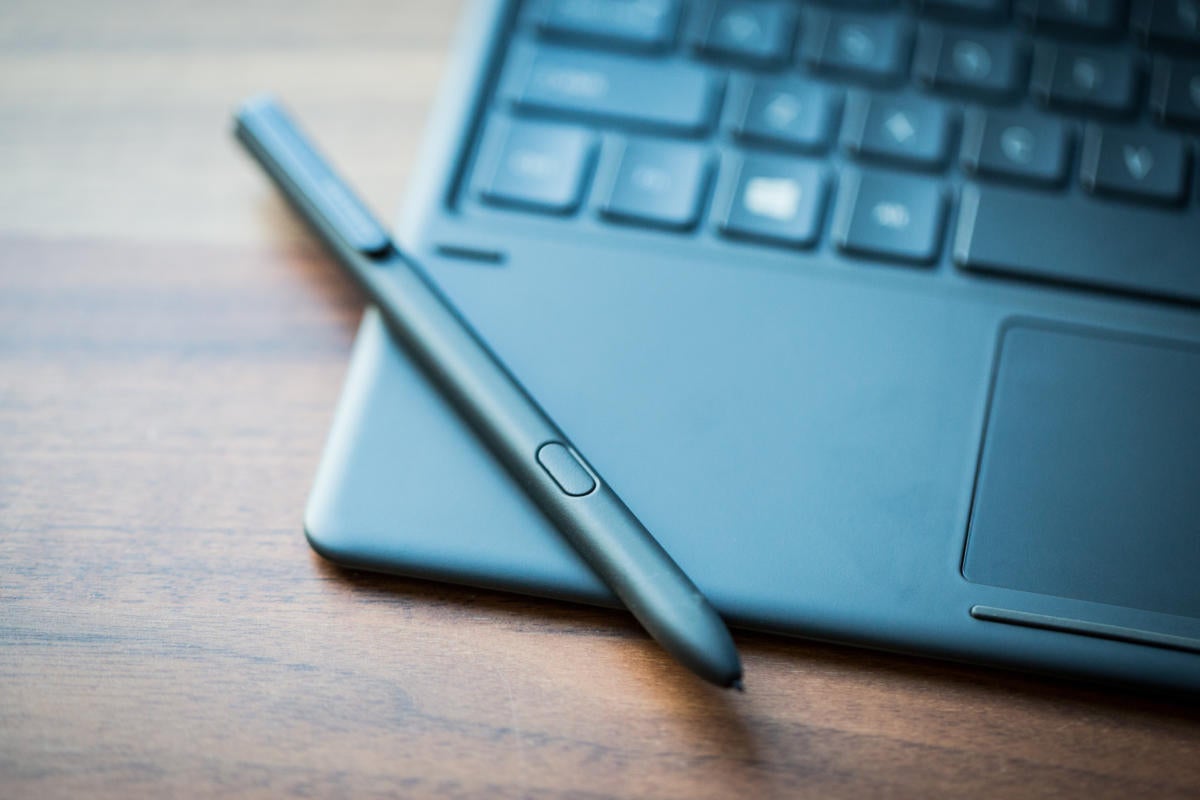 The Samsung Galaxy Book also ships with an S-Pen, the Samsung stylus that its Note phones made famous. Though I've begged other 2-in-1 vendors to secure the pen internally, as the Samsung Galaxy Note does, the Galaxy Book ignored my pleas. Instead, Samsung secures the pen via a loop that you'll have to manually attach to the tablet with an adhesive strip.
The new S-Pen can sense 4,000 levels of pressure, a distinction I've never felt was particularly important for the average user. Interestingly, the S-Pen also allows you to ink a broader stroke by angling the pen's nib against the keyboard, like a pencil. Compared to the Surface Pen, Apple Pencil, and others, however, the S-Pen is skinnier and a bit less comfortable to hold, with a single button and no eraser function. It doesn't require charging, however, which is a plus.
Keyboard: the Book's foldable keyboard doesn't suck
I worried that Samsung's foldable keyboard would follow in the footsteps of something like the floppy Amazon Kindle Fire HDX. Instead, I came away moderately impressed.
Samsung's Galaxy Book connects to the keyboard with just a single strip along its edge. The hold is so secure that I was genuinely worried I'd rip the keyboard while trying to disconnect it. Others, like the one for Microsoft's Surface Pro, use a similar strip, plus a second that together form the keyboard's hinge. Without that second strip, the Book's keyboard lies flat.
Most two-in-one tablets also provide a kickstand-like part that folds out from the rear of the tablet. The Galaxy Book does not, instead requiring you to fold the cover into one of four positions to recline it at a specific angle. If you need it (I did), a cheat sheet of sorts is printed on the cover. What elevates the Book's foldable cover over others I've used is its magnetic edge, which matches up with magnets along the tablet's backside. When you fold the cover to the appropriate position, the two strips grab each other securely.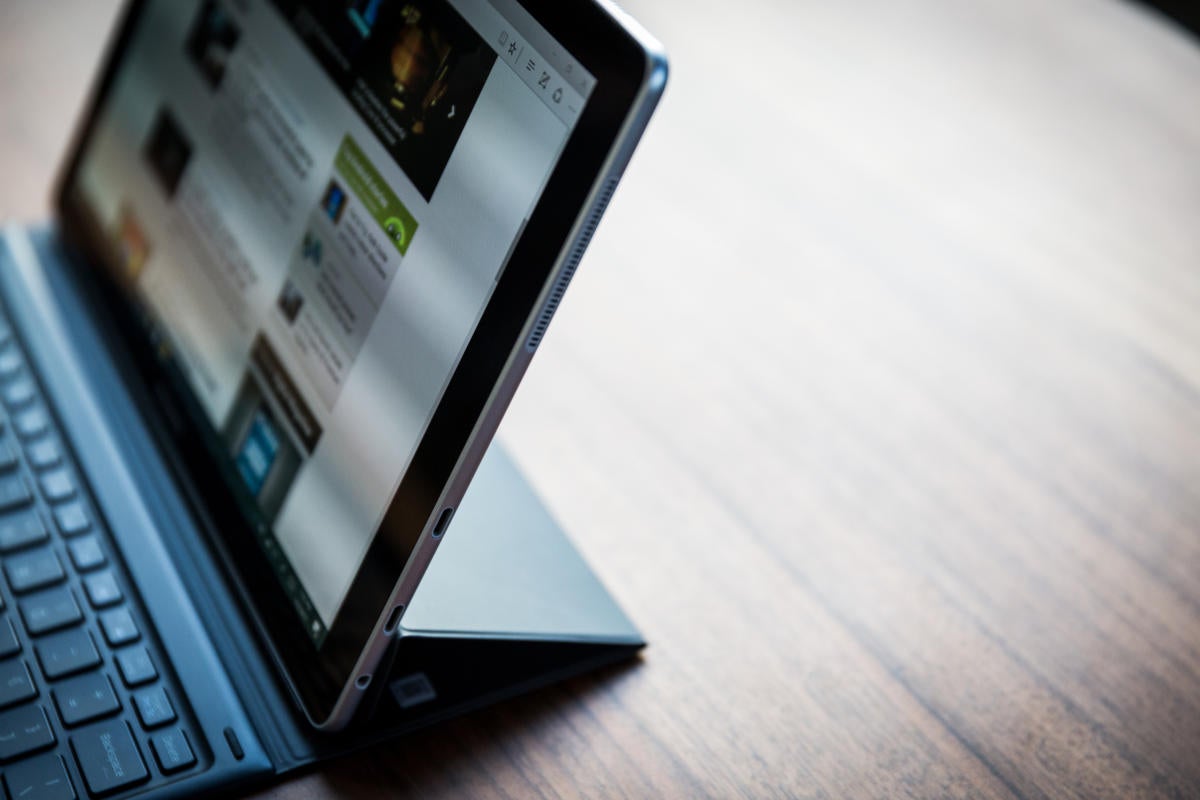 Unfortunately, however, Samsung's Galaxy Book is primarily a desktop machine. While on your lap, the Galaxy Book's keyboard secures the tablet as well as any I've tried. Still, though I found one keyboard position that worked for lap typing, everything felt wobbly and uncertain.
The Galaxy Book's backlit keyboard is surprisingly competent, with a firm response and a comfortable 1.5mm of key travel. The keys themselves are roomy and well-proportioned, though there's no number pad. I found nothing to complain about with the trackpad, either. My typing accuracy decreased marginally when using the Galaxy Book's keyboard for a length of time—I'd chalk that up to the unfamiliarity of a flat typing surface. As for light leakage, I could detect very little, though it's more apparent when viewed at an angle.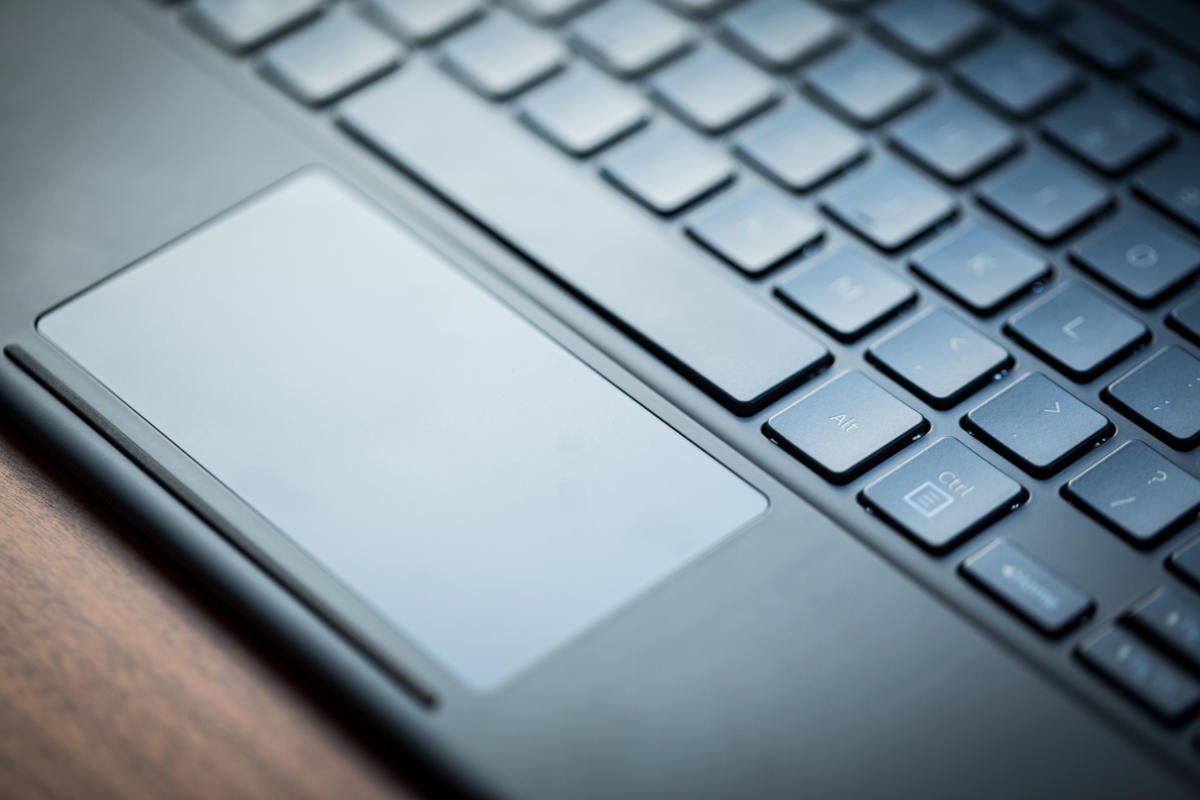 Performance: Galaxy Book is among the best
The Galaxy Book performed impressively well for a 2-in-1. A fair number of hybrid and convertible laptops use Core m chips—solid performers, but not on a level with Intel's mainstream Core processors. Because it's equipped with a dual-core 15-watt processor, Samsung's Galaxy Book can get away with including a Core i5 chip instead of a Core i7. The Galaxy Book's processor also belongs to the current 7th-generation line of Core CPUs, so you'll see a slight boost in performance over systems still equipped with 6th-generation Skylake parts.
The Galaxy Book shapes up well against some higher-profile hybrids, like the Lenovo ThinkPad X1 Tablet, the HP Elite x2, and the much more expensive Microsoft Surface tablets. It also holds its own against convertibles with weaker hardware, like the Dell XPS 2-in-1. When pitted against similarly equipped devices, it offers equal or slightly better performance.
We expect you'll be using the Galaxy Book for office-related applications and general browsing. The Book excels here, as measured by PCMark's Work and Home benchmarks of standard tasks. (Think web browsing, spreadsheets, video conferencing, and word processing for the office work tests, and add in some light photo editing for home-based tasks.) Note that we ran these tests at the native resolution of the device—after all, why buy it if you have to dial down the resolution to achieve decent performance?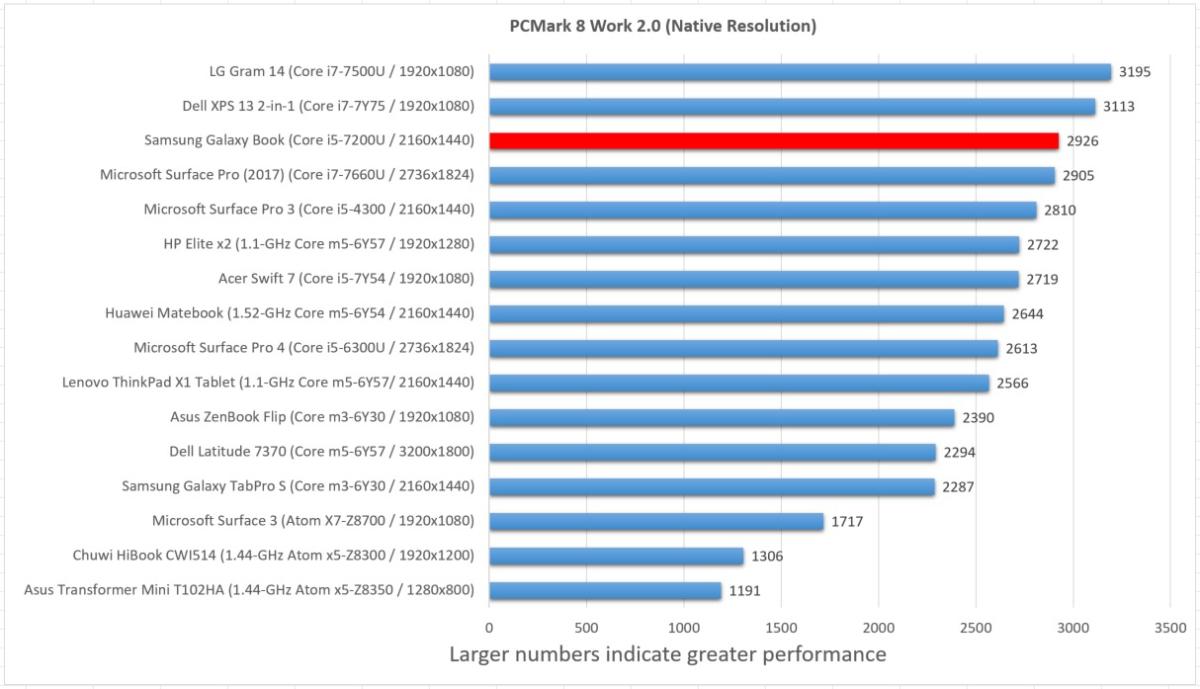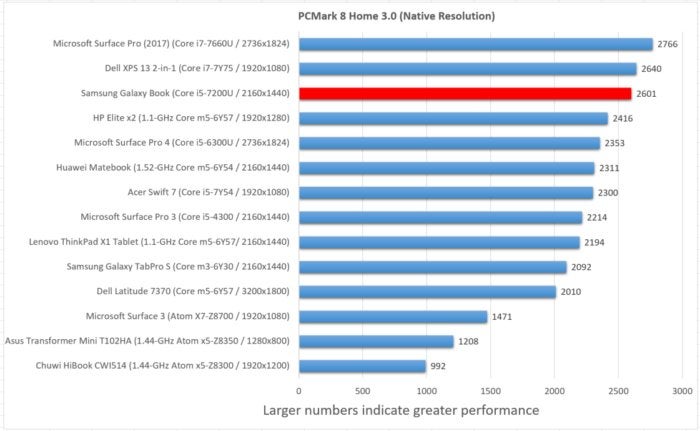 When you switch to PCMark8's Creative workload, which adds in light gaming and content creation, some tablets begin to struggle. Not the Galaxy Book. If it wasn't for Microsoft's newly-released Surface Pro (2017), the Book would top the list.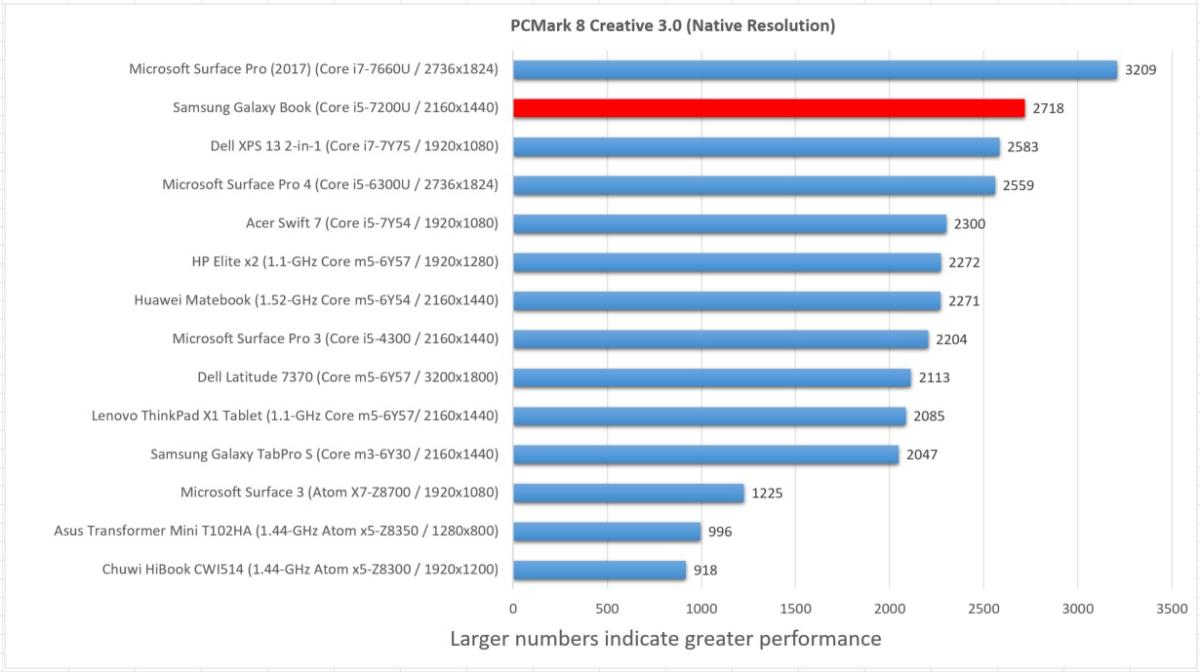 With Maxon's CineBench benchmark, which renders a static 3D scene, the Galaxy Book's processor struggles a bit. Though the benchmark provides a single-thread test, we use its multithreaded test to tax the processor thoroughly for the few minutes it takes the test to run. In this pure CPU test, the Galaxy Book holds its own among its Core i5-equipped peers.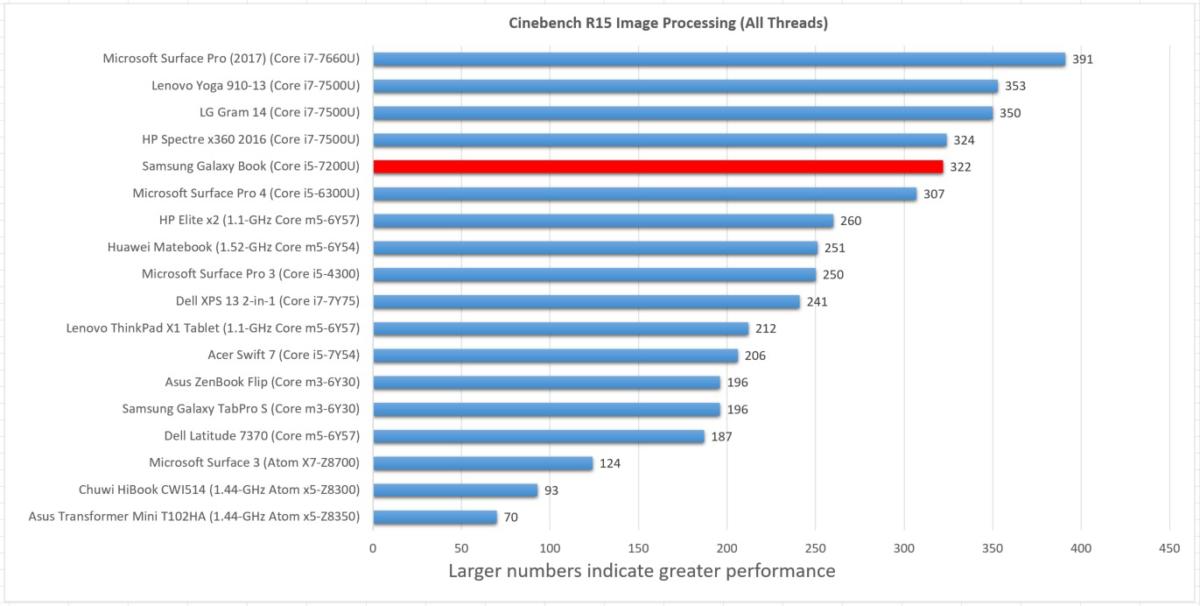 It's worth noting that the Galaxy Book does include a fan, which will kick on under some workloads. It's not as loud as, say, the Surface tablets, and I don't think you'll find it annoying.
Handbrake uses the tablet's processor to transcode video files into different formats. Our benchmark involves taking a large 30GB MKV file and converting it into a smaller MP4 using the software's Android Tablet preset. Here, we want the fastest processing time possible. While laptops in this class aren't expected to be fast, Samsung's Galaxy Book still trails its peers by a small amount. Note the that the Surface Pro 4, another tablet laptop, is faster by about 10 minutes.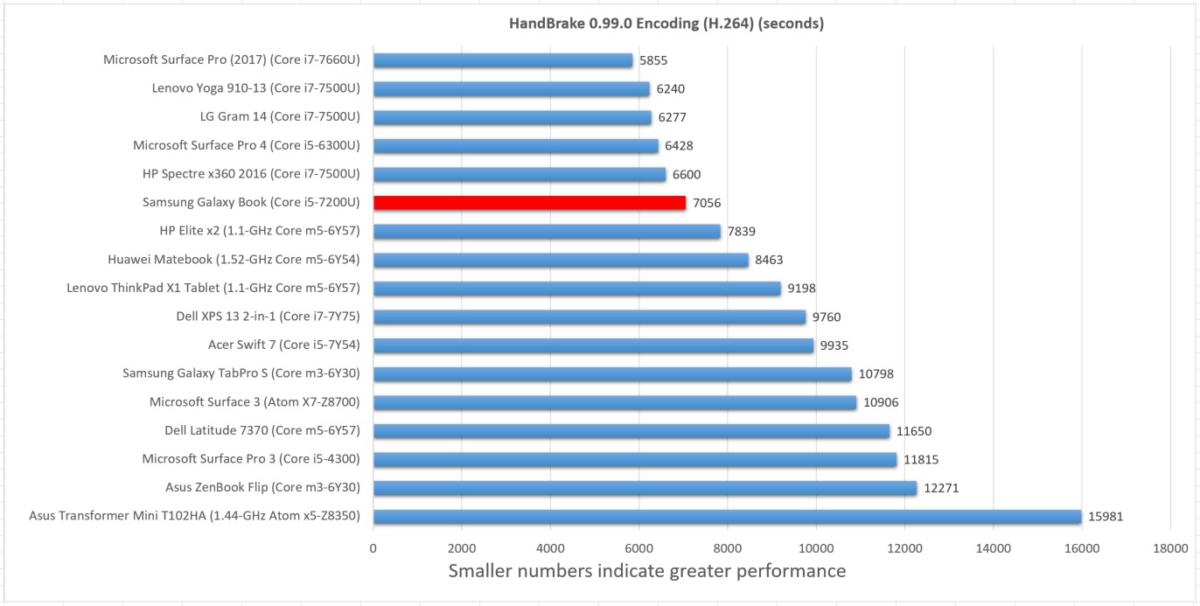 Our final performance benchmark measures the 3D graphics capabilities of the Galaxy Book. In 3DMark's Sky Diver test, which simulates gaming at 1080p on Medium settings, the Book performs about as well as its peers—that is to say, it does the best it can with integrated graphics. Don't expect to be able to play the latest big-budget action titles, but games with lighter loads should be playable when dialed down to lower-quality settings.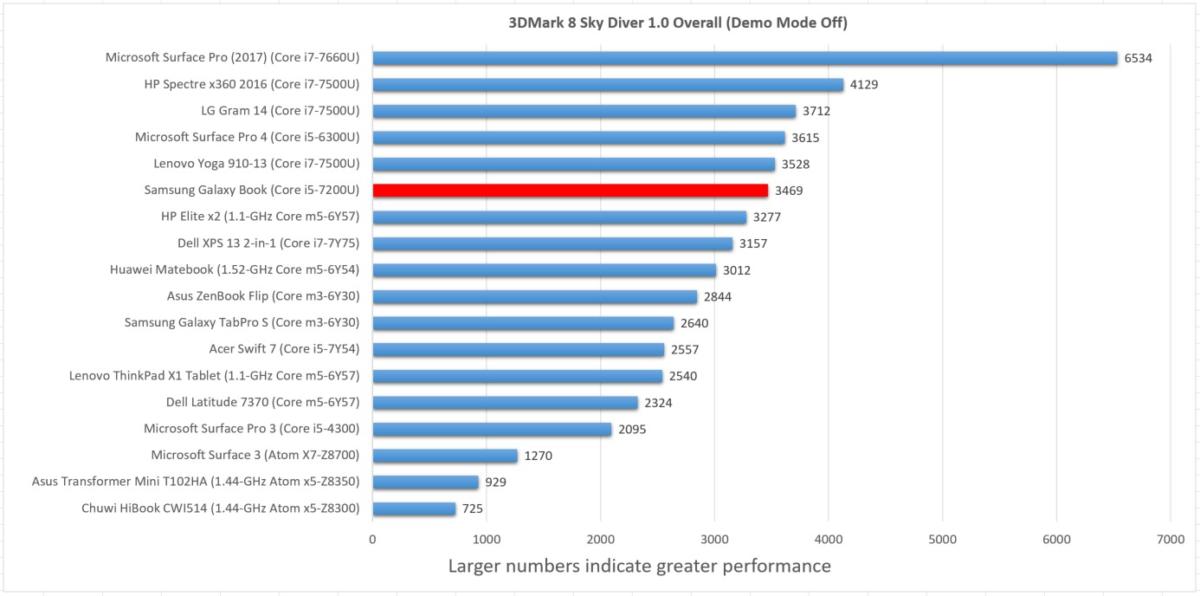 Finally, there's battery life, always a critical metric for a portable device. We set the screen to generate a consistent level of light (between 250-260 nits), adjust the volume to 50 percent while earbuds are plugged in, then loop a 4K video in Windows 10's Movies & TV app until the battery expires. It's a good test to measure real-world battery performance. With a runtime of over ten hours on a 40 watt-hour battery, the Galaxy Book is a winner.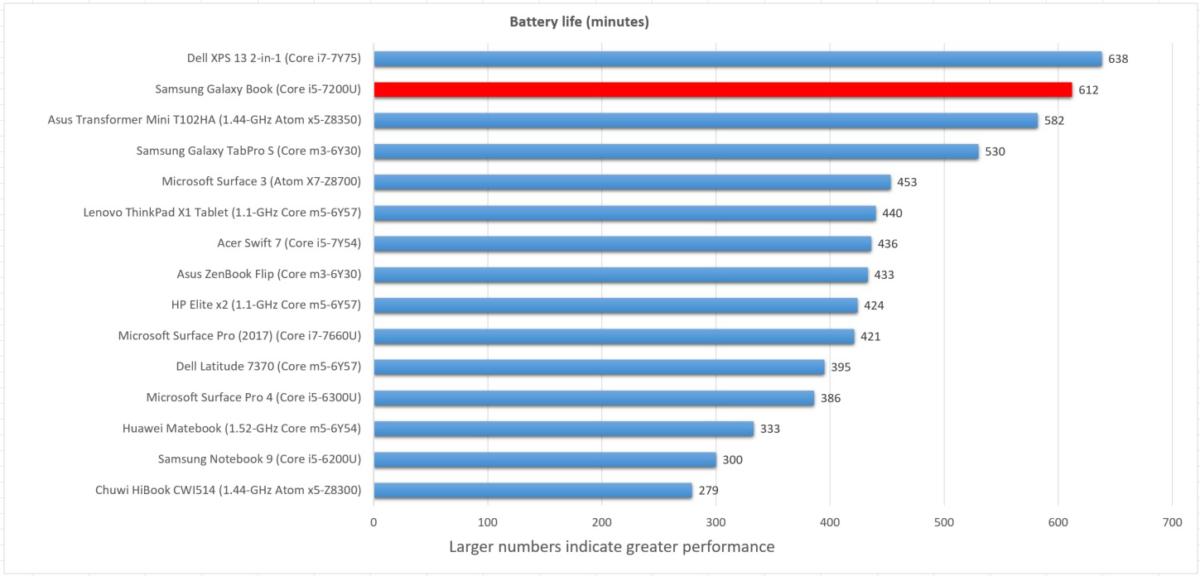 Bundled apps: Samsung's apps are hit-and-miss
Like its phones, Samsung couldn't resist bundling its own apps, which provide alternatives to the way Windows works. Duplicating functionality that exists elsewhere works only if you improve upon it, though, and Samsung's record there is spotty.
For instance, instead of Windows Hello capabilities, Samsung offers this solution: Download the Samsung Flow app (if you own a Galaxy S6 smartphone or a more recent model) and connect the Book to the phone via Bluetooth. You can then lock your PC while leaving your phone unlocked, tap the phone to the NFC sensor on the keyboard, and then scan your finger on the phone's fingerprint sensor. If everything goes well, your PC will unlock in a snap. By that time, though, you could have typed in a Windows password.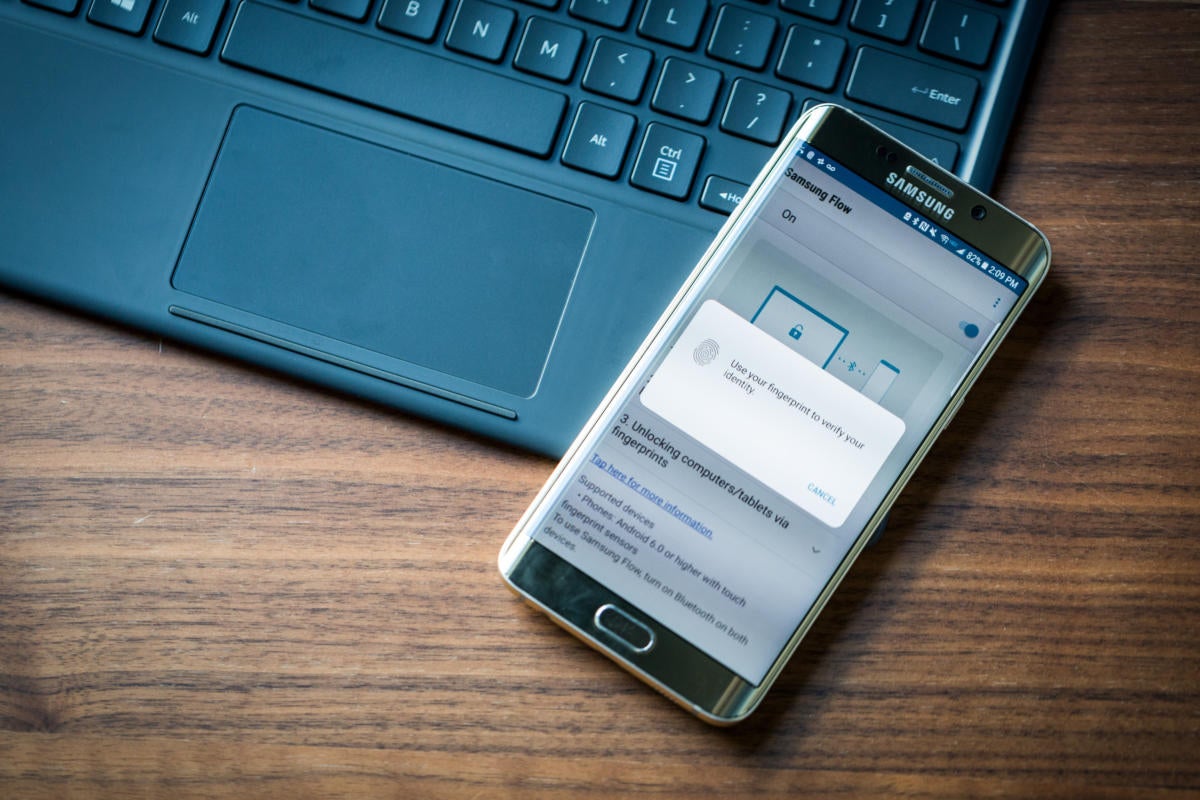 Eventually, the Samsung Flow app will allow you to share photos and other documents between devices, as well as display notifications from your phone right on your PC's screen. Its other trick, projecting your phone's notifications on your tablet screen, worked flawlessly. But you can't respond to a text message from your PC using Flow, as you can with Microsoft's own Cortana app (though not reliably). If Samsung can make these features work, more power to them.
When it doesn't work, it seems superfluous. Case in point: Samsung Notes, a preloaded Galaxy Book app which serves as a hybrid of Google Keep and OneNote. A more useful alternative is Samsung Recovery, which can be used to back up data, restore a previous recovery point, or return to the original factory image.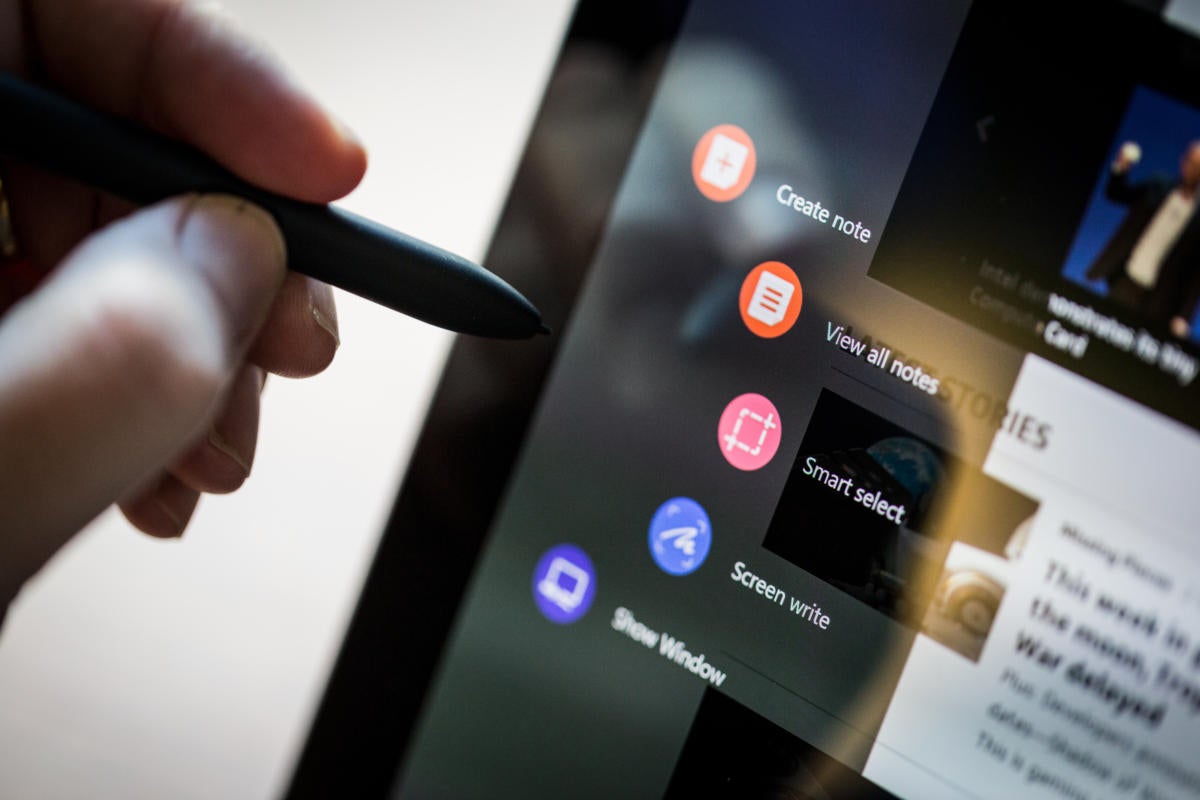 Some of Samsung's utilities are highlights. Like a Galaxy smartphone, clicking the S-Pen stylus triggers what Samsung calls Air Command: a menu of apps that allows you to ink on the screen and save the result, create a Samsung Note, project an area of the screen to another display, or simply "smart select" a region of the screen. The latter option is by far the most interesting.
Smart Select allows you to do three things of note. The first, selecting a region of the screen reproduces the Windows 10 Snipping Tool, which you can share or save to your hard drive. But you can also take that area you've highlighted and extract the text, which can be rather handy when used with a photo of a document. Finally, there's the GIF creator.
If you open a site like PCWorld's video page or YouTube, you can lasso a rectangular portion of the screen, then "record" the video as it plays. What you'll end up is a lovely, high-quality GIF that's perfect for sharing on social media. It's easy to love.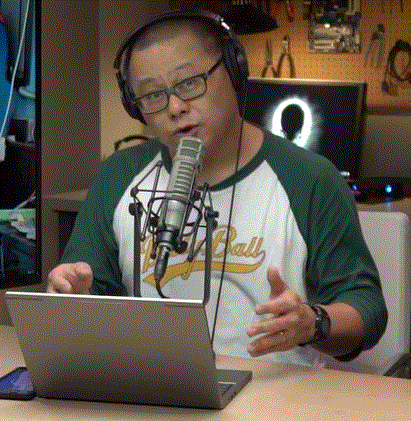 Conclusion: the Galaxy Book is worth a look
Samsung's Galaxy Book touches all the bases of what makes a solid Windows tablet: a sharp display, very good performance, and excellent battery life, all for a reasonable price. As for Samsung's choice of USB-C—a port expander or dongle might not be the most convenient option, but it will carry you through. Eventually, you'll begin shifting your own personal ecosystem to the newer connectivity format.
The keyboard matters, though. I still prefer the more rigid keyboards of the Microsoft Surface lineup, and I think you will too.
Samsung does a good job of mitigating the inconveniences, however, and the 2-in-1's value is unquestionable. Right now, the Galaxy Book is among the best two-in-one devices on the market.