Hands up if you're surprised Red Dead Redemption 2 was delayed into 2018. Nobody? Nobody at all?
That news, plus free copies of Rising Storm, a mercifully not-delayed-yet Divinity: Original Sin II release date, a technical dissection of Destiny 2's multiplayer back-end, Neill Blomkamp's experiments with Steam as a film platform, and more. This is gaming news for May 22 to 26.
Weekend freebies
Rising Storm is a few years old now, and the Vietnam-bound sequel releases next week, but if you're looking for some free entertainment, Humble's giving away copies of the original for the next 24 hours or so (from the time this is posted). It's one of the best shooters of the last few years, and I bet the servers will be pretty busy for the next few days thanks to this giveaway. Not a bad deal.
Also free this weekend: Fallout 4, though only in a "try it out" capacity. Normally with these Steam free weekends I say something like, "If you really try, you can probably finish the game before Sunday," but in this case that's dubious. Definitely treat it like a rent-to-buy situation.
Divine intervention
I knew Larian was hoping to get Divinity: Original Sin 2 out this year, but to be honest I thought it was going to be one of those seat-of-our-pants, "December still counts as this year" types of releases.
But no. In a new Kickstarter update, Larian's Swen Vincke puts a date on the game: September 14. That's surprisingly early in the fall, and I guess (cynical part here) allows them to delay the game at least once and still not miss the 2017 launch. We'll see!
Beyond Good & E(3)vil
If you were hoping E3 2017 would be the big Beyond Good & Evil 2 reveal, Michel Ancel's got bad news for you: "Mhhh, not sure that E3 would be the best place to showcase BG&E2." The good news? He continued, "We´re working on the game so sometime this year, you should hear about it!" Finally. (Via PC Gamer)
Prepare for more titanfall
Mentioned in this article
Titanfall 2 [Online Game Code]
Price When Reviewed:
$59.99
Titanfall 2's free DLC continues to dribble out, with the next bit set to release on May 30. With it comes a new titan class, the Monarch, which "is a mid-range Vanguard-class Titan that can upgrade itself on the battlefield through her unique Upgrade Core. Pilots select a path of upgrades and try to survive long enough to reach her final form." There's also a "new" map, Relic, a reworking of the map of the same name from the original Titanfall. Check out the trailer below:
Destined for questions
People seemed pretty positive about last week's Destiny 2 reveal with one exception: No dedicated servers. In 2017? For a game this big? …Why?
Bungie's now published a lengthy explanation, which you can read in its entirety here. The gist, though:
"Every activity in Destiny 2 is hosted by one of our servers. That means you will never again suffer a host migration during your Raid attempt or Trials match. This differs from Destiny 1, where these hosting duties were performed by player consoles and only script and mission logic ran in the data center.

We don't use [the term 'dedicated servers'], because in the gaming community, 'dedicated servers' refers to pure client-server networking models. Destiny 2 uses a hybrid of client-server and peer-to-peer technology, just like Destiny 1. The server is authoritative over how the game progresses, and each player is authoritative over their own movement and abilities. This allows us to give players the feeling of immediacy in all their moving and shooting – no matter where they live and no matter whom they choose to play with."
There's more, including a discussion about combating cheaters and how latency works in this system. Maybe not enough to convince the skeptics, but at least Bungie's being transparent about how it'll all work. For anything else, we'll just have to see how it plays out post-release.
How about a round?
Gwent went into open beta this week, which is fine and all. Mostly it's an excuse to post this half-silly/half-serious cinematic trailer, though for the diehards there's also a new gameplay trailer that shows off a bit of the much-discussed, little-seen singleplayer campaign.
Delayed redemption
If you thought Red Dead Redemption 2 would hit its rumored late-2017 release, well, I have about a million bridges I'd like to sell you. In any case, no—Red Dead Redemption 2 will not release this year. The game's been delayed until Spring 2018, and honestly I'm expecting it to be delayed at least one more time before it ever sees the light of day. This is Rockstar, after all.
Here's a screenshot to make up for it: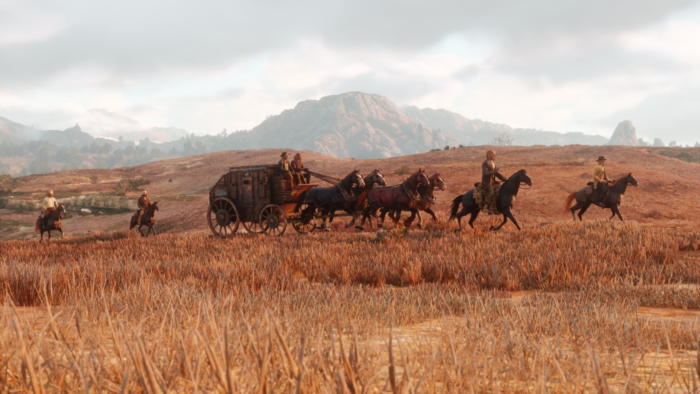 Return to mania
TrackMania 2 's last expansion, Valley, released waaaaay back in 2013 and I'd sort of assumed…that was the end. Nadeo even released TrackMania Turbo last year, which is its own thing entirely. But apparently there's more TrackMania 2 to come, though. I don't know why it took four years for another expansion, but TrackMania 2: Lagoon released this week, and there's a suitably ridiculous TrackMania trailer to go along with it.
Video
games
Up until now, Valve's whole push to release films through Steam has seemed like a weird novelty. Okay, actually it's still just a weird novelty—but apparently District 9 director Neill Blomkamp wants to see if it's also a genius new market?
This week Blomkamp announced he'll be releasing a series of short films through Steam as well as more traditional channels like YouTube. "Idea with Steam is that we can have everything under one roof. Concept art if people want 3D assets or Maya scene files they can have them," wrote Blomkamp.
Interesting. Here's a short tease of what's to come: