After months of Twitter teases and hype, Android founder Andy Rubin has finally unveiled his latest project to the world. And as expected, the vaunted Essential Phone is yet another Android phone.
But it's also much more than that. While the specs bear out a real-deal flagship competitor, it's clear that Rubin's Essential Phone is part of a new ecosystem designed to offer an alternative to Google's Android, with a focus on design, performance, and versatility.
Why this matters: Andy Rubin is the godfather of Android, so any move he makes is important. However, while the Essential Phone certainly looks great in renders, it remains to be seen whether it can compete against Samsung, LG, and even Google itself in the increasingly competitive phone market.
Bare Essential
The handset is slated to work with a 360-degree camera accessory, as well as an external digital assistant similar to Google Home, but at the core of everything is the phone. Like other mid-2017 premium handsets, it features a Snapdragon 835 chip, 4GB of RAM, a 3,040 mAh battery, and a 128GB hard drive.
The design is ultra minimal, with a nearly bezel-less screen reminiscent of the asymmetrical Mi Mix. The 5.7-inch display stretches all the way to the top of the device, leaving a small chin at the bottom that should help with orientation.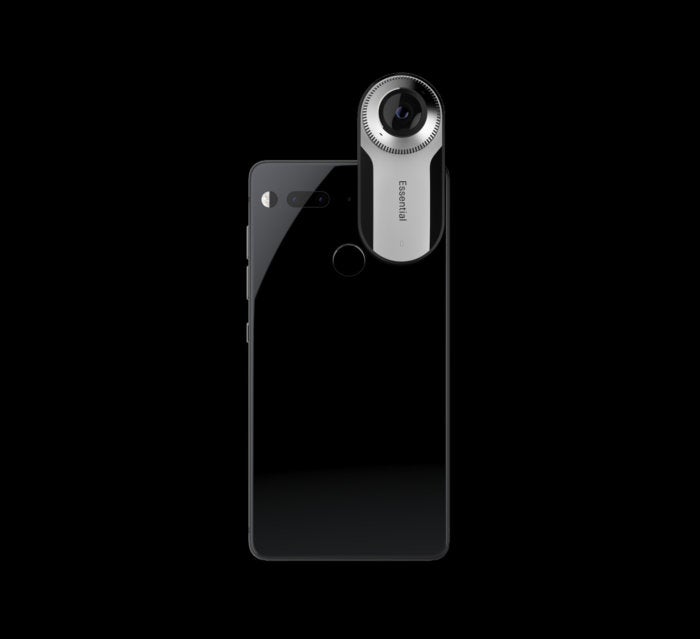 Aside from an odd cutout in the screen for an 8MP front camera, there is nary an identifiable marking to be found on either the front or rear of the device. The glass and ceramic panels sandwich a piece of titanium rather than aluminum. Essential says this will hold up better to drops.
Rubin is also eschewing a company name or symbol. While there's plenty of room on the rear to plaster Essential's double-circle logo, Rubin is making a statement with the phone's unadorned glass: "Just because we played a part in making it doesn't mean you should be forced to advertise that fact to everyone in your life. Now you know why we don't have any logos on the phone."
Future proof
Above the space where a logo should be is a fingerprint sensor and "the world's thinnest dual camera system built for a phone." You get a pair of 13MP cameras, with one capturing in color and the other in monochrome to "capture up to 200 percent more light than traditional phone cameras."
Next to the cameras you'll find something that you won't find on any other phone: a pair of small magnetic pins for modular attachments that will purportedly keep your phone "cord-free, future-proof, and always up-to-date." At launch, the only accessory available will be a 360-degree camera, though other mods are surely in the works.
While the Essential Phone was designed to limit the amount of adapters you need to keep around, there is one extra you'll need: a headphone jack dongle. The Essential phone relies on USB-C and Bluetooth for audio, though a dongle will be supplied in the box.
The Essential Phone is available for preorder for the limited-time price of $699. It's unlocked and will play nicely with all of the major U.S. carriers.