At a Glance
Expert's Rating
Pros
More comfortable and easier to adjust than the standard Vive's elastic
Built-in headphones are way more convenient
Installs on the launch-day Vive, no problem
Cons
Another $100 expense on top of an already expensive headset
Installation is a bit tedious and awkward
Our Verdict
The HTC Vive probably should've shipped with the Deluxe Audio Strap to start with, but this $100 add-on is so good it makes the Vive feel like a brand new VR headset.
Best Prices Today: HTC Vive Deluxe Audio Strap
When I reviewed the HTC Vive last April, I wrote that Valve and HTC had created "the most forward-thinking VR headset on the market," with one huge exception: design.
The Vive had its sole competitor, the Oculus Rift, completely beaten—this amazing room-scale experience, motion controls, Steam integration—except that the Rift was simply more comfortable to wear for long stints of time. "The Vive is in line with the Rift's second-gen developer kit," I wrote, and I stand by it. The Vive felt like a work in progress.
Mentioned in this article
HTC Vive
Price When Reviewed:
$800
But not so much anymore. The first change came early on, when HTC replaced the thick ribbon cable of the launch Vive with a lighter three-in-one cable, similar to the Rift. Now, about a year into the Vive's lifecycle, HTC's making another change and releasing the Deluxe Audio Strap—essentially its take on the Rift's rigid plastic headband, built-in headphones and all.
Design
Even better, you don't need to buy a new Vive to take advantage. The Deluxe Audio Strap's on sale for $99, and you can easily replace your launch Vive's elastic headband in two or three minutes.
I think you'll want to. I know, another $100 on top of the Vive's already expensive $800 price is asking a lot, especially given that every Oculus Rift ships with this sort of headband installed. But if you're a big Vive user it's worth it.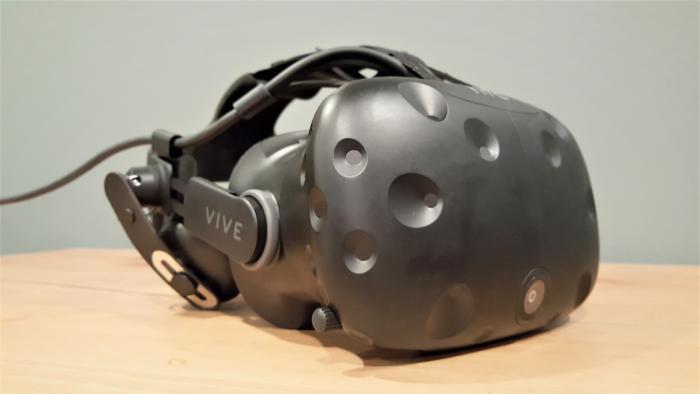 With the Deluxe Audio Strap installed, the HTC Vive finally feels like a finished product. It feels like Vive 2.0 actually, despite none of the internal hardware having changed—the experience is that much better.
Better even than the Rift, actually. Once again we see the leapfrog pattern so typical of VR at this stage, where Company A invents something, then Company B implements it a bit better, Company A folds in those improvements and adds a few more for good measure, and so on.
So the Vive "borrows" the Rift's idea for a spring-loaded, rigid plastic headband. The Vive's is better padded though, with a generous layer of foam cushioning the top and sides of your head. It feels great to put on.
The Deluxe Audio Strap tightens by way of a dial on the back, similar to a bicycle helmet or (if you've tried it) Microsoft's HoloLens. Adjusting the Vive for different head sizes now takes a matter of seconds, where before it required a deft hand to get all three elastic straps in place. And while the Rift uses a rigid plastic headband, that legacy three-strap system is still in place, and it feels clunky by comparison.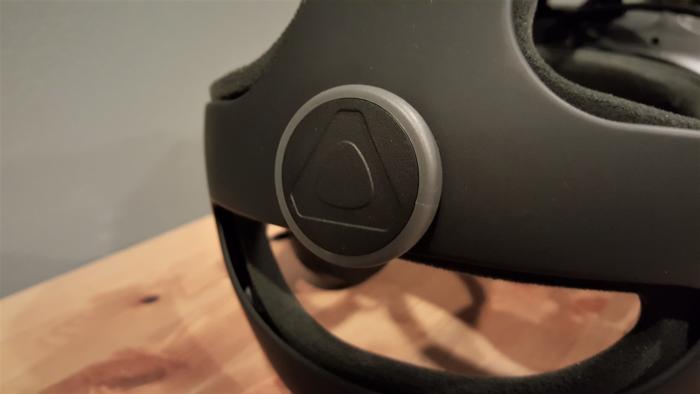 Adjustments aside, I can't overstate how much better a rigid plastic headband feels versus the Vive's old elastic straps. Google Earth VR is a great example, because it entails a lot of looking down towards the ground. With the old elastic band, the Vive's weight would pull the headset away from your eyes, causing you to over-tighten the straps to keep it in place—and, over time, causing soreness on your cheekbones and around your eye sockets from the pressure. With the more rigid design of the Deluxe Audio Strap, the Vive is always the same distance away, kept firmly in place while you stare at the miniature Grand Canyon or whatever.
This also applies to any active VR games, like Holopoint or Space Pirate Trainer. Before, I had a hard time keeping the Vive in place without cinching it so tight it dug into my face. I feel a lot more secure leaping around the room with the Deluxe Audio Strap. The headset's weight is better balanced, it sits firm (but not tight) on my head, and I don't notice nearly as much wobbling as I duck, bob, and weave around.
Audio
Then there are the headphones, a feature I thought was gimmicky when Oculus introduced it but which soon proved its worth once I had the Rift and Vive in my home. With the Rift's built-in headphones, VR is only ever as far away as "Put on the headset." Everything else is ready and waiting.
Next page: Audio quality continues, installation, bottom line
By default, the Vive requires you to BYO audio gear. It doesn't seem like a huge deal to put on a separate pair of headphones after donning the headset, but the absurdity of that five seconds spent fumbling around, trying to first find your headphones and then put them on while you're immersed in VR, has only grown more ridiculous in light of the Rift's elegant solution.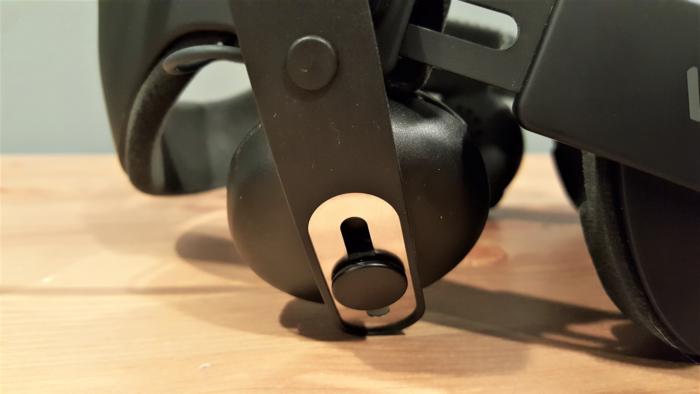 Again, the Deluxe Audio Strap "borrows" the Rift's design, with headphones that now hang down from the sides of the band. The Vive's are sleeker though, better padded and covered with a soft leatherette that feels a bit more upscale than the Rift's mesh. The Vive's headphones also have more movement, swiveling back and forth and also sliding up and down to accommodate different ear sizes and positions.
As with the Rift, I'd never claim the Vive's now-built-in headphones are on par with a great pair of headphones—but that's not the point. I have a couple of excellent pairs of headphones sitting on my desk, and I don't see myself ever going back to using them with the Vive despite their better sound. It's simply more convenient to have everything merged together into one self-contained package, and the Deluxe Audio Strap's sound quality is "good enough" for most people and purposes.
Installation and quibbles
Best of all, the Deluxe Audio Strap installs on the standard Vive with a bit of doing. You need to pop off the plastic cover over the cable housing, unplug the three-in-one cable's components, unplug the old 3.5mm audio-in, then pull off the old strap, click the new one on, and then plug all those cables back in and seal it up. It's not especially difficult, but it is a bit tedious.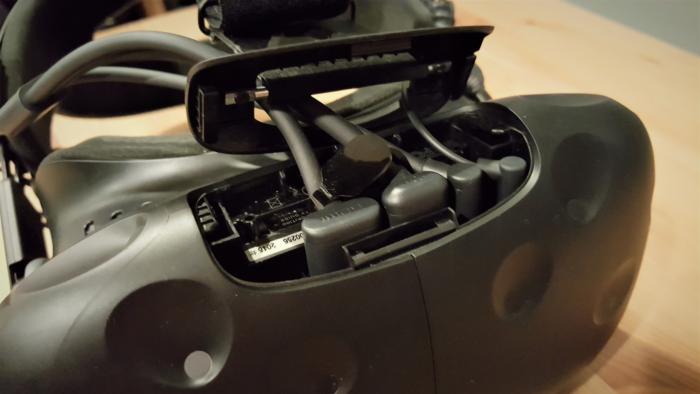 I'm serious when I say it feels like Vive 2.0 when you're done, though. In terms of comfort, in terms of long-term usability, in terms of ease of use, the Vive with the Deluxe Audio Strap is now on par—or better than—the Rift's design.
One potential downside: The Deluxe Audio Strap is not, so far as I can tell, compatible with the Vive Pre developer kit, so if you for some reason own one of those you're out of luck. That's a small percentage of Vive owners though—mostly developers who probably also own the final consumer model. It's worth noting nevertheless.
Bottom line
When I reviewed the Vive last year I scored it on par with the Rift. Both received four-star ratings (out of five), with Oculus having the advantage in design, in comfort, and in its software library.
What I didn't realize at the time was how modular the Vive would prove to be, how easily HTC and Valve could adapt. It's a very PC-centric approach, really—tinkering and upgrading in stages, swapping out old parts and replacing with new. The Vive with a three-in-one cable and the Deluxe Audio Strap is hands-down a better system than what we got at launch. The Rift? Well, it's still the Rift.
Mentioned in this article
HTC Vive
Price When Reviewed:
$800
If I were to re-review both today, I'd give the Vive a distinct edge. Not only has its open approach to software allowed it to somewhat close the games gap, but its evolving design has made it a more comfortable and better-designed system than Oculus has on-hand. The one realm in which Oculus holds the advantage is how the Touch controllers feel in-hand versus the Vive's wands, but given how touchy Oculus's tracking can be I'd rather take wands with perfect tracking over Touch with subpar tracking any day.
Oh, and price—one area where the $500 Oculus Rift ($600 with Touch controllers) stomps HTC's VR headset. Purchasing the Vive with the Deluxe Audio Strap will now run you $900, which is definitely not pocket change. Here's hoping HTC can bring the cost down in the near future, as that's still the biggest obstacle between your average gaming PC owner and the best VR experience on the market.