The Asus ZenBook Flip S is the thinnest convertible laptop in the world–at least for now. Announced Monday at Computex in Taipei, the ZenBook Flip S is the latest to snatch the trophy as vendors wage an eternal battle to shave down their portable PCs. The 10.9-millimeter profile of the ZenBook Flip S currently takes the record. The laptop will be available later this year at prices starting at $1,099. Read more about it below, and also two other slender notebooks Asus announced at its Monday event at Computex in Taipei.
Thin is always in
Asus was very specific in showing how thin the ZenBook Flip S is compared to the competition. Chairman Jonney Shih laid it out in his presentation:
HP Spectre x360: 13.8mm
MacBook Air: 17mm
MacBook: 13.1mm
ZenBook Flip S: 10.9mm
At just 2.4 pounds, the Zenbook Flip S is also lighter than the HP Spectre x360 and the MacBook Air, though not the 2-pound MacBook. Yet it packs the heavyweight punch of Intel's Corei7-7500U processor and can accommodate up to a terabyte of PCIe SSD storage.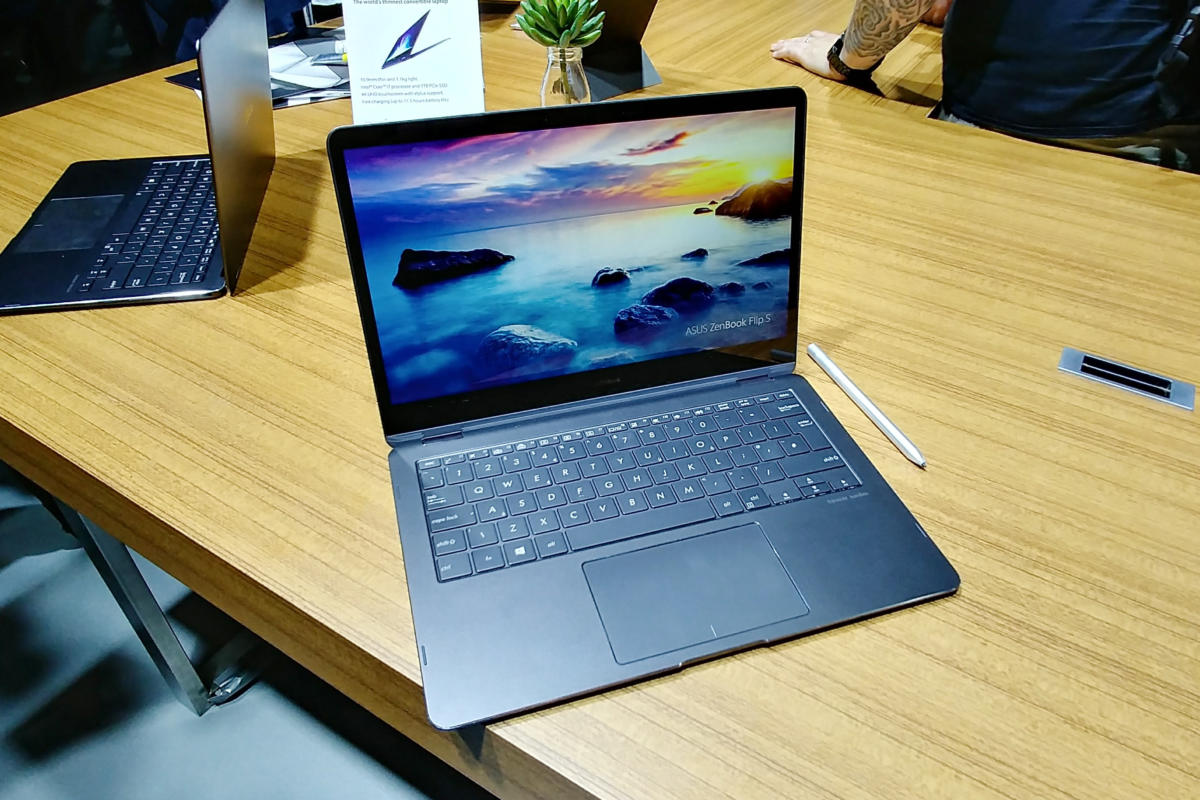 Like all convertibles, the screen can be folded all the way around and the laptop used in a tablet configuration. The touch display has a 4K resolution (3,840×2,160 pixels) and support for Windows Ink with an optional Asus Pen. Corning's Gorilla Glass adds durability. When the screen unfolds past 135 degrees, the hinge props up the keyboard from the back to create a more comfortable angle for typing.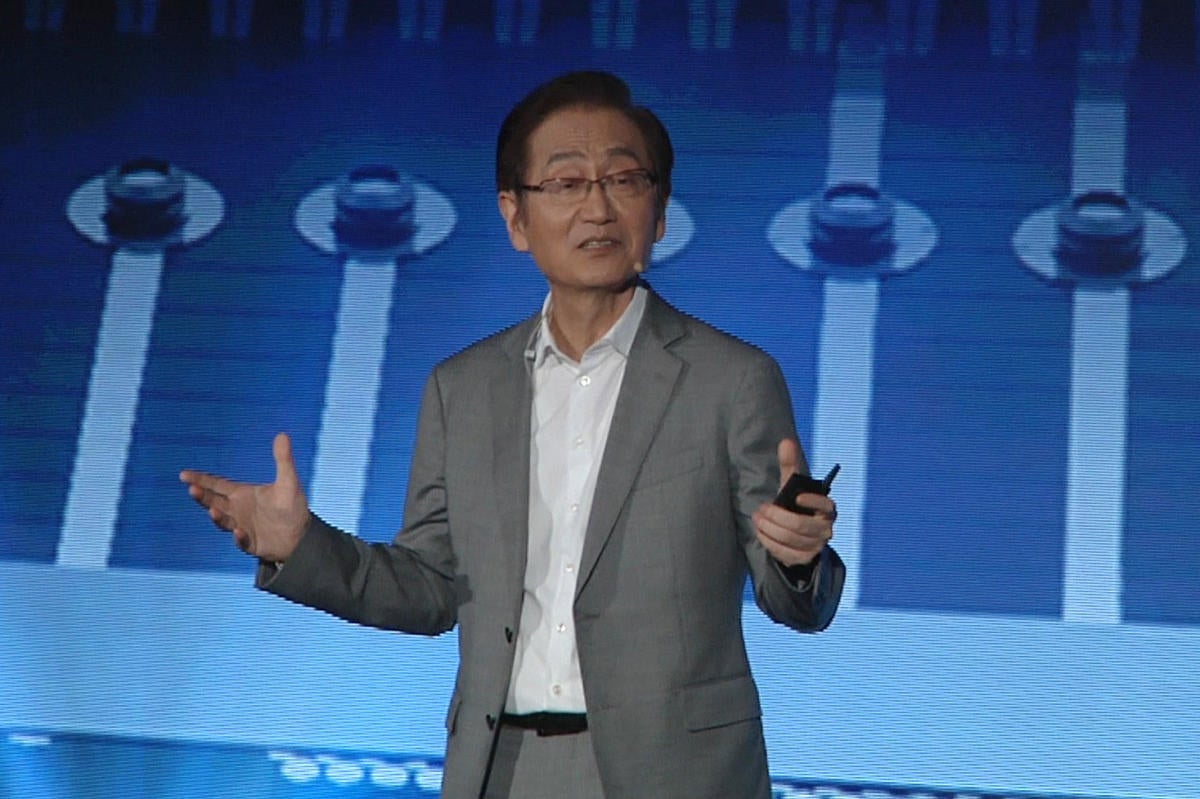 The computer's accessories include a tiny fingerprint sensor for one-touch login via Windows Hello in laptop or tablet mode. There are a couple of USB-C ports and support for fast charging. Asus says the battery will last for 11.5 hours and can be fast-charged to 60 percent of capacity—about 7 hours—in just 49 minutes.
Asus ZenBook 3 Deluxe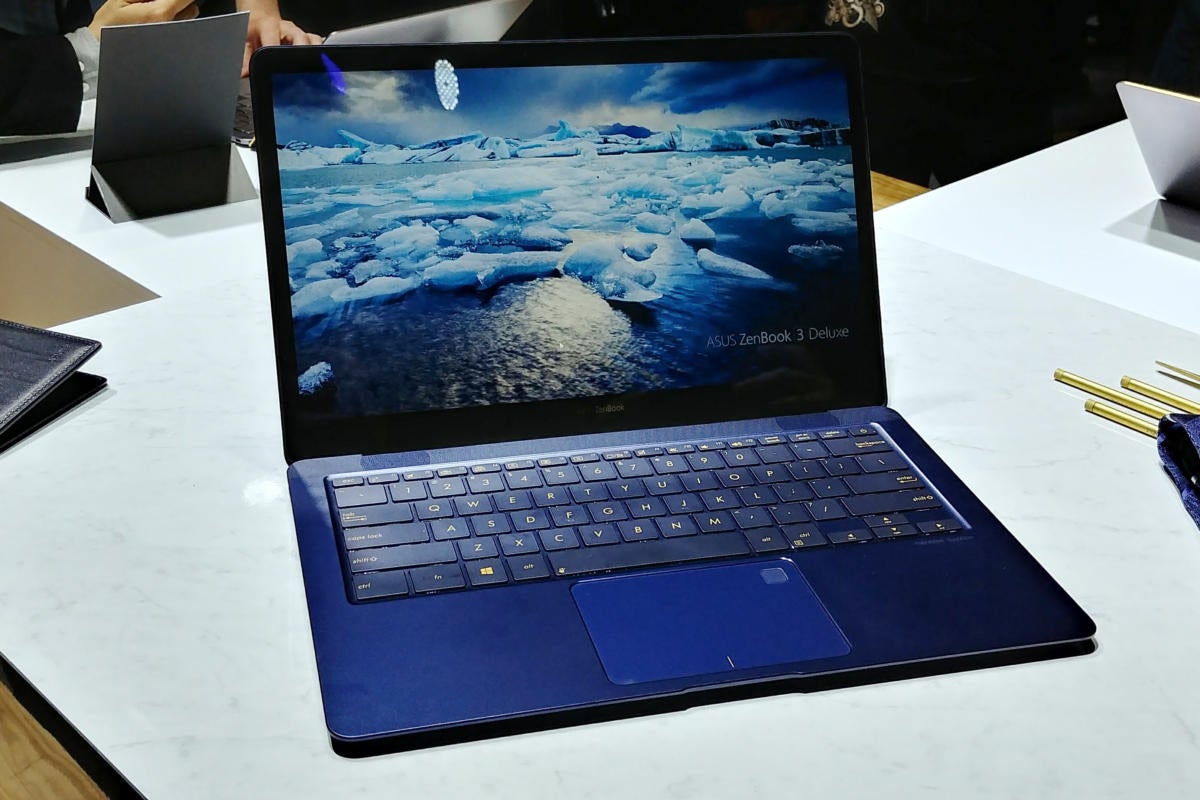 Asus has upgraded its ZenBook 3 laptop with a new model that carries the "Deluxe" name. The UX490 is the thinnest 14-inch laptop on the market at 12.9 millimeters thick, according to Asus.
It weighs 2.4 pounds and is the first laptop to feature Corning's Gorilla Glass 5, the latest version of the popular impact-resistant glass, Asus said. The company said it can support up to 9 hours of battery life and will be available at prices starting from $1,199.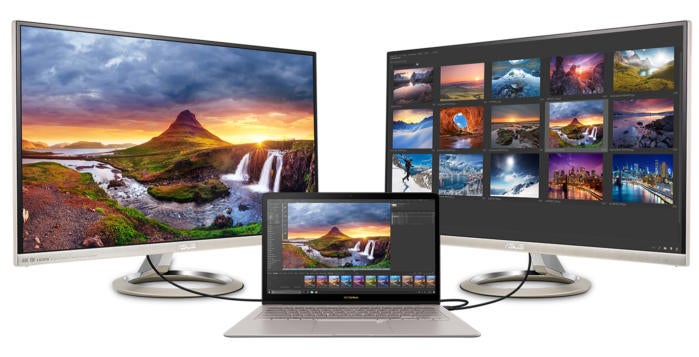 Like the Flip S, the computer is based on a Core i7 processor and has up to 1TB of PCIe SSD storage. The twin USB-C ports support Thunderbolt 3, so dual 4K monitors could be hooked up, but the laptop itself offers just a Full HD (1,920×1,080 pixels) panel.
For gaming-level graphics performance, the laptop can be connected to the Asus ROG XG Station 2 external graphics dock, which can support cards as large and hot as the NVidia GTX 1080.
Asus ZenBook Pro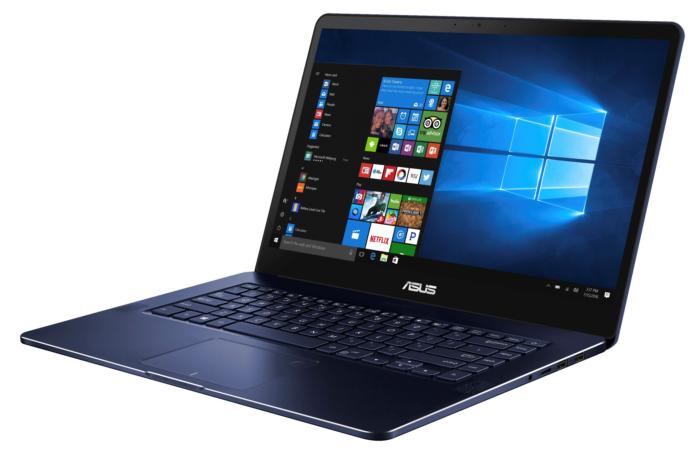 The third addition is the ZenBook Pro UX550. Starting at $1,299, it's based around the Intel Core i7-7700HQ quad-core processor and an Nvidia GeForce GTX 1050Ti graphics card.
It's both thinner and lighter than previous ZenBook Pro machines at 18.9 millimeters and just under 4 pounds. It has a spacious 15.6-inch 4K screen. Asus has found room for a four-speaker audio system, battery life is an impressive 14 hours according to Asus, and it comes with a fingerprint sensor for Windows Hello biometric login.
When you purchase through links in our articles, we may earn a small commission. This doesn't affect our editorial independence.