BattleTech makes mechs feel big again.
The irony? With its top-down viewpoint, BattleTech's mechs are rendered quite a bit smaller than anything you'd see in Titanfall, MechWarrior Online, and the like.
But first-person mech games always struggle a bit with scale. Sure, there are differences between being on foot in Titanfall 2 versus being inside a mech, but the two don't really feel that different moment-to-moment. The pitfalls of trying not to bore the player. BattleTech doesn't suffer from the same issue.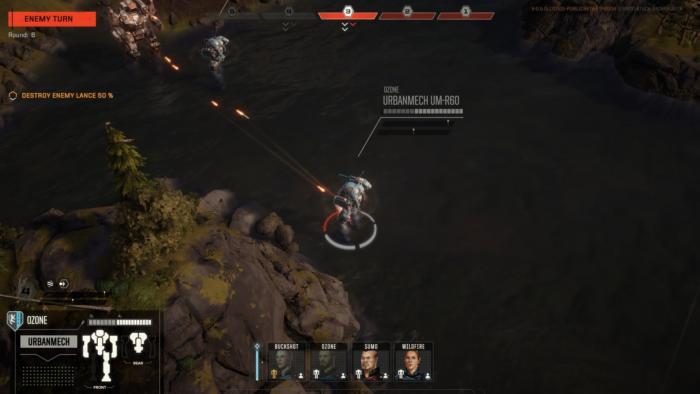 As a turn-based tactics game, BattleTech can let its mechs slowly lumber across a river, or weigh them down with eight different oversized weapons that all fire in one enormous firework finale of explosions. It's quite a sight.
I've been playing the BattleTech beta for crowdfunding backers the last few days, ahead of its official release today, and really enjoying it. Oh sure, there are plenty of beta-build issues—the user interface in particular. There's a lot of information to take in every turn, and a lot of it's obscured behind confusing icons and poorly explained mechanics. It makes it a bit hard to even judge how balanced the game is when you can't understand a quarter of what's going on.
I like BattleTech's ideas, though. The beta is limited to the four-on-four Skirmish mode and multiplayer, though only the former has been live ahead of release. A proper singleplayer campaign won't go live until launch.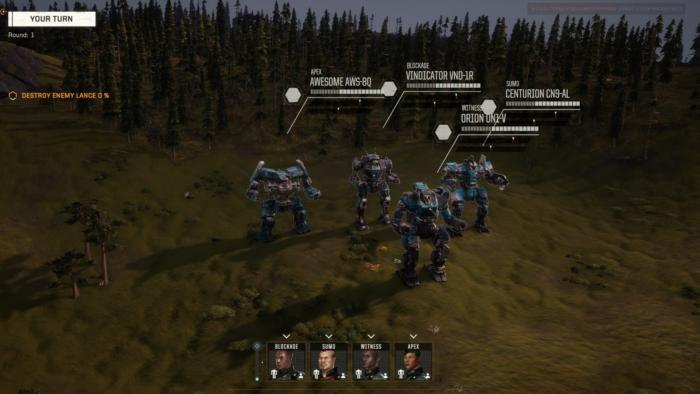 Mentioned in this article
XCOM 2
Price When Reviewed:
$59.99
That's a bit of a shame because developer Harebrained Schemes has discussed some interesting XCOM-style persistence for the campaign. Damaged mechs take time to repair, injured pilots have to recuperate, and you'll presumably grow fond of your best units over time.
Harebrained's Jordan Weisman also told us about some intriguing risk/reward mechanics during a recent demo. In short: Campaign missions may feature multiple objectives, but you don't have to finish all or any of them. You're a mercenary-for-hire, and you'll have to decide whether a dangerous objective is worth the money or not. It's similar to ideas Harebrained played around with in its recent Shadowrun games, though BattleTech's system seems better fleshed out.
In any case, none of that is in the backer beta. What's here is a solid foundation though—the core tactical experience without any of the fluff. You choose a Lance (four mechs), battle it out against another Lance, and try to come out on top.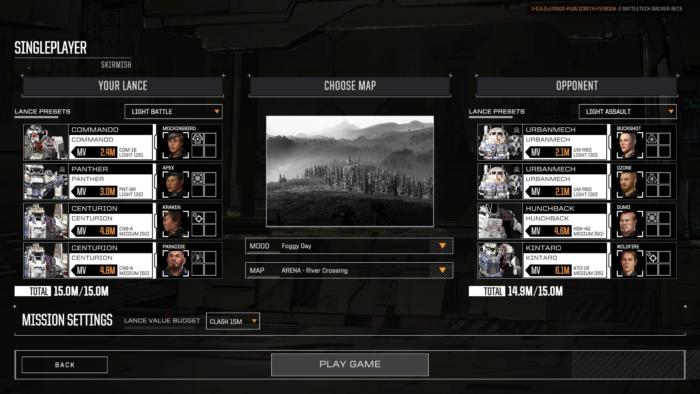 The scope really is my favorite part of the experience. Battles take place across vast swathes of land, mechs jump-jetting up fifty-foot cliffs, wading across rivers, and peeking out over the tops of dense forests. It's equal parts funny and fantastic to see a mech awkwardly trying to blend in with a copse of 50 ft. trees.
And the weapons fire. Oh my, the weapons fire. BattleTech's sound design could use a bit more oomph to back up the visual spectacle, but the visual spectacle is brilliant. The larger mechs might fire off three sets of missiles, three lasers, and a handful of machine guns all in the same turn. Even the smallest mechs often sport two or three different attack options. Close-range fights are also amazing in a pulp sci-fi sort of way, with mechs winding up for a punch like the future's best Rock 'Em Sock 'Em Robots.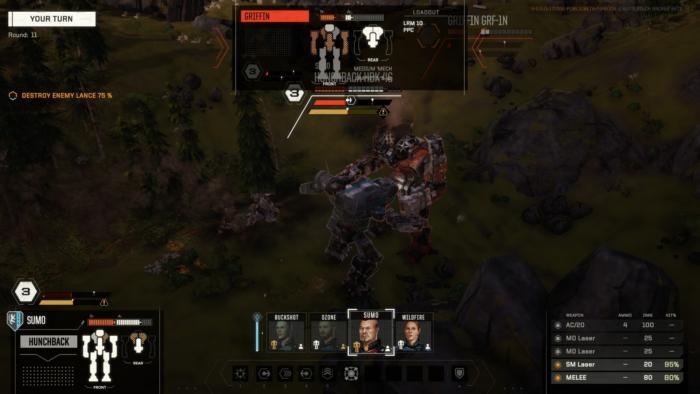 There are also some smart combat mechanics at play, though the game as it currently stands doesn't always do a great job explaining them. Each weapon fired heats up your mech, for instance. Fire off too many weapons, too many turns in a row, and your mech will overheat and shut down for multiple turns.
This presents the player with some interesting tactical choices. Do you fire off all your weapons this turn and risk overheating in hopes of knocking over or destroying the enemy in one massive Hail Mary? Or do you take the sure-fire shots this turn, disable the rest of your weapons, and leave your mech with enough headroom to fight next round too?
The environment also plays a role. Water cools mechs off faster, meaning it's sometimes smarter to leave your largest mechs in a river further from the action and take potshots than it is to get in close and risk overheating.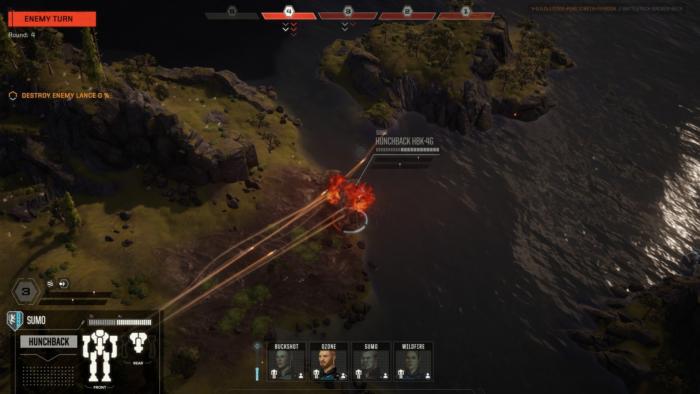 Then there's an entire level of targeted damage I've yet to get a handle on. Sometimes you blow off a mech's arm for instance, or injure the pilot inside. Each of these seems to have an effect on aiming, on which weapons you have available, and so on, but it's another one of those systems I think needs to be better represented by the interface before launch. If there's a way to specifically target parts of mechs instead of relying on chance to do it for you, I still haven't figured it out.
Mentioned in this article
Shadowrun: Hong Kong – Extended Edition [Online Game Code]
Price When Reviewed:
$19.99
I'm enjoying it though. BattleTech is both a solid mech game and a solid turn-based tactics game, and it's not even through beta yet. I'm looking forward to seeing how the tactical core on display here ties into the campaign—Harebrained Schemes' Shadowrun games have been excellent, and I'm hoping the same level of writing makes its way into BattleTech. We'll keep you updated as the game marches towards its purported end-of-year release.