HP's Omen Desktop is upping its game. The new generation announced Tuesday sheds the old, boring box with "gaming facade stapled on" for a bigger, faster, and slicker design that's better-equipped for serious gameplay.
The Omen Desktops will be available starting Tuesday and will offer both AMD Ryzen and Intel Core options. These example configurations give you a taste of what's available:
$900: Quad-core Ryzen 5 1400 with SMT, 8GB of DDR4 RAM, 1TB hard drive, 3GB GDDR5 GeForce GTX 1060
$1,500: Eight-core Ryzen 7 1700, 16GB of DDR4 RAM, 256GB SSD plus 1TB hard drive, 8GB GDDR5 GeForce GTX 1070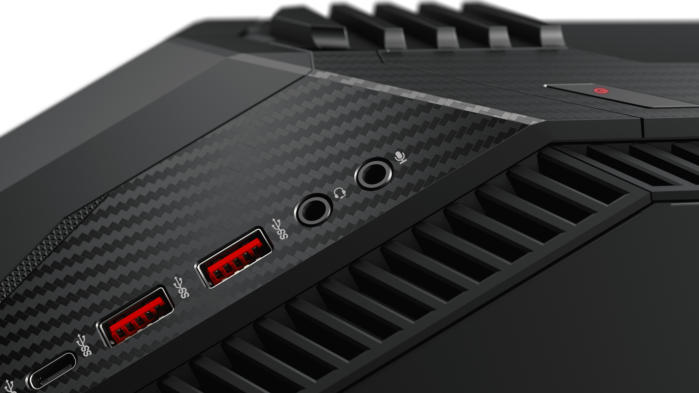 $1,900: Eight-core Ryzen 7 1800X, 16GB of DDR4 RAM, 512GB SSD plus 2TB hard drive, 8GB GDDR5X GeForce GTX 1080
$2,199: Quad-core Core i7-7700K, 16GB of DDR4 RAM, 512GB SSD plus 2TB hard drive, and 11GB GDDR5X GeForce GTX 1080 Ti.
More details that matter
The faceted design of the new Omen Desktop exhibits the pizzazz that's more worthy of the storied Omen name. The design has purpose, too: The new Omen features twice the number of fans compared to last year's version, a 15 percent larger case, and more than 50 percent greater air flow.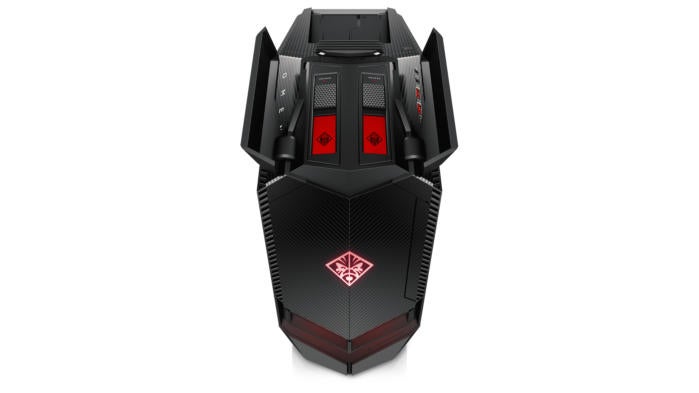 Thoughtful touches for builders abound. The top of the PC has flip-open doors that conceal a pair of swappable drive bays. Inside, you'll find clean cable management and a metric ton of ports. Specifically, on top you'll find two USB 3.0 Type A and two USB 3.0 Type C. In back there are four USB 3.0 Type A and two USB 2.0 Type A, plus HDMI 1.4, DisplayPort 1.2, and three audio outputs. All but the lowest-cost configuration get a see-through access panel, too.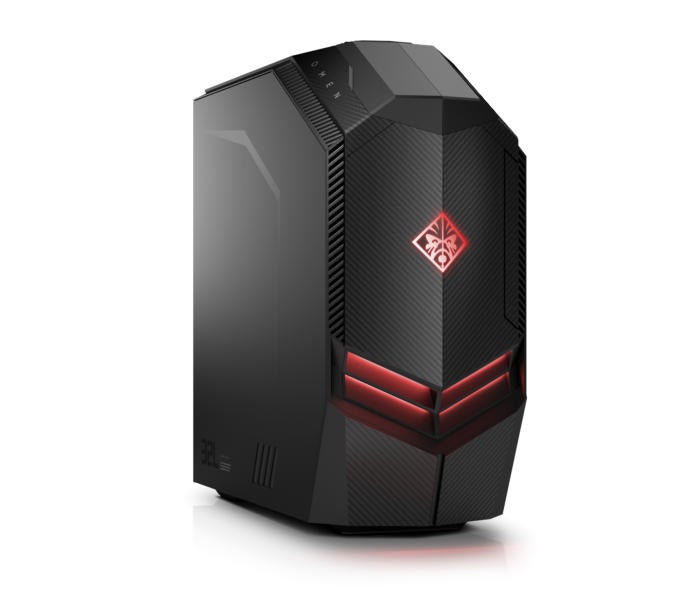 Why this matters: Gamers don't mess around when it comes to hardware. With this significant upgrade to the Omen Desktop, HP is getting serious about capturing more of that audience. The thoughtful design and aggressive pricing may force Acer, Lenovo, and Dell to think harder about their own offering.