After an odd dalliance with full-motion video and fist bumping last year, Need for Speed is back to its usual antics for 2017's upcoming Payback—though who, exactly, is being paid back and for what reason is still a mystery as of now.
I spent time with the briefest of brief Need for Speed: Payback demos at EA Play on Saturday. It was a single mission, and felt like maybe five minutes of hands-on time—much of that taken up by cutscenes actually. I'd warrant there were only three minutes of actual driving. Maybe that's where we should start, actually.
Car, interrupted
Mentioned in this article
Need for Speed Payback [Online Game Code]
Price When Reviewed:
$59.99
Need for Speed still loves Fast and the Furious. That much is clear. The mission we played is almost straight out of the first film, with you pulling up beside a semi truck and your passenger clambering onto the top to steal a sports car out of the back. (It's the same mission as EA showed during the on-stage demo seen above.)
Okay, in The Fast and the Furious they were stealing DVD players or something, but the point still stands—you can draw a clear line of inspiration between the two. Need for Speed's always been a not-so-subtle homage, and does it pretty damn well. It's fun, it's over-the-top, it's goofy.
The problem, at least with Payback, is that it wants very badly to be a controllable film instead of a proper game.
Need for Speed: Payback is obsessed with taking control away from the player. Again, it's worth noting we only played a single mission—I'd wager the game is less imposing in free-roam, and maybe other missions walk the line better. But this mission in particular, the action is constantly interrupted.
Sometimes it's by cutscenes. The mission we played loosely revolves around driving, but many aspects—such as clambering onto the roof of a semi and stealing the sports car inside—aren't exactly driving activities. Whether the game's trying to show the truck brake-checking you and causing an accident, or the ensuing path of destruction the truck wrought as it escaped, or the aforementioned car-jacking acrobatics, it inevitably means the game cuts to a non-interactive movie at the most exciting parts.
Stealing the car, for instance. Here's what you, the player, actually accomplish when you finally catch up to the truck: You pull up next to it. This starts a lengthy cutscene where your partner in crime climbs onto the roof of the semi, then disappears inside it. Then she drives the sports car out of the back hatch, flying through the air. It's great! And also still a movie.
It's not until the sports car hits the road that you take control again, and then your goal is just "Drive away very fast."
The driving part seems almost incidental, like the random button-press action scenes in every Telltale game. That's not why you're playing! You're playing to watch the story!
Except this is a driving game, and I really wanted to…drive.
The pacing suffers doubly because this mission involves crashing into other vehicles that are helping guard the semi, and each crash arrives replete with an extended Burnout-style slow motion camera pan. With eight of these enforcers to take out on your way to catching the truck, there are an additional eight points where all control is taken from the player, the pacing interrupted, just to watch a scene—and these crashes don't even contribute to the story. They're just pure cinematic spectacle.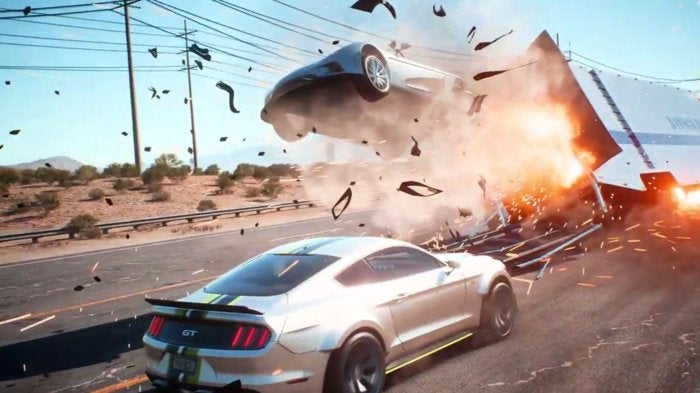 Worse is that the enforcers aren't very threatening. The person on your radio will tell you that you need to take them all down to catch up to the truck, but it's very artificial feeling—I simply drove past some of them, and at one point I'm pretty sure I "took one down" because it simply crashed into a pole on its own. In any case, the lightest of taps into nearby traffic sends those enemy vehicles careening through the air like the ending of Zabriskie Point.
"Vertical slice"
The hard part is determining how representative this mission is of the final game. And my intuition says it's not very.
Need for Speed Payback is still first and foremost a driving game. As long as every tiny crash doesn't wrench the camera from my grasp, I can't imagine these problems will be so prevalent in the full game. It's exacerbated by this being a five minute demo that's heavy on scripting and story. In free-roam, or even some of the less intense missions, I don't expect the same issues.
It's hard to know for sure, though. This is the problem with any demo—it's a demo. Gauging how much these issues will plague a game over 15 hours is hard when all you're given is 15 minutes.
For what it's worth, what little driving the demo offered felt good. I don't know how much customization there is in Payback, both in terms of car parts and just handling sliders, but I liked the two cars I drove and both handled measurably different. They've hopefully nailed that part.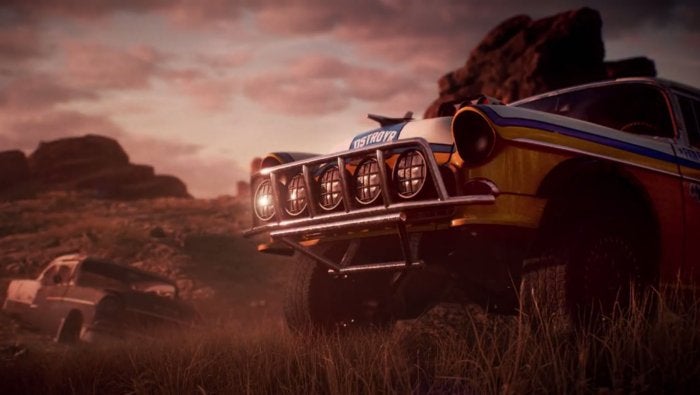 It's the game parts around the handling and customization that Need for Speed has struggled with the last few outings though, and Payback hasn't impressed me yet. I love the idea, I love the tone the demo is going for. I'm happy for Need for Speed to beg, borrow, and steal from The Fast and the Furious series, and even happier for them to do the same from Forza: Horizon.
EA's already talked about Payback's "Relic Cars," old vehicles you find in the wilderness while free roaming, which is just Forza's Barn Find system by a different name. But you know what? Forza: Horizon is the best arcade racer of the modern era. Need for Speed being "inspired" by Forza? I can think of worse things.
Mentioned in this article
Need for Speed Payback [Online Game Code]
Price When Reviewed:
$59.99
But no, it hasn't earned my affections. There are too many unknowns, too many qualifiers. We'll keep an eye on this one as it heads towards its release later this year. At the very least, there's no Forza Horizon this year so Need for Speed's only arcade racer competition is presumably Ubisoft's The Crew 2. That match-up seems more in Need for Speed's favor, though I say that having seen absolutely nothing of The Crew 2 yet.
We'll know soon, though. This is just the start of six days of E3 coverage, and The Crew 2 will inevitably make an appearance at Ubisoft's press conference Monday—and maybe Microsoft or Sony's too. Stay tuned to PCWorld as we bring you all the latest news and announcements from E3 2017.