Star Wars Battlefront II seems like the game we should've received two years ago. At least, that's the feeling I get after trying out both the singleplayer and multiplayer portions at EA's "definitely not E3" event EA Play on Saturday, and hearing what's still in store. Space battles? Check. A proper class system? Check. Maps that draw on all three eras of Star Wars history? Check.
Oh, and did I mention singleplayer? Yeah, that's probably the most important part. It could still all fall apart before release this November, but here are my initial impressions of Star Wars Battlefront II, one of the many new games shown at EA Play.
Star Wars Battlefront II singleplayer
This is the hard part to quantify. Multiplayer's pretty easy to summarize—it's mostly the same as last time, just bigger. I talk about it in more detail below (and in the video above) but the differences are fairly small.
Mentioned in this article
Star Wars Battlefront II
Price When Reviewed:
$59.99
Singleplayer, though? After omitting a solo campaign with the previous Battlefront, it's up to DICE and EA Motive to prove they're up to the job.
Not that the team's strayed far from Star Wars's wheelhouse. In fact, by deciding to tell a story from the Empire's point of view the developers have (either knowingly or not) basically chosen to tell the exact same story as we got from the original Star Wars Battlefront II—a game which followed the fall of the clone troopers from saviors of the Republic to Imperial dogs.
This new Star Wars Battlefront II (I know it's confusing) could almost be a sequel, as it plans to pick up from just after the Battle of Endor (the conclusion of the 2005 Battlefront II) and cover events between Return of the Jedi and The Force Awakens.
So it's familiar ground. Walt Williams' presence as the solo campaign's writer has me optimistic though, as I enjoyed his work on Spec Ops: The Line and thought it did a good job at the time of putting a twist on the typical Call of Duty rah-rah America story. If Williams can bring that same upending of expectations to Star Wars, I think it would be to Battlefront II's benefit.
Anyway, that's all speculation. Our demo took place early in the game, as the leader of Inferno Squadron, Iden Versio, receives new orders from her father, the presiding admiral. Emperor Palpatine is dead (spoilers) and Versio will need to use Inferno Squadron to execute his final orders.
For us, in this demo, that means we're immediately dumped into a space battle. Well, "immediately" meaning after a long cutscene. Seriously, if today's demo is any indication there'll be enough footage in Star Wars Battlefront II to put together a short Star Wars film. It felt like almost five minutes of pure, uninterrupted cinematic.
But in any case, Versio comes under attack as she puts together plans to assault the rebels, and in the resulting scene sprints to a TIE Fighter and clambers in. Flight controls are better this time, with full dog fight acrobatics enabled instead of the airplane-style controls of the previous game, and what I played (albeit short) felt pretty good. At one point you fly inside another ship, winding through tight corridors like the iconic ending of Return of the Jedi, and that was probably the best "Oh wow" moment in the demo.
The action seamlessly transitions into the hangar bay after shooting down a few X-Wings, and here it turns back into a more basic shooter campaign—walk down corridors, kill rebel scum, repeat. It's Battlefront's take on the now-familiar Call of Duty formula; replace the skins of the people you're fighting and it's not too different.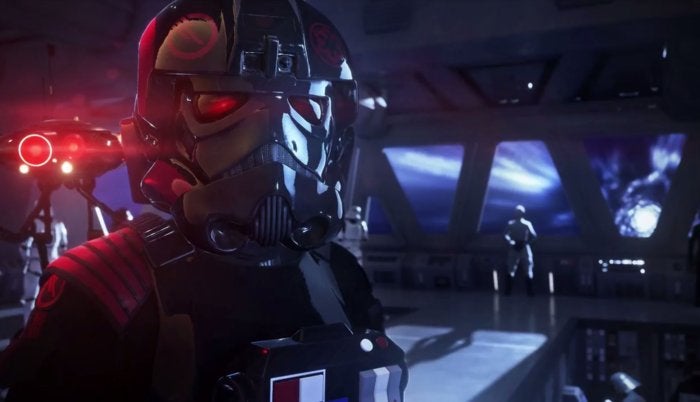 Those skins are important though. DICE's previous Battlefront won applause for its representation of the Star Wars universe and this is no different. It might take place years later, but your one-woman assault on this ship feels like nothing more than the intro scenes of A New Hope, bright white corridors alternating with grimy back rooms full of humming machinery and arcing electricity.
And though our demo was only fifteen or so minutes, there were a few interesting ideas on display. In classic Star Wars form, you can shoot doors shut to cut off enemies. In the climactic scene, which had us guarding our droid buddy as enemies swarmed in from three sides, it was great to just blast the controls next to one of those doors and see that path seal off.
Speaking of our droid buddy, it's also a good Star Wars-y twist on what's otherwise a fairly standard shooter. In our demo we could use the droid to zap enemies and knock them out, and one section had us creeping through a hangar and stealthily picking off enemies—thinning the herd before the inevitable firefight. It's nothing revolutionary, but helped break up the pacing and provided a nice alternative to the constant corridor shooting.
I haven't seen enough, though. Perhaps the best thing I can say is: I'd like to see more. I'm hopeful, and I like what little I've seen. It's nothing revolutionary, but it seems like a good bit of storytelling for the Star Wars fans and a fun-if-mindless shooter campaign for everyone else.
And if it ends up being even better than those expectations? Well, I won't get my hopes up, but I'd be genuinely pleased. As I said, I liked Spec Ops.
Star Wars Battlefront II multiplayer
The competitive side of things is…well, pretty much the same as what we saw last time around. That's not really surprising—the first Star Wars Battlefront was an excellent multiplayer foundation that just didn't have enough content to stay relevant past the first week or so.
Assuming those problems are solved—and the odds seem good, thanks to Star Wars Battlefront II's commitment to free DLC and "not splitting the community"—then this sequel seems poised to succeed where the last game failed.
We've only seen one map so far, set on Naboo in the prequel era. The scope feels quite a bit larger this time, though. DICE has combined Battlefront's Walker Assault mode with more traditional Battlefield modes like Rush and the result is a truly massive battle that shifts moment to moment.
Starting in the streets, there's the Walker Assault segment—this time, it's an assault carrier that slowly and menacingly glides towards the center of the map. The defending clone army need to take out the carrier with ion weapons scattered around the map while the prequel-era's silly battle droids strive to protect it. Think Overwatch's payload delivery, but far more dangerous.
When (if) the droids break through, the match then turns into a point-defense battle inside the royal palace, first protecting the two wings and then, if those are lost, falling back to the throne room.
The result is incredibly dynamic. The first and second halves feel like completely different maps, as you transition from the wide-open guerrilla tactics of the streets to intense close-quarters combat inside the cramped rooms of the palace. It's like the best aspects of Battlefield 1's multi-map Operations mode, except condensed into a single 20-minute multiplayer battle.
Now, how many maps are actually built like this? That's the question. Walker Assault was the standout mode in the previous Battlefront, but restricting it to a few maps made it easy to grow tired of the whole idea—not to mention the balance issues at launch. Star Wars Battlefront II needs this newfound flow across all (or at least most) of its maps, giving people a reason to play Battlefront past the initial novelty. The continued expansion of Operations in Battlefield 1 is a good model to follow.
Star Wars Battlefront II's other improvements, at least as far as this demo's concerned, are smaller but still significant. The traditional Battlefield class system is back, this time in the guise of Assault, Heavy Assault, Officer, and Specialist soldiers. The first two are your mainline grunts, Officers boost the performance of troops around them, and Specialists are your typical sniper-type class.
Secondary abilities make each feel pretty powerful, though during our demo the Heavy Assault class was my favorite. That class comes equipped with a shield, a grenade launcher, and a murderous chaingun that allows you to mow down even the fiercest troops and is particularly effective at holding doors and other chokepoints.
The special unit system has also been overhauled for the sequel. Instead of collecting tokens on the battlefield for aerial units or powerful weapons, you now earn points for damaging and killing enemies, and for completing objectives. When you respawn you can then spend these points for vehicles, more powerful special classes, and hero units like Rey, Han Solo, and Boba Fett.
It's still not quite as natural as Battlefield or even the original (meaning 2005) Star Wars Battlefront II, where you'd just jump in a vehicle and take off, but at least this time you shouldn't see groups of people queuing up for token spawns. It's also a better gauge of player skill, with everybody able to partake (it's fairly easy to earn points) but the best players getting more points and, ultimately, getting access to those hero characters faster than anyone else.
Bottom line
Mentioned in this article
Star Wars Battlefront II
Price When Reviewed:
$59.99
We'll see. After DICE's first Star Wars Battlefront I'm still feeling pretty skeptical. The look was there, and it had good ideas, but it was just missing something at release. Too thin, insubstantial, in the face of bigger and better shooters. There's no way of knowing how Star Wars Battlefront II will fare without seeing the full package.
But at least EA's acknowledged that it should've done better, and our first glimpse at the singleplayer campaign is promising, if nothing revolutionary. Hopefully it's enough.
We'll have more E3 coverage all week, so stay tuned to PCWorld as we roll through Microsoft and Bethesda's press conferences Sunday, more press conferences Monday, and then three whole days of coverage from the show floor itself.