Your smartphone likely includes the most important camera you own: the camera that's sitting in your pocket, ready to capture images at a moment's notice. We've been doing a series of smartphone camera tests to determine which phone has the absolute best camera, and now it's time to compare the new HTC U11 against our current top pick, the LG G6.
A bit about myself: I'm a professional cinematographer and photographer. For my day job, I shoot, edit, and sometimes perform in videos for PCWorld. For my camera testing, I pay attention to specific parameters, mixing some practical considerations with my own professional interests. I look into granular details that are important to pros, but also use the phone cameras just like you probably do: In auto mode, as if I just whipped my phone from my pocket.
Our tests run through color, clarity, and exposure, then look into extra features and user experience. And, from that we determine a winner! I'll go into further details about what's covered in each test as we progress through this article.
The HTC U11 faces the dominant LG G6
In earlier phone camera shootouts, the LG G6 took on the Google Pixel and barely emerged victorious. The LG G6 returned to the ring soon afterward, this time against the Samsung Galaxy S8, and barely broke a sweat. Now comes the HTC U11, whose camera garnered praise from DXOMark, a popular camera testing website.
Before we get to my test images, let's go over hardware specs. The reigning champ, the LG G6, sports two 13MP cameras, one standard and one wide-angle. The standard lens has an aperture value of f/1.8, while the wide has a f/2.4 lens. The standard lens has a powerful optical image stabilization (OIS) system, but the wide does not (nor does it need one). This is all controlled by LG's amazing Camera App, which is packed to the gills with features.
The HTC U11 contender, on the other hand, houses a single 12MP sensor, a faster f/1.7 lens, and dual-pixel autofocus. Like the G6, it has OIS and HDR.
Both cameras tout their patented HDR processing. Like most mid-range and high-end camera phones, the HTC U11 and LG G6 have graduated from traditional HDR (which just uses exposure information) to an approach that lets the smartphones stitch together multiple photos taken at the exact same moment. The idea is to create the best possible shot, preserving more detail and getting rid of unwanted noise. This is why most smartphones enable HDR by default—and why I kept it that way for our testing.
Now let's dig into the results…
Color quality
Winner: HTC U11
The color test is pretty simple. We're assessing the accuracy of both color reproduction and white balance, and looking into how much saturation is applied to the final image.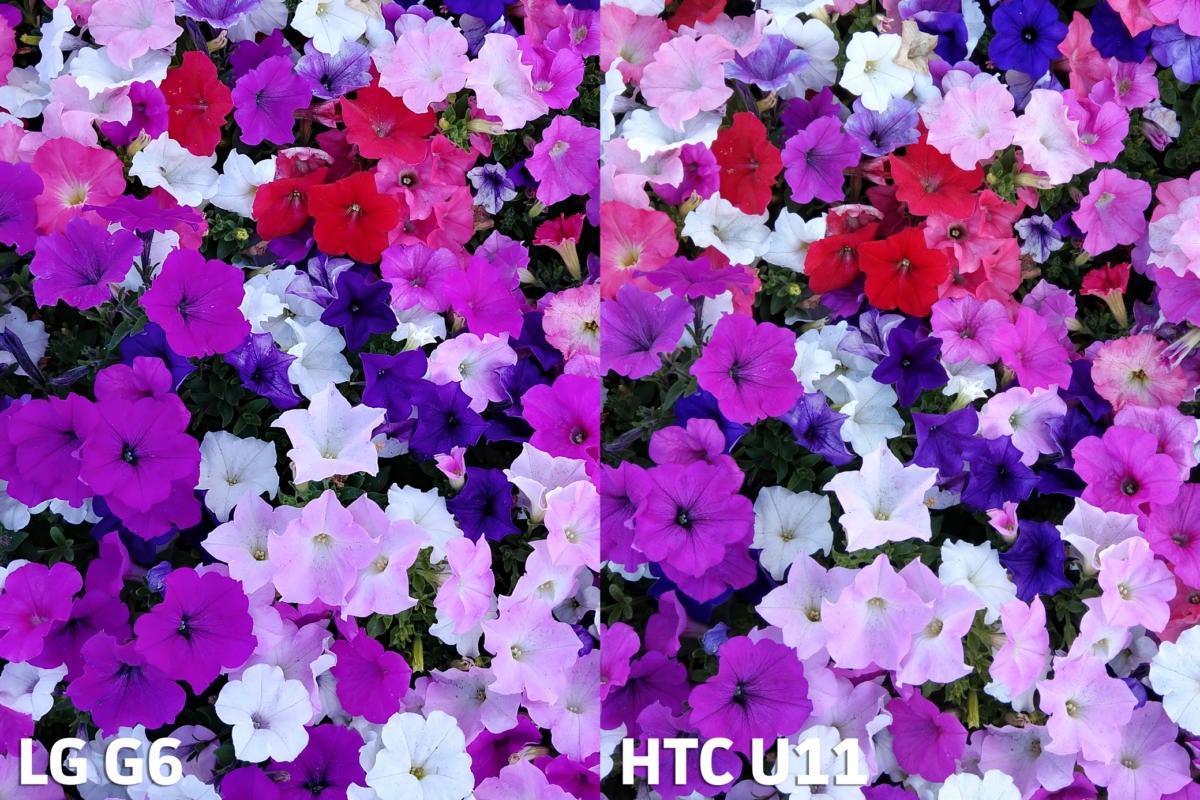 Both cameras fared well overall with color accuracy, even in mixed-lighting situations. The same goes for tricky white balance. Their faults are minor. The G6 definitely pumps up the saturation in certain situations, though not as readily as the Samsung S8 does.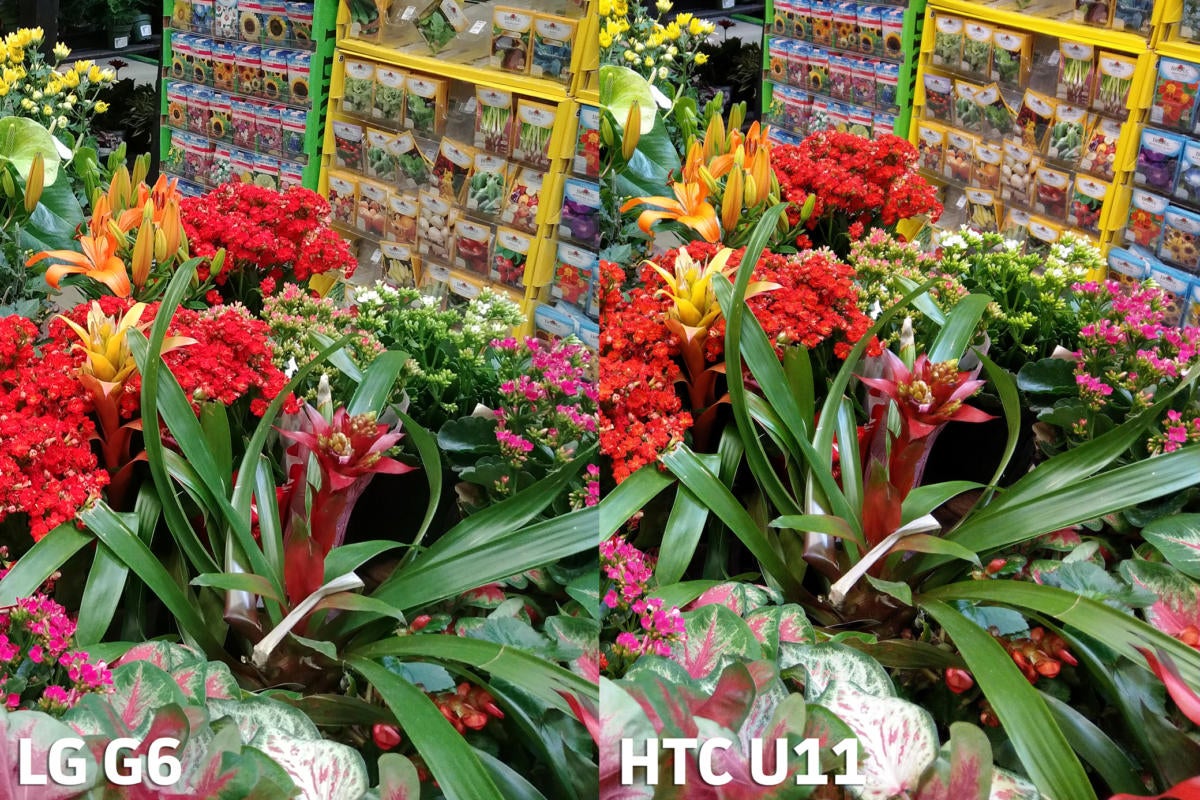 The U11 struggled to get an accurate white balance in low-light scenarios. One could argue that the U11's orange-ish glow more closely resembles what's in the scene, but I prefer the camera to maintain a consistent, absolute white, such as the G6 maintained.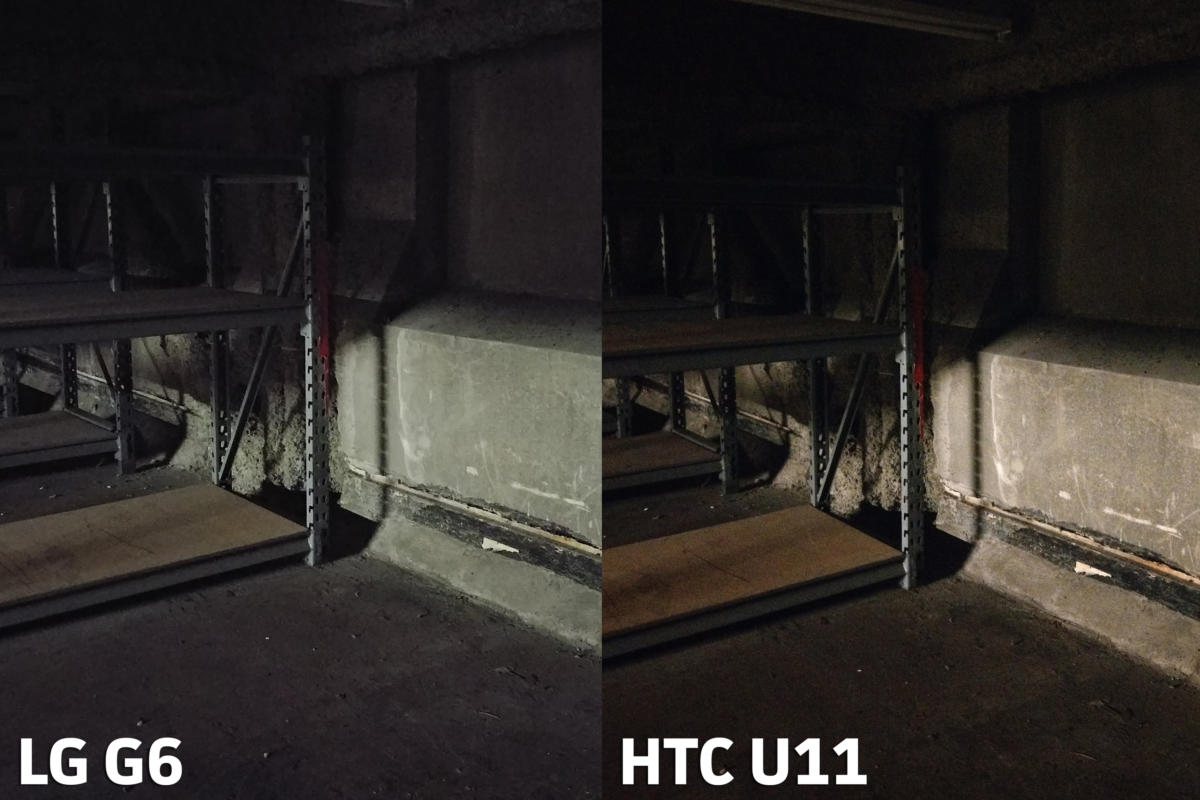 Aside from that, I loved how the U11—much like the Google Pixel—handles its colors, keeping them closer to true life rather than amping them up.
Keep reading to see how the HTC U11 handles clarity in complex images.
Clarity
Winner: LG G6
For clarity, we look at the sharpness of the lens across the whole frame, as well as how much sharpness the phone adds to the final image. This was another close fight, with only slight variations in lens sharpness.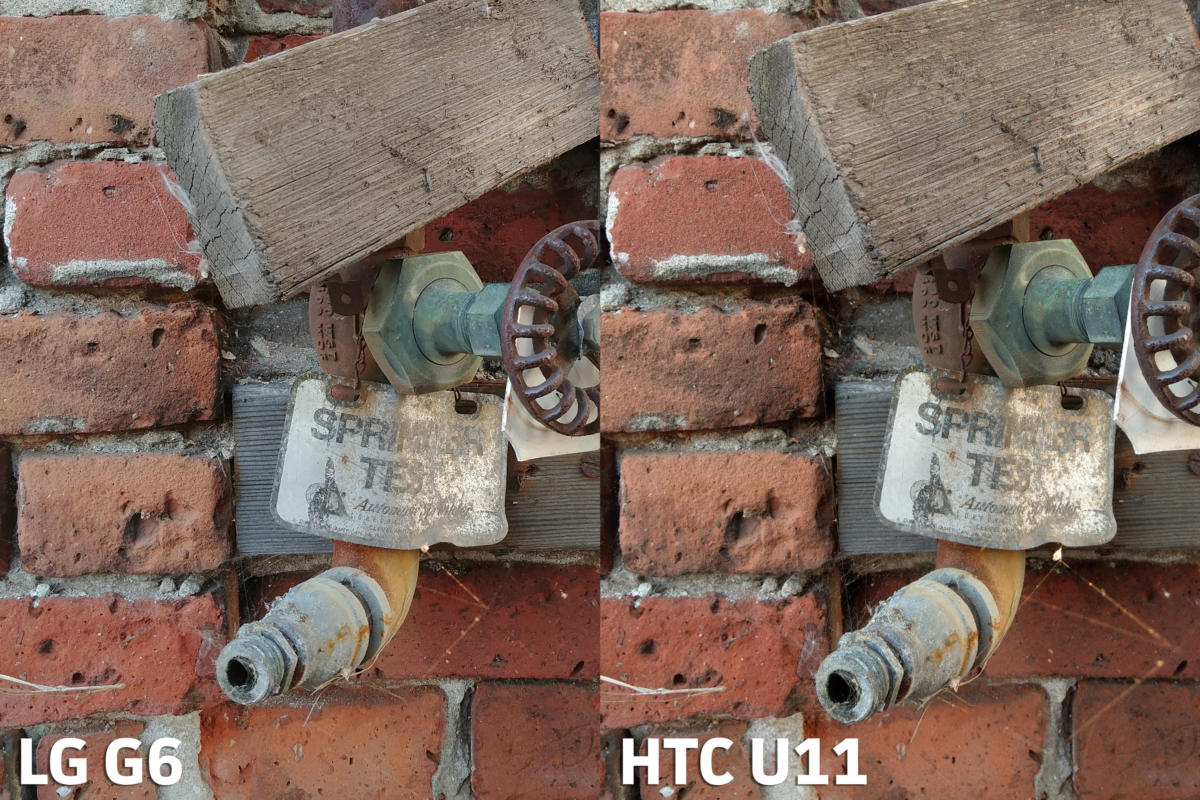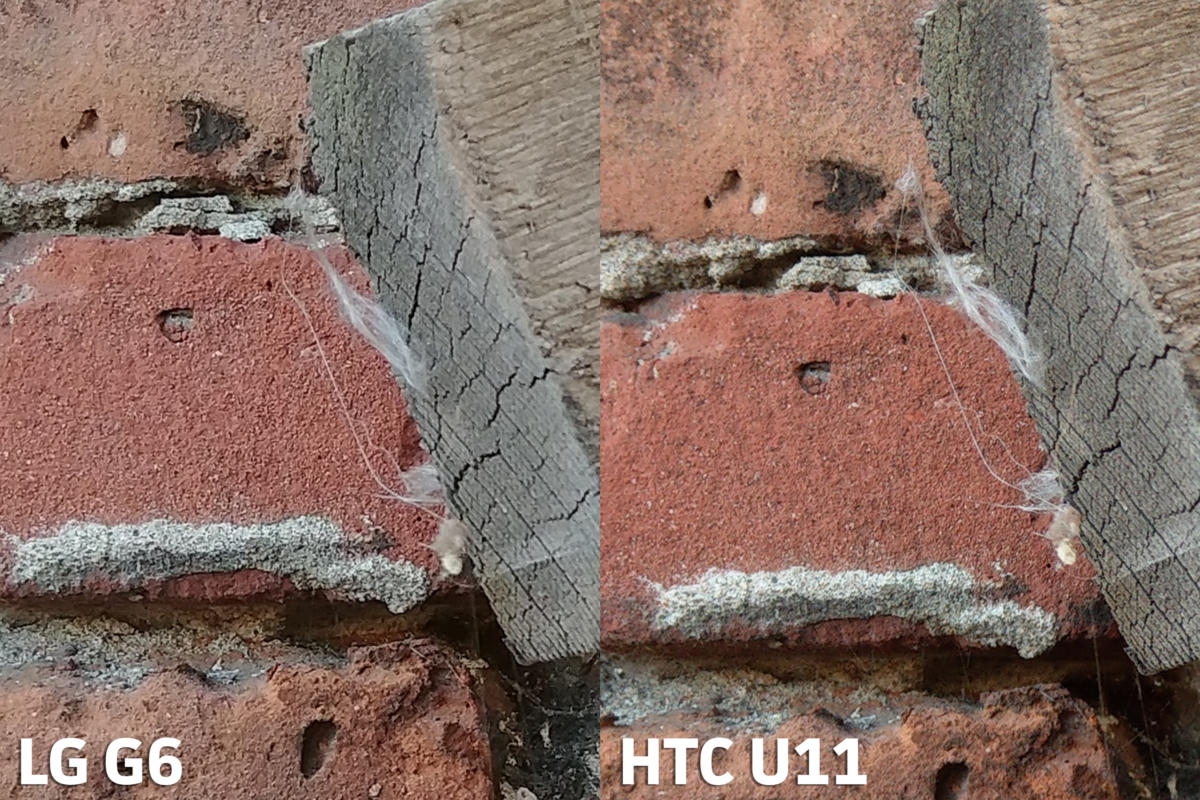 I found some inconsistencies with the U11's lens around the outer edge, but not enough to dampen the results. LG loves to apply a good amount of sharpening and noise reduction to the final image, but it doesn't bug me as long as it's a clear image to begin with.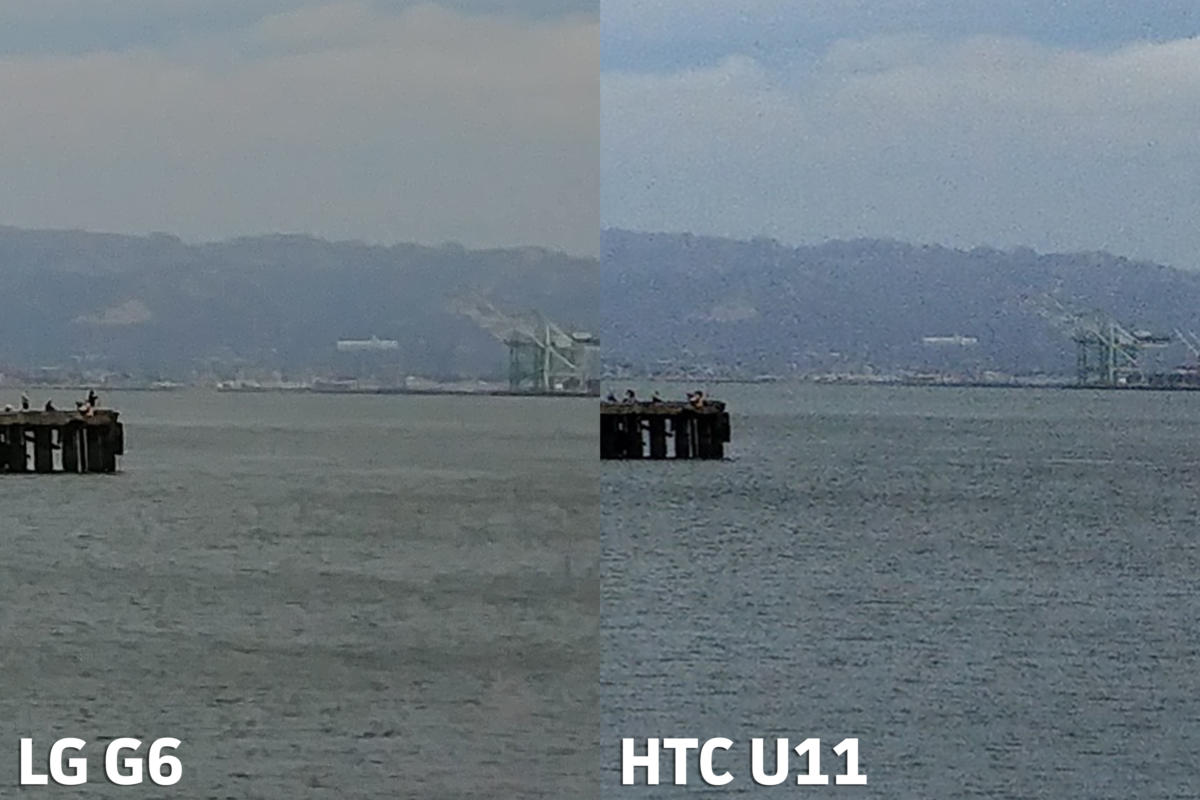 The low-light results challenged the cameras most. I was actually surprised by how little noise reduction the HTC U11 applies, leaving the photos with plenty of grain. On the other hand, the LG G6's result looks a bit too processed, even though it holds more detail and has a superior OIS.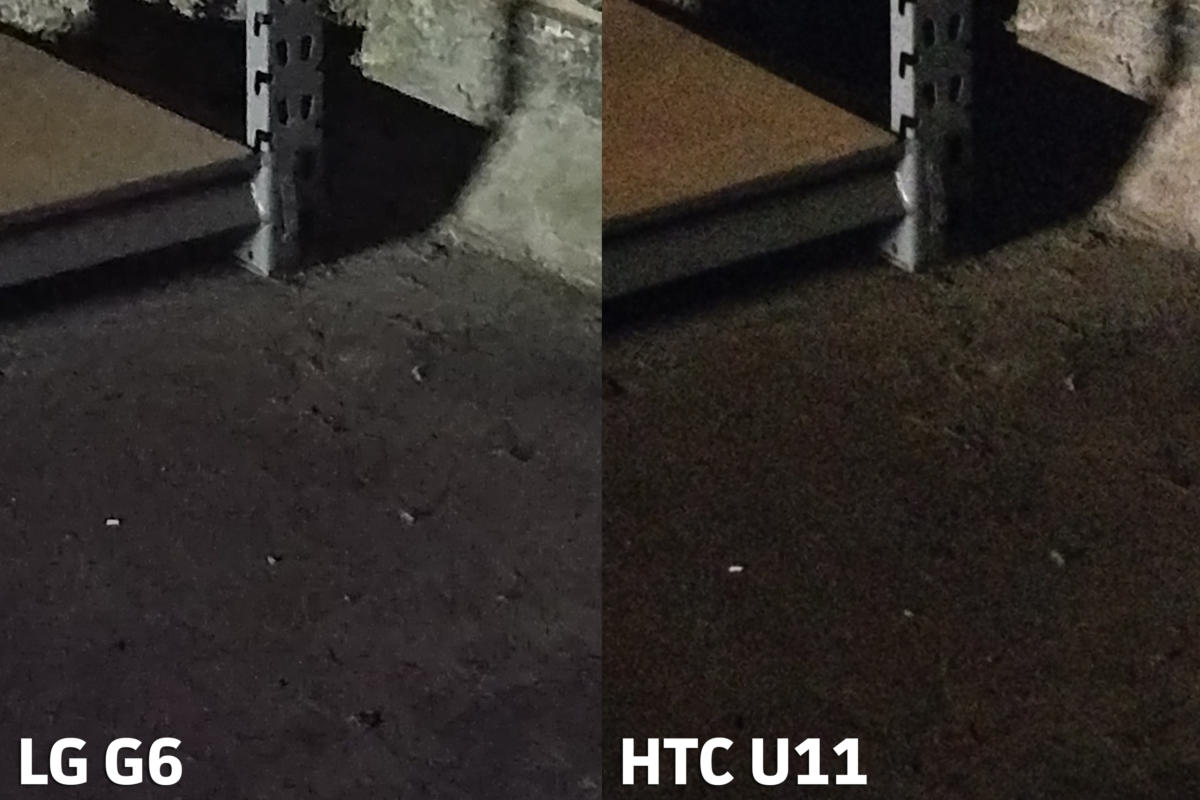 I'm going to give this one to the G6, but only by a pixel of chroma noise.
Exposure
Winner: HTC U11
The third test is exposure, which revolves around how the cameras choose to expose for a scene and when they decide to fire their traditional HDR systems. Surprise-surprise, this test was another close call, with each camera nailing complex lighting scenarios time and time again.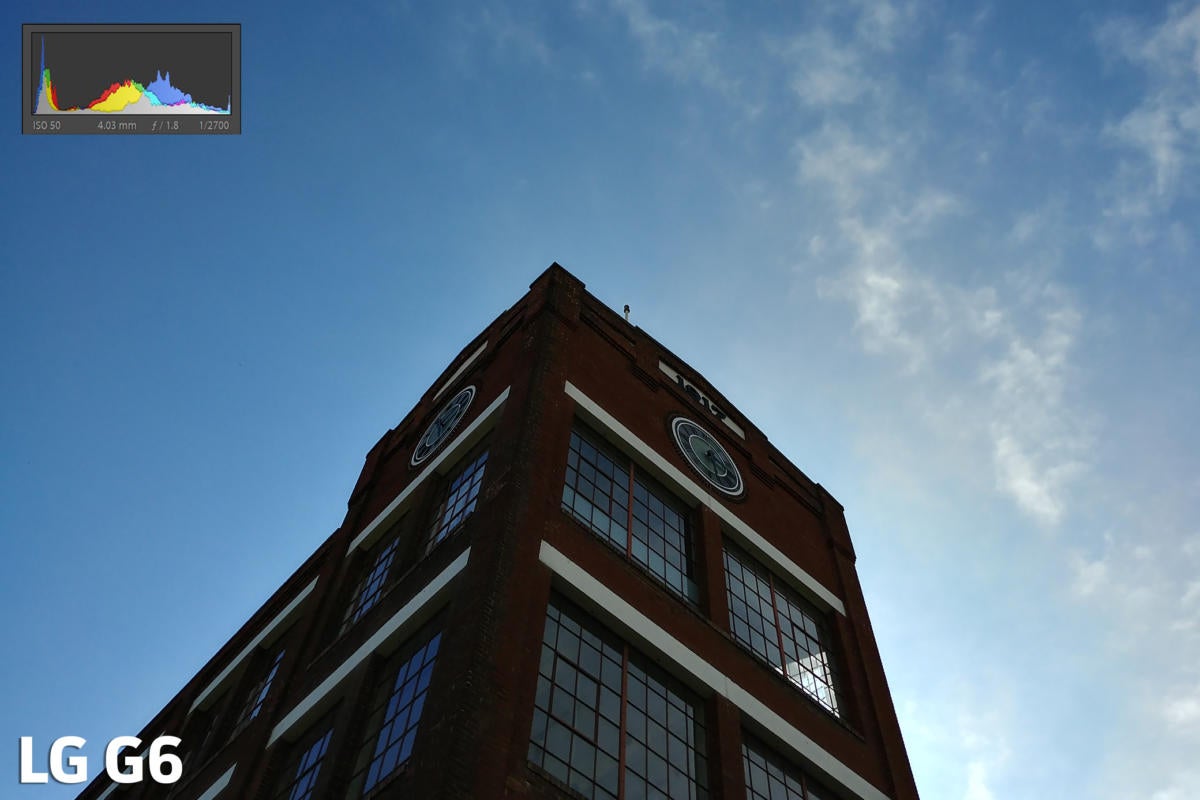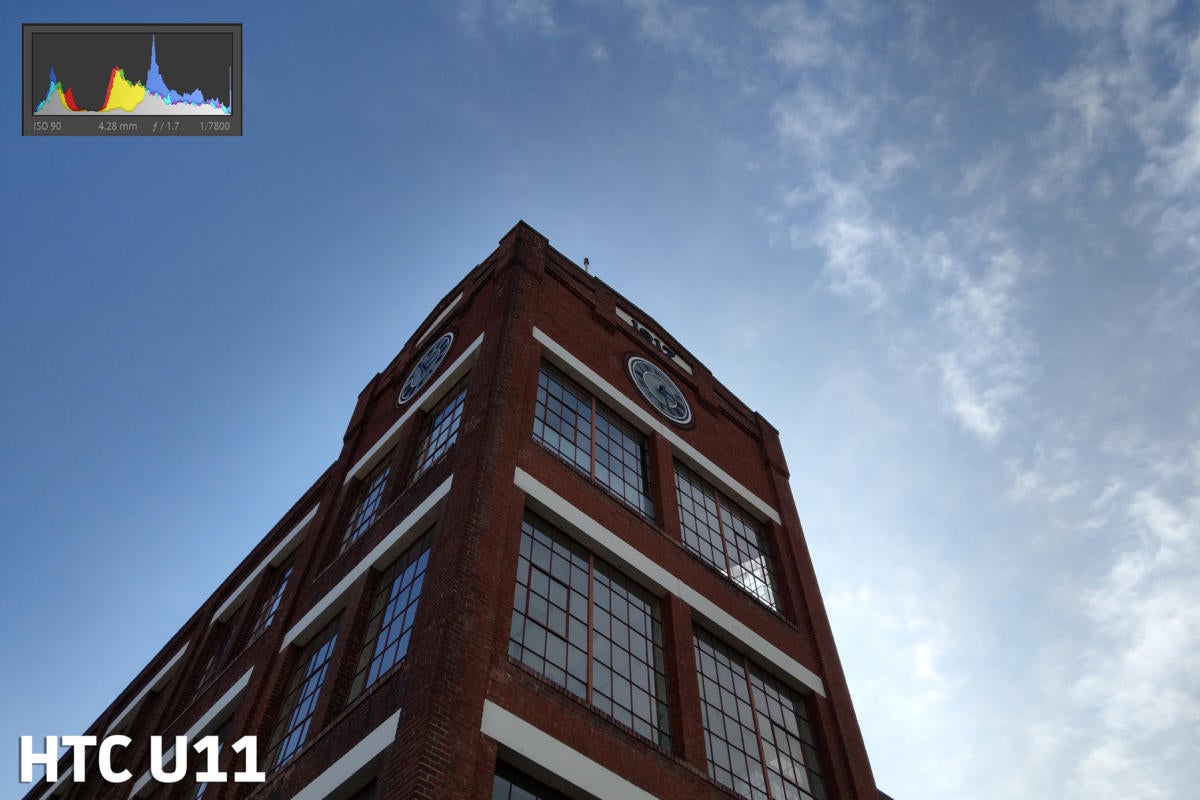 The G6 did tend to expose scenes slightly less than the U11 did. The G6 was also very aggressive in terms of protecting highlights. This only became a problem when shooting straight at the sun, like in the sunset below.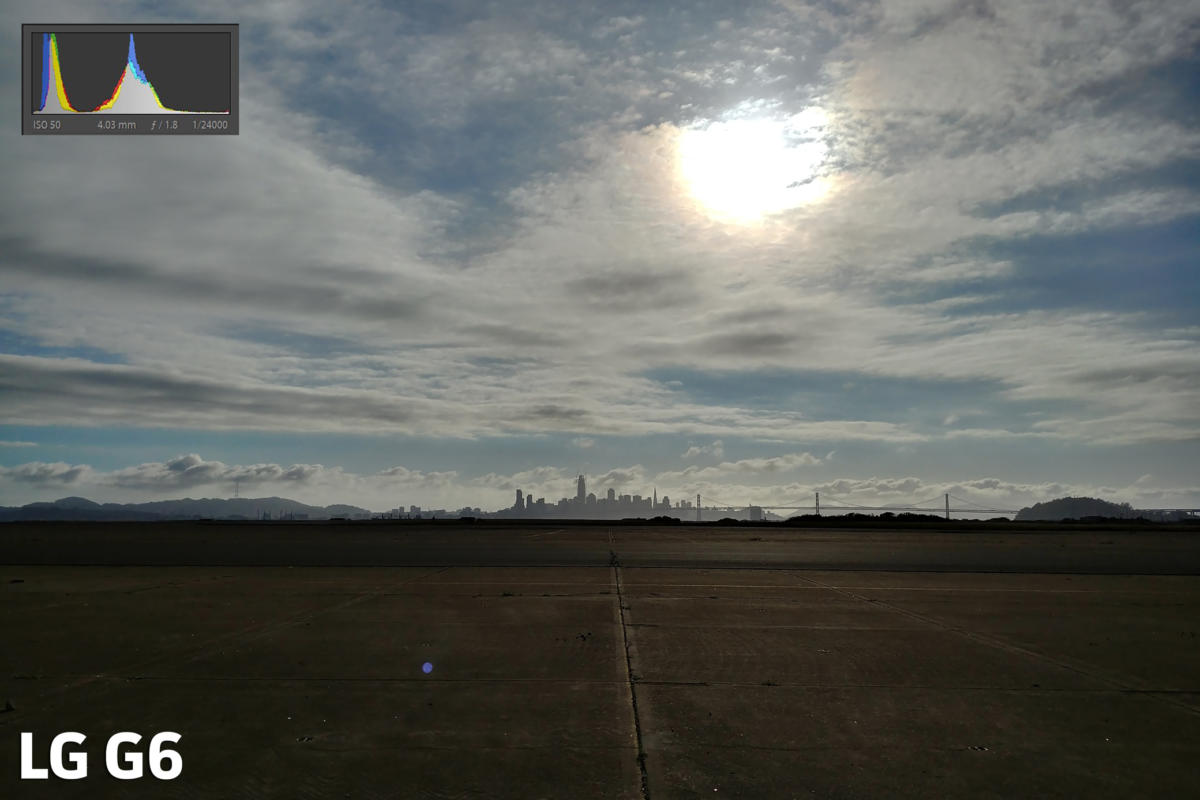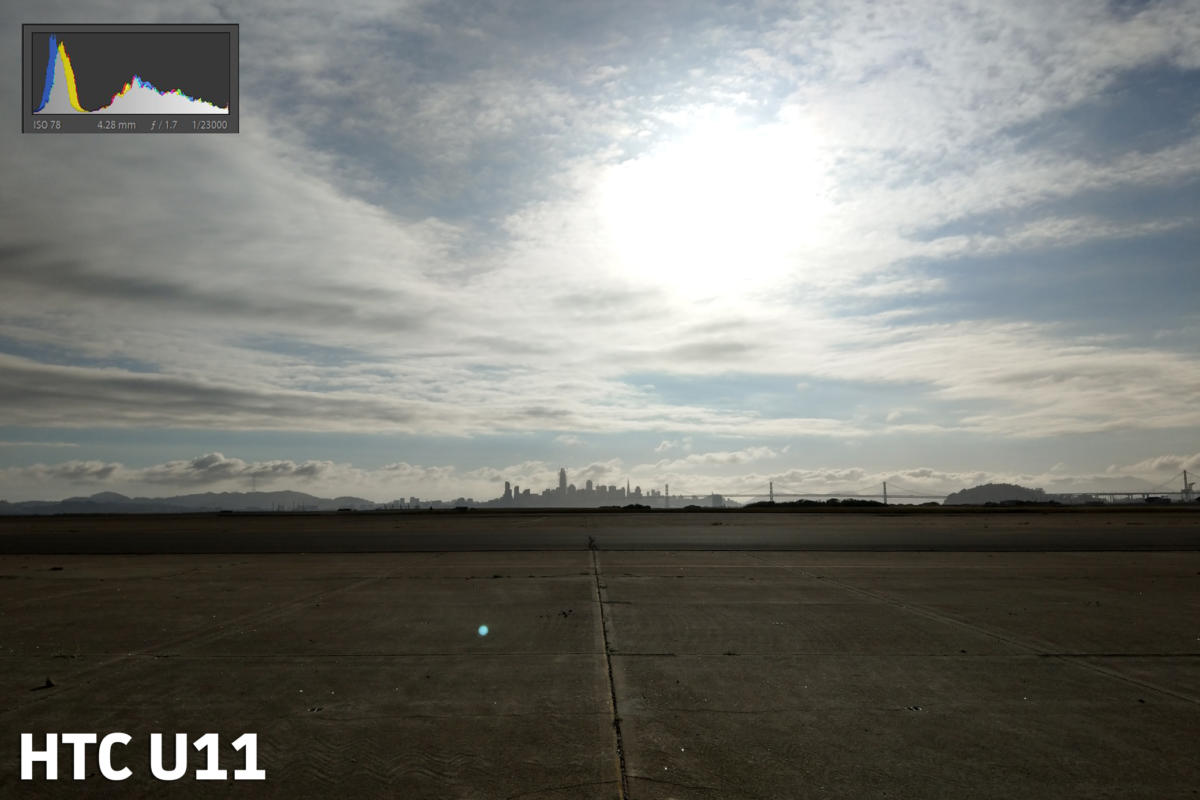 The G6 fought so hard to retain highlight information that the sun just appears to be large white dot in the sky with hard lines. The U11's sun has a nice fall-off that may technically lose the highlights, but it's still a much more pleasing and natural image. Between two good cameras we have to split hairs somewhere, so I'm leaning toward the U11 on this one.
Next, we kvetch about user experience and pick a winner, plus, enjoy the bonus shots.
User experience
Winner: LG G6
We all know that image quality only tells part of a camera's story, because if the interface is too confusing, no one will use it. In response to reader feedback, therefore, we've added user experience to our shootout.
For most common functions, like camera launch and autofocus speed, both cameras were on point. As we moved into other functions like RAW photo-taking and manual mode, however, they diverged a bit. The HTC U11 has a noticeable lag after taking photos saved to RAW, for instance. This may be tolerable if you're taking your time with well-composed shots, but the lag simply shouldn't happen given how much horsepower is in this phone. What's more, the U11's manual mode is just a clunky interface overlay that feels like an afterthought compared to the G6's sleek, user-friendly version.
Also, with the LG G6, you get not one, but two rear cameras at your disposal, and even LG's wide-angle camera is high-quality. The U11's field of view is wider than the G6's main lens in order for it to be more useful in every situation. Still, in the G6, having a more distinct medium shot paired with a wide angle gave me more interesting options.
The only real ding I can come up with for the LG G6 is that I had a hard time seeing the screen in very bright situations. But that's a minor point, and I still can't think of another smartphone camera I'd rather use for shooting images.
All-around winner: LG G6
While HTC's U11 has a camera that stands up to the best of them, it isn't enough to top LG's G6. The G6 offers a great mix of out-of-the-pocket pizzazz for quick photos, and pro features that let you fine-tune and get creative with your shots. Having two rear cameras at your disposal helps a lot, and the features in LG's stock camera app are the best out there. Is it perfect? No. But after taking on three of the past year's best smartphone cameras, the LG G6 is still standing.
The HTC U11 is clearly no slouch, though, as you'll see in this encore selection of some of its best photos from our shootout.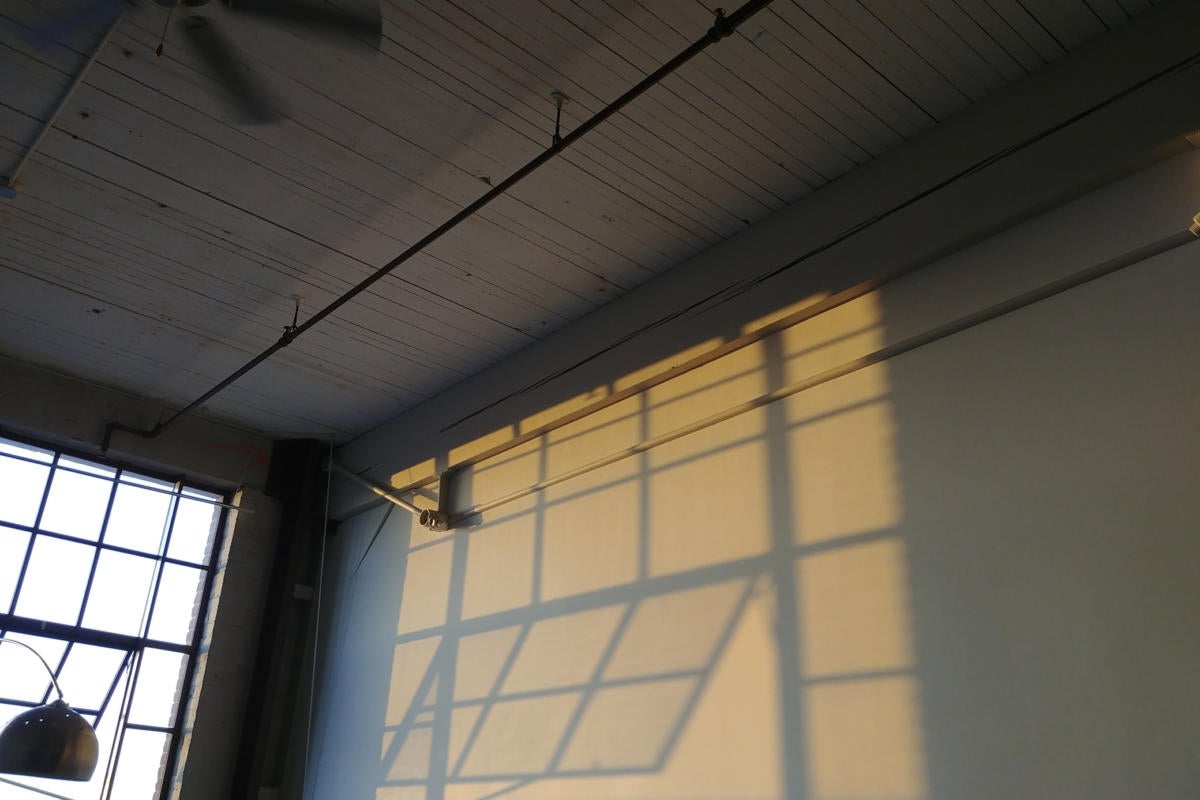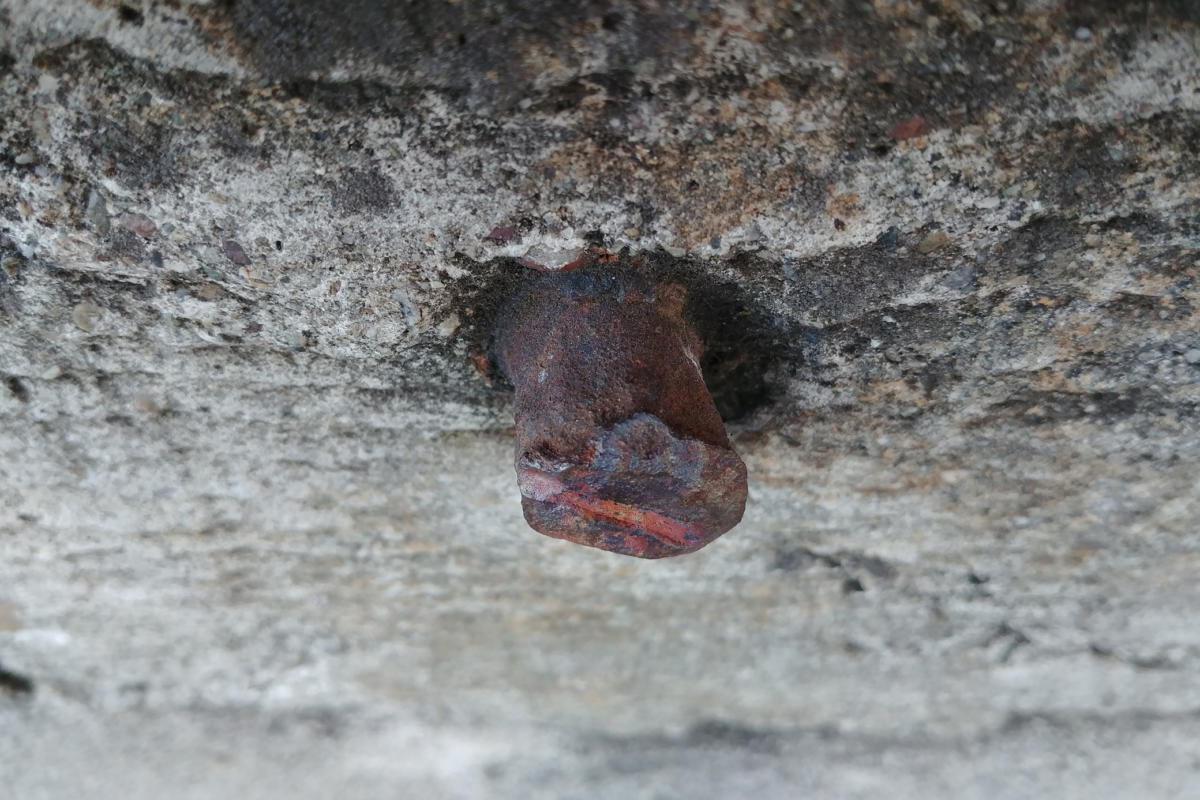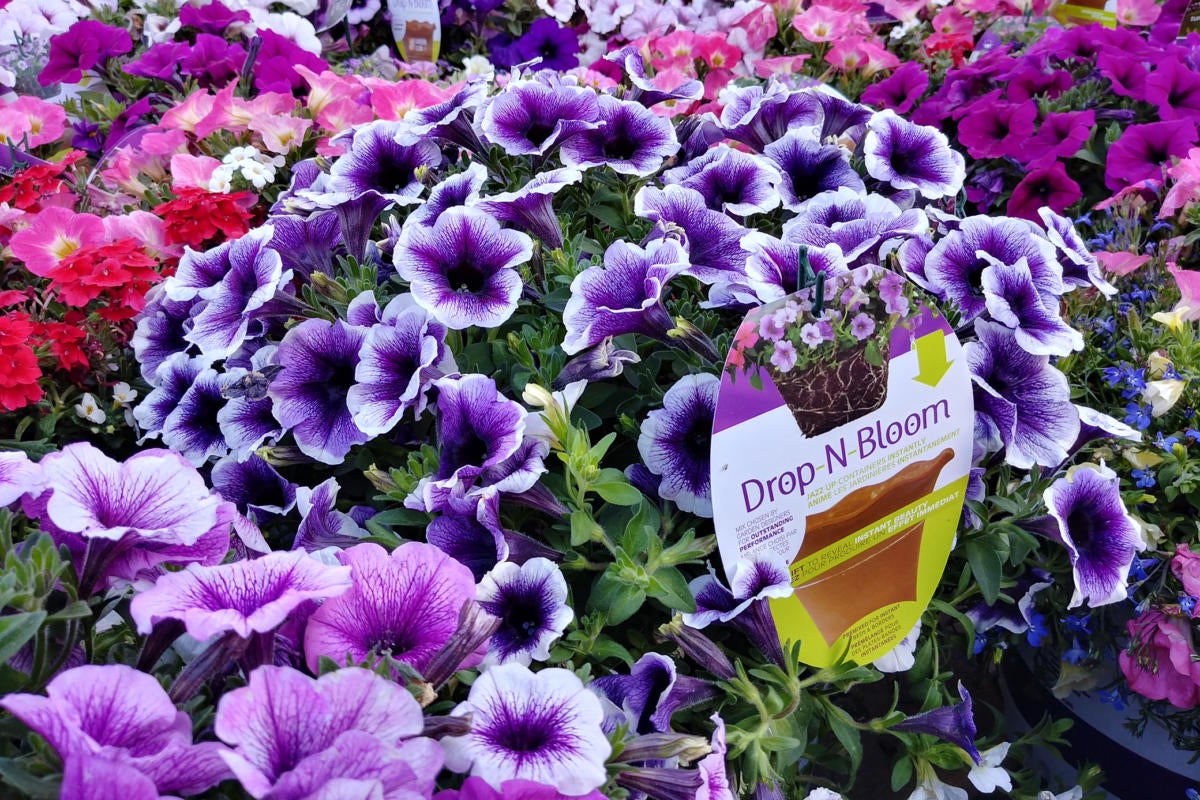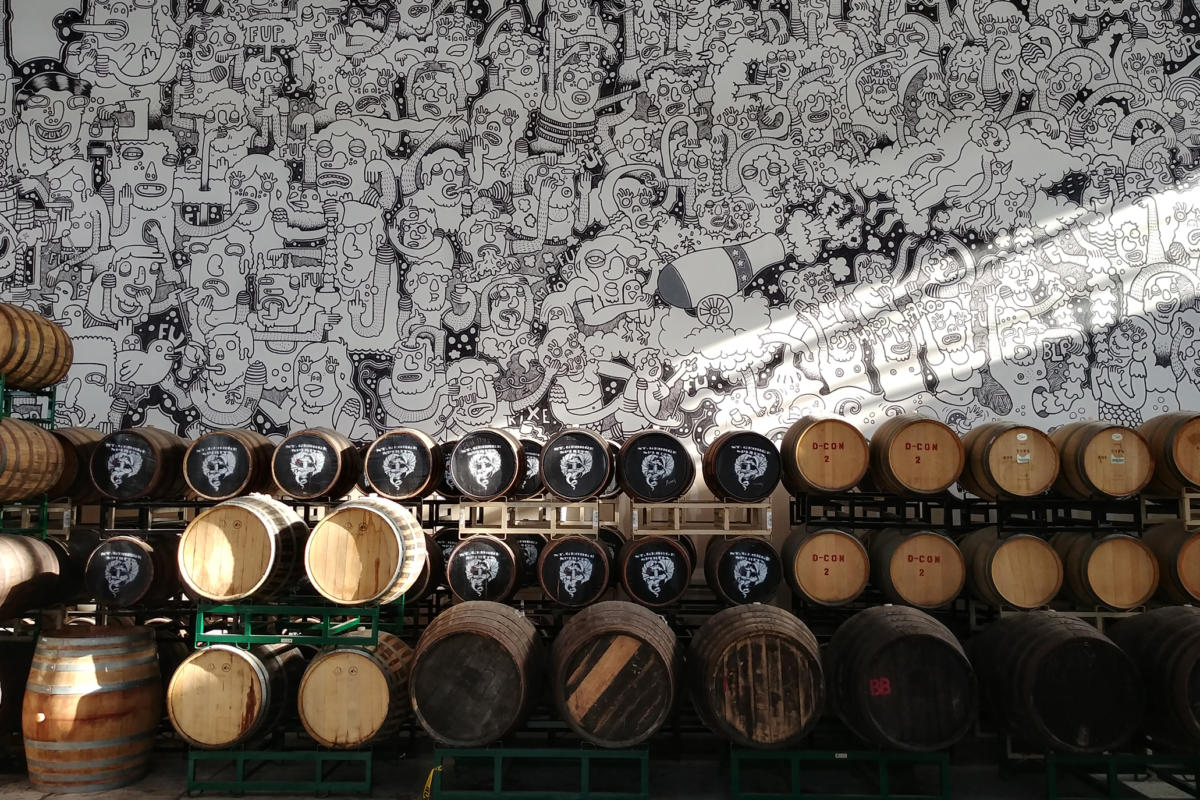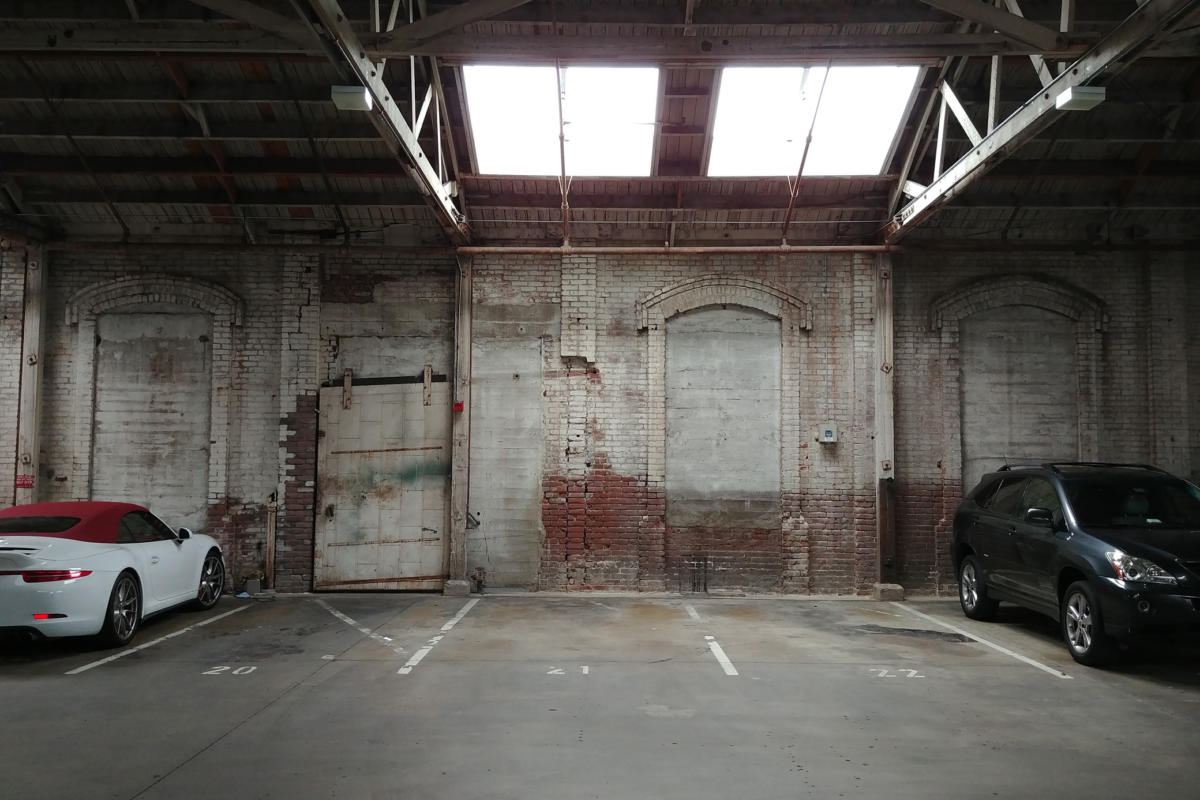 HTC U11
Price When Reviewed:
$199.99
Read our full
HTC U11 review
LG G6
Price When Reviewed:
$650