Xbox One X.
That's the official name Microsoft has given to Project Scorpio, the 4K-capable cousin to the Xbox One. Microsoft promised the $500 Xbox One X would be "the most powerful console ever," and now that it's launched, it indeed delivers much more performance than Sony's $400 PlayStation 4 Pro—and even many gaming PCs. Read on for details on Xbox One X pricing, availability, specs, noteworthy features, and compatible games.
Editor's note: This article is constantly updated as new info comes out. It was last updated November 7, 2017 with links to our Xbox One X review and Xbox One X PC build.
Xbox One X review
The Xbox One X is the most powerful console ever, and even more impressively, it manages to push so many frames while running quietly and offering the best price-to-performance ratio of any gaming hardware today. And yes, that includes DIY gaming PCs. Read PCWorld's Xbox One X review to discover why Microsoft's 4K console impressed our reviewer—a devout PC gamer—so much.
Price, release date, and availability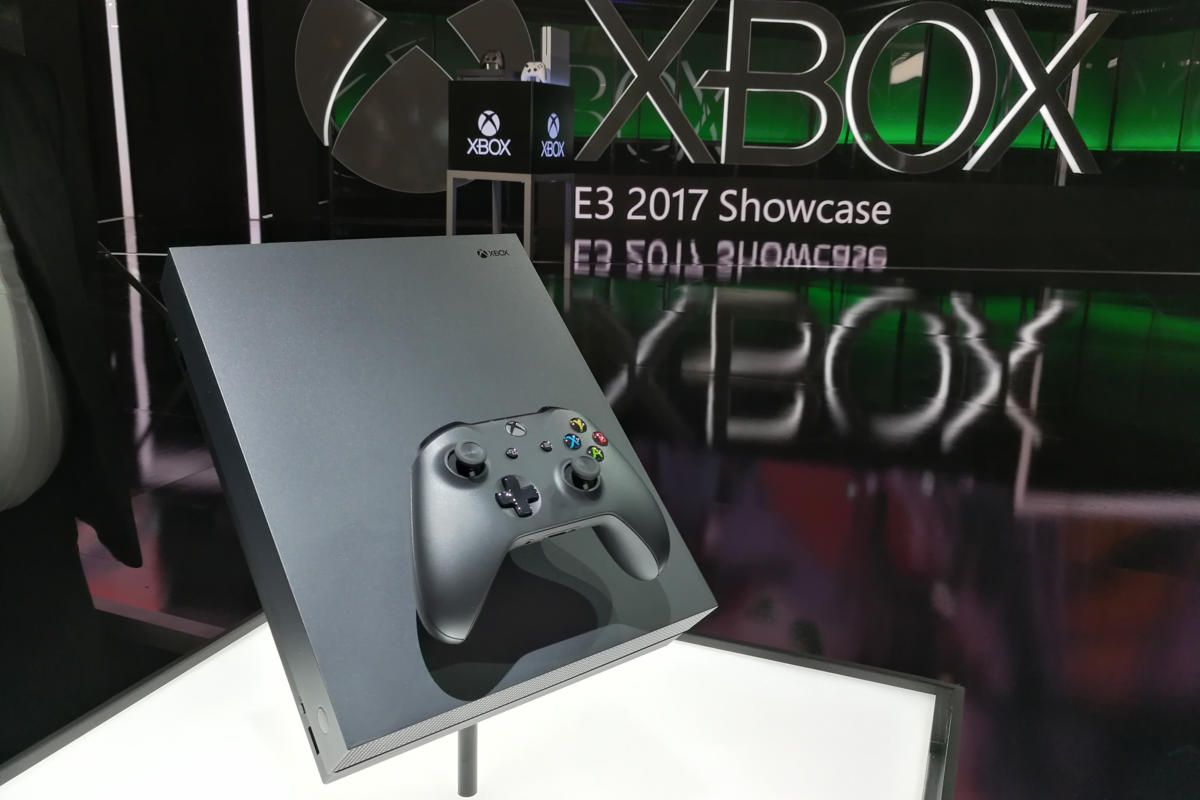 The Xbox One X launched worldwide on November 7, in two different looks.
Mentioned in this article
Xbox One X
Price When Reviewed:
$499
Early buyers could pre-order a special $500 "Project Scorpio" Edition of the console themed around the Xbox One X's code name. The limited edition Project Scorpio-branded console (akin to the original Xbox One's Day One console) has a Project Scorpio label on the console and controller, as well as a custom dotted paint treatment on the console. Most U.S. retailers were out of stock of the Project Scorpio Edition by launch day, but a quick check showed Amazon and Target still offering the specialized console.
You can buy the standard Xbox One X at Amazon, GameStop, Best Buy, and the Microsoft Store. It also costs $500 but lacks the exclusive Project Scorpio branding.
Xbox One X specs
As revealed in April 2017, the Xbox One X's raw tech specs make it a monster. Here's how those specs compare to the competition's: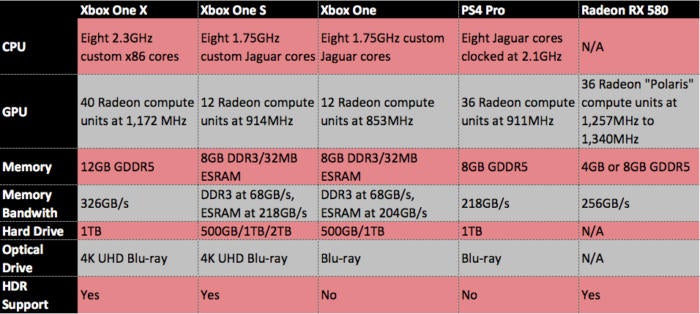 The new console sports significant upgrades over the original Xbox One, with AMD's new APU leading the charge. While the 2013 Xbox One had just 12 Radeon graphics cores clocked at modest 853MHz, for instance, the Xbox One X crams in 40 Radeon cores clocked at a hefty 1,172MHz. Note that AMD's RX 580 contains 36 cores that run between 1,257MHz and 1,340MHz. Essentially, Microsoft's crammed an entire $200 graphics card into this console.
Put another way, this console features a whopping 6 teraflops of power, just a bit under the 6.17 tflops you'd get from a Radeon RX 580—but crammed into a much smaller space. It's a good jump above the $400 PlayStation 4 Pro (4.2 tflops), which is its nearest console rival, and it's miles ahead of the standard Xbox One S (1.4 tflops) and the standard PlayStation 4 (1.84 tflops). It even outpaces AMD's Radeon RX 570 (5.1 tflops) and RX 560 GPUs (2.6 tflops).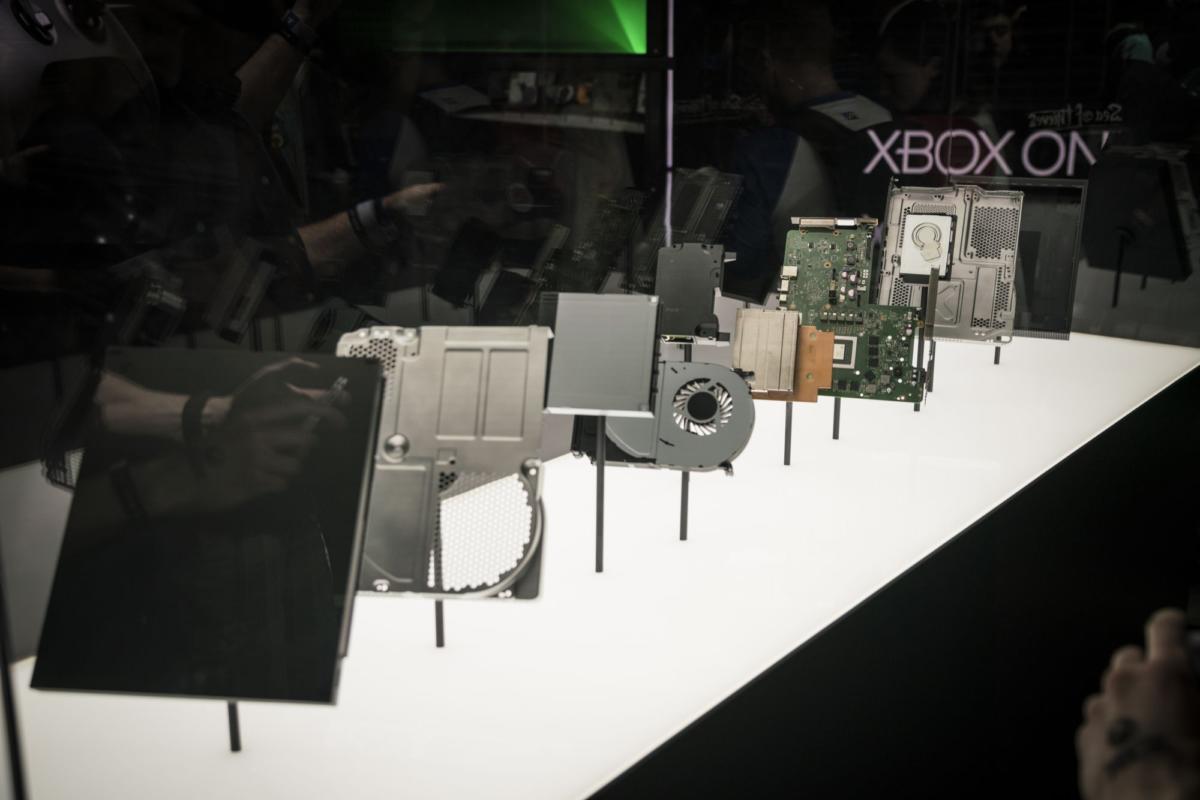 The Xbox One X also features a RAM boost, from 8GB of DDR3 up to 12GB of GDDR5, for a memory bandwidth of 326GB/s—comparable to Nvidia's GeForce GTX 1080. Like the GTX 1080, the Xbox One X also boasts swanky vapor chamber cooling technology.
Mentioned in this article
Forza Motorsport 7 – Xbox One/Windows 10 Digital Code
Price When Reviewed:
$59.99
It's a beast—enough of a beast to run many of Microsoft's most popular franchises, including the upcoming Forza Motorsport 7, at 4K resolution and 60 frames per second. Don't expect that from all games, though, as the comparable Radeon RX 580 graphics card would be hard pressed to hit that lofty frame rate in many modern games unless you severely dialed back graphics quality.
Xbox One X software
At Gamescom, Microsoft announced new features coming to the Xbox One's operating system tied to the Xbox One X's November release. One set allows easy transfers of account settings, games, and apps from existing Xbox One consoles to the Xbox One X. Settings can be copied to an external hard drive, while games and apps can be backed up to an external drive or copied between consoles over your local home network.
The Dashboard also received updates that include a revamped Guide with a horizontal layout for tabs, and a new home screen with "content blocks" that let you pin favorite people, games, and clubs. Microsoft also will make a Light mode (a theme with white menu backgrounds) available.
Frequently Asked Questions
Does the Xbox One X replace the Xbox One S?
Mentioned in this article
Xbox One S 500GB Console + Ghost Recon Wildlands Gold Digital Game + Amazon Music and Video Exclusives
Price When Reviewed:
$299.99
No, the two models will co-exist. While the Xbox One S ($240 on Amazon) did end up replacing the original, now-discontinued Xbox One, it's sticking around as the base option in the current Xbox lineup, with a more affordable starting price of $250 for the 500GB model. It supports gaming up to 1080p, 4K video playback, and HDR.
The Xbox One X is the premium console. As noted above, it comes with a sticker price of $500 for 1TB of storage, and supports gaming up to 3840×2160 resolution (4K), 4K video playback, and HDR.
Why would I buy Xbox One X if I don't own a 4K TV?
Microsoft says the Xbox One X still offers advantages over the Xbox One S when gaming on a 1080p TV—primarily through supersampling, or the process by which a game renders at a higher resolution and then downscales to fit your screen. This feature can have a huge positive effect on level of detail, clarity, and anti-aliasing. On PC we've seen such tech in specific games, such as Shadow of Mordor and The Witcher 2, while AMD and Nvidia have both built the tech into their recent graphics cards (Virtual Super Resolution and Dynamic Super Resolution, respectively).
Games on 1080p TVs will get anisotropic filtering and faster load times on the Xbox One X. Like the Xbox One S, Microsoft's new console supports glorious high-dynamic range visuals, too. All of these extra visual benefits should add up to a much prettier experience in games, even at 1080p.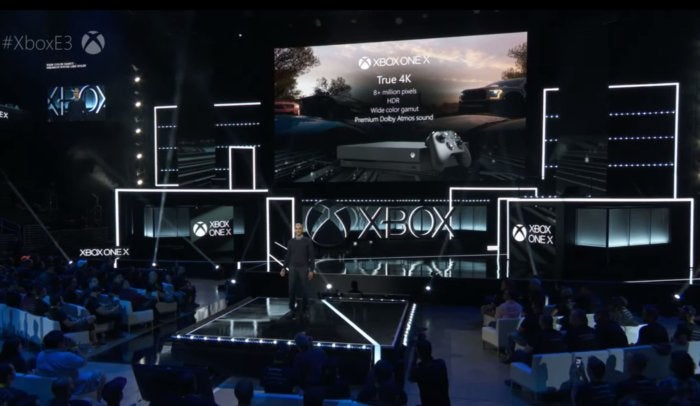 Which Xbox One X games will support 4K?
Microsoft hasn't released a complete list of games that will support 4K, but it did show quite a few during its 90-minute E3 2017 press conference. They include:
Microsoft also announced free 4K updates for Gears of War 4, Forza Horizon 3, Killer Instinct, Halo Wars 2, and Minecraft. In addition, updates are coming for over 130 existing games that will qualify them as Xbox One X Enhanced titles, including upcoming blockbusters such as Assassin's Creed: Origins and Far Cry 5.
What does "Xbox One X Enhanced" mean?
In general terms, an Xbox One X Enhanced title offers additional visual enhancements that only the Xbox One X can take advantage of. Microsoft hasn't given a full rundown of the program yet, so it's unclear if that means anything beyond supersampling—but it does appear to mean something other than support for 4K and HDR.
"Enhancements may include higher resolutions, faster frame rates and/or improved textures," Microsoft's Xbox One X enhanced game list states. It sounds like a confusing mish-mash of non-standards similar to the PlayStation 4 Pro's support situation, to be honest. Here's a video of Xbox Live's Larry "Major Nelson" Hryb talking with Xbox's Albert Penello about what "Xbox One X Enhanced" means.
During its E3 2017 press conference, Microsoft explicitly noted which games supported 4K, HDR, and the Xbox One X Enhanced program. Various combinations appeared. Some games showed just the Xbox One X Enhanced logo. One or two called out only HDR support. Yet others (like Forza Motorsport 7) mentioned all three.
Will the Xbox One X support virtual reality?
Despite the fanfare last year about the Xbox One X's VR-readiness, Microsoft didn't mention anything about it during its E3 press conference. The company seems to have dialed back on Xbox's VR ambitions. Microsoft actually went as far as to state that it believes the PC is currently the best platform for virtual reality.
Any fresh news on FreeSync 2 support?
None so far. All we know at this point is that the Xbox One X will support FreeSync 2. Microsoft hasn't yet confirmed whether it will be a launch feature, or if we can expect TVs to feature AMD's second-generation variable-refresh rate technology.
On the latter point, only a few FreeSync 2 monitors have been announced to date. It could be that this feature will benefit only those Xbox One X gamers willing to play at a desk instead of from a couch.
Is the Xbox One X larger than the Xbox One S?
During its press conference, Microsoft made a point of touting the Xbox One X as the "smallest Xbox ever"—a welcome change from the chunky VCR aesthetic of the Xbox One released in 2013. The Xbox One X doesn't look much different from the original Xbox One, but it's a bit sleeker and quite a bit smaller. For more on just how small it is, check out our article about our hands-on experience with the Xbox One X.
Do existing Xbox One accessories work with the Xbox One X?
Mentioned in this article
Xbox One Elite Wireless Controller
Price When Reviewed:
$149.99
Yes, Microsoft stated that all existing Xbox One and Xbox One S accessories will be fully compatible with the Xbox One X. So if for some reason you already have an Xbox One Elite or custom Xbox One S controller, you can continue to put mileage on it.
Does the Xbox One X work with Kinect?
It will, but you'll need the adapter—like the Xbox One S, the Xbox One X lacks a dedicated Kinect port. Sadly, you will need to pay the $40 for the accessory, as the free adapter promotion has now ended.
Can't I just build a PC with the same performance?
Yes, if you're so inclined—but not for the same price. We actually sat down and worked out what an equivalent PC would look like, and the cost isn't pretty. The situation should improve when PC component prices begin dropping, but that may not happen for while.
Xbox One X PC build
Can you build a PC equivalent to the Xbox One X for $500? Nope, not even close. But we tried, and the results were pretty good! Check out PCWorld's Xbox One X PC build guide to see three different PC configurations designed to match Microsoft's console. You can even watch us build and benchmark one of them.
Xbox One X video coverage
After Microsoft's press conference, we share our first impressions of the Xbox One X:
We also give a rundown of our hands-on experience with the new console:
Finally, here's our video review of the Xbox One X: