At a Glance
Expert's Rating
Pros
Comfortable, sleek, and stylish
Very inexpensive for wireless audio
Built-in chatmix controls
Cons
Headset might not fit the largest of large heads
Mute button is a bit too small and inconspicuous
Audio quality is solidly middle-of-the-road
Our Verdict
The SteelSeries Arctis 7 might not be the best-sounding headset around, but it's extremely comfortable and also nets you wireless audio for only $150.
Best Prices Today: SteelSeries Arctis 7
Ski goggles. That's the inspiration for SteelSeries's new Arctis line of headsets, including the wireless Arctis 7 I've been using for the past few weeks. Take the floating headband that SteelSeries popularized on its old Siberia line, replace it with the elastic you'd use to strap on ski goggles (or maybe a VR headset) and you've got the Arctis.
Sounds weird, right? But it's one of the most comfortable headsets I've ever worn.
This review is part of our roundup of best gaming headsets. Go there for details on competing products and how we tested them.
Surprising design
It's amazing nobody else has done this. I've praised floating headbands in the past, especially those from SteelSeries, but there was some caveat. Maybe the headset had a tendency to slip around, or the headband felt like it would wear out too quickly, or it seemed unreasonably bulky (see: G.Skill's SR910). A great idea maybe, but one that needed refining.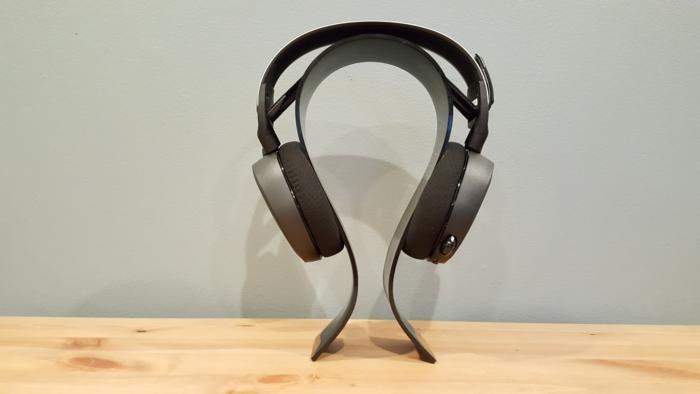 The Arctis 7 ($150 on Amazon) is that refinement. The band is still soft and flexible, as you'd expect from ski goggle-style material, reinforced with a solid metal piece connecting the two ears. You get all the benefits of a floating headband—namely, equalized weight distribution across the top of your head, helping the headset feel a bit lighter-weight. That's especially important for the Arctis 7, given that wireless headsets are often heavier than their wired counterparts.
Tension is better, though. Where previous floating headbands have felt a bit insubstantial, the Arctis 7 gives your head a reassuring squeeze when worn. Not an uncomfortable squeeze, mind you. Just a solid, "Hey, I'm here and I'm not going to slip off your head" pressure.
The headset runs a bit small, so if you have what some might call an "enormous" melon (my poor father) then the Arctis 7 might not be for you. There's no way to adjust it. But I'd wager the Arctis 7 will fit probably 98 percent of the population just fine. Better than fine, actually. It is really, really comfortable.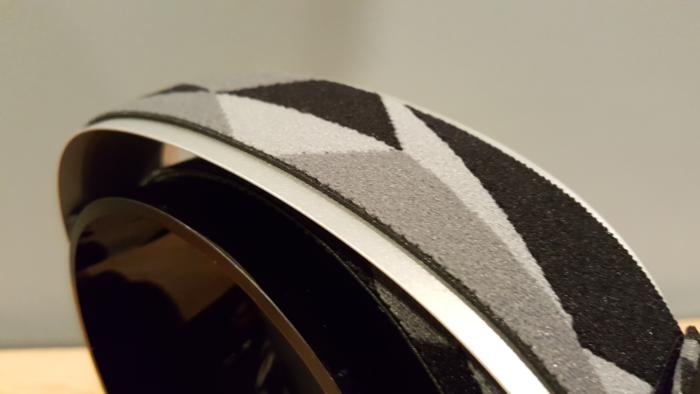 It looks damn good too. SteelSeries seems to have taken some cues from more mainstream audio companies like Polk, with the Arctis 7 looking almost like streetwear instead of a gaming headset. The ears are plain black ovals with the SteelSeries logo and name cleanly emblazoned towards the bottom, and the only design frills are found on the headband itself. Ours was a gray-and-black triangle pattern, though you can buy other designs and swap them out for a more personal touch.
Controls are built into the rear of each earcup, as per usual. The left features a mute button, volume wheel, Micro USB charging port, as well as audio-out for phones and other devices, while the right ear sports the power button and a wheel for adjusting game/chat balance.
It may take a bit getting used to—the dual wheels are sort of confusing at first, and I thought I was adjusting volume at one point when I actually had just turned the game mix down to zero and the chat to maximum. I was fine after a few days though, and the controls themselves are smooth. Much easier to use than the $300-plus SteelSeries Siberia 800, actually.
My only complaint is that the microphone doesn't fully retract. Even pushed all the way in, you're still left with a small protruding nub that makes the Arctis 7 look distinctly headset-esque, which is a shame given how close it comes to a street-ready pair of headphones. That's a small complaint though, and it's certainly subtler and more attractive than any bolted-on headset mic.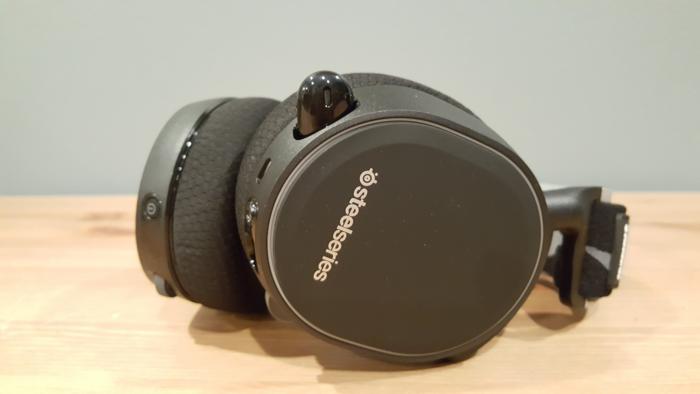 It's also ready all the time. The Arctis 7 already had great 12-15 hour battery life when we first received it, but a recent update has supposedly refined power usage so that the Arctis 7 now lasts up to 24 hours on a single charge—the first gaming headset at this price, as far as I can remember, to make that lofty claim. Is the difference between 16 and 24 hours huge? Not in theory, since either should last you through a looooong day of gaming, but it's still quite an accomplishment on SteelSeries's part.
Performance: Hear those snare hits
If only the audio were just a hair better.
The Arctis 7 doesn't sound bad, mind you. It sounds better than the Siberia line ever did—even the higher-end Siberia Elite.
Gaming headsets have come a long way in the last five years, with Logitech and Razer putting a lot of work into their sound quality, companies like HyperX arriving on the scene with amazing audio at inexpensive prices, and mainstream audio companies like Sennheiser, Polk, and Audio-Technica making a bigger play for the gaming market.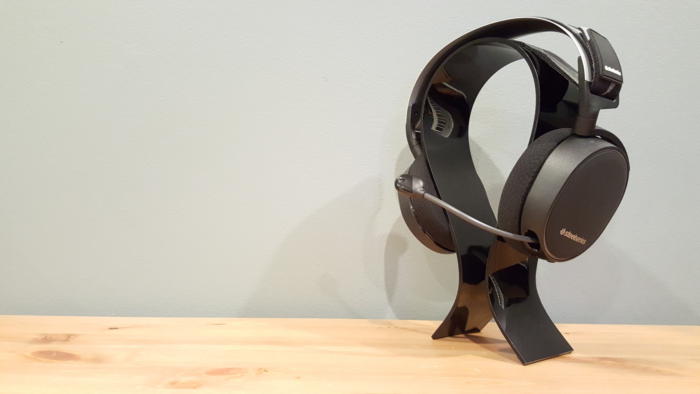 That in mind, the Arctis 7 falls solidly in the middle of the pack. There's not much bass presence to the Arctis 7, the result being a treble-heavy mix that sounds a bit shrill or radio-esque after a while. With music especially, I've noticed that snare and cymbal hits seem a lot more pronounced than in other headsets, while the bass and guitars get a bit lost. Even boosting the bass doesn't make a huge difference, tracks sounding muddier instead of more powerful.
Now, a treble-heavy mix can actually be a boon in some games—the crack of a gunshot is very pronounced, which some might prefer for competitive play. Bass is also more textured in games, less precise than you'd get from a drum, which means the muddy mix isn't as obvious.
You can get better for the price, though.
Again, I want to reiterate that the Arctis 7 doesn't sound bad. We've reviewed some truly awful headsets in my tenure at PCWorld, and the Arctis 7 is not one of them. It's just solidly average, as far as audio fidelity is concerned. Good for 2012 maybe, but just one among many in 2017.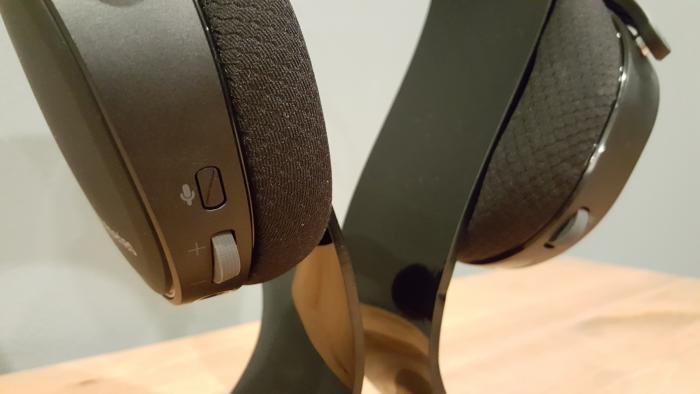 The microphone fares better though. Easily positioned and then just as easily adjusted through SteelSeries's software suite, the mic focuses a bit much on the mid-range but has decent precision and a surprising amount of ambient noise cancellation—seriously, I was blasting music during my first test and while it picked up some sound it was far from the ear-splitting cacophony I expected. Bad news for people who like to pipe music through their mic in PLAYERUNKNOWN's Battlegrounds lobbies, good news for everyone else.
Bottom line
In the end I guess it comes down to how much you care about comfort. Logitech's similarly priced G933 headset has an edge in audio quality, but its small size and standard padded headband aren't an amazing fit. SteelSeries has a supremely comfortable and stylish headset in the Arctis 7, but the audio definitely isn't best-in-class. Serviceable, more like.
Regardless, both are an excellent deal. Wireless gaming headsets have come a long way from the days of the $300-plus investment—in style, in sound, in battery life, and most of all in price. The Arctis 7 is the start of an excellent new SteelSeries wireless line, and I can't wait to see what the next iteration brings.
Best Prices Today: SteelSeries Arctis 7