A few weeks ago when Corsair unveiled its Concept Zeus mousepad at Computex—a prototype that charges a wireless mouse sans wires—I said I wouldn't be surprised to see other companies follow suit in the near future. It happened sooner than expected, as it turns out: Today, Logitech announced its own wireless charging mousepad, the Powerplay, along with two mice to take advantage of the technology.
They're familiar mouses, too. Unlike Corsair's new Concept Zeus mouse, Logitech's taken its already-popular and powerful G900 and G402, modified them to allow for the new charging kit, and rebranded them the G903 and G703.
The secret is a chamber on the bottom of both the G903 and G703. Without the wireless mousepad, that chamber can be used for optional weights same as…well, most Logitech gaming mice.
But that chamber also fits Logitech's new charging contact, a circular disk that snaps in magnetically and can be removed and placed in any other compatible mouse. This should presumably help keep the mouse cost down, bundling the charging kit with the Powerplay mousepad itself, while allowing for a range of wireless mouse options.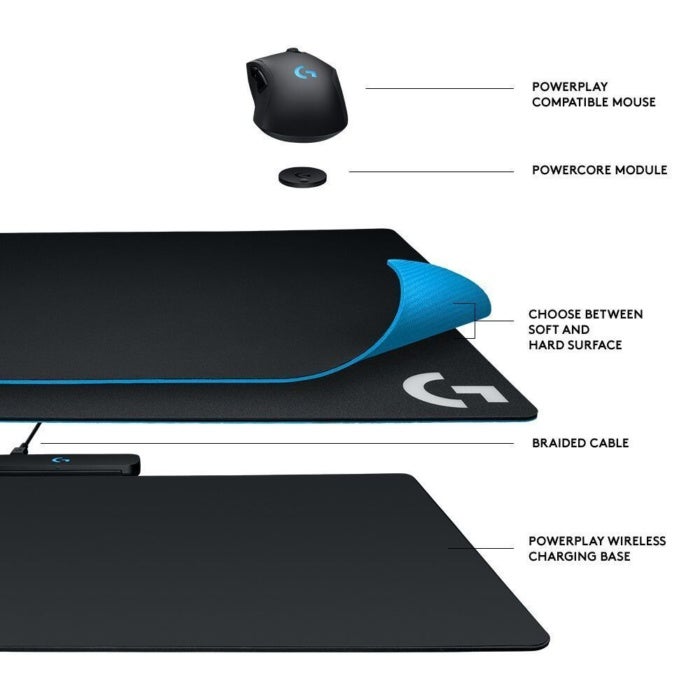 Otherwise the Logitech G903 and G703 are basically the same as their predecessors. Logitech still boasts about the speed and reliability of its wireless devices, citing tests that show the delay is less with its proprietary wireless Lightspeed tech than on some wired competitors (like the Razer DeathAdder).
A mousepad that charges the mouse while you're using it, so you never need to plug it in again, should remove the last real barrier preventing wireless mouse adoption. The one question remaining in my mind is whether Logitech uses the open Qi wireless charging standard, as Corsair does. That sort of brand-neutral foundation would be huge, allowing people to choose their wireless mousepad independently from their mouse, but Qi isn't mentioned in Logitech's press release whatsoever. I've reached out to Logitech to see whether Powerplay is proprietary or not.
And it's important to know, because this is all getting started quite a bit faster than anticipated. Unlike Corsair's Concept Zeus, which is still listed as a prototype and won't be out until late this year or early next, Logitech's Powerplay mousepad releases in August for $99—and you know it's only a matter of time before Razer and SteelSeries announce theirs too. The Logitech G903 and G703 mice will be out sooner, releasing in late June for $150 and $100 respectively. We'll have reviews of the whole ecosystem as soon as we're able.