There's nothing like a good keyboard deal as the week moves into full swing. Amazon and Aukey are offering some deals on the latter's products today. Of the bunch, our top pick is Aukey's KM-G6 for $35 (use code RSKGHPRI at checkout). This is a 104-key mechanical keyboard with Outemu Blue switches and six-color backlighting.
Note that this peripheral's switches are not Cherry MX, which is the more popular brand for mechanical keyboards. Outemu Blue is a clone of Cherry MX Blue—Cherry's patent expired in 2014. That means you get a more affordable keyboard with a close approximation of an authentic Cherry MX Blue.
Outemus are pretty good, and as we've noted before, Outemu Blues tend to be even noisier than the already clickety-clackety Cherry MX versions. Keep in mind that off-brand versions of switches tend to be less durable than the originals, but your individual mileage may vary.
As for the lighting designs, you can assign a specific color to each row of keys, and there are already eight preset color effects built-in for specific gaming scenarios such as first-person shooters, real-time strategy, and racing. Aukey's KM-G6 also has nine lighting modes including breathing, wave, color cycling, and others.
If the 104-key version of the Aukey isn't your thing, there's also the 87-key Aukey KM-G9 for $25 and change with the same promotional code. You can also pick-up a three-fan laptop cooling pad that suits 15.6- to 17-inch clamshells for $15.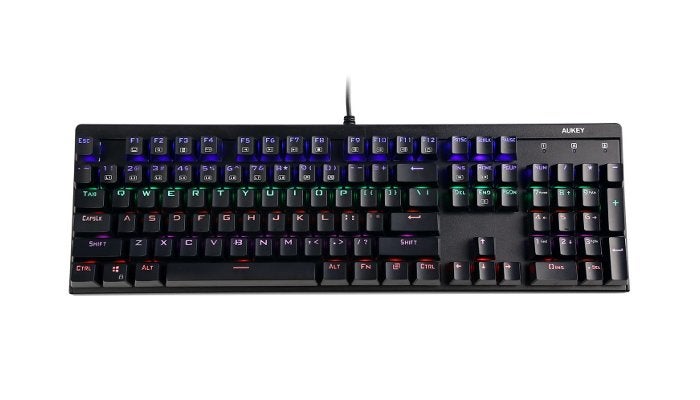 [Today's deal: Aukey KM-G6 for $35 with code RSKGHPRI on Amazon.]