"I just can't stand the wire," is probably the most common complaint about virtual reality—at least on the hardware side. And for those people, I have exciting news: Wireless VR might be here within the next year, thanks to Intel's WiGig technology, which we tested using the HTC Vive. No more tripping over cables, or doing that awkward kick-move to untangle your legs.
And while Intel's WiGig add-on still has quite a ways to go before it's ready for consumers, the remaining hurdles lie in design and manufacturing more than the underlying wireless tech. The core functionality is rock-solid.
No strings attached
Mentioned in this article
HTC Vive
Price When Reviewed:
$800
I'm going to use WiGig as shorthand for Intel's wireless VR tech, but WiGig itself is actually a broader term—it refers to "Wireless Gigabit" technology. The tech has broader applications outside of VR, allowing a PC to connect wirelessly with monitors, peripherals, and more through the 802.11ad standard, within the 60GHz band. It's been around for years.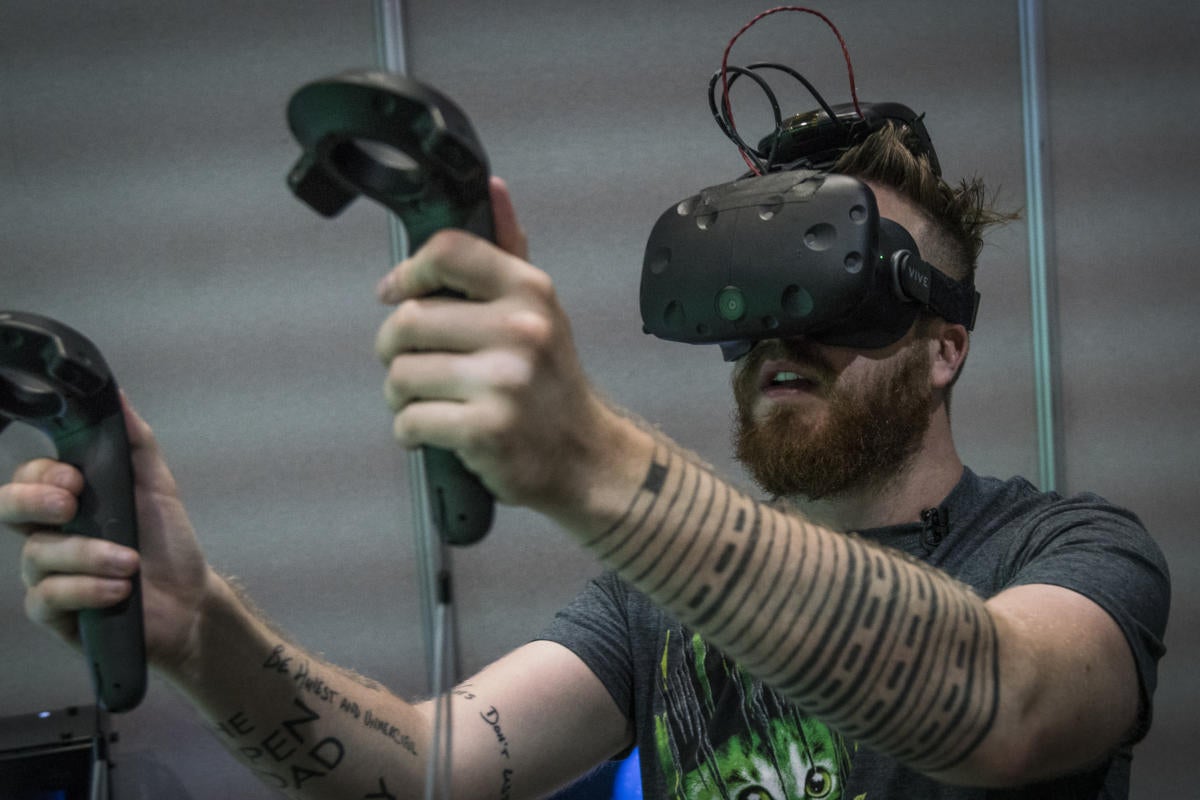 WiGig has struggled to find a perfect use-case though, which makes VR an interesting prospect. VR's struggle with wiring is a problem waiting to be solved, and the established WiGig tech is seemingly a perfect way to solve it.
How perfect? Zero latency. Not actually, of course—Intel told me WiGig adds around 7 milliseconds of latency to the VR experience. But maybe a better way of phrasing is to say: No perceptible latency.
That's just my experience, and of course people's sensitivity to latency varies. That said, I consider myself pretty sensitive to VR jitters and we were playing Space Pirate Trainer, an action-heavy game that requires lots of movement and quick reflexes. Over the course of around ten minutes I walked around, crouched, ducked, leaned in all directions, and never noticed even a hint of latency between my movements and the reaction in the headset.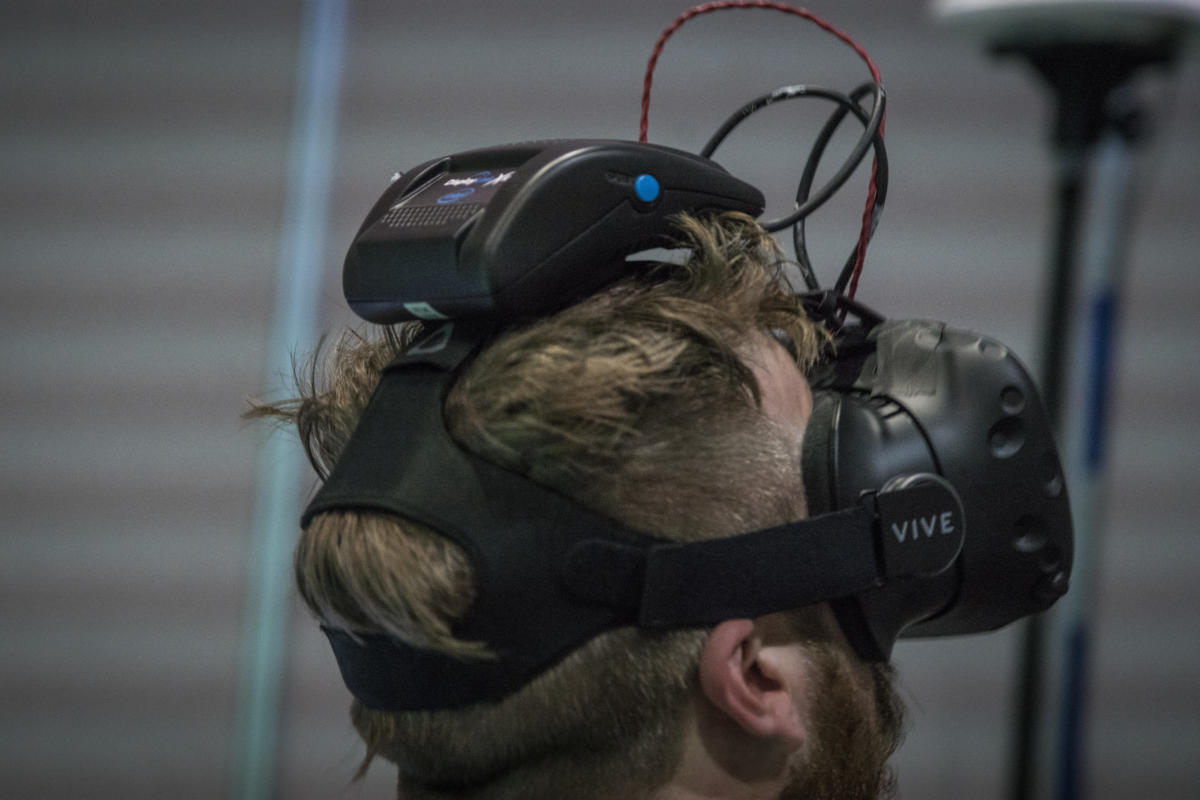 Not that there weren't issues. The unit's a bit bulky at the moment, about the size of a hard drive resting on the back of your skull. Placement seems good—it actually helps balance out the weight of the Vive on the front of your face. But it's still definitely noticeable. You might not get tangled in the cable, but I bet after a while using the prototype your neck would feel the strain. The current prototype also had a tendency to slip around when I looked down or up, and occasionally obstructed the Vive's Lighthouse tracking.
[ Further reading: 40 must-see PC gaming gems from E3 2017: Watch every trailer ]
Those are problems for HTC to solve though. Intel is quick to reiterate that the current WiGig VR model is just a prototype, and a bulky one at that. It's a proof of concept for those who want to license the tech. When WiGig eventually makes its way into a VR-ready product—which Intel claims will most likely be sometime in the next twelve months—it'll come with HTC's own design and HTC's brand stamped on the outside.
How WiGig will integrate with the Vive? Will it support both the Deluxe Audio Strap and the old elastic band? Will HTC fold it into a potential Vive successor? How will the unit be powered? There are plenty of questions that still need answering. That last one is particularly important, as the Vive currently draws power from its 3-in-1 cable. The WiGig unit will need to be battery-powered in some capacity, which introduces even more questions—battery life, weight, charging.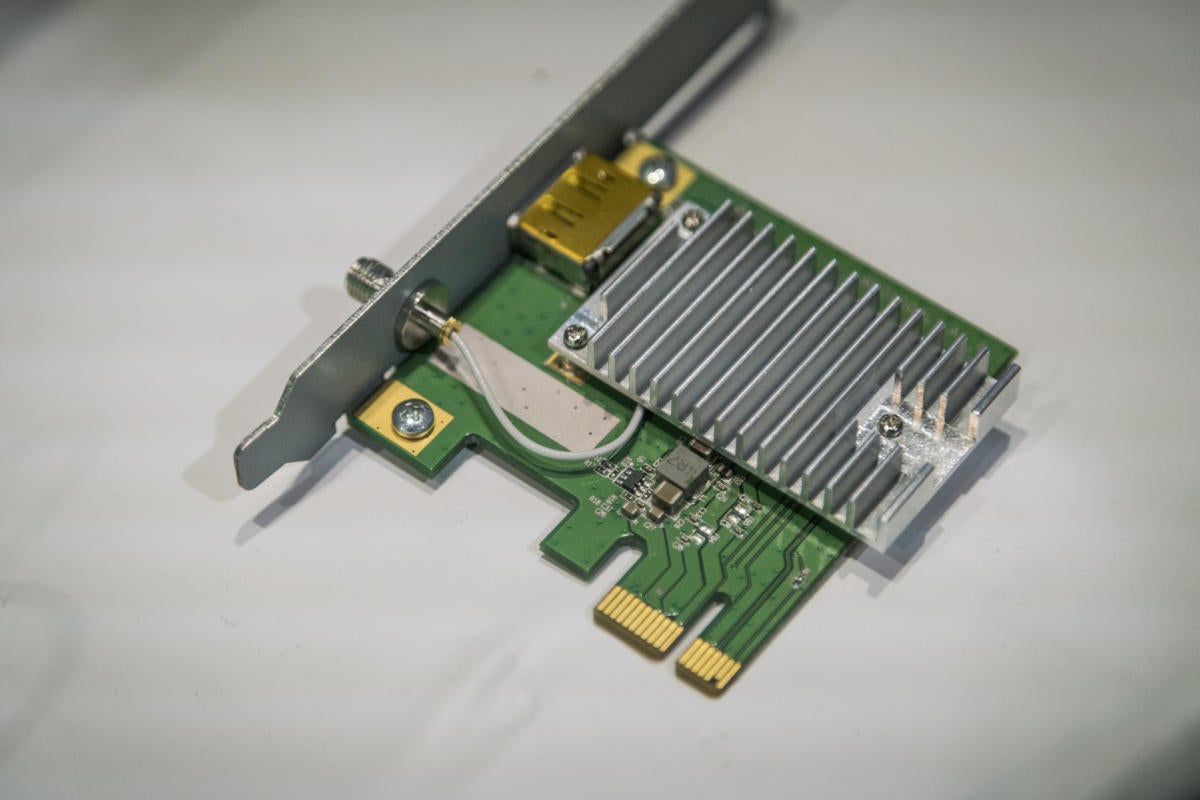 It's important to note that WiGig isn't Vive-exclusive, however. "Headset neutral" is the way Intel phrased it.
Mentioned in this article
Oculus Rift
Price When Reviewed:
$499
On the PC end, the WiGig add-on requires a PCI-e slot, which seemingly rules out PlayStation VR for the moment—I doubt Sony's going to be incorporating it into the PS4 anytime soon. Oculus has been working on wireless VR also, but the current Rift headset has the wire firmly attached, meaning it's also probably out of the question for now.
We saw LG's upcoming SteamVR headset back in March though, at the Game Developer's Conference in San Francisco. It's entirely possible LG will have a WiGig option for its headset, depending on when both WiGig and LG's headset hit.
That's speculative, though. For now, we absolutely know HTC and Intel have partnered up to use WiGig with the Vive, and it's just a matter of waiting for an official unveiling. If I had to guess, I'd say it'll be 2018 before we see WiGig again—either CES or GDC 2018, as HTC's used both occasions to announce Vive hardware before.
Regardless, wireless VR seems quite a bit closer than I think anyone anticipated. The technology is excellent. Now it just needs to be miniaturized. We'll keep you updated.
Stay tuned for more, as we go hands-on with games, hardware, and more during E3 2017.