PING.
Turns out it's the iconic sound of the M1 Garand I've missed most about World War II games. I checked out Activision's upcoming Call of Duty: WWII during E3 2017 this week, with a hands-off demonstration of the singleplayer campaign followed by a lengthy multiplayer demo, and throughout it was the familiar sound of that M1 cartridge ejecting that took me straight back to 2005.
Mentioned in this article
Call of Duty: WWII
Price When Reviewed:
$59.99
If you were looking for Call of Duty to reinvent the World War II shooter, well, don't. What I've seen is exactly the sort of "back-to-basics" experience Sledgehammer promised during last month's reveal, augmented by an interesting new "War" mode that's the most radical change to CoD's multiplayer since Modern Warfare's introduction 10 years ago.
And that's just fine with me.
Nazi punks
I can understand why some people might be disappointed by a return to World War II. Not too long ago it felt like every single shooter was a World War II shooter—a trend that lasted up through 2008's Call of Duty: World at War.
That's almost a decade back though, and it's been more than a decade since we last traipsed through Normandy, as you will in CoD: WII. And while visuals aren't the only (or even the most) important aspect of gaming, the simple truth is that today's games look a hell of a lot nicer than games from 10 years ago. A Normandy campaign created with modern technology? That's enough to grab my interest.
Unfortunately our five to ten minute singleplayer demo was hands-off, as I said, and we weren't allowed to record it. The video took us through winding streets as an American infantry division attempted to capture and hold a church at the center of town. Much of the street combat looked straight out of Call of Duty 2, though obviously modernized with recharging health and the visual overhaul.
Our soldier then climbed up through the church to the belfry, where he and two others sniped at incoming German reinforcements. Incoming fire then pulverized the belfry, the church collapsing into ruins as our troops alternately sprinted and fell through floors to ground level, narrowly escaping as the massive iron bell crashed into the ground.
[ Further reading: 40 must-see PC gaming gems from E3 2017 ]
It was an explosive demo, though not exactly informative. I don't feel like I really learned anything about the campaign, the characters in that campaign, or…well, anything at all. With Call of Duty talking up its deeper and more serious campaign for 2017, a demo focusing on spectacle and gigantic setpieces over story seems like an odd choice.
Then again, how much do you really need to know? It's World War II. The Nazis are bad, the Allies are good, the M1 is the workhorse of the army. Ping. Ping. Ping.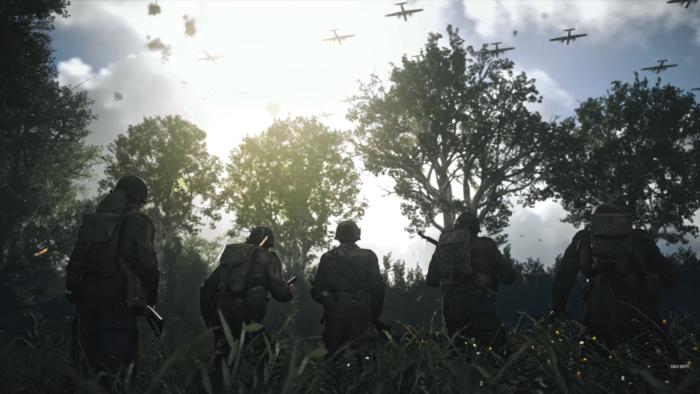 Again, I don't think Call of Duty is going to reinvent World War II video games. It's the same Saving Private Ryan-style campaign we got from Medal of Honor in 1999, from the original Call of Duty in 2003, from Brothers in Arms in 2005.
If that's what you want, though—if for nothing else than to see the Normandy landings done with 2017 tech—Call of Duty: WWII will impress. What I saw at E3 certainly had the blockbuster appeal Call of Duty built a name off of years and years ago.
Surf Nazis
Surprisingly, it's multiplayer that pushed the most boundaries for Call of Duty.
Call of Duty: WII's new "War" mode is perhaps the most radical change I've seen Call of Duty make to its multiplayer since Modern Warfare introduced killstreaks, create-a-class, and all the other components that have since come to define modern shooters. Sure, there's also the usual Team Deathmatch, and that's fine. "War" seems like Sledgehammer's pride and joy though.
It's very Overwatch-esque in a way, mimicking that game's dynamic point-capture into payload-escort maps. Here, the objective changes every four minutes or so, with the attacking team progressing through four different stages on the way to victory—first capturing a Nazi HQ building, then building a bridge across a ravine, capturing an ammo depot, and then escorting a tank (basically a payload with a gun attached) through the streets.
If time runs out before any stage is completed, the attackers lose. It's a very different feel for Call of Duty, which historically has preferred symmetrical game types. Mixing an ambitious objective-based mode with Call of Duty's quick kills is an interesting mix, and made for some really tense battles as time ticked down.
Whether it finds an audience is the big question. Call of Duty's had some great modes in the past, but Team Deathmatch is still the mode the series defines itself by—and a mode that hasn't really changed much in a decade. Call of Duty: WII even brings things like killstreaks into the World War II setting, with recon planes and strafing runs supplementing those M1 kills.
Speaking of weaponry, the Create a Class feature has been retired in favor of a new "Divisions" mode. Well, sort of. Divisions are really just a fancy name for classes, with the Infantry your standard grunt, Airborne being an assault class, Mountain being recon/snipers, Armored using heavy assault rifles, and Expeditionary Division blasting enemies with shotguns and incendiary ammo.

Mentioned in this article
Battlefield 1
Price When Reviewed:
$59.99
Progression will now work more like Battlefield, earning experience in each Division and unlocking applicable perks. You can switch Divisions easily, but you'll need to grow each individually—or just drill down one tree.
None of that was in our demo though. Here we just selected pre-made characters from across all the Divisions. I spent most of my time with the Infantry class, which was equipped with the aforementioned M1 and had a class-specific bayonet charge ability. Here's hoping all the class-specific perks are that interesting.
Bottom line
It's still Call of Duty, but it's amazing how much the right setting can make me forgive that fact. The last few Call of Duty titles lost me. They felt like knock-off Titanfall, giving me little reason to care about its story or setting, growing in scope but losing the smaller moments that first made Call of Duty a household name.
Mentioned in this article
Call of Duty: WWII
Price When Reviewed:
$59.99
In World War II, Americans kill Nazis. There's an inherent rightness to it that allows Call of Duty to trot out its old tropes about patriotism and the glories/horrors of warfare without needing to spin up some huge conflict out of nothing. Call it familiar or call it overdone—it's a safe bet regardless. Look for Call of Duty: WII to launch November 3.