Game demos are rarely surprising. Not really, anyway. They're not meant to be.
A game demo is meant to sell you on a game, and to do so it usually checks off the most obvious boxes—reveal a few weapons, walk the player through a combat or stealth sequence (or both), show them the game plays okay, maybe pick one or two "Very Big Story Moments" to tease at bigger revelations, and end on a small hook. Accessible. Familiar. Relatable. But not surprising.
Mentioned in this article
Wolfenstein II: The New Colossus
Price When Reviewed:
$59.99
Which is why Wolfenstein II: The New Colossus was such a joy to demo at E3 last week, and ultimately wound up being one of our favorite games of E3 2017. As soon as I'd started playing, I knew I was in for something special—something as creative as any sequence in Wolfenstein: The New Order, and that's saying quite a lot given the heights that game reached at times. (Literally.)
Terror-Billy
You're in a wheelchair. That's the hook.
Maybe it seems small or insignificant, reading that. I get it, and I wish we had video to show off. Bethesda wouldn't let us capture our behind-closed-doors demo, but there's a bit of footage at around 1:20 in the video below.
The New Colossus picks up immediately after the dire ending of The New Order. Longtime Wolfenstein protagonist B.J. Blazkowicz has spent most of the last five months in a coma (again). Now, having woken up on a stolen Nazi U-boat, under attack by the deranged Frau Engel, he must defend his friends while only a husk of his former self.
It's all in the details. That's where developer Machine Games succeeded in New Order and it's that same eye that made the New Colossus demo magical.
The way you move, for instance. Blazkowicz can steer his wheelchair around the decks of the U-boat quite a bit better than I imagine any real-world human could manage, but it's still clumsy. Turning is sluggish, you'll occasionally get caught on a corner or trapped behind a desk, and getting up a ramp is a laborious fight against momentum. It gets even more ridiculous in the latter half of the demo, which sees Blazkowicz bunny-hopping onto giant metal gears to get up a floor, hunting down hydraulic lifts, and taking a long ride on a conveyor belt.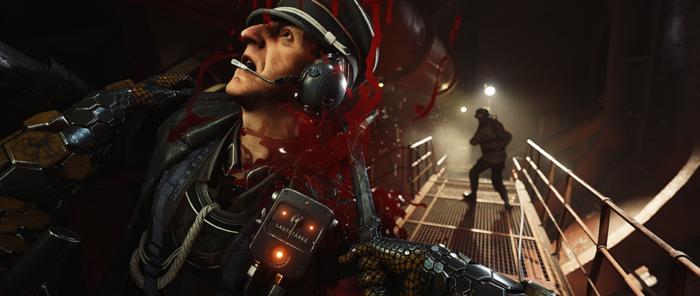 Then there's your gun, a machine-pistol with a satisfying blaaap sound that's a perfect soundtrack for killing Nazis. Between battles Blazkowicz will occasionally set the gun down in his lap and wheel around with both hands—an insignificant but charming affectation.
And when you shoot? The recoil pushes your chair back. Just a little bit. Just enough to be noticeable.
Mentioned in this article
Battlefield 1
Price When Reviewed:
$59.99
It's such a fantastic touch—one of those dumb-but-satisfying bits of animation like in Overwatch when the cap on Junkrat's grenade launcher flaps up and down, or all of Battlefield 1's ultra-detailed reloads.
And then there's the hilarity of sneaking up on a group of Nazis discussing the murderous "Terror-Billy," the monstrous American who has torn through their troops and ruined their plans. Of course, you're Terror-Billy, and you're listening to this conversation while trapped in a wheelchair.
Better yet: You can stealth-kill Nazis even while borderline-incapacitated, grabbing them from behind and smashing their head into the arm of your wheelchair. Sometimes the "stealth kill" even involves shooting a Nazi point blank—and none of the other Nazis around you can hear it. I don't know whether it's a bug or not, but the absurdity of this consistently made me laugh. It fits right in with Wolfenstein's contradictory "Are we a serious game or not?" ethos.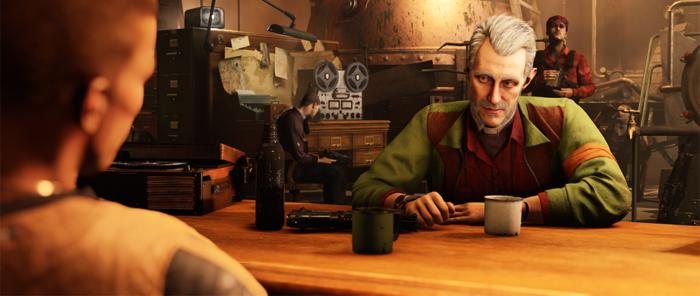 What makes this all the more satisfying, I think, is that Wolfenstein II sticks with the gimmick. I've played plenty of games that have the whole "main character is injured" sequence where you trudge along at a quarter the speed, stumbling against walls and fighting the controls. They're often boring, and also come to an end at the first sign of trouble. No matter how many times Nathan Drake almost dies, he seems to heal like Wolverine the second enemies show up and the game needs him to be mobile again.
Wolfenstein II makes the player ride it out. The game's a straightforward shooter (with some stealth elements) but in its commitment to B.J. Blaskowicz, The New Order and this sequel often seem to have more in common with immersive-sim types like Deus Ex and Dishonored. There's a weight to the character himself, an importance to his circumstances that the game is willing to indulge within the more artificial confines of a modern shooter. I find that fascinating.
Though I will say multiple characters make reference to Blazkowicz's newfound struggles with urinating. I probably don't need to experience that part.
Bottom line
It's a wild opening to what I expect is a wild game. The New Order had some amazing sequences but hid them within the confines of a more traditional Wolfenstein. Hell, the PAX 2013 demo for The New Order was the opening assault on Castle Wolfenstein, probably the safest and most boring scene to include in a series reboot.
Mentioned in this article
Wolfenstein II: The New Colossus
Price When Reviewed:
$59.99
With the success of New Order it feels like Machine Games has been set free, encouraged to lean into the chaos and make every setpiece battle something to remember. It's exactly the type of demo I would've expected after the genre-busting, somewhat disjointed trailer at Bethesda's press conference, and now I just hope Wolfenstein II can keep it up.
Look for Wolfenstein II: The New Colossus on October 27.