At a Glance
Expert's Rating
Pros
Top-notch CPU performance from quad-core Kaby Lake chip
GeForce GTX 1050 offers decent bump in performance over GTX 960M
Cons
Just about average battery life despite huge battery.
A little heavy considering its power envelope.
Dell's XPS 15 is proof that iterations—no matter how small—still matter. Externally, even owners of the previous XPS 15 would be hard-pressed to tell the difference between new and old.
The ports are the same, the keyboard and the trackpad are the same and, well, just about external thing with the XPS 15 looks identical. Yet the internal changes make this year's XPS 15 a markedly better laptop than last year's.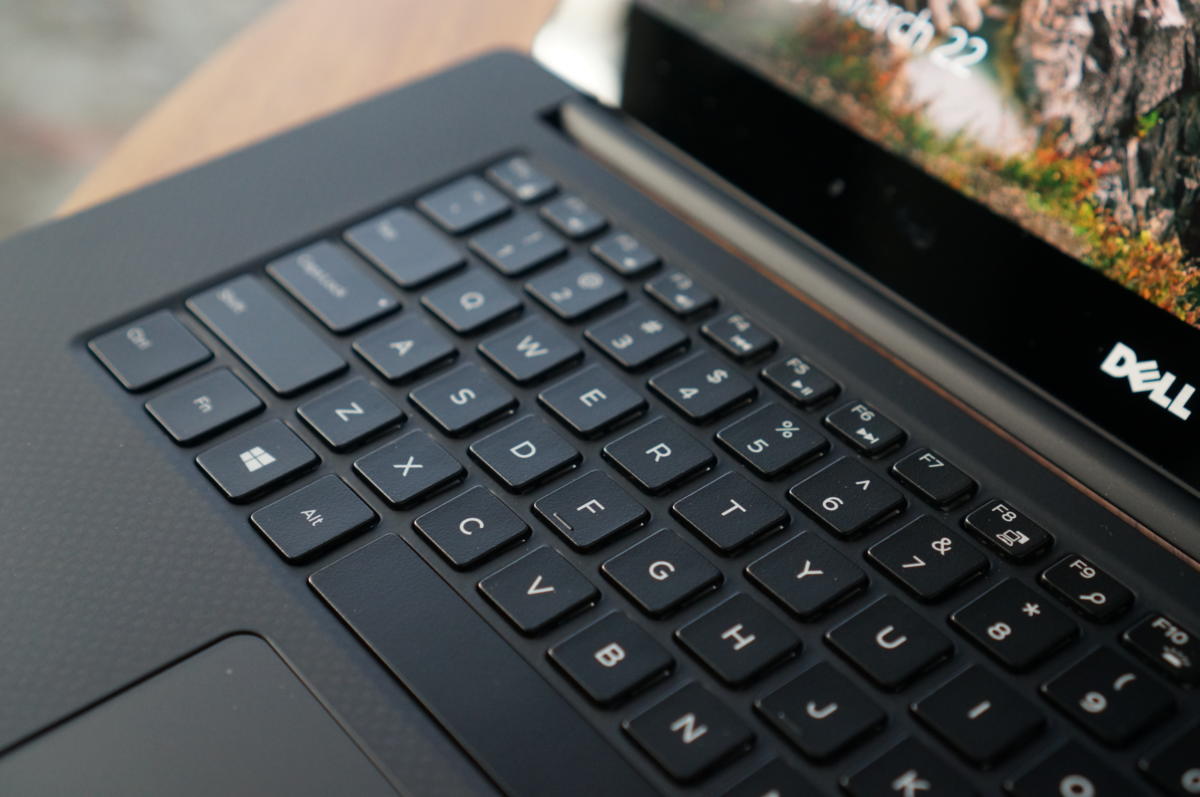 It's what's inside that counts
The main difference with the latest generation XPS 15 is, of course, inside. While the previous version sported a 6th-generation quad-core Intel Skylake CPU paired with an Nvidia GeForce GTX 960M, the latest iteration notches up to a quad-core 7th-gen Kaby Lake chip, and graphics upgrades itself to a GeForce GTX 1050.
Besides the Core i7-7700HQ CPU and GTX 1050, Dell has also given the XPS 15 an optional Windows Hello-compliant finger print reader. It's not the horrible swipe-style reader of yesterday that always took four attempts to work. It's a modern, full-fingerprint pad reader similar to what you'd find on phones and tablets.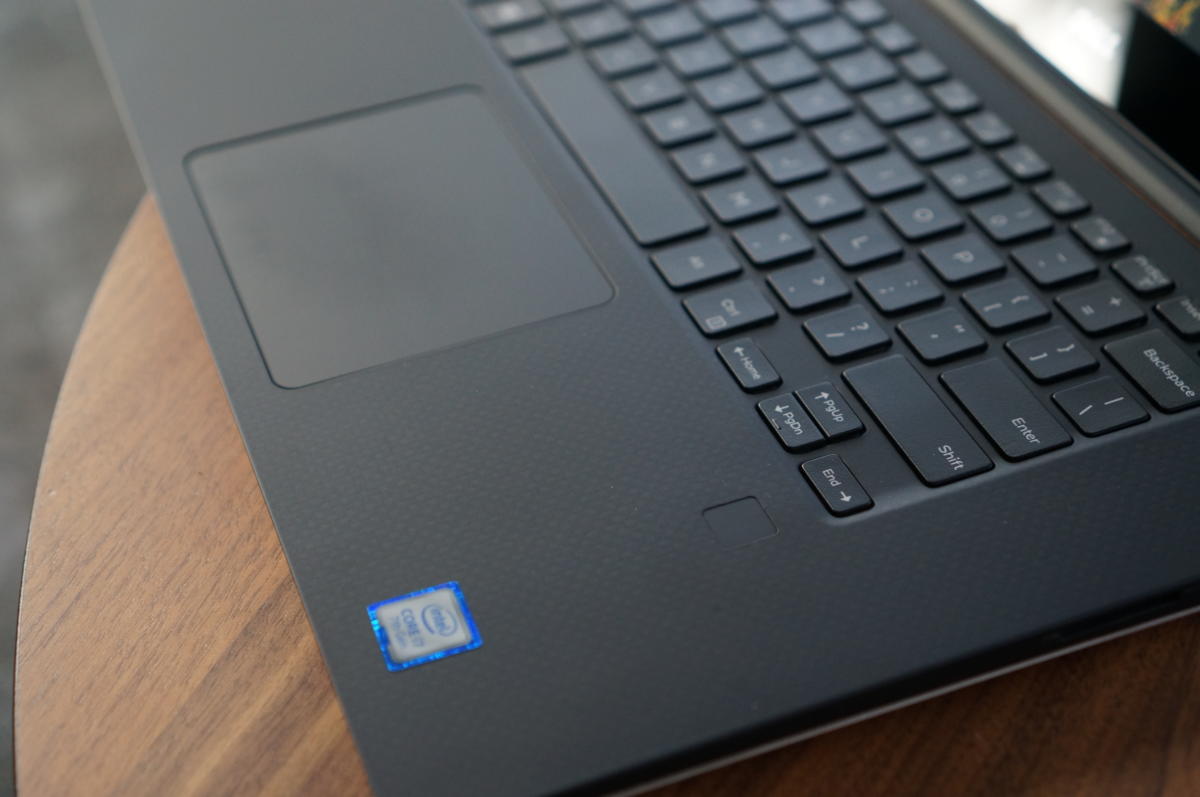 Our test unit comes equipped with a 15.6-inch 4K UHD screen. With its near edge-to-edge "InfinityEdge" display, and glossy Gorilla Glass NBT protective layer, the IGZO panel is truly stunning to behold. The near bezel-less design does, unfortunately, banish the integrated webcam to the bottom of the panel, as well as prevent the XPS 15 from integrating a near infrared (IR) camera for Windows Hello support. Consider the fingerprint reader your consolation prize.
Also featured in our test unit are 16GB of DDR4/2400 in dual-channel mode and a 512GB Lite-On CX2 NVMe M.2 SSD. The drive uses MLC flash rated at 2.5GBps reads and 1.2GBps writes. On CrystalDiskMark 5.2 we saw about 2.1GBps reads and 1GBps writes.
The other change from the prior generation is an increase in battery capacity, to about 97WHr from the previous model's largest battery of 84WHr. That's just shy of the largest lithium ion cell you can carry on a plane legally.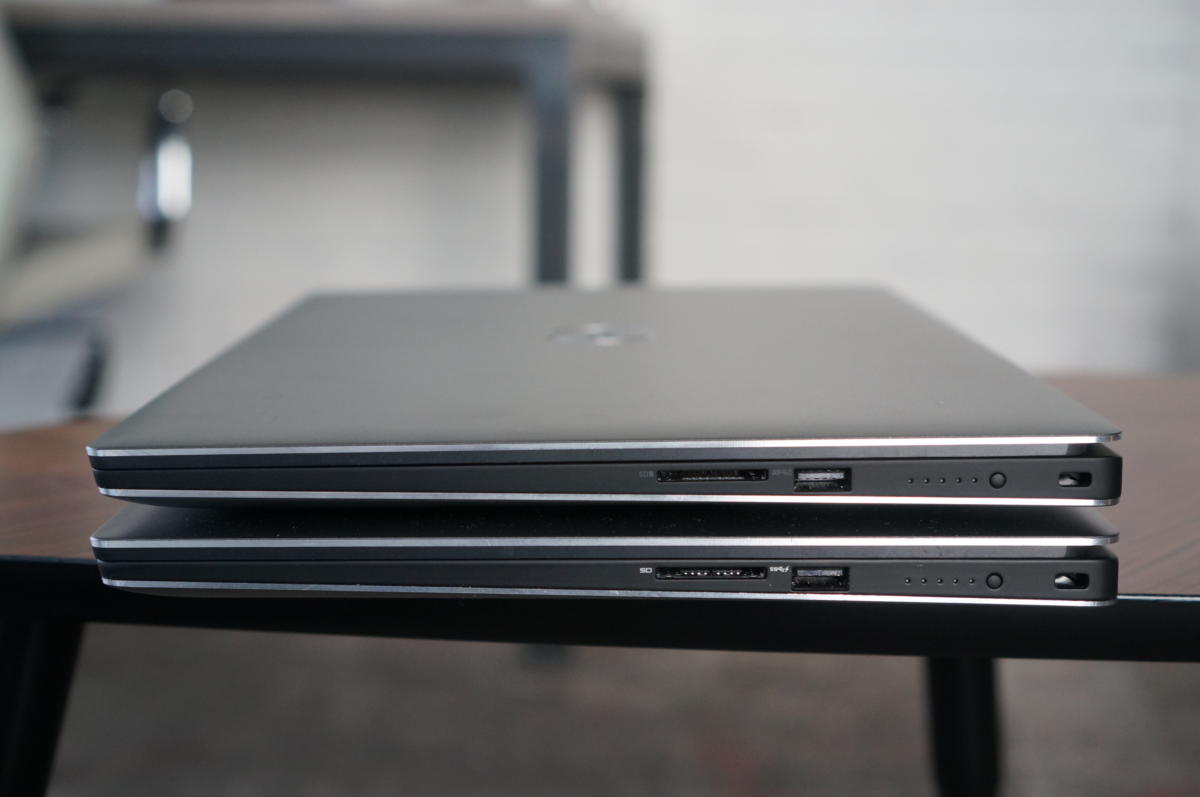 Ports
Dell doesn't pull an Apple and skimp on ports. The new XPS 15 offers the same basic ports as the 2016 model, including a full-size HDMI 1.4, two USB 3.1 Gen 1 (5Gbps) Type A ports, an analog combo jack for headphones, and a Thunderbolt 3 port. That Thunderbolt 3 ports supports DisplayPort over USB-C as well as charging using USB-Power Delivery. On this last point, we applaud Dell's decision to support both a traditional barrel charger and USB-C for charging.
Yes, we know, using USB-C for charging is the future (and it's already here for much smaller premium laptops) but there's something to be said for having a dedicated port for a charger. On other "pro" laptops with two ports, if one is used for charging and one for your monitor, you'll be plugging and unplugging all the time unless you happen to buy a new monitor that's natively USB-C. That's just not the world we live in.
For kicks, we ran the XPS 15 on the 87-watt charger Apple ships with its MacBook Pro 15 and had no issues. During a GPU load (which uses the most power on the XPS 15), the Apple power brick supplied up to 60 watts of its 87 watt-rated output.
The actual power brick Dell ships is 130 watts, which should let the XPS 15 charge even under heavy loads where the GPU, CPU, SSD, and monitor are all running hard.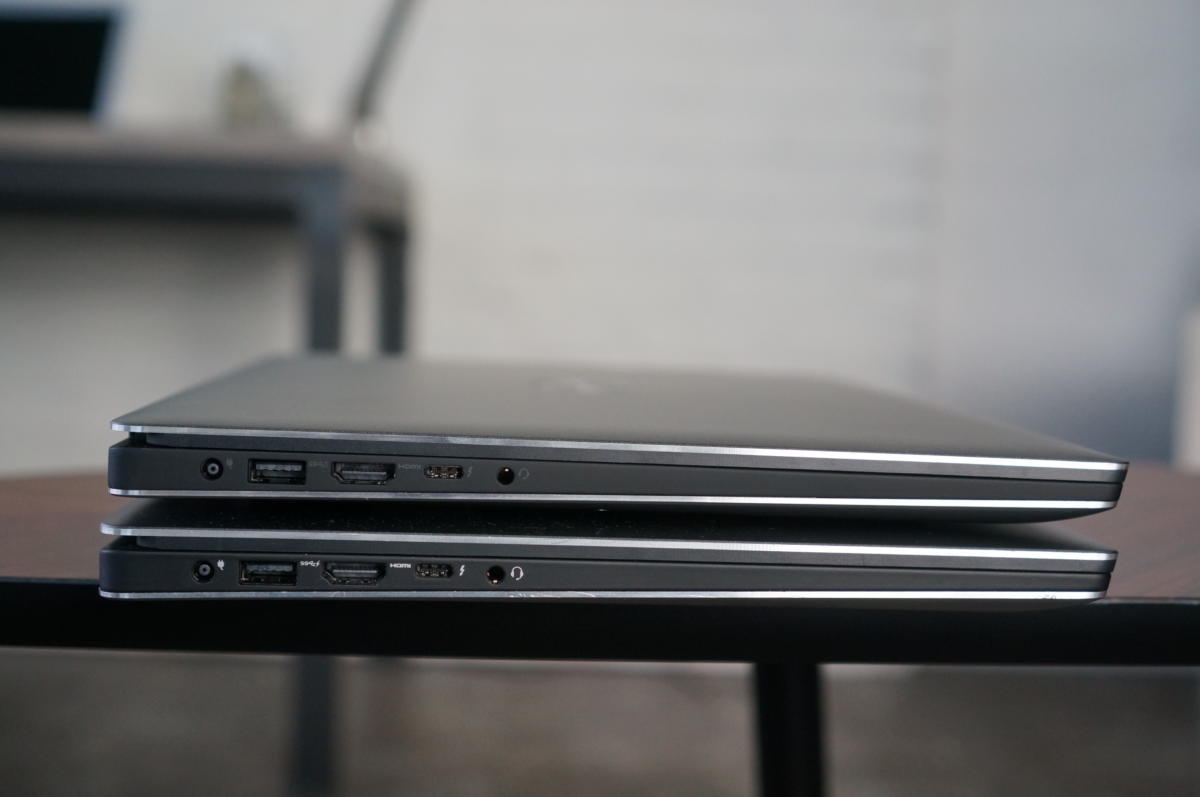 Half the lanes
One negative: Dell opted to implement Thunderbolt 3 using a two-lane configuration, which cuts the fancy port from a theoretical 40Gbps over four PCIe-lanes to 20Gbps. Because DisplayPort is carried separately from data, the design decision won't impact most people today. In three years, though, if you're running an external SSD RAID PCIe enclosure, Dell's choice may haunt you.
Performance
Big, heavy laptops aren't used to look "cool" pretending to write the Great American Science Fiction novel at the corner cafe. They're used to get work done, so performance matters. For our tests, we compared the XPS 15 to a stack of quad-core gaming laptops, last year's XPS 15, and HP's Spectre x360 15, which has an entirely different take on how to build a 15.6-inch laptop.
The first test is Maxon's Cinebench R15. It's a free benchmark that measures a laptop's ability to render 3D modeling. It's almost a pure CPU benchmark.
The new XPS 15's performance basically ties with that of Gigabyte's slightly larger Aero 15 gaming laptop, and it's roughly seven percent faster than last year's XPS 15. It also shows you just how much more performance you can get for multi-threaded applications compared to the quad-core Core i5 in the Inspiron 15 7000. Even thought that Core i5 is a Kaby Lake chip, the lack of Hyper-Threading really hurts it. The slowest of the pack is HP's Spectre x360 15T, but it's just a dual-core.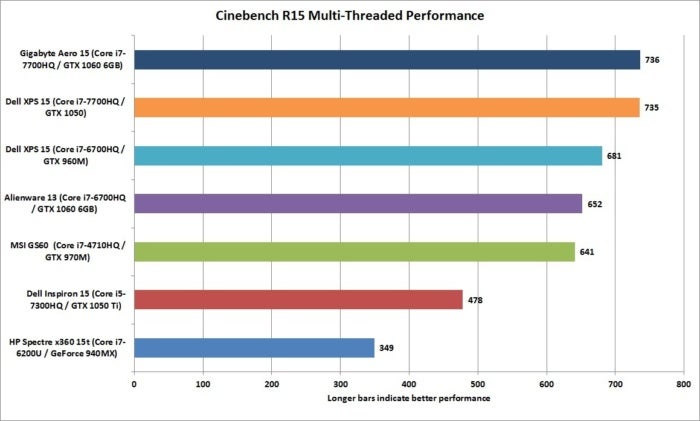 3DMark Sky Diver Performance
Gaming matters for the XPS 15, too. Due to its size and specs, it often gets lumped into the same category as gaming laptops. Running Futuremark's 3DMark Sky Diver, however, the XPS 15 delivers decent performance, but its GTX 1050 holds it back compared to the larger, heavier gaming laptops. So much for family ties: The affordable (and much, much thicker) Dell Inspiron 15 7000 elbows aside the XPS 15 as well.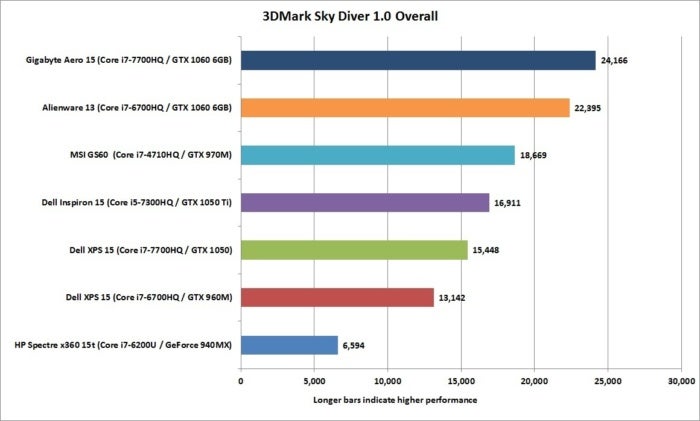 The good news for the XPS 15 is that it's not that far away from an older MSI GS60 laptop in graphics performance. By isolating the GTX 1050 graphics chip in 3DMark Sky Diver, we can see it edging up to the performance of a GeForce GTX 970M, which is still a very decent gaming GPU.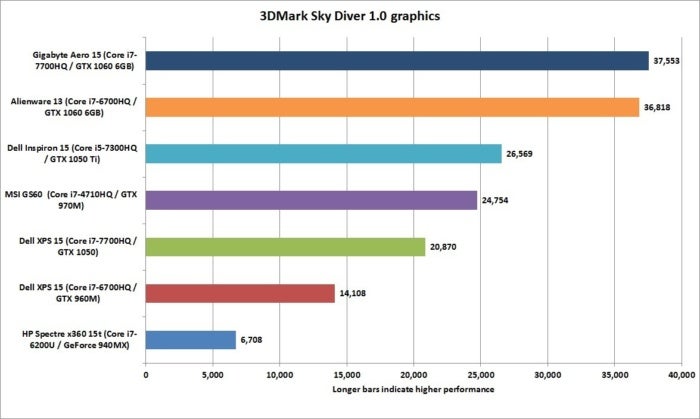 Handbrake Performance
Moving back to the CPU, we also ran our standard encoding test using Handbrake 0.9.9 to convert a 30GB 1080p MKV file using the Android Tablet Preset. The Kaby Lake quad-core chip again comes out on top with the Gigabyte Aero 15. Both Kaby Lake quad-cores also offer a decent bump over the previous Skylake quad-cores.
Our encoding test can take 45 minutes on a quad-core and usually reveals thermal throttling or noise issues on laptops trying to balance speed, heat, and fan noise. Our results show there's no throttling problem with the XPS 15, but we will say it gets pretty loud during heavy testing.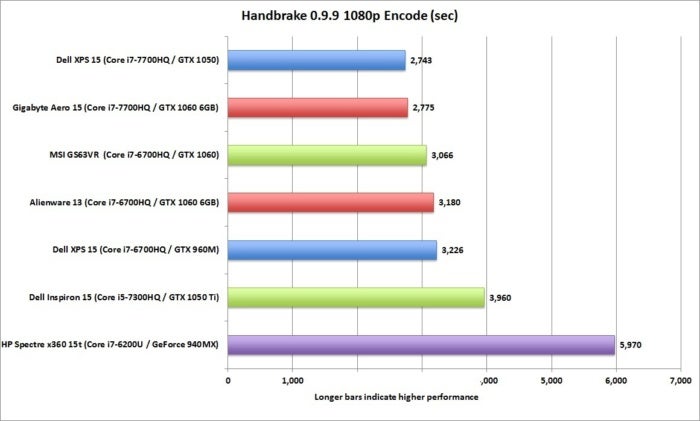 Battery Performance
Our last test is perhaps the most important of all: battery life. After all, how long you can use your laptop between charges defines true portability. For our test, we set the display brightness at an office-typical 250 nits and run down the battery by looping a 4K video, with a pair of earbuds plugged in and the laptop set to airplane mode.
The XPS 15 gave us 331 minutes of run time. On its face, that may not seem bad considering the hardware it packs, but last year's XPS 15 configured with the smaller 65-watt-hour battery pulled in 312 minutes. Remember that this year's model features a huge 97-watt-hour battery, yet we're seeing barely 20 minutes' more run time.
Many factors determine battery life in a laptop, but we're fingering the power-hungry 4K screen—even though it's an IGZO panel which should, in theory, use less power. The SSD was also considered, but Lite-On's specs show it uses just 1.3 watts when active, not enough to suck the battery down that fast.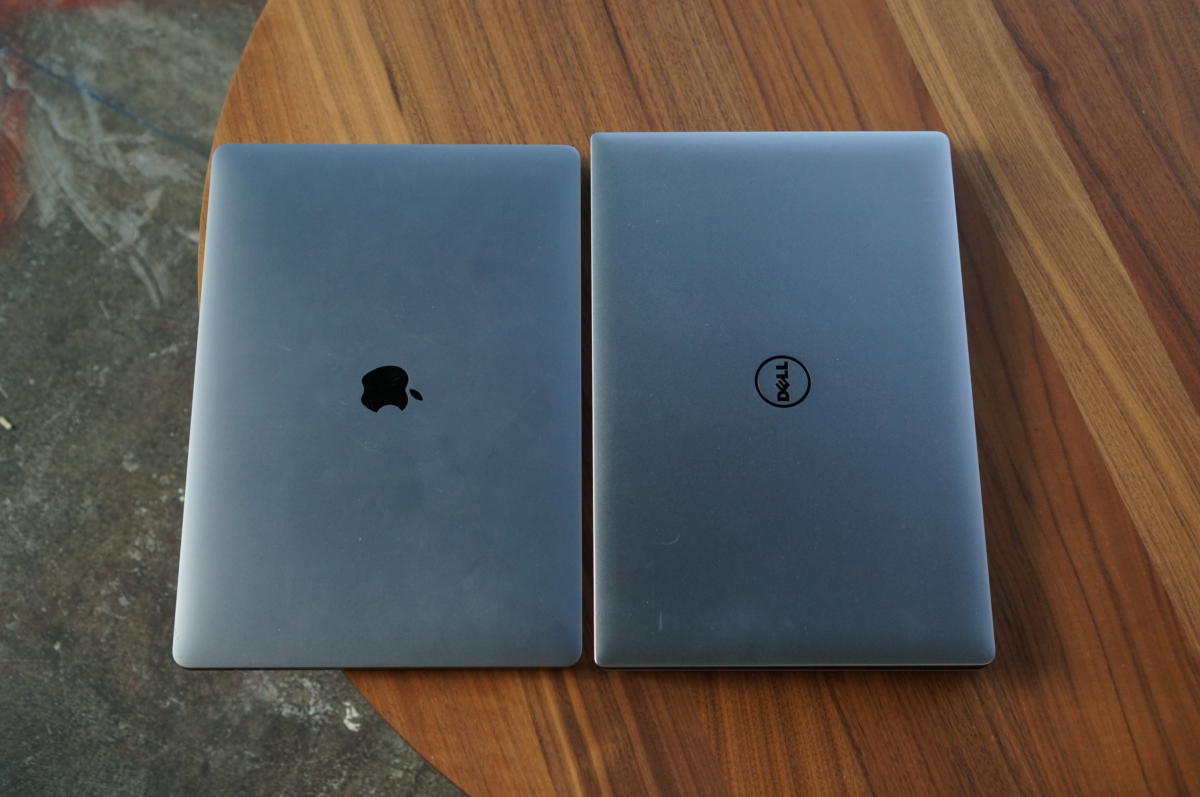 For comparison, the Gigabyte Aero 15, with a smaller 94-watt-hour battery, quad-core Kaby Lake, and GTX 1060, yanked down 408 minutes. The Gigabyte's main difference (besides weight and size) is its screen: just 1920×1080 in resolution, non-touch. The upshot is if you want longer run time, you may want to configure your XPS 15 with a 1080p screen.
To be fair to the XPS 15, we should point out that if you think you're going to encode a video or do any other CPU- or GPU-intensive tasks on any quad-core laptop, don't expect to do that on battery for more more than an hour or so. Even the 2016 MacBook Pro 15, which can play the same video for 9 hours, will go dry quickly under heavy CPU or GPU loads.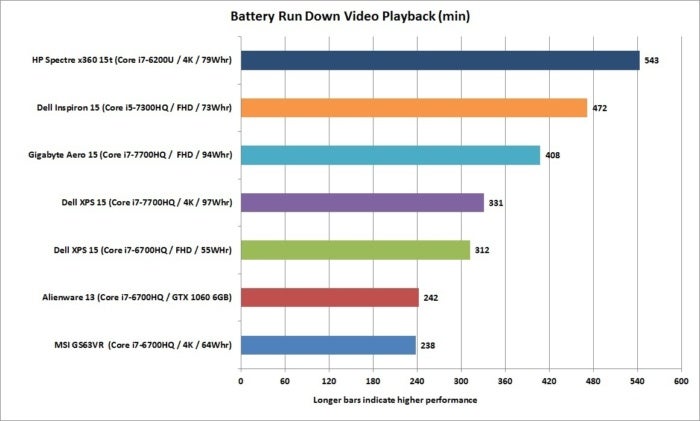 Conclusion
The PC industry often gets flak for keeping people on the "technology treadmill" and "updating for updates' sake." But unless you're the kind of person who wants to buy a brand-new laptop in 2017 packed full of hardware from 2015, we think the updates are worthy changes.
Is it fast enough that you'll run out and replace the XPS 15 you have? No, but we don't think Dell expected you to do that anyway. This XPS 15 is aimed at someone who wants a fairly compact powerhouse without back-breaking weight and size. Our only real ding is the average battery life from our test unit (your mileage may vary depending on configuration and use). For today, though, the XPS 15 is still clearly one of the top dogs of the 15.6-inch laptop pack.