Our PC storage drives won't last forever and that's why it's always a good idea to use backup software to keep your data safe. The best Windows backup software can cover our butts when our primary drive finally up and dies.
While Apple's Time Machine provides users with an effective, set-it-and-forget-it recovery system, Microsoft users aren't so lucky. Instead, users are stuck deciding the best way to keep their data safe with a patchwork system of restore points, recovery discs, and file backups. Thankfully, a number of excellent third-party backup options have cropped up in recent years to help solve the woes of Windows users.
Below you'll find a list of our favorites, which come with easy-to-use and attractive designs as well as a full range of file and image backup capabilities. We've even included a couple free options that are more than worthwhile. Scroll to the bottom of this article for more info about what to look for in a Windows backup program.
Also, check out PCWorld's roundup of best external drives for recommendations on reliable storage options—an important component in a comprehensive backup strategy. Alternatively, if you'd prefer to keep your data on the cloud or need the flexibility of data storage for different operating systems, then check out our list of best online backup services.
Updated 09/24/2023: Check out our latest review of Microsoft OneDrive. It's not only the most affordable cloud storage service on the market, but it also allows you to pair it with other third-party backup applications for even more versatility.
PROMOTION
Backup software powered by AI – EaseUS Todo Backup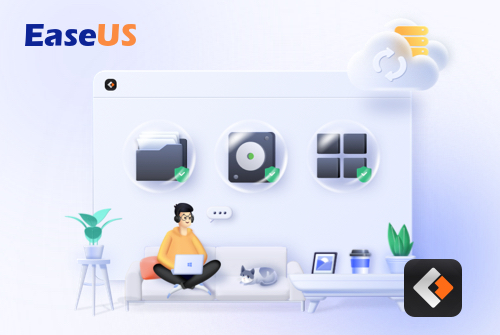 EaseUS Todo Backup covers everything you need for backups. With AI smart backup, automate your backup tasks on schedule, run to make copies, do realtime protections, and restore everything instantly. No extra effort is required. Also, get 250GB cloud storage for free.

Now 25% OFF Exclusive Code: PCWORLD25

Free Download
How we test
We run each program through the various types of backups it's capable of. This is largely to test reliability and hardware compatibility, but we time two: an approximately 115GB system image (two partitions), and a roughly 50GB image created from a set of smaller files and folders. We then mount the images and test their integrity via the program's restore functions. We also test the USB boot drives created by the programs.
How to pick a backup software
As with most things—don't over-buy. Features you don't need add complexity and may slow down your system. Additionally, if you intend to back up to a newly purchased external hard drive, check out the software that ships with it. Seagate, WD, and others provide backup utilities that are adequate for the average user.
File backup: If you want to back up only your data (operating systems and programs can be reinstalled, though it's mildly time- and effort-consuming), a program that backs up just the files you select is a major time-saver. Some programs automatically select the appropriate files if you use the Windows library folders (Documents, Photos, Videos, etc.).
Image backup/imaging: Images are byte-for-byte snapshots of your entire hard drive (normally without the empty sectors) or partition, and can be used to restore both the operating system and data. Imaging is the most convenient to restore in case of a system crash, and also ensures you don't miss anything important.
Boot media: Should your system crash completely, you need an alternate way to boot and run the recovery software. Any backup program should be able to create a bootable optical disc or USB thumb drive. Some will also create a restore partition on your hard drive, which can be used instead if the hard drive is still operational.
Scheduling: If you're going to back up effectively, you need to do it on a regular basis. Any backup program worth its salt allows you to schedule backups.
Versioning: If you're overwriting previous files, that's not backup, it's one-way syncing or mirroring. Any backup program you use should allow you to retain several previous backups, or with file backup, previous versions of the file. The better software will retain and cull older backups according to criteria you establish.
Optical support: Every backup program supports hard drives, but as obsolete as they may seem, DVDs and Blu-Ray discs are great archive media. If you're worried about optical media's reliability, M-Disc claims its discs are reliable for a thousand years, claims that are backed up by Department of Defense testing.
Online support: An offsite copy of your data is a hedge against physical disasters such as flood, fire, and power surges. Online storage services are a great way to maintain an offsite copy of your data. Backup to Dropbox and the like is a nice feature to have.
FTP and SMB/AFP: Backing up to other computers or NAS boxes on your network or in remote locations (say, your parent's house) is another way of physically safeguarding your data with an offsite, or at least physically discrete copy. FTP can be used for offsite, while SMB (Windows and most OS's) and AFP (Apple) are good for other PCs or NAS on your local network.
Real time: Real-time backup means that files are backed up whenever they change, usually upon creation or save. It's also called mirroring and is handy for keeping an immediately available copy of rapidly changing data sets. For less volatile data sets, the payoff doesn't compensate for the drain on system resources. Instead, scheduling should be used.
Continuous backup: In this case, 'continuous' simply means backing up on a tight schedule, generally every 5 to 15 minutes, instead of every day or weekly. Use continuous backup for rapidly changing data sets where transfer rates are too slow, or computing power is too precious for real-time backup.
Performance: Most backups proceed in the background or during dead time, so performance isn't a huge issue in the consumer space. However, if you're backing up multiple machines or to multiple destinations, or dealing with very large data sets, speed is a consideration.
FAQ
---
1.
How often should backups be scheduled?
Ideally, you should schedule backups of your data as often as possible. This is especially true if you are working on an important project or have data that you absolutely cannot afford to lose. It is a good idea to automate the backup process and have the Windows software back up your data every hour or so.
2.
What is the difference between Google Drive, Dropbox, OneDrive, and Windows backup services?
Services such as Google Drive, Dropbox, and OneDrive are considered to be cloud storage services. This means that a user must place their files or data onto the service's cloud manually. It's almost like having a physical storage drive in the internet's virtual cloud.
Windows backup software, meanwhile, provides continuous versioning and backup of all the file history on your device. It will continuously and automatically backup every specified file on a device. Windows backup software also offers additional data security measures such as file encryption. Furthermore, these backup services allow you to create a bootable optical disc or USB thumb drive for recovery after a system crash.
There are cloud backup services (distinct from those mentioned above) that offer much, though not all, of the benefits of a Windows backup program, such as continuous backups and versioning for multiple devices. You can learn more about them in our roundup of best cloud backup services.
3.
Will Windows backup software slow down my computer?
In most situations Windows backup software won't noticeably slow down your computer. If you are backing up to more than one device or multiple different destinations, or if you are backing up very large data sets, then you may notice your system slow down as it performs the backup. Otherwise, Windows backup software typically runs in the background or during dead time so you shouldn't notice a decrease in performance.
Also, it's a good idea, if the option is available with your software, to run a continuous backup. This will cause the software to perform backups of only the files you change in real time and it requires less bandwidth and processor resources to maintain.
4.
Does Windows Backup save everything?
Yes, by default Windows Backup and Restore saves all data files including those in your library, on your desktop, and in Windows' default folders. It will also create a system image if you need to restore Windows in the case of an emergency or system failure.
A system image is a great way to save all the data on your system including installed applications. But be careful as this system image can potentially take up hundreds of gigabytes of storage on your computer's hard drive.