At a Glance
Expert's Rating
Pros
Quick, elegant access to mirrorless cameras and small DSLRs.
You can even jog with a holstered camera attached to your hip.
Cons
A bit difficult to install, and tugs on your belt.
Our Verdict
It's not perfect, but the SpiderLight puts your bulky camera in a secure, convenient, accessible position on your hip.
Best Prices Today: SpiderLight
Throughout my photography career, I've always struggled to find the best way to carry my camera, and I know I'm not alone in experimenting with different solutions. But one month with the Spider Holster SpiderLight ($95 on Amazon) has shown me the answer. Or at least an answer.
Before I get into how this belt-based holster system works, let's quickly review other options.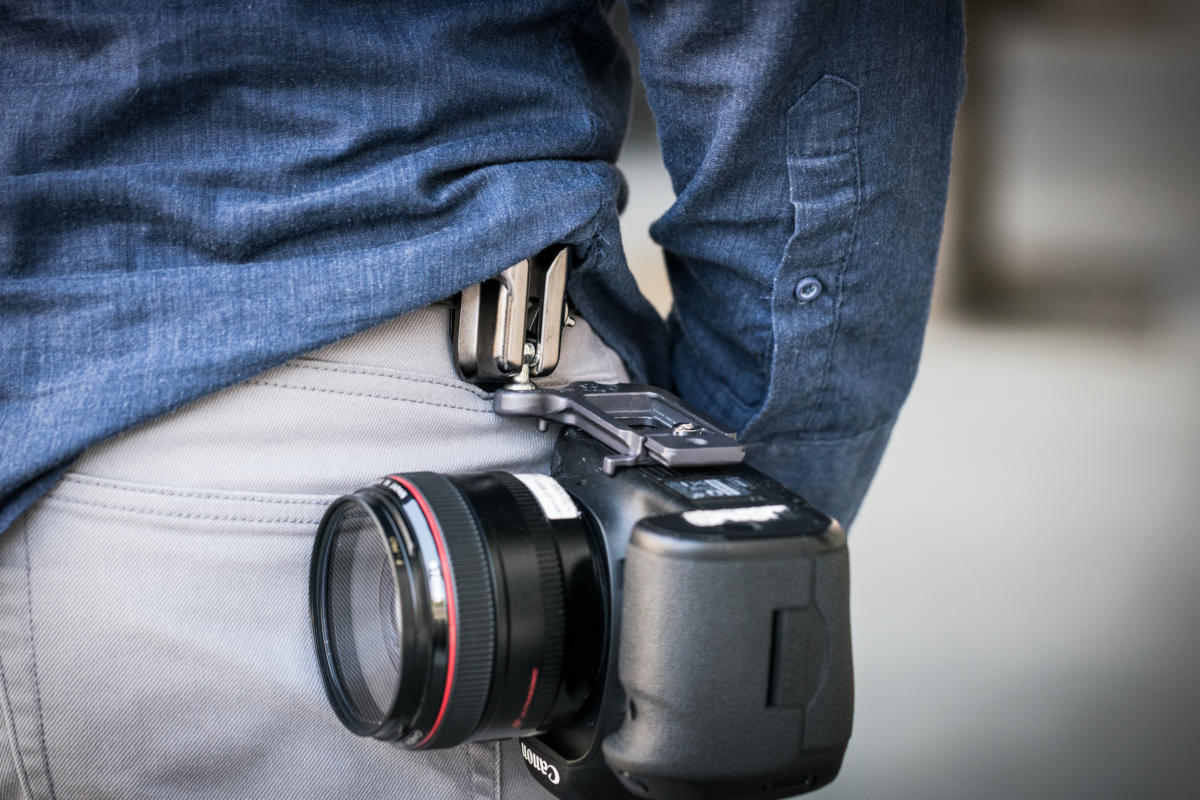 Sure, I could use the strap that comes with the camera, but it's stiff, scratchy, and plastered with logos. What about cross body straps? No, they're not secure, and also get in the way of a shoulder bag or backpack. How about wrist straps? They're usually uncomfortable, and require that you always hold the camera in your hand.
Enter the SpiderLight, which gives you an excuse to look like a real-life gunslinger, only with a safer alternative to a gun.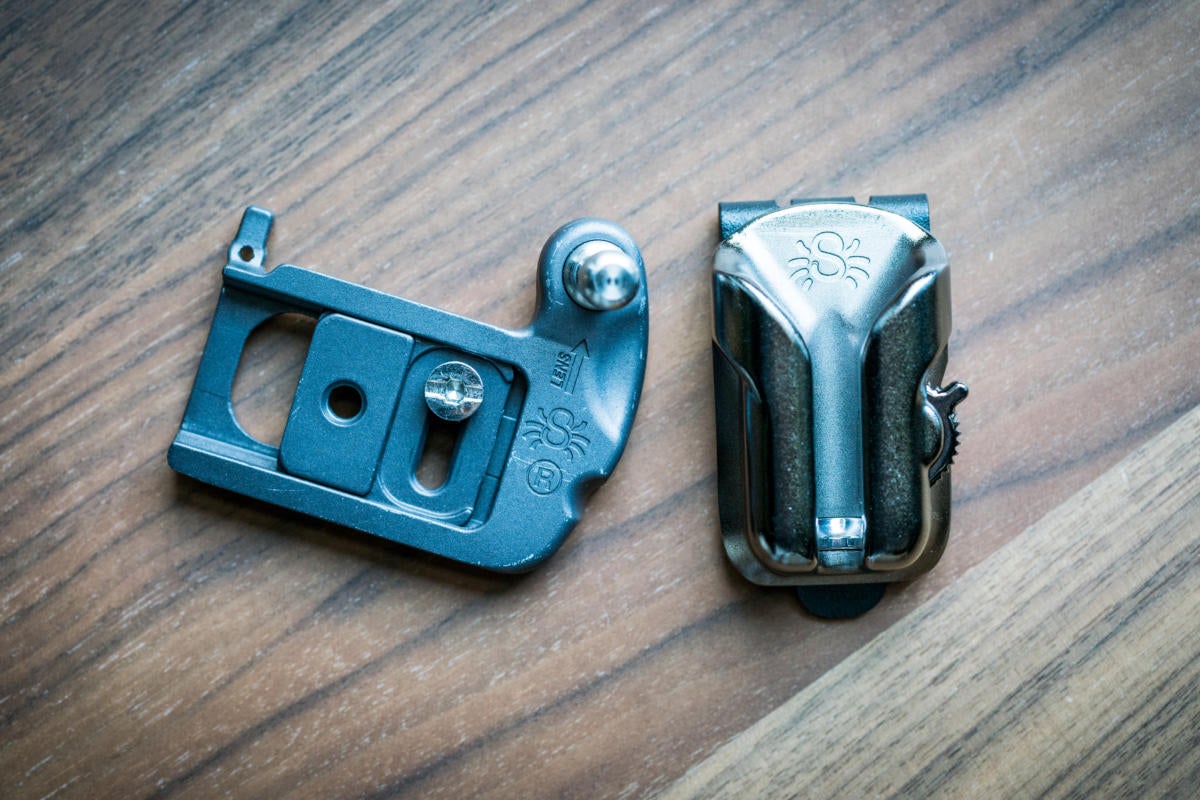 The SpiderLight hardware is a very simple, two-piece system. It starts with a clip, which attaches to your belt, and is completed by a plate, which secures to the base of your camera body, and includes a ball-jointed pin that slides into a groove on the belt clip. After you slide the pin into the clip, you can lock it down completely, allowing you to move briskly—and even run—without fear of damaging your camera.
Fully holstered, the camera lens points toward your butt, and even when you bend down, it stays comfortable and securely attached to your hip. When it's time to take a shot, you flip open the "quick draw" lock that secures the pin to the belt clip, and slide up to remove the camera.
On location shoots, it was great to have a safe place to store my camera while addressing the set or directing the model, and it was super easy to grab the camera whenever I needed to start shooting again. I even started to use the SpiderLight during studio shoots, as the camera stays out of the way yet remains accessible.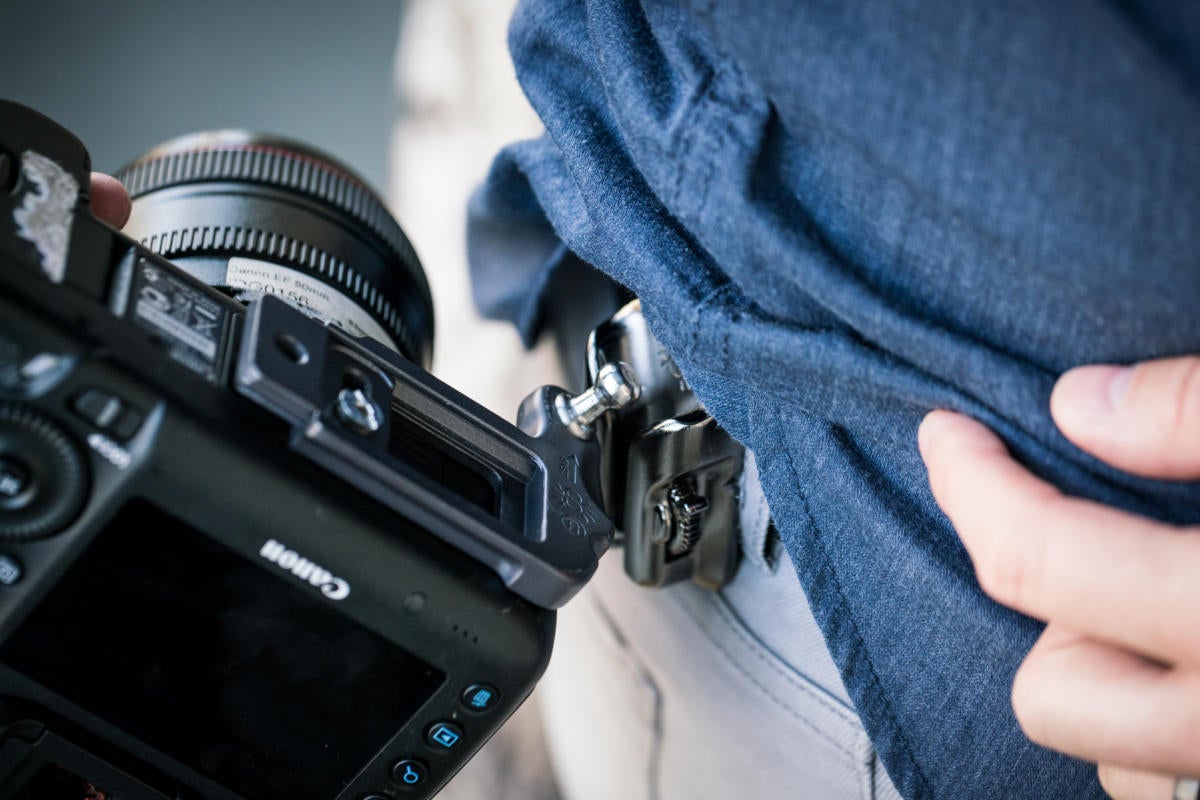 Attaching the belt clip is easy enough and it feels secure, but after a while it started to tug on my belt—enough to make me worry about its build quality. It also took me a couple minutes to figure out the best way to install the plate to the camera. There's a clear indicator pointing out the direction the lens should face, but no explanation as to the best distance for the placement of the ball joint. I defaulted to lining the end of the plate with the side of the camera body, and that seemed to work fine. Luckily, the plate doesn't cover up the battery door, so you still have complete access to everything on the body.
Once affixed, the whole system comes together with a satisfying click of the lock, and feels very secure (notwithstanding the tugging on my belt). At the beginning of my time with the SpiderLight, I did bump the camera into a couple of doorways, but quickly learned my lesson, and after a while the system felt like a natural part of my body. Because the camera sits so close to your hip, it stayed put even when I went into a jog. The SpiderLight is marketed toward use with mirrorless bodies, but I tested it on a Canon 5D Mk III and a Sony a7r II, and found it usable on both DSLRs.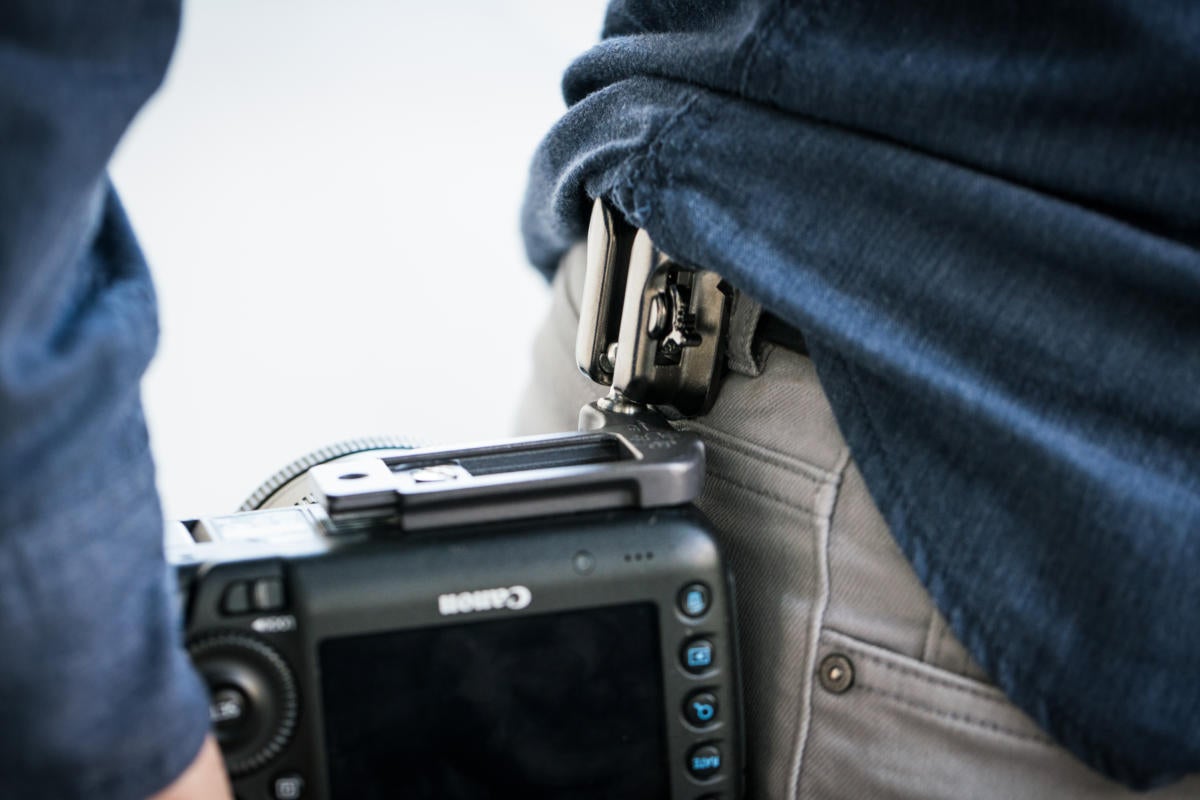 It only took me a short time to get accustomed to having my camera attached to my hip, and I felt very liberated in a way that straps have never afforded me. That said, I wouldn't recommend adding a telephoto like Canon's 70-200 f/2.8L. For that, you would want to step up to the SpiderPro system that includes a belt and heftier parts.
Spider Holster's products are a little more pricey than the offerings from Peak Designs, and certainly more expensive than conventional straps. But if you're like me, and haven't been happy with the other ways of carrying your camera, I would recommend looking into the SpiderLight. I think I've finally found what I've been looking for.
Best Prices Today: SpiderLight