At a Glance
Expert's Rating
Pros
Powerful parts: quad-core Kaby Lake CPU and GeForce GTX 1060 6GB
Reasonably light and thin
Decent battery life for this class of laptop
Cons
Wonky keyboard issue with certain key combinations
Laptop goes to sleep too quickly when you close lid
Integrated webcam is mounted below the display for least-flattering view
Our Verdict
The Gigabyte Aero 15 is a ground-breaking laptop that manages to have it all—great CPU, great GPU, great battery life—in a truly portable package. It's nearly perfect, but some flaws mostly centered around the keyboard bear mention.
Gigabyte's Aero 15 is a powerhouse laptop that hits a lot of high notes. Quad-core Intel Core i7-7700HQ CPU? Check. Dual M.2 SSD slots? Check. Up to 32GB of RAM? Check. Nice 15.6-inch screen? Check. Powerful Nvidia GeForce GTX 1060 GPU? Check.
It's this last point (well, and the garish colors) that will have many calling the Aero 15 a gaming-laptop rather than what it really is: a powerful, portable laptop that can do it all, and with decent battery life to boot. Even the weight's bearable at 4.6 pounds. We have some objections to its design, but it's still well worth a look.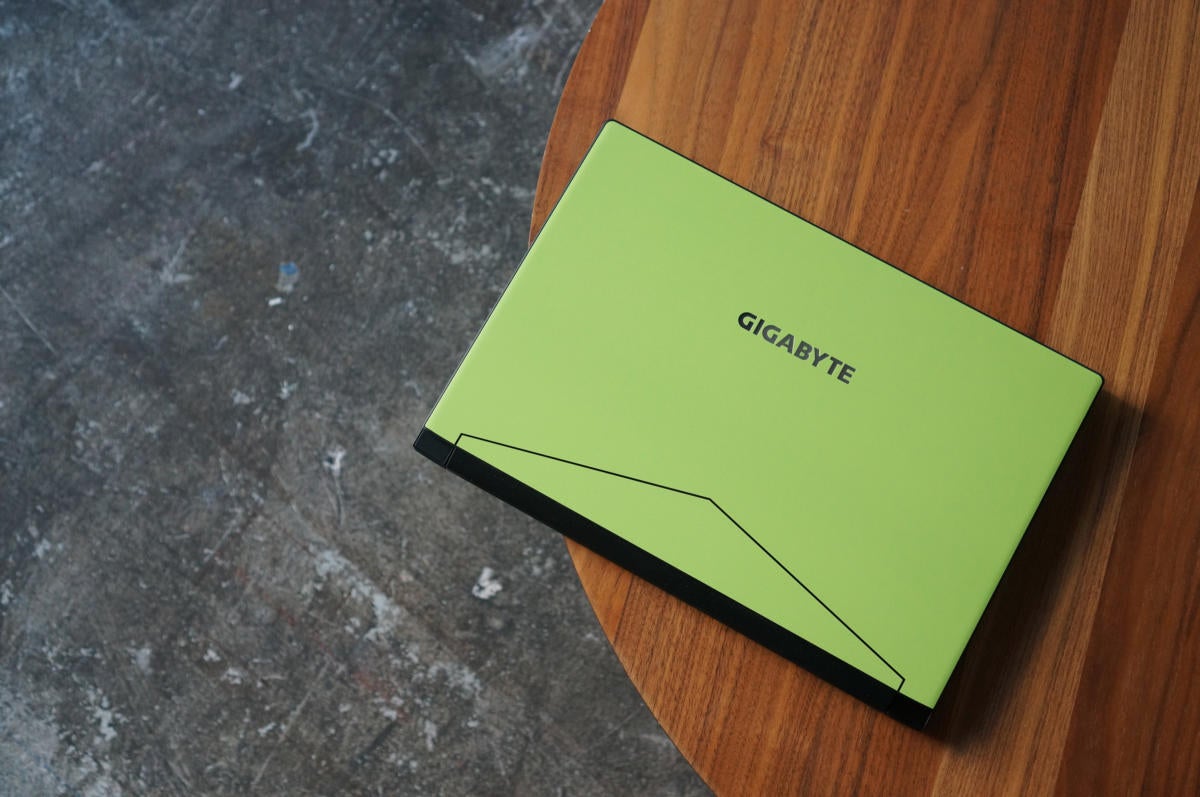 A splash of color in a brushed-metal world
The Gigabyte Aero 15 comes in three colors: A standard low-profile black ($1,899), Hemi Orange (also $1,899), and Lime Green, which is $1,999—that's not a typo, Lime Green is more expensive than the other two colors. Perhaps because that model most closely resembles a 1971 Dodge Challenger (see for yourself, below). I have to say, the intense hues are surprisingly refreshing amid a sea of brushed-metal and black shells.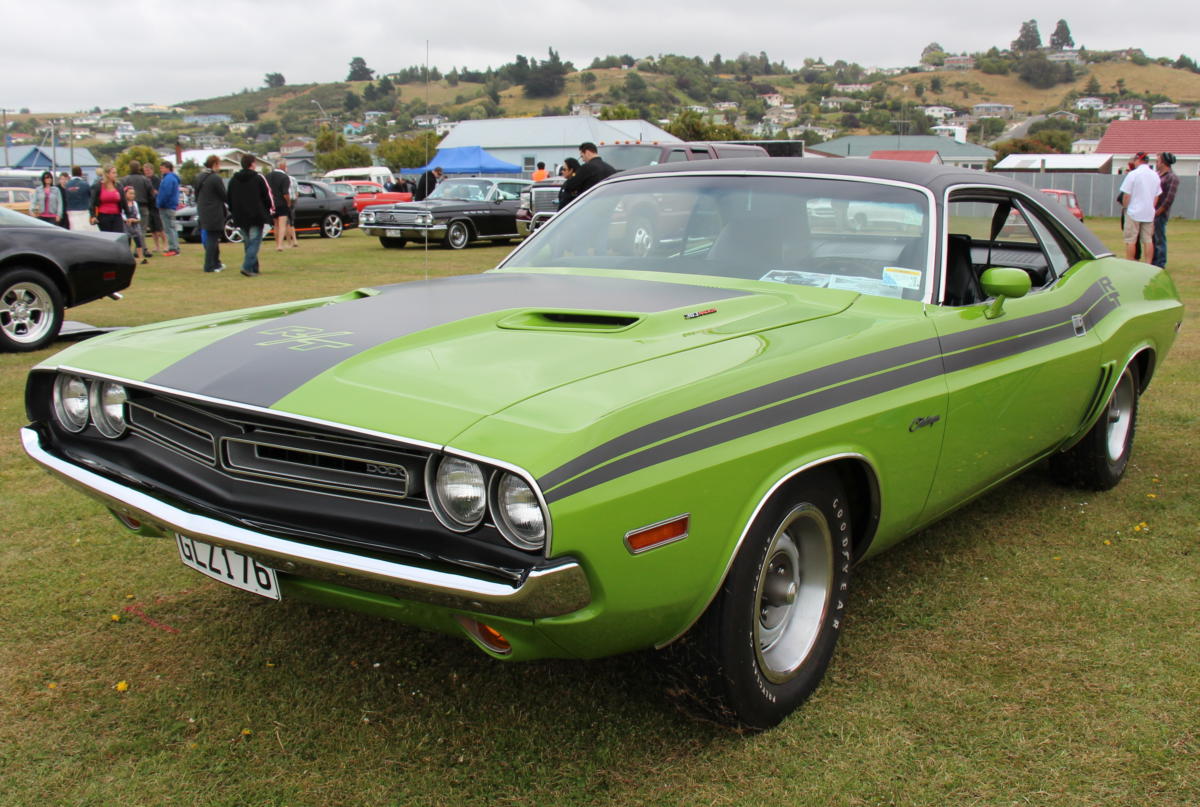 Speaking of shells, the Aero 15's lid and bottom panel are aluminum, as well as portions of the frame around the keyboard. We're disappointed that the keyboard tray is plastic, but this no doubt shaved off a bit of cost.
The 15.6-inch, 1920×1080 screen has many pluses and a few minuses. Instead of the more common IPS or TN technology it uses MVA, which has a reputation for slower response times and issues with color accuracy. We've seen bad examples and good examples of MVA, and the Aero 15's is in the good pile, with wide viewing angles and factory calibration to Pantone X-rite color standards (at 100-percent brightness). Off-axis viewing is also quite good. The biggest drawback we found is the 285-nit maximum brightness, which is on the lower end of average for a laptop.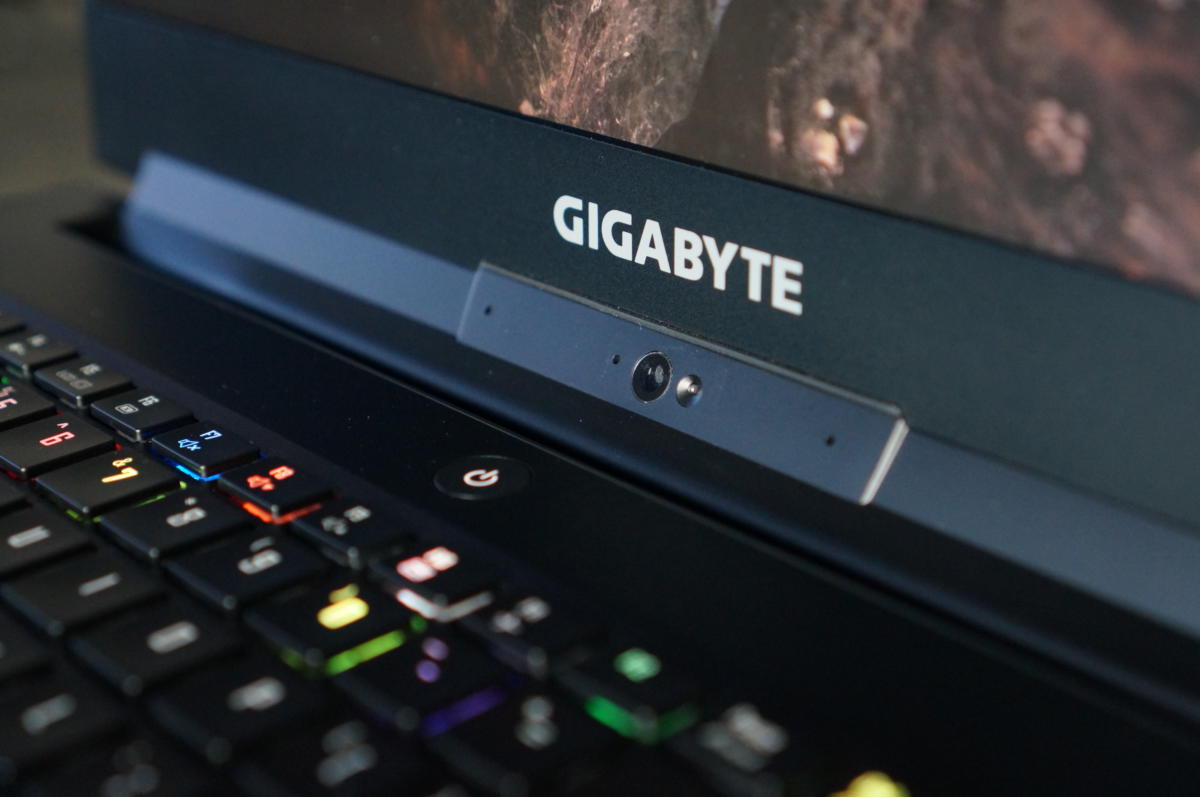 Like Dell's XPS 15, Gigabyte's Aero 15 employs a near bezel-less display design. This helps make the laptop fairly compact, but it also forces the built-in webcam to peer upward at you from the bottom of the screen. Gigabyte centers the camera, but expect your video-conferencing colleagues to get good look at your neck wattle.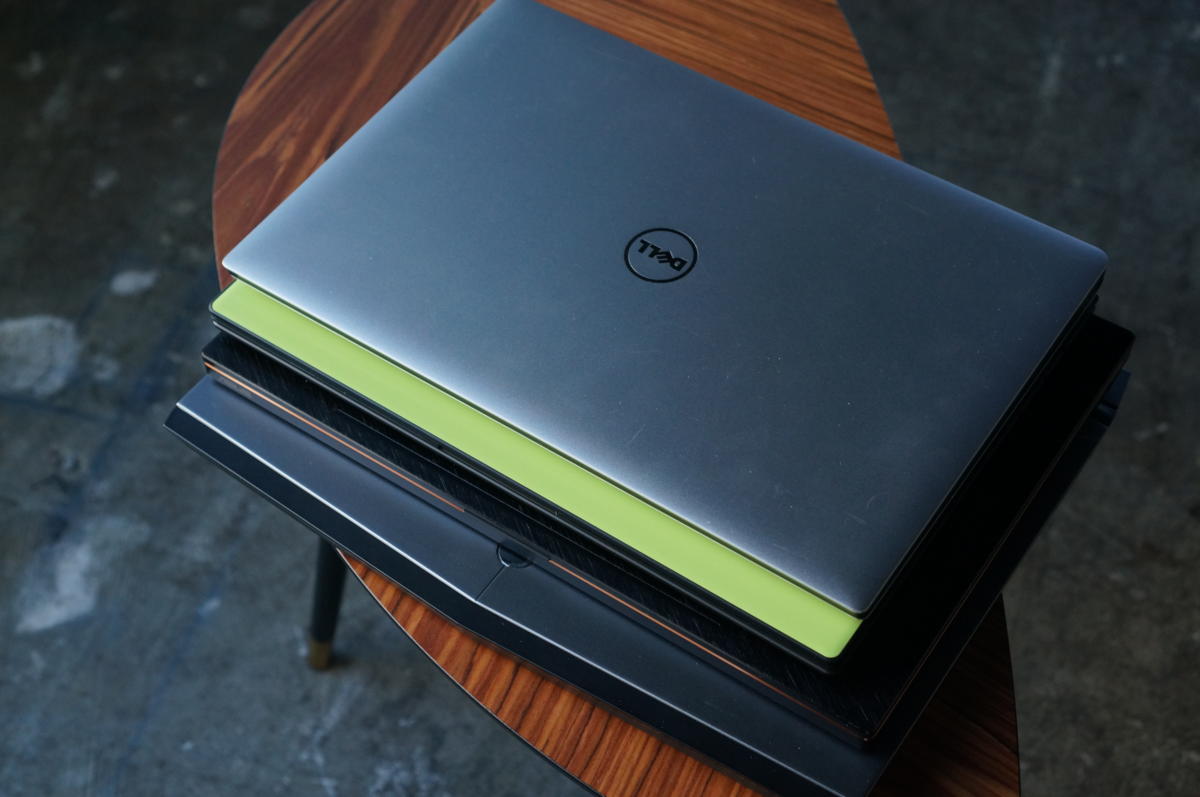 Keyboard and trackpad
With the keyboard and trackpad, we have another mix of good and bad news. Let's get the bad news out of the way first: the Aero 15's ongoing problems with extended keyboard combinations. When we first tested our Aero 15 unit, it had problems recognizing certain key combinations, such as simultaneous use of Ctrl-Shift-C. Since the Aero 15 shipped, Gigabyte has released at least three firmware updates for the keyboard. Some problems have cleared up, but users are still finding combinations that don't work right.
Gigabyte said it is continuing to work on the problem and is encouraging frustrated users to contact its support line. Is that enough to make you comfortable buying the Aero 15? That's something only you can answer.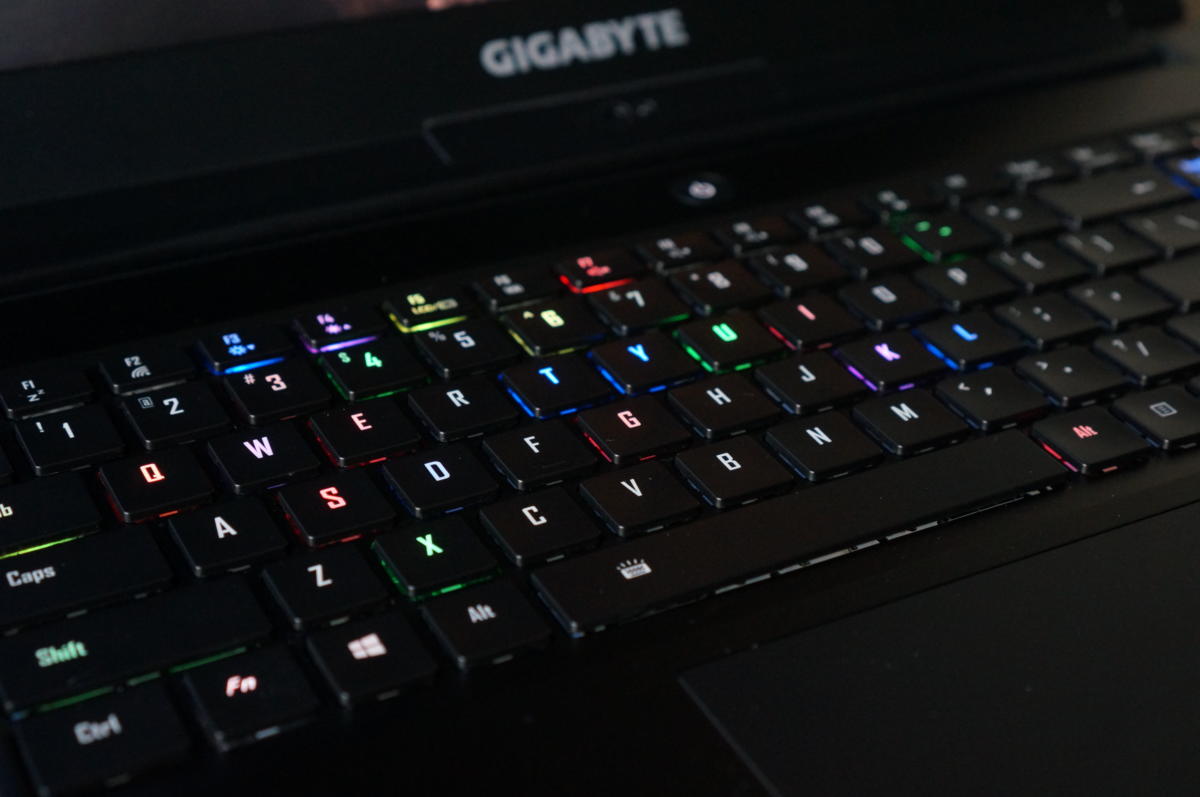 The keyboard itself is pretty good. What we especially appreciate is the per-key lighting, which is almost as good as what you'll find in Razer's Blade laptops. It's far brighter than most keyboards we've seen and simply dazzling at night. The software to program the colors works well enough, and there's a good selection of pre-programmed patterns. You can also bind macros to every single key on the keyboard.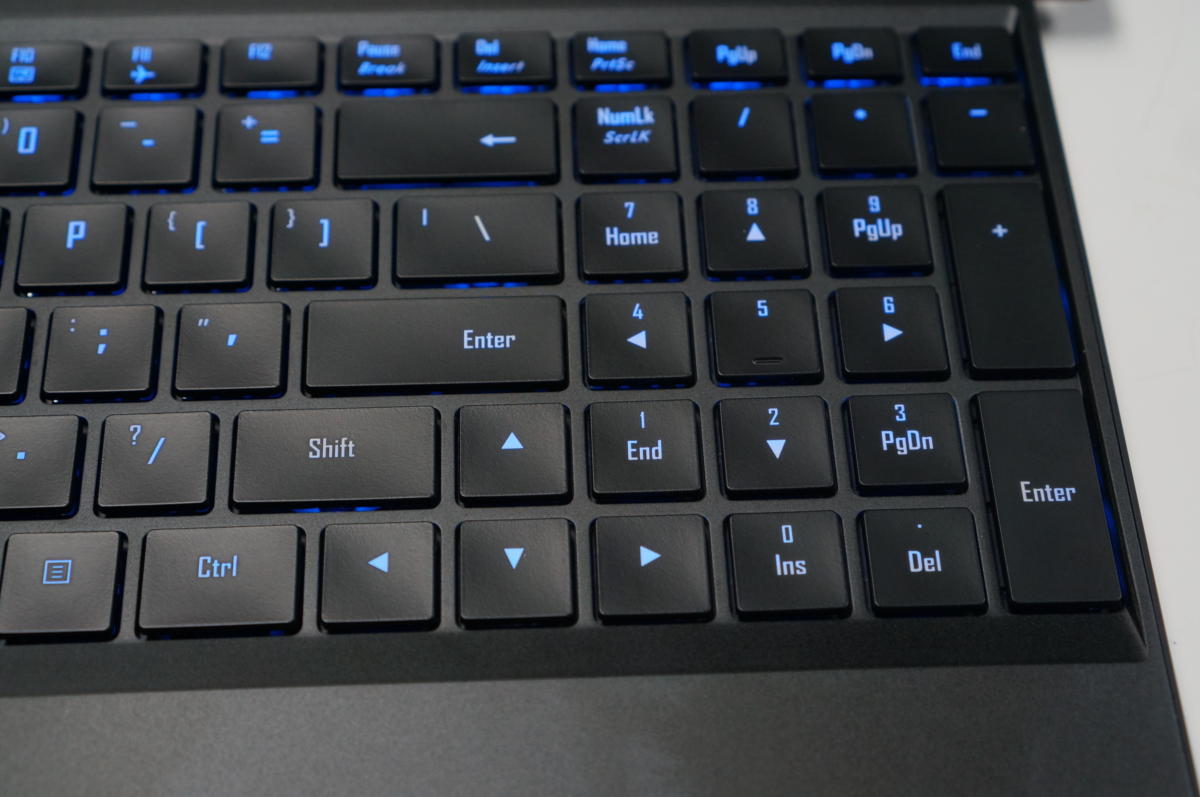 An apparent bonus introduces some compromise. Gigabyte added a 10-key numeric pad on the right-hand side of the keyboard. Because of how the cursor keys were squeezed in next to it, however, the numeric pad's '0' was reduced from being a double-wide key under the '1' and '2' (the traditional design) to being a single key under the '2.' The bean-counter types who use a 10-key constantly won't appreciate how this small change will mess with their muscle memory. Gigabyte laptop designers, if you notice your expense reports take longer than usual to process, this is the reason why.
Even if you don't use the 10-key pad, it will mess with you anyway because it shifts a few other things to the left. The trackpad, made by Elan, with a glass layer that feels near-frictionless, is uncomfortably shifted from the expected center to the left. Left-leaning, too, are the keyboard's home keys. If these change threaten to throw off your productivity, look elsewhere.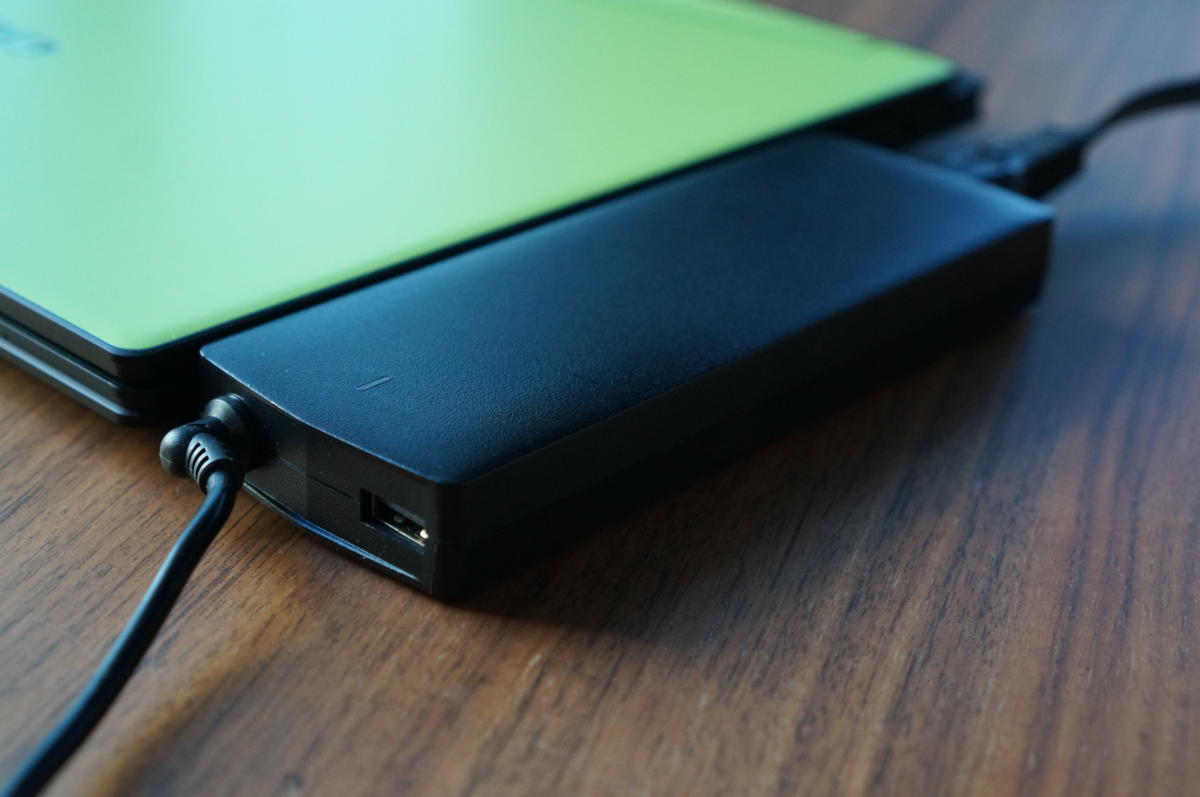 We have two more complaints. The first is an odd harmonic, almost Kazoo-like sound that occurs not when the GPU's fan is working hardest, but when it slows down one notch. We're also not fans of the lid angle Gigabyte has chosen for triggering the laptop to go to sleep. On most laptops, you can tilt the screen to within 10 to 15 percent of closing before this happens. On the Aero 15, it goes to sleep when the lid's as high as 45 degrees, which is too soon.
Ports
Where Gigabyte makes up for all that is in the massive number of ports. The right side features an SD card reader, Thunderbolt 3, and two USB 3.1 Gen 1 Type A (5GBps). And yes, that Thunderbolt 3 port operates at the full x4 PCIe speed (Yes, we're looking at you, XPS 15, with your x2 Thunderbolt 3 port).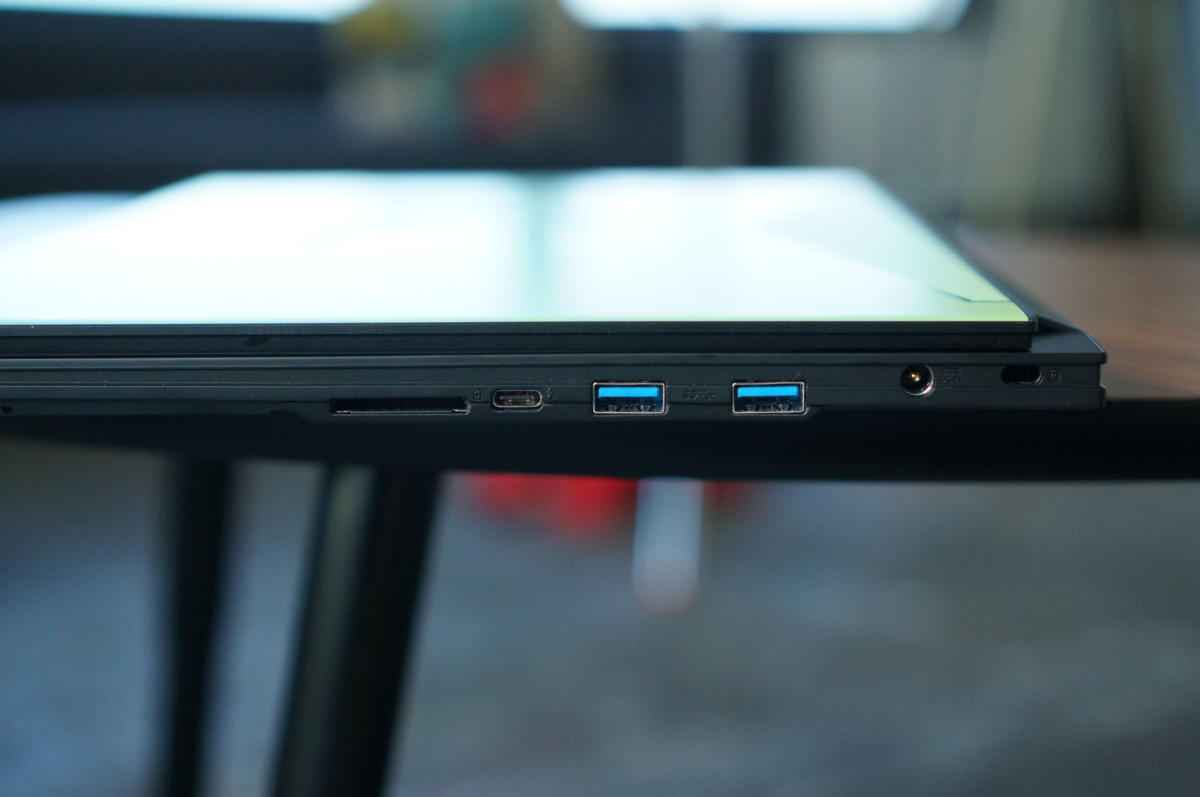 The right side of the Aero 15 gives you a combo analog audio jack, miniDisplayPort 1.3, HDMI 2.0, another USB 3.1 Gen 1 Type A, and a Gigabit ethernet port running off of Realtek silicon. All told, Gigabyte says the Aero 15 can run three external monitors on the ports it has.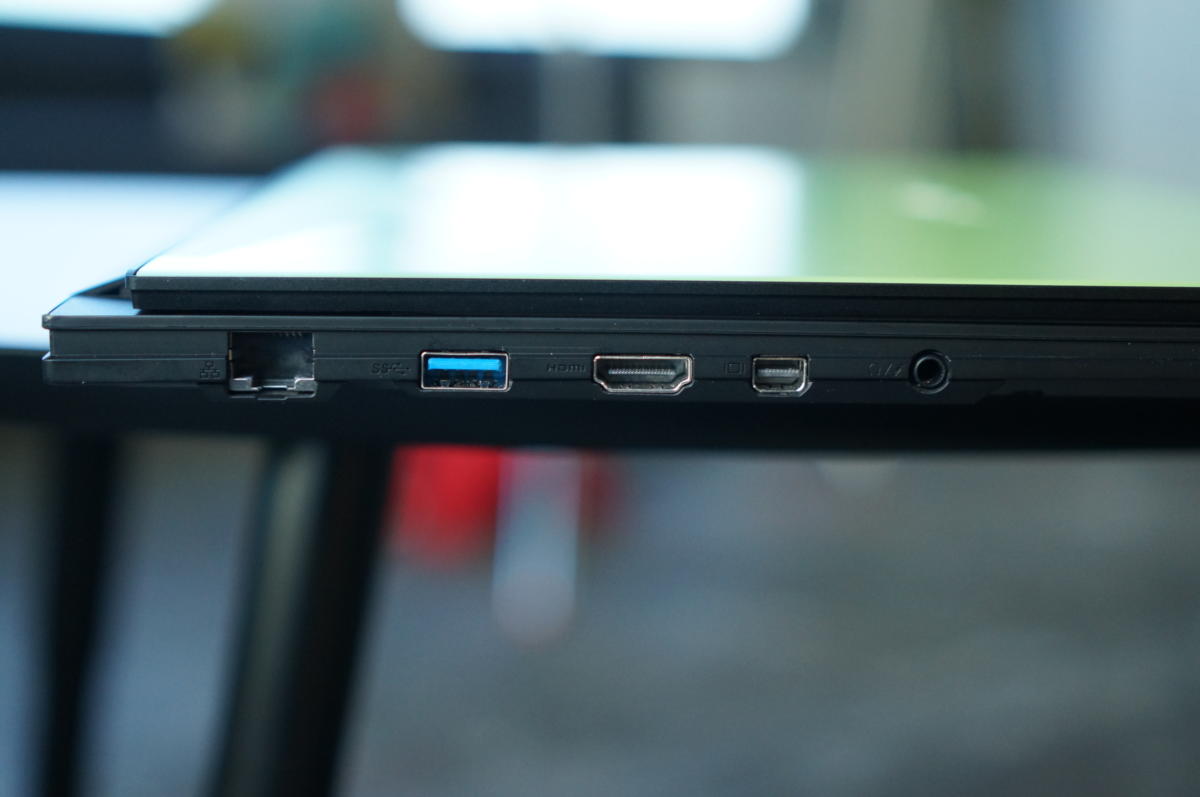 What's inside
You know the laptop here has a Core i7-7700HQ, 16GB of DDR4/2400 (in single-channel mode), and GeForce GTX 1060 with 6GB of RAM. For storage, Gigabyte shipped our $1,899 unit with a Lite-On 512GB M.2 drive operating in SATA mode. This is likely for cost, but Gigabyte says the unit will run not just one, but two M.2 drives in PCIe mode. Overall, this is a nice storage combination, as it allows you to run two drives. Dell's XPS 15 has the physical space to run a hard drive plus an M.2 drive, but when its larger battery option is selected, there's no room for the hard drive. Asus' new ROG GX501 also has room for only one M.2 drive.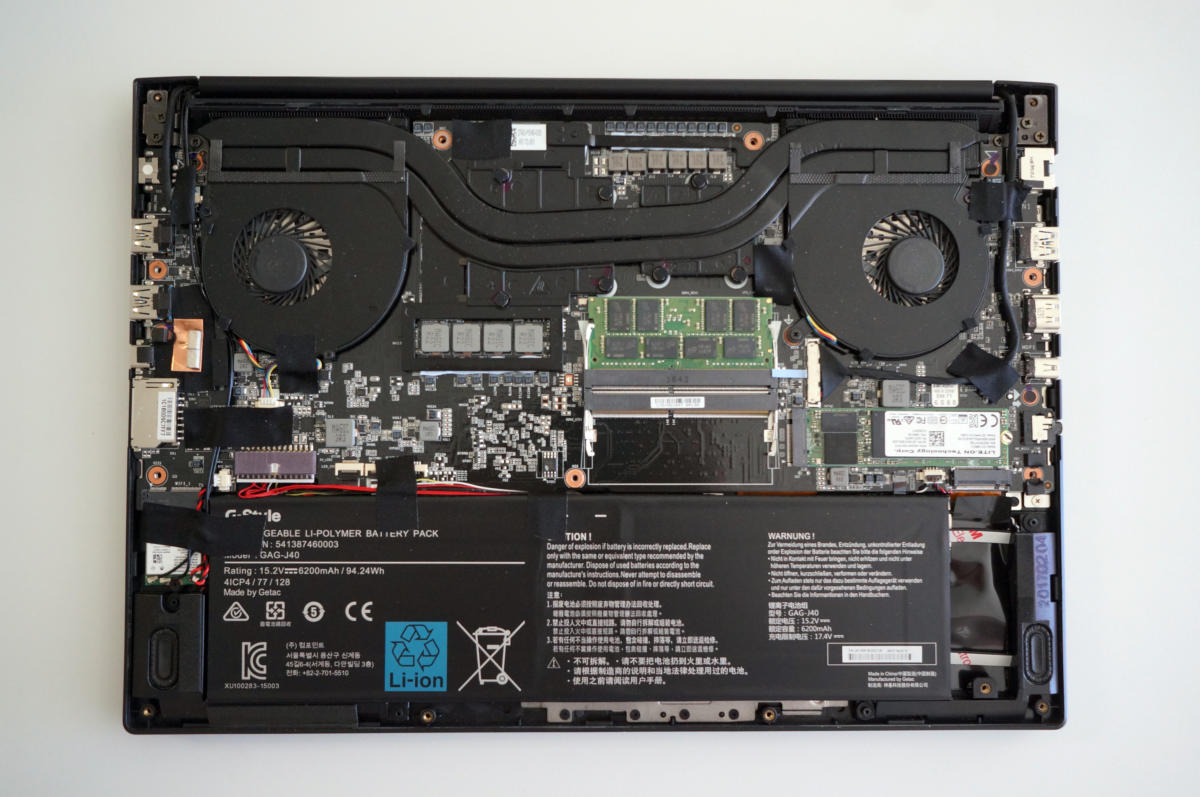 Performance
If you want to browse the web and run Office, a dual-core with integrated graphics is more than enough. People generally buy 15.6-inch laptops for the power, so let's find out how the Aero 15 stacks up against the competition.
Cinebench R15 Performance
Our first test is Maxon's Cinebench R15, which measures performance while rendering a 3D image. This test is almost pure CPU and gives you a good idea of how well a laptop will perform under multi-threaded tasks. For the most part, it's a dead-on tie with the Kaby Lake laptops. The only outlier is the Dell XPS 15, which turns in an oddly slower result. With multiple runs and the latest BIOS, the XPS 15's score was just off.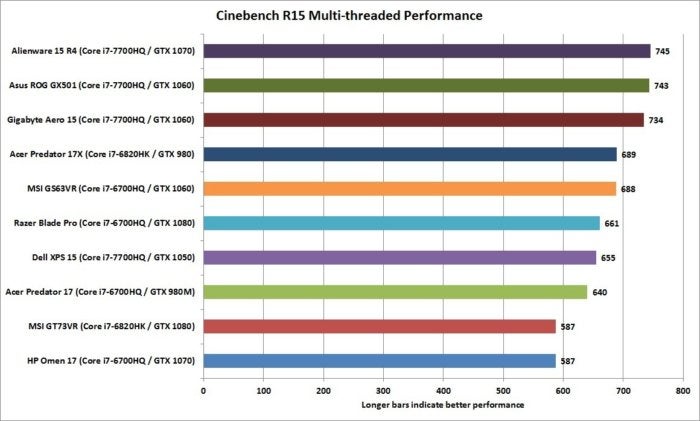 Handbrake Performance
Our second test uses the free Handbrake encoder to convert a 1080p 30GB MKV file using the built-in Android Tablet preset. It's mostly a tie here among the Aero 15, the XPS 15, the ROG GX501 and the Alienware 15 R4. The MSI's score for this particular test was likely taken with the laptop in its overclocked mode.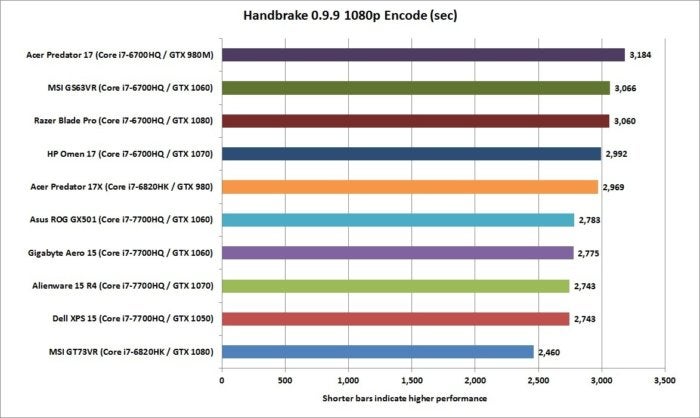 3DMark Fire Strike Extreme Performance
Enough about the CPU. You came here for the GPU performance, so first up is 3DMark Fire Strike Extreme graphics performance. This older Futuremark test is pretty much a pure graphics gauntlet. Although synthetic, it's still an accurate measurement of graphics performance. The Aero 15 is pretty much tied with the other GTX 1060 laptop. Both GTX 1060 laptops represent very well against the older GTX 980 and GTX 980M, too.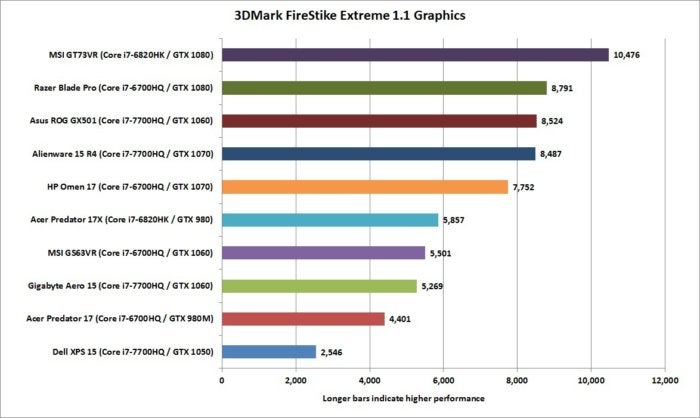 Rise of the Tomb Raider Performance
In actual gaming performance, we ran Rise of the Tomb Raider on the Very High setting at 1920×1080. This game is particularly punishing, and the GeForce GTX 1060 6GB cards can push a comfortable 60 fps. But glance at the chart and you can see faster—and pricier—GPUs do indeed pay dividends in performance. It's also clear that although the GTX 1060 can match a GTX 980, it won't do that all the time, as the older Predator 17 X leaves both GTX 1060 laptops in the dust.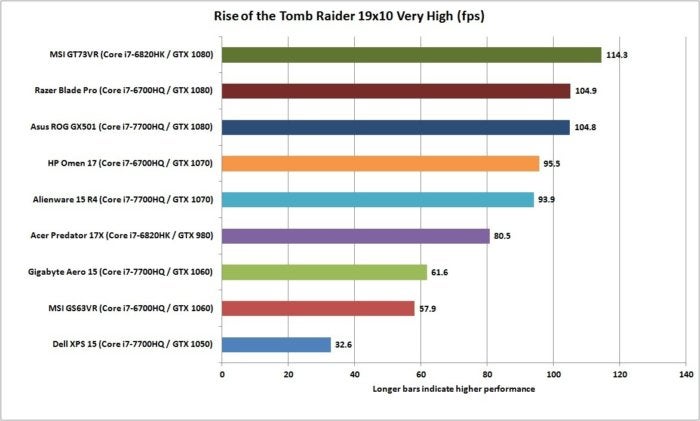 Middle-earth: Shadow of Mordor Performance
The last game we ran is Middle-earth: Shadow of Mordor at 1920×1080 resolution on the Ultra setting and with the 4K texture pack loaded. In this game, the GTX 1060 in the Aero 15 matches the GTX 980 in the Acer Predator 17 X, but both are outclassed by the GTX 1070- and GTX 1080-equipped laptops by a healthy margin. Just remember though: The Aero 15 is a comparatively lightweight 4.6 pounds.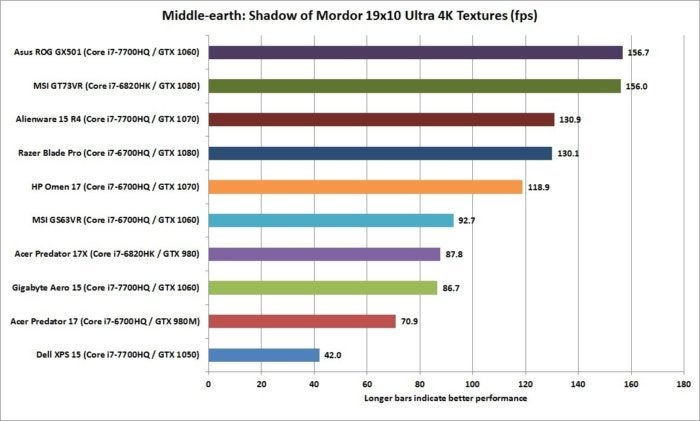 Video playback and battery life
On large gaming laptops, we've typically ignored battery life because they live most of their lives plugged into AC and typically operate more as semi-portable gaming desktops than laptops. But gaming-capable laptops have truly evolved in the last few years and people are starting to expect longer battery life when they're not gaming. (When gaming on any real gaming laptop, you can basically expect an hour of battery if you're lucky.)
To measure battery life for low-impact use, we play a 4K movie using Windows 10's Movies & TV player at an office-bright 250 to 260 nits. This is an area where the Aero 15 truly excels, giving us nearly seven hours of video playback. The only real competitors here, the Dell XPS 15 and the Asus ROG GX501, are a disadvantage: The Dell features a 4K touch screen, which is likely more power hungry than the Aero 15's FHD panel. The ROG GX501 features a fairly tiny battery that's almost half the size of the Aero 15's. The only other comparable laptop here is the older MSI GS63VR, which also has a 4K panel, plus a slightly undersized 65 watt-hour battery. The upshot is a pretty big win for a laptop that has real gaming chops.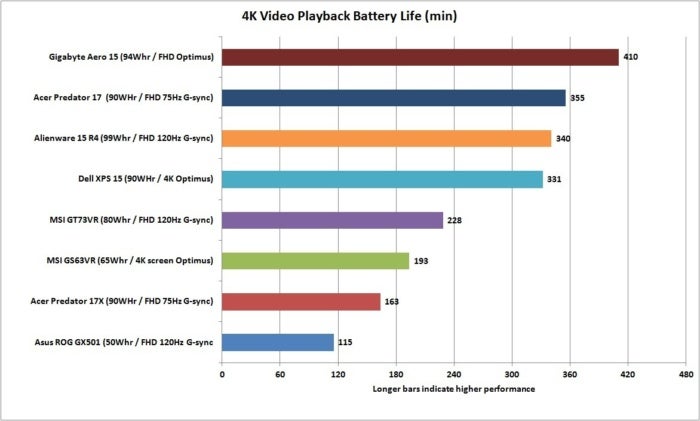 Conclusion
The Gigabyte Aero 15 is a ground-breaking laptop that manages to have it all—great CPU, great GPU, great battery life—in a truly portable package. It's a combination that no other laptop maker has achieved until now.
The Aero 15's biggest flaws seem to emanate from its keyboard: its struggles with key combinations, let alone the rejiggering of some oft-used buttons and the trackpad. Still, we're extremely impressed by the Aero 15, which is almost—almost—the ultimate power user's laptop.