At a Glance
Expert's Rating
Pros
Fantastic battery life inside an ultrabook chassis
Reasonably priced, for a Surface
Free (for now) upgrade to Windows 10 Pro
Cons
App restrictions can make Windows 10 S frustrating
Limited port selection
Other notebooks offer more advanced features, like USB-C
Our Verdict
Microsoft's Surface Laptop is a reasonably-priced premium laptop whose excellent battery life and light weight outweigh any restrictions placed upon users by the Windows 10 S operating system.
Best Prices Today: Microsoft Surface Laptop (Intel Core i5, 8GB RAM, 256GB) – Burgundy
Updated 07/18/2017: We've upgraded the Surface Laptop to Windows 10 Pro to run traditional benchmarks, and the results are…interesting. Click the Performance section in the TOC, or simply jump to this link, to see to all the numbers.
Our Surface Laptop review considers Microsoft's new notebook in three ways: first, as a stylish ultrabook, designed to compete with Apple's MacBook Air on college campuses. It's also a showcase for Windows 10 S, limiting users to Windows Store apps but with an unexpected benefit to battery life. But if you want more flexibility, you can upgrade to Windows 10 Pro—and we've tested that, too.
After using the Surface Laptop as a Windows 10 S machine, I can say it does a great job of addressing exactly what college students need. More sophisticated users might want to look a bit further afield, though, or at least bail out of Windows 10 S early on.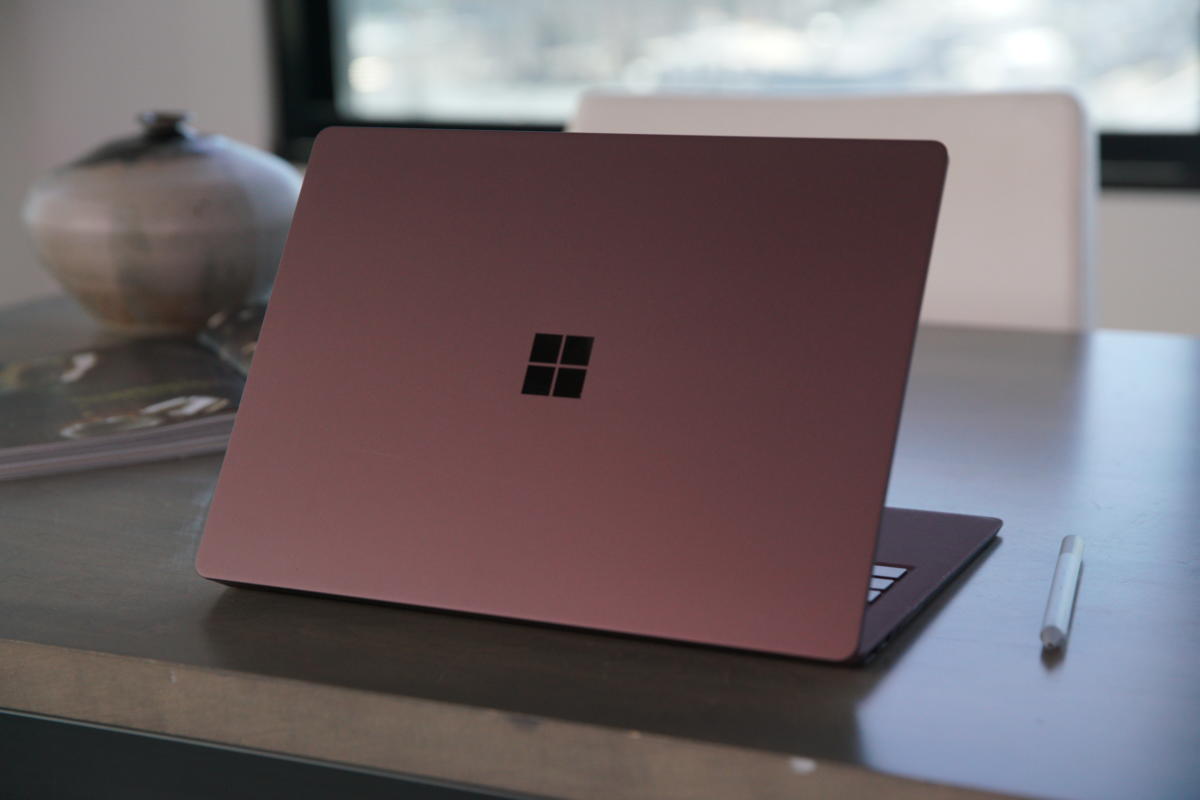 An ultrabook with style
Mentioned in this article
Surface Laptop (Intel Core i5, 4GB RAM, 128GB) – Platinum
Price When Reviewed:
$999.00
The Surface Laptop follows in the formidable footsteps of the Surface Pro, Surface Book, and Surface Studio—all category-defining products with prices to match. The Surface Laptop is a striking ultrabook with prices that are attainable, if not overly affordable. For now, the Surface Laptop ships in four configurations:
Intel Core i5/4GB RAM/128GB SSD: $999
Intel Core i5/8GB RAM/256GB SSD: $1,299
Intel Core i7/8GB RAM/256GB SSD: $1,599
Intel Core i7/16GB RAM/512GB SSD: $2,199
Microsoft also separately ships a Surface Arc Mouse, which is color-coordinated to match the Surface Laptop. The Surface Pen and Surface Dial will work with the Laptop, but they're not required.
We reviewed the $1,299 model, which I'd consider to be the price/performance sweet spot, assuming a college student with generous parents. Though gamers want 16GB of RAM, 8GB is sufficient for web browsing and some basic apps, and 256GB of storage is finally becoming more of the norm.
Just as important as what's inside is the Surface Laptop's outside, which is dressed to kill MacBook Airs. Lifting the tinted aluminum veneer of the lid to reveal the softer Alcantara fabric of the keyboard tray beneath evokes the elegance of a jewelry box. Microsoft also streamlined the exterior by eliminating the volume control rocker switch and power button, moving them to the keyboard.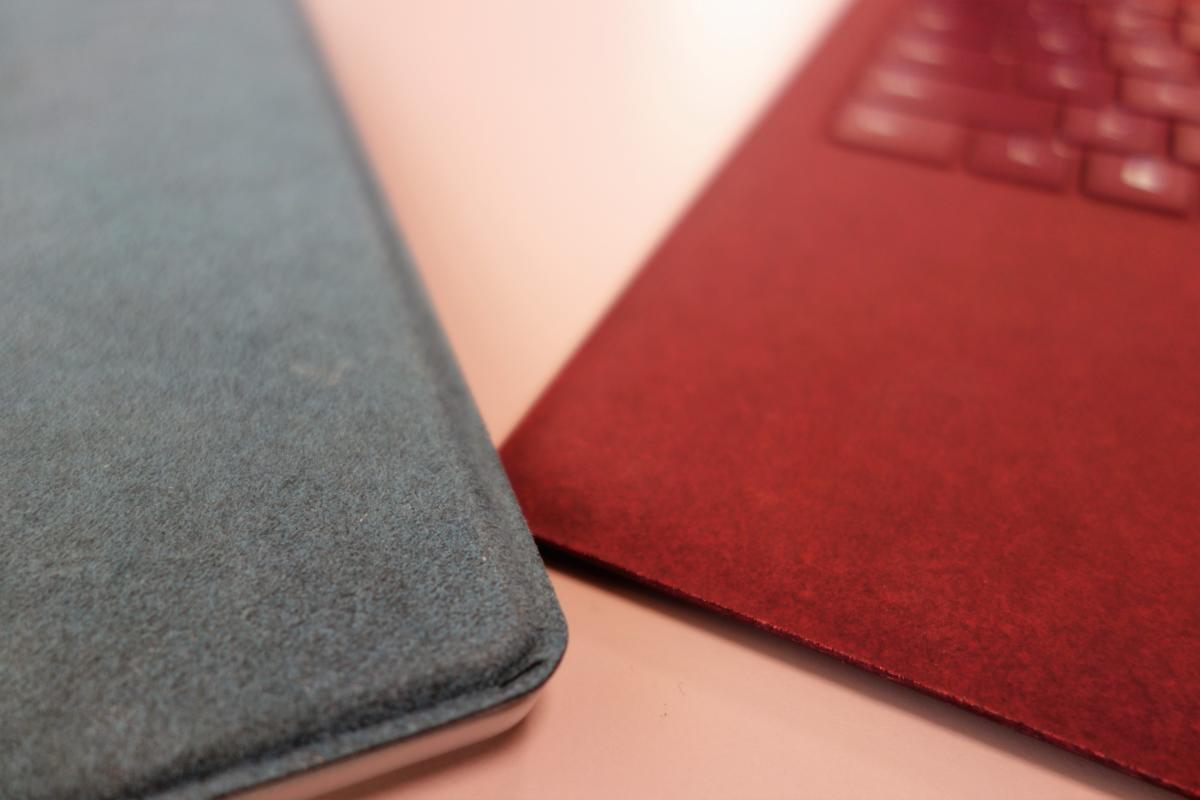 The Surface Laptop is very thin, just 0.57 inches at most, compared to the MacBook Air's 0.68-inch profile. At 12.13 x 8.79 inches, it's also a little smaller than the MacBook Air. Grab the Surface Laptop by its keyboard, and its 2.76-pound weight (3.2 pounds with charger) will feel impressively light.
There's one catch: The base $999 Core i5 model ships only in the silvery "platinum" color. The only configuration to offer the three other color options (graphite gold, burgundy, cobalt blue) is the model we tested. While Microsoft should eventually offer the additional colors across the entire product line, it hasn't yet—a situation that's sure to frustrate some consumers.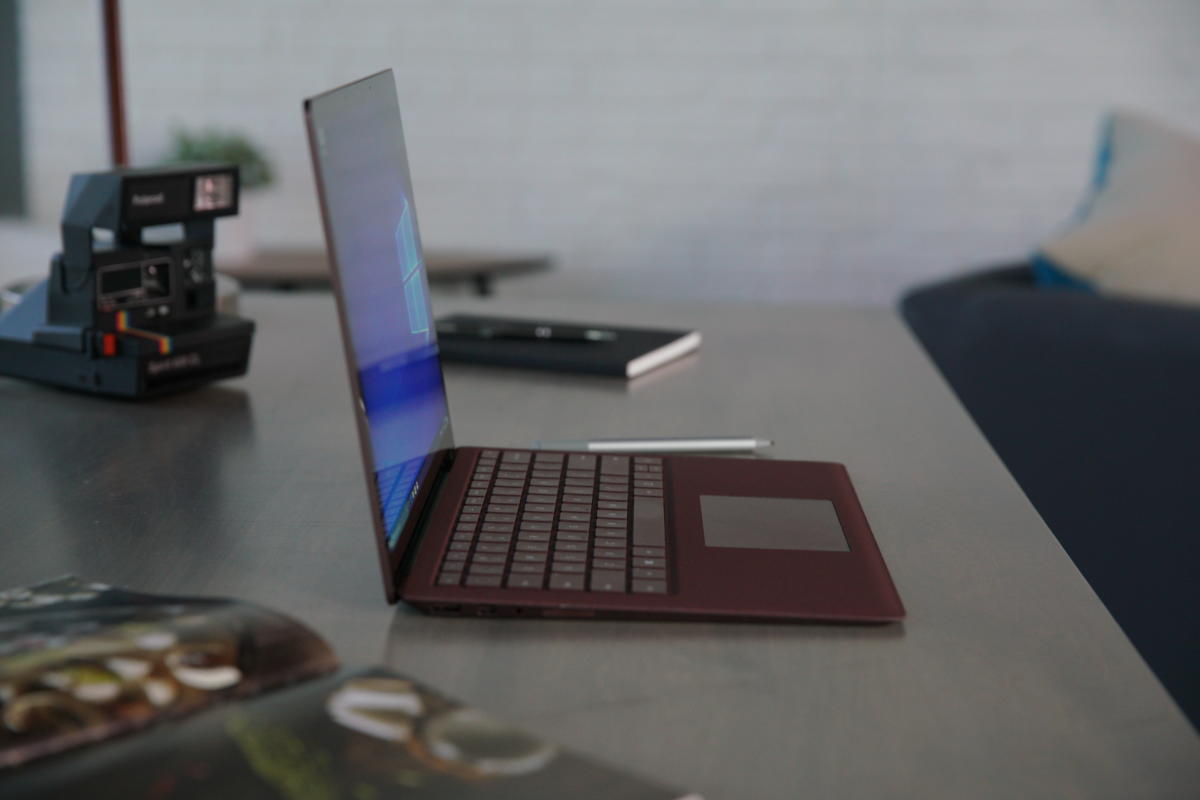 A surprising lack of ports
Thin ultrabooks have to give up something, and the Surface Laptop's configuration is no different. Most of it is good: Our unit houses a 2.5GHz Core i5-7200U, part of the 7th-generation Kaby Lake family. Each of the Core i5 options includes an Intel HD 620 graphics core, while the Core i7 version includes the powerful (for integrated graphics, that is) Iris Plus 640 core which we tested on the new Surface Pro. For college papers and web browsing, an HD 620 core will be just fine.
One of the hallmarks of the Surface lineup is the display, and I enjoy Microsoft's bright PixelSense 10-point touchscreens. The Surface Laptop's 13.5-inch, 2256×1504 (201 ppi) version, aligned in Microsoft's standard 3:2 ratio, lives up to the name. The IPS panel pumps out 365 lumens, enough even for outdoor use.
Some competing devices offer 4K displays. Keep in mind, though, that pushing more pixels requires more power, and one of the strengths of the Surface Laptop is its excellent battery life.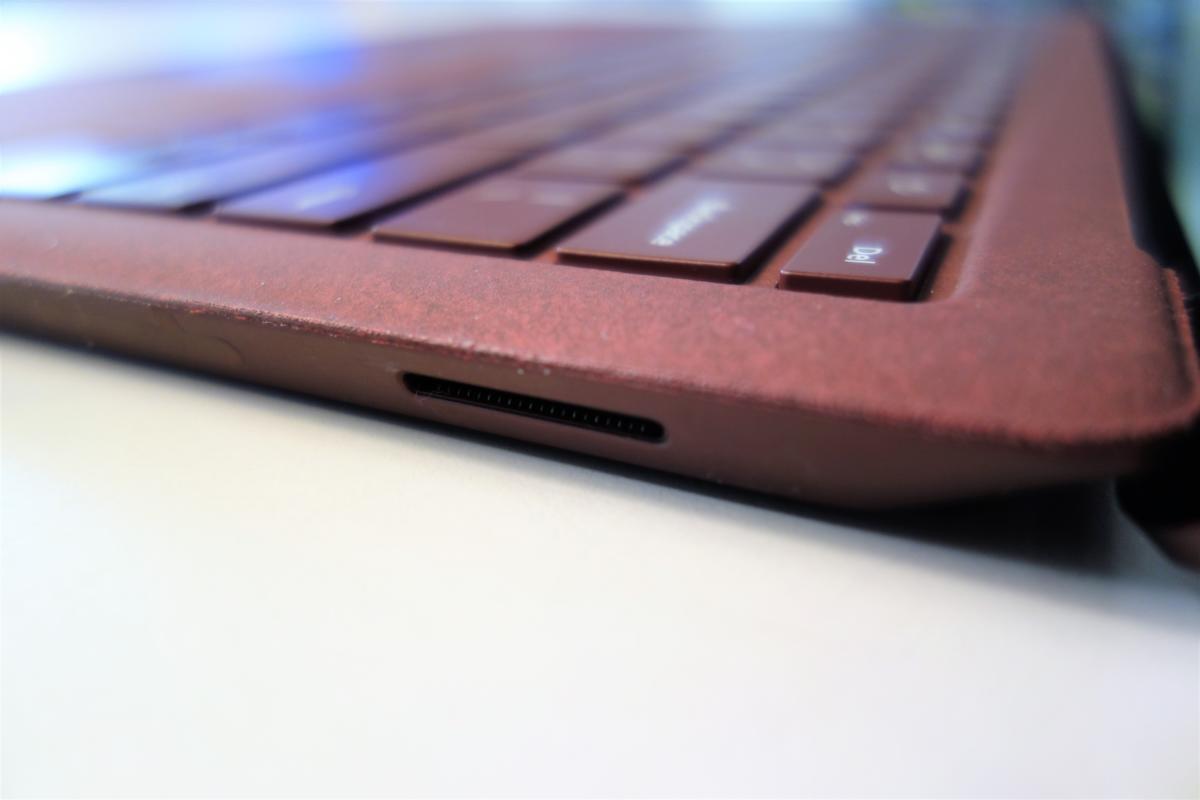 On the right side of the Laptop is Microsoft's Surface connector, maintaining compatibility with older chargers as well as optional peripherals like the Surface Dock. The other ports—USB 3.0 Type A, miniDisplayPort, headphone—appear on the left side of the chassis.
There is no miniSD or other removable storage slot, recognition that photos and other files are more often stored online or on USB sticks. I can agree with that rationale, though the single USB-A port looks awfully lonely, and the lack of USB-C is the opposite of future-proofing.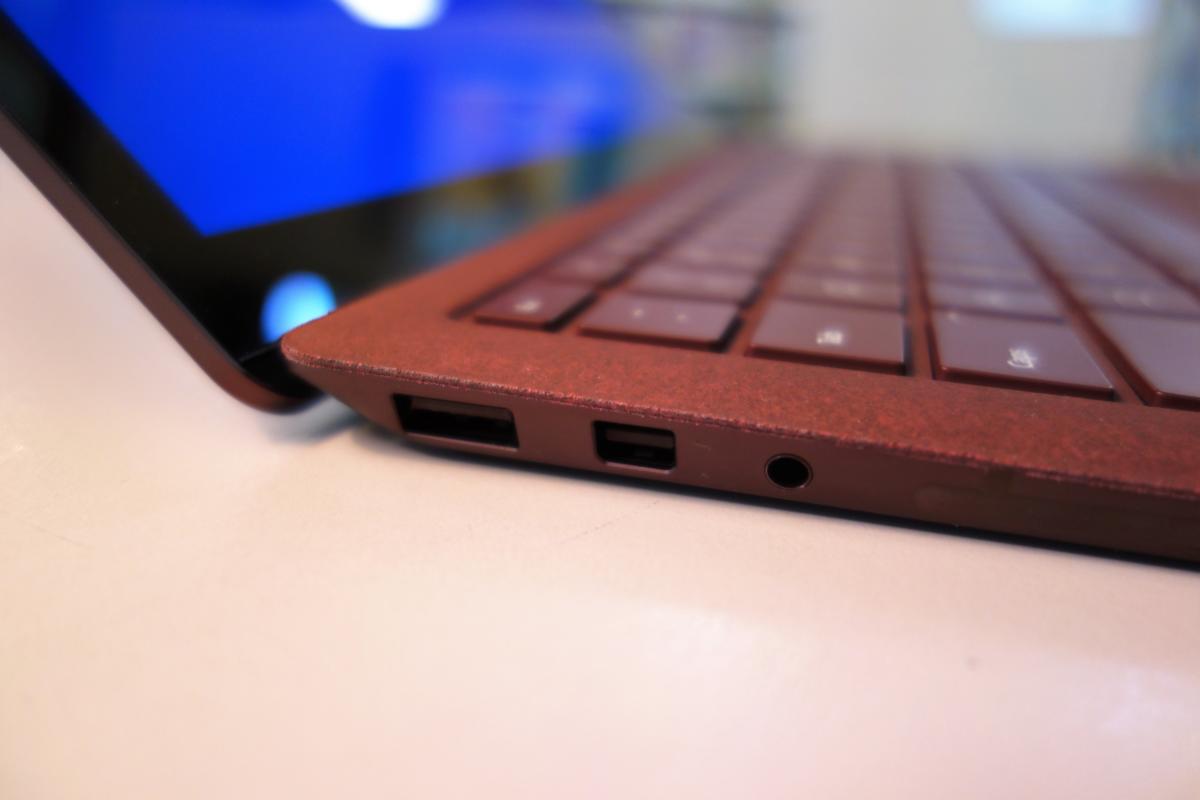 The Surface Laptop reclines about as far as the Surface Book, about 50 degrees or so off the horizontal. Unlike the Surface Book, however, there's no accordion hinge. Instead, an barely-visible hinge smoothly moves the display back and forth. The screen tends to wobble a bit when inking or when the keyboard moves sharply.
The keyboard: Microsoft kept what works, mostly
You can sum up the Surface Laptop's keyboard simply: Aside from one small modification, Microsoft bundled the Surface Pro's backlit keyboard with the Surface Book's touchpad. The space allocated to the keyboard on both devices is literally the same—4 x 10.75 inches—and the touchpad dimensions on both the Book and the Laptop are identical.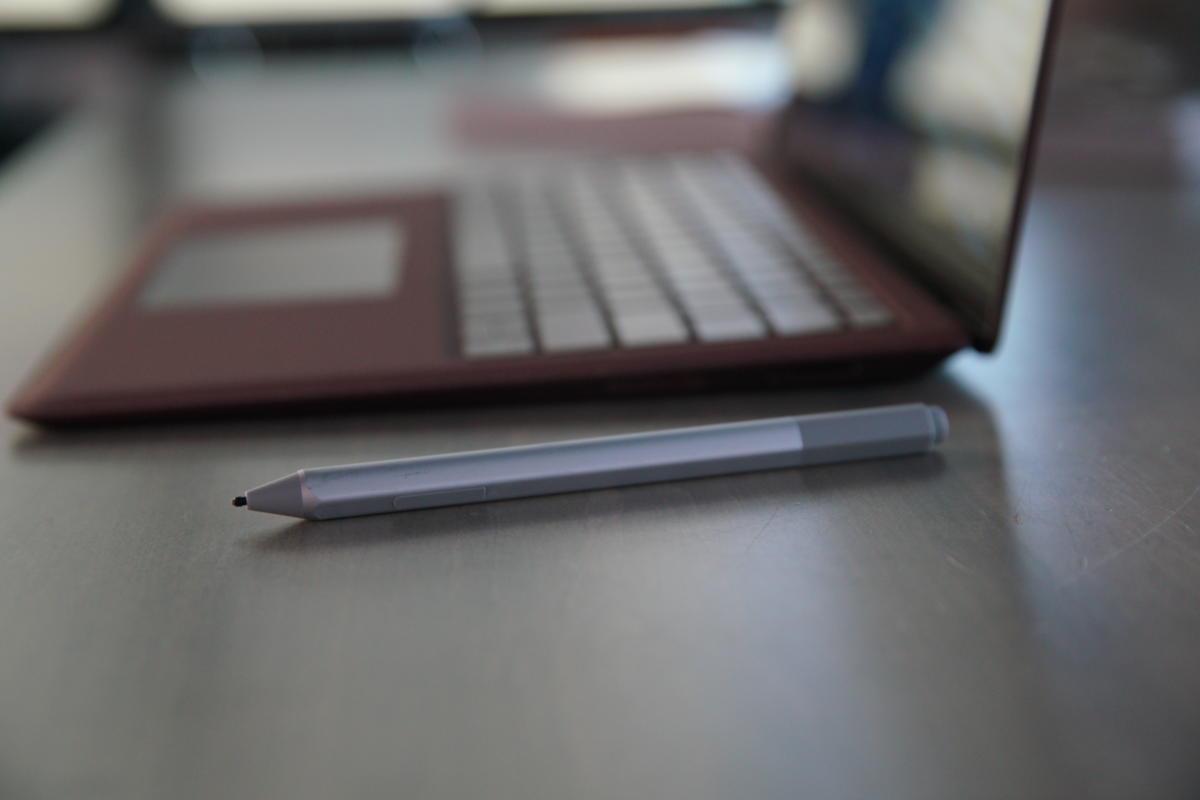 That said, the Surface Laptop's typing experience falls slightly short of the Surface Book's. I prefer the fluidity of the Surface Book's keys. There's also a bit of structural give in the Laptop's keyboard that isn't present on the Book. To test it, I placed a small screw between the R, T, F, and G keys. On the Laptop, I noticed a bit of bowing that wasn't present on the Surface Book, which expresses itself as a slightly mushy feel that's independent of the keys.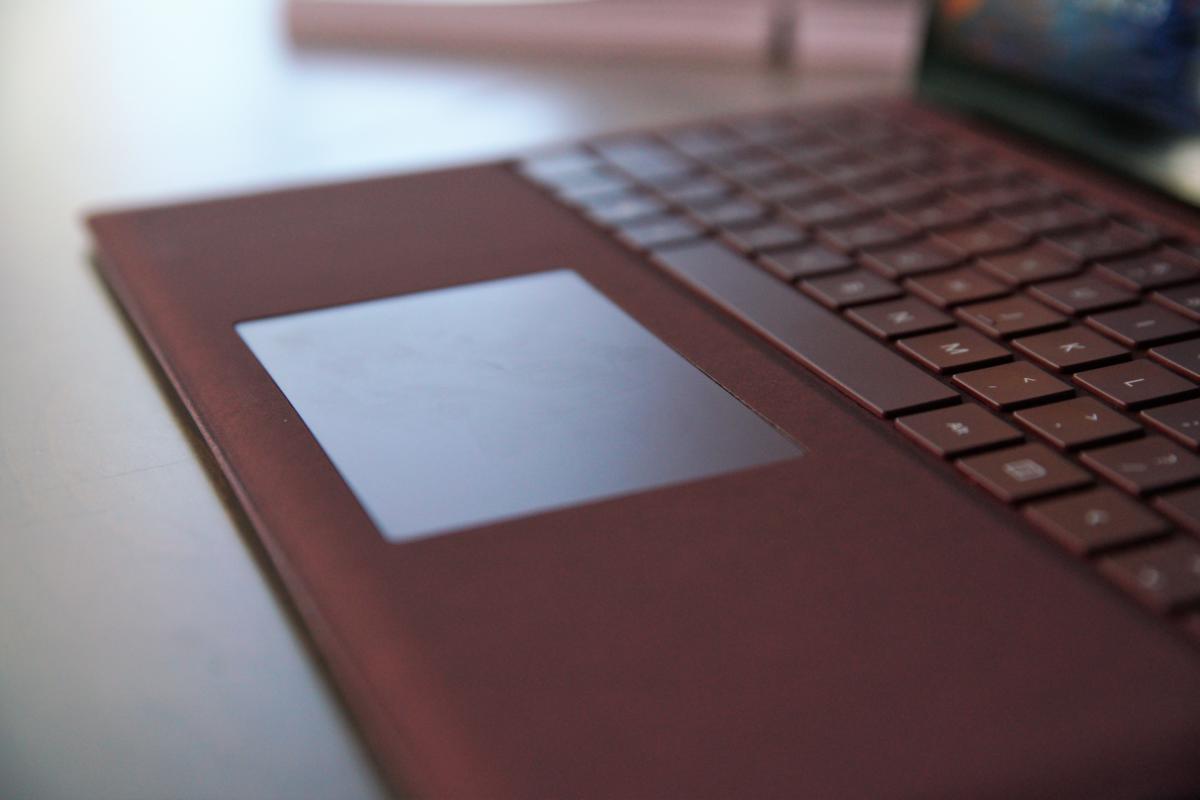 The Surface Laptop's touchpad feels great, slightly oilier than the Book's aluminum surface. Clicking and gestures worked as expected.
A pair of "omnisonic" speakers are buried beneath the keyboard. The volume reaches satisfactory levels, slightly vibrating the keys as you type upon them. Naturally, there's not a lot of bass, and I'd recommend headphones.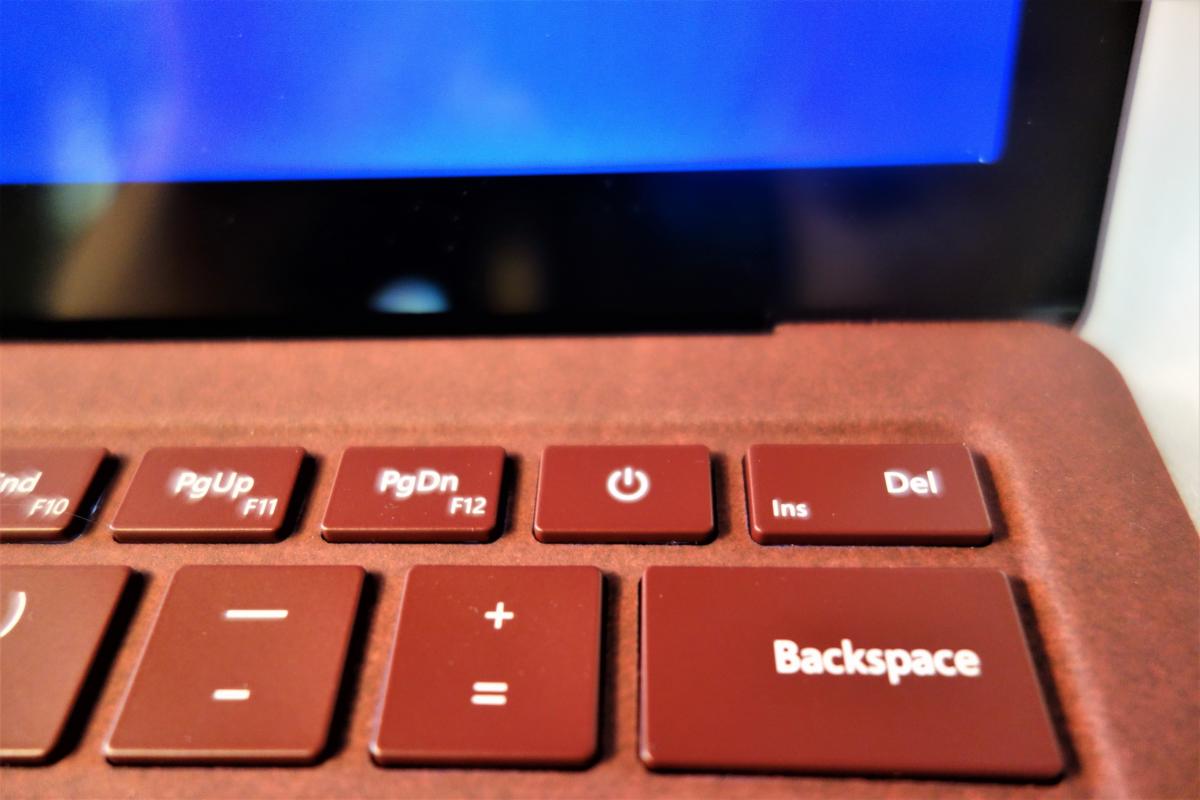 Windows 10 S: Lack of choice is frustrating
In a bid to make the Surface Laptop as manageable as Chromebooks powered by Google's Chrome OS, Microsoft designed the Surface Laptop and other education-minded PCs around Windows 10 S, an optimized version of Windows 10. Windows 10 S restricts Surface Laptop users to apps found within the Windows Store, and adds a few manageability features found in Windows 10 Pro to help administrators keep tabs on the devices. (For a deeper dive into Windows 10 S, please see our Windows 10 S FAQ.)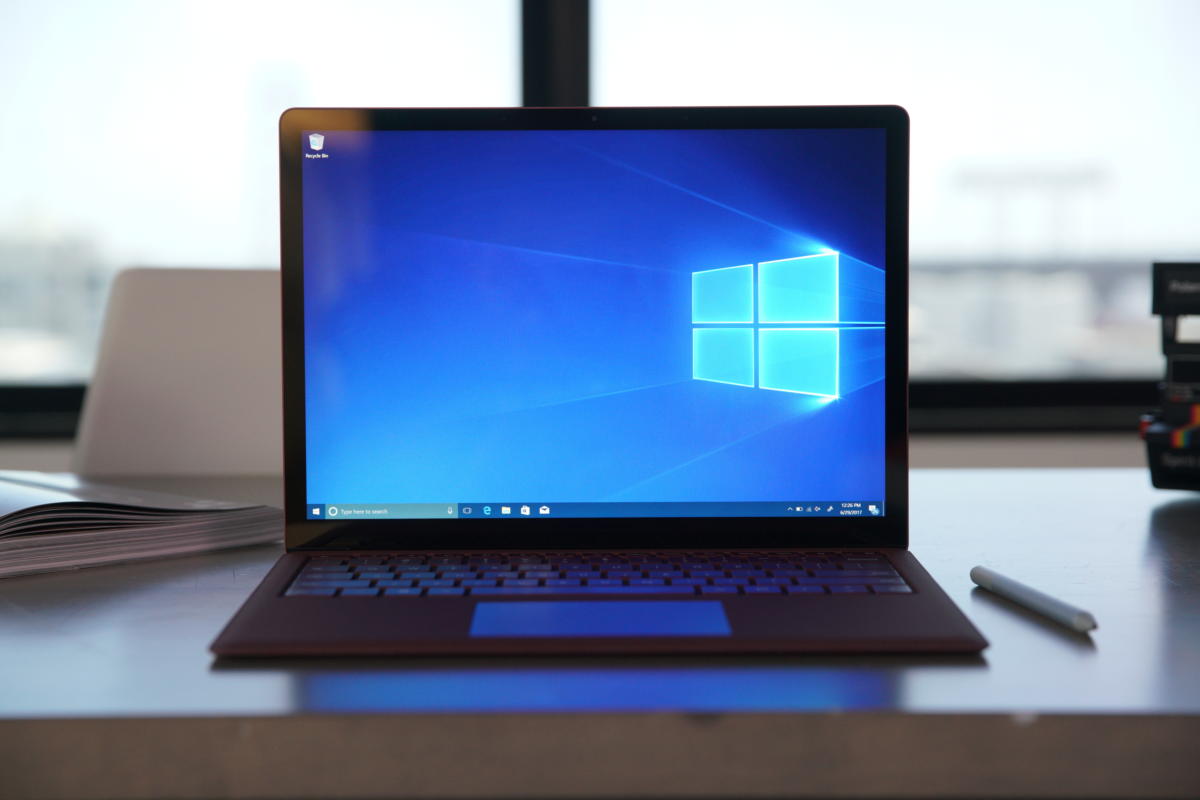 Windows 10 S provides an extra layer of security, Microsoft says, as well as quicker boot times than Windows 10 Pro. Holes have already been poked through these claims: Windows 10 S was breached by a researcher using Word macros, which are only blocked if you have an Office 365 subscription. And in our tests, the Surface Laptop took 19 seconds to cold-boot to the desktop, compared to 18 seconds when we reconfigured it for Windows 10 Pro.
Our Surface Laptop did, however, come with device encryption enabled, helping protect files from unauthorized access. That's a feature normally associated with Windows 10 Pro.
Restricting Windows 10 S users to the Windows Store understandably concerns some users. For one, you're subject to the whims of Microsoft: As longtime users know, Microsoft's Store has ranged from abysmal to where it is now, an adequate-to-decent experience. Unfortunately, not every app within the Store can be used by Windows 10 S, including some Win32 apps that Microsoft has begun publishing. If you do try to use a prohibited app, you'll know it: A popup window will appear, with a link to the Windows 10 Pro upgrade at the bottom.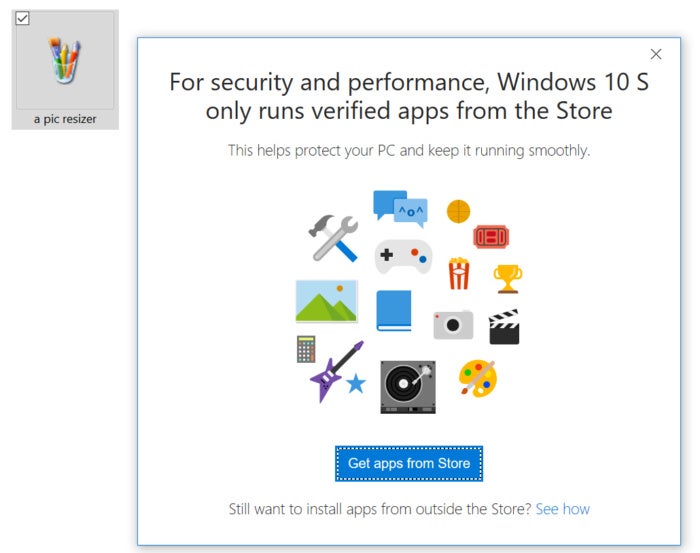 Microsoft recently made its Office apps accessible through the Store in preview, and they worked smoothly, without any bugs that I could find. The Surface Laptop ships with a year's subscription to Office 365 Personal, good for a single device like the Laptop.
The biggest app hurdle that Windows 10 S users will likely encounter, though, is something rather prosaic: their choice of browser. Because browsers like Chrome, Firefox, and Opera aren't found within the Store at the time of this review, you'll be forced to use Edge. Exporting bookmarks from another browser and importing them into Edge is simply a pain—and forget about saved passwords. Worse, Edge Favorites I'd saved in a Windows 10 Pro machine refused to carry over to Windows 10 S. Windows 10 S also returns search results from Bing alone, though nothing prevents you from bookmarking Google.com.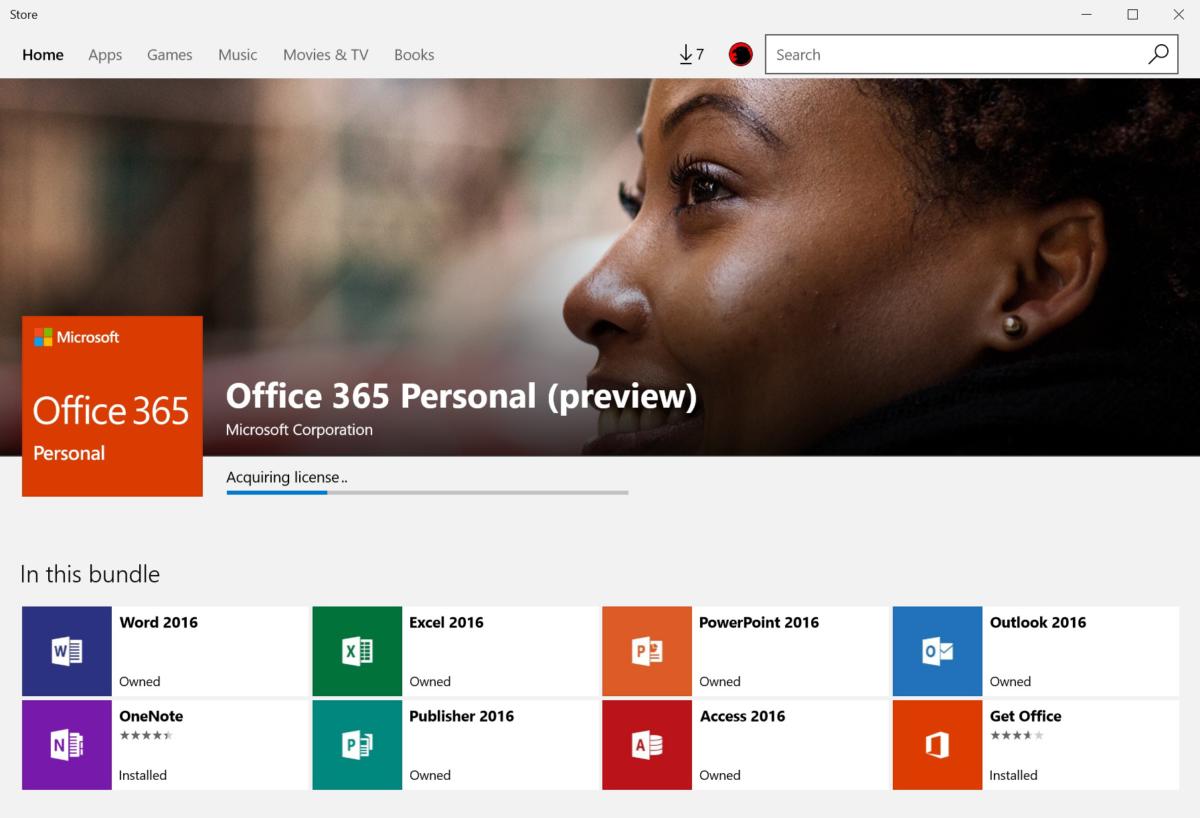 That web-based approach works well for some apps that haven't made it into the Store. I've never been a fan of using a dedicated Windows app for Twitter, for example, though I use Slack's app. With Edge, I could put both services into a tab and snap them to a corner of my screen.
I was a little shocked to discover that apps I didn't consider to be apps were also blocked, namely the Command Line. It doesn't appear within Windows 10 S, and commands that would normally launch Command Line or PowerShell simply don't work—or, if they do, a Command Line window will blink into existence and then "pop," or crash.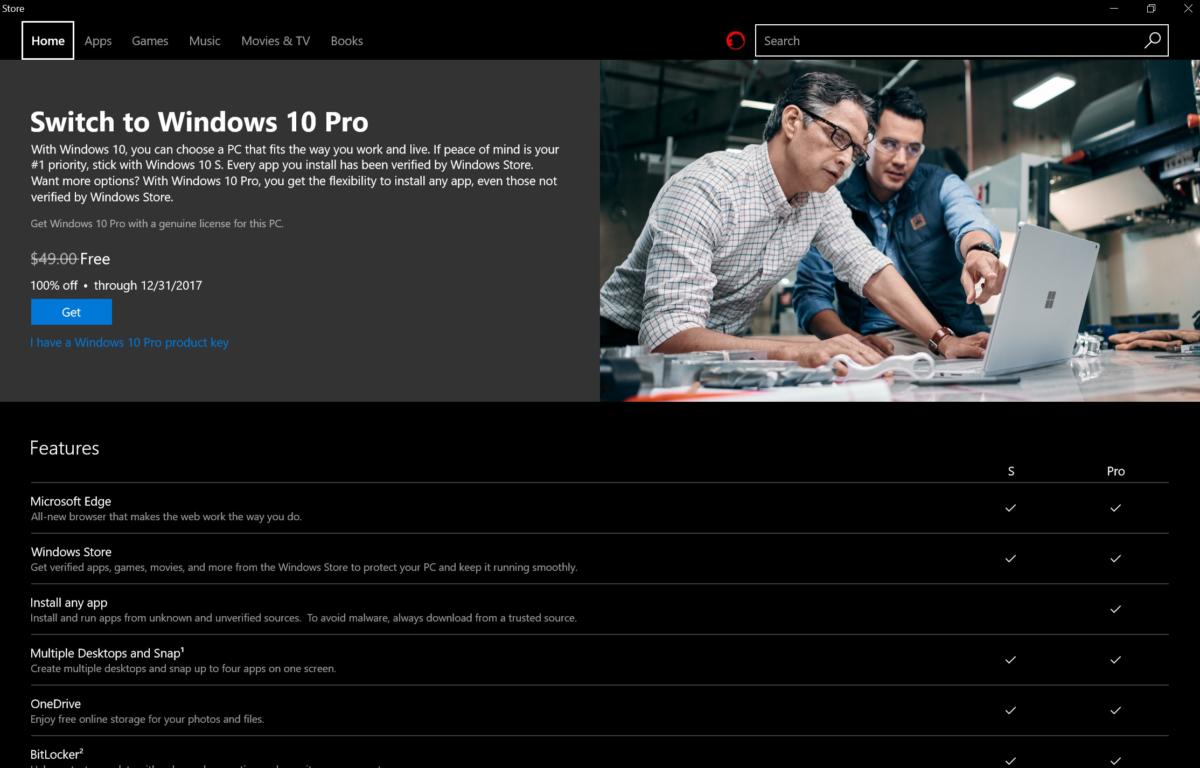 For those users who want a little more, Windows 10 S does provide an escape hatch: a built-in upgrade path to Windows 10 Pro. Until the end of the year, it's a free upgrade.
In fact, we can report that the upgrade to Windows 10 Pro went flawlessly. From the "Switch to Windows 10 Pro" screen above, we simply clicked the button and away we went. Microsoft advises backing up all critical documents and files (a good idea in any case) though I didn't notice any corrupted or missing files. After a "prepare to switch" screen, I simply had to wait through a single reboot. All told, the process took a bit less than five minutes—far less than the Creators Update installation process.
Windows 10 S performance: Stellar battery life redeems it
Because we couldn't run many of our conventional benchmarks on Windows 10 S, we first selected browser-based tests that could stress the Surface Laptop. Then we upgraded the Laptop to Windows 10 Pro to run traditional benchmarks. We've left the older benchmarks at top for reference, and our standard benchmark charts follow.
We first compared the Surface Laptop to machines including the Surface Book and the recent Surface Pro. Recall that Microsoft also claims the Core i5 Surface Laptop is 50 percent faster than the Core i7 MacBook Air. We didn't have a recent MacBook Air to test, so we compared it to the 15-inch MacBook Pro, as well as a Core m3-based MacBook. The Surface Laptop was slower than all of them, at least where these browser-based benchmarks were concerned.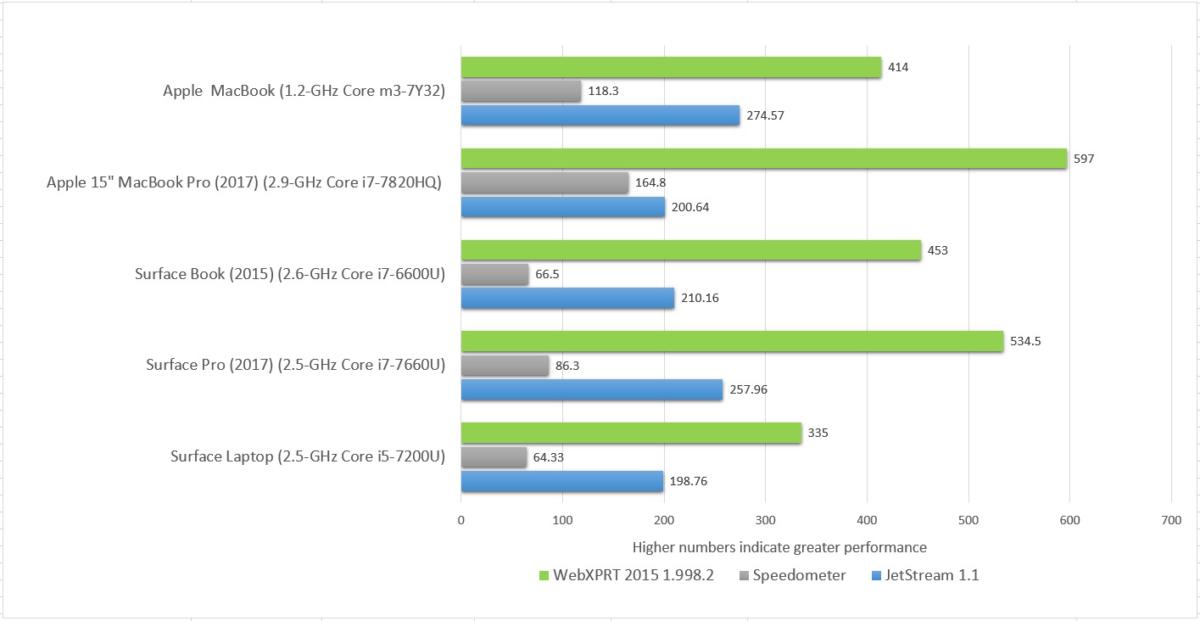 In the chart above, both Speedometer and Jetstream measure the responsiveness of Web applications, which is tied to the CPU's processing power. WebXPRT asks the processor to perform more intensive tasks, such as photo enhancement and album organization.
Octane 2.0 (below), a Google benchmark, performs a suite of tests measuring how well a system performs Javascript.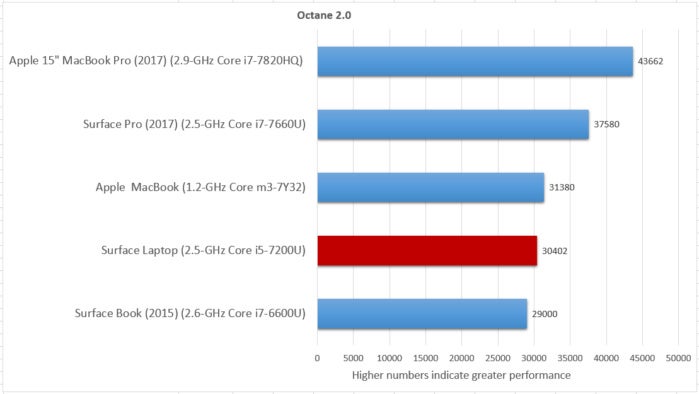 Just for fun, we also ran a built-in benchmark from Rise of the the Tomb Raider, an game that's available via the Windows Store (below). Thirty frames per second is considered to be the minimum for gameplay. The Surface Laptop's four fps is not remotely playable. We'll dig into this more once we unlock the Laptop with Windows 10 Pro.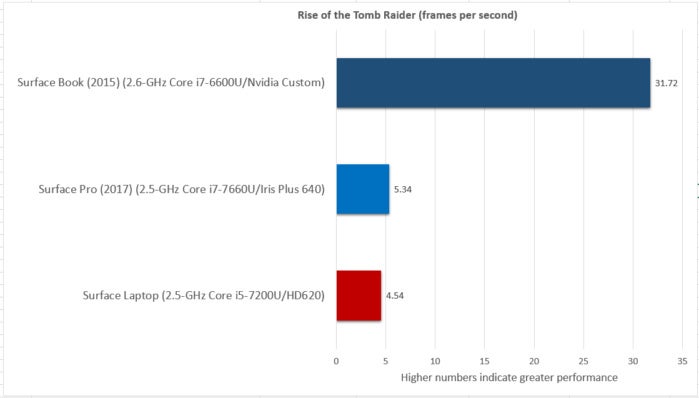 One of the areas in which the Surface Laptop absolutely shines, however, is battery life (see below). Color us a little skeptical after Microsoft's claims of 13.5 hours for the Surface Pro proved to be only 8 hours. We're beginning to think that may have been the fault of the Iris Plus chip, because the battery inside the Surface Laptop with Intel's HD 620 lasted a whopping 12 hours and 45 minutes, continually stressed as we looped a 4K video. That stamina is what students need as they go from classes to the library.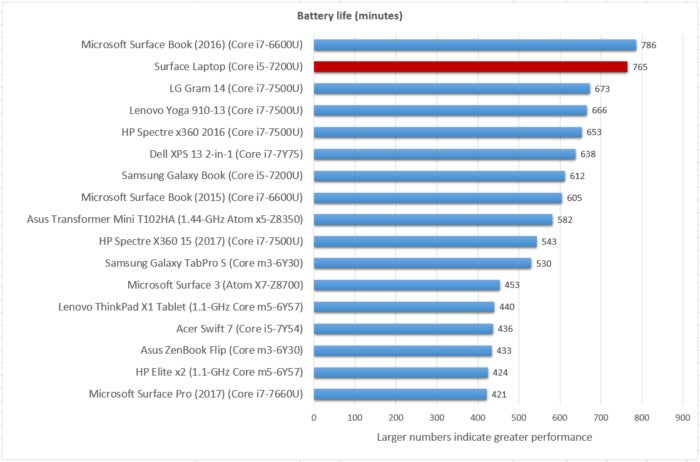 After upgrading to Windows 10 Pro, however, a wealth of new benchmarks became available, together with the ability to compare them to a number of competitive laptops and tablets. As the numbers demonstrate, the Surface Laptop performs well, though not at the top of its class.
Windows 10 Pro performance: Pretty good
We use PCMark's Work, Home, and Creative benchmarks to measure standard computing tasks. As you might imagine, some of the functions overlap from test to test. Nevertheless, you'll find more office-productivity measurements in the Work test, transitioning into light gaming and photo manipulation in the Home test (first chart below), as well as more strenuous workloads in the Creative test (second test below).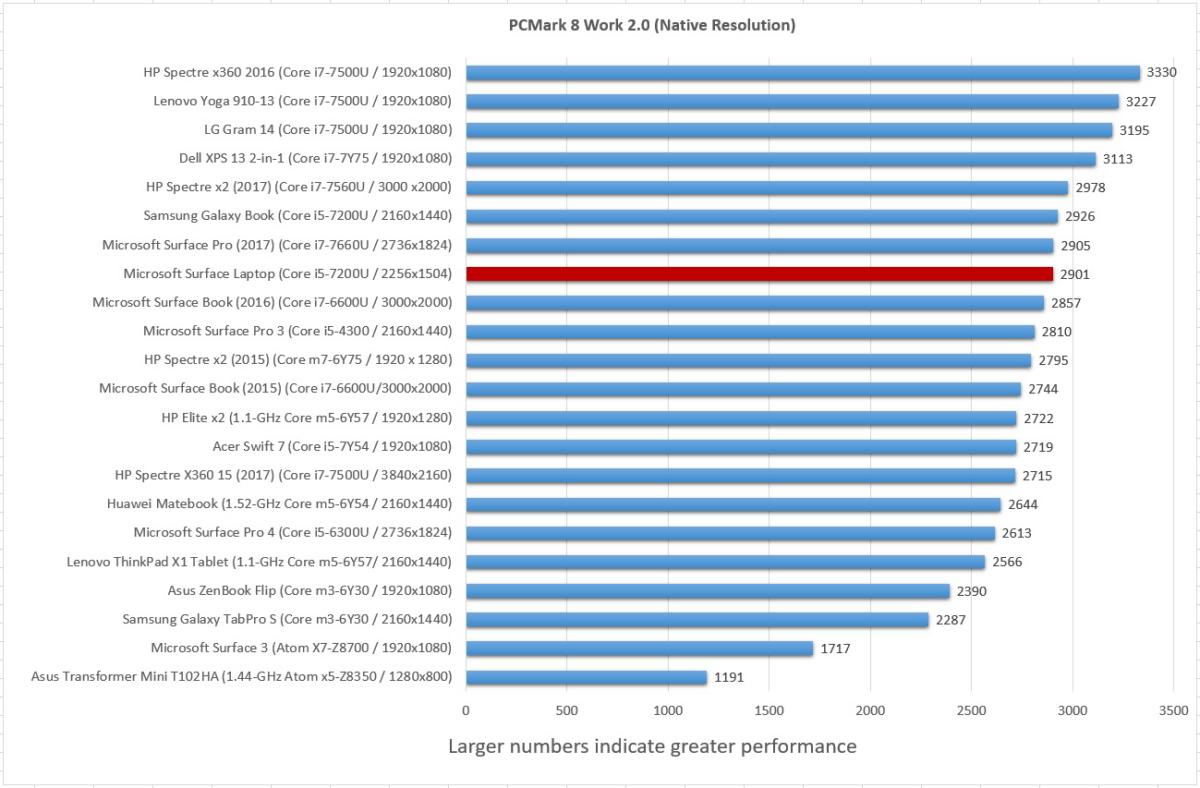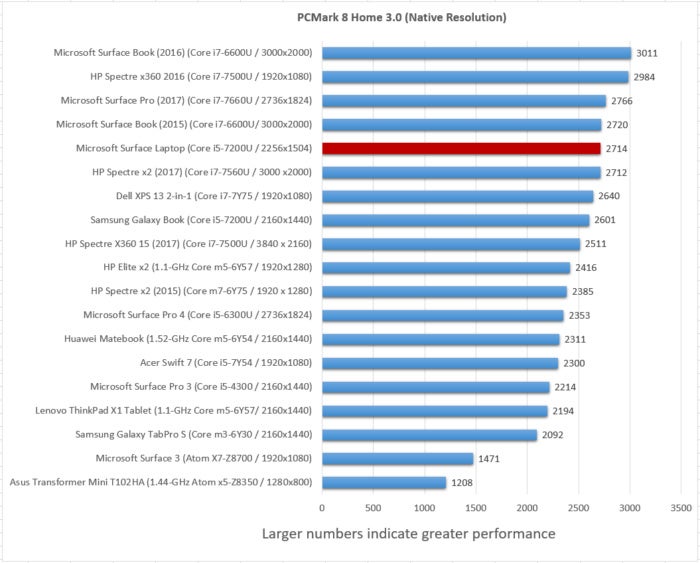 It's hard to imagine any of today's laptops falling down under the stress of typing a Word document, as the Work test measures. Of the three PCMark tests, Creative (below) is usually the better benchmark, performing a suite of real-world tasks. You can see it even slightly outperforms the original Surface Book, meaning it's a solid choice for everyday computing.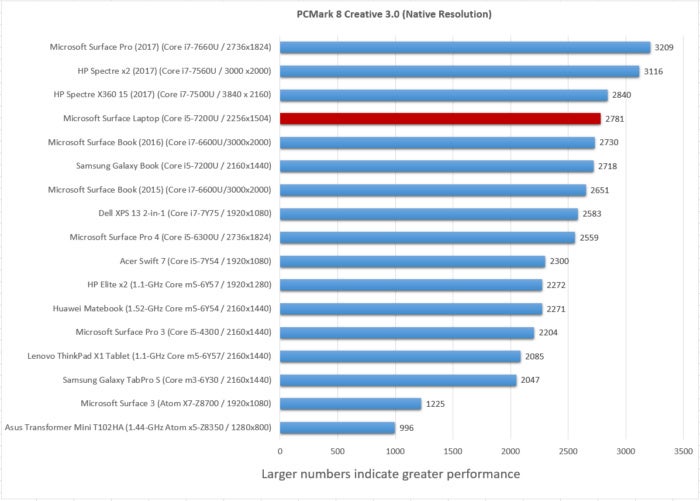 We use two additional tests to stress the Laptop's CPU: the open-source video conversion tool, Handbrake; and Maxon's Cinebench benchmark. Though Handbrake (below) is a useful tool for converting video—for example, shrinking down a video to an appropriate size for a tablet—it also measures how well the CPU will hold up over prolonged load.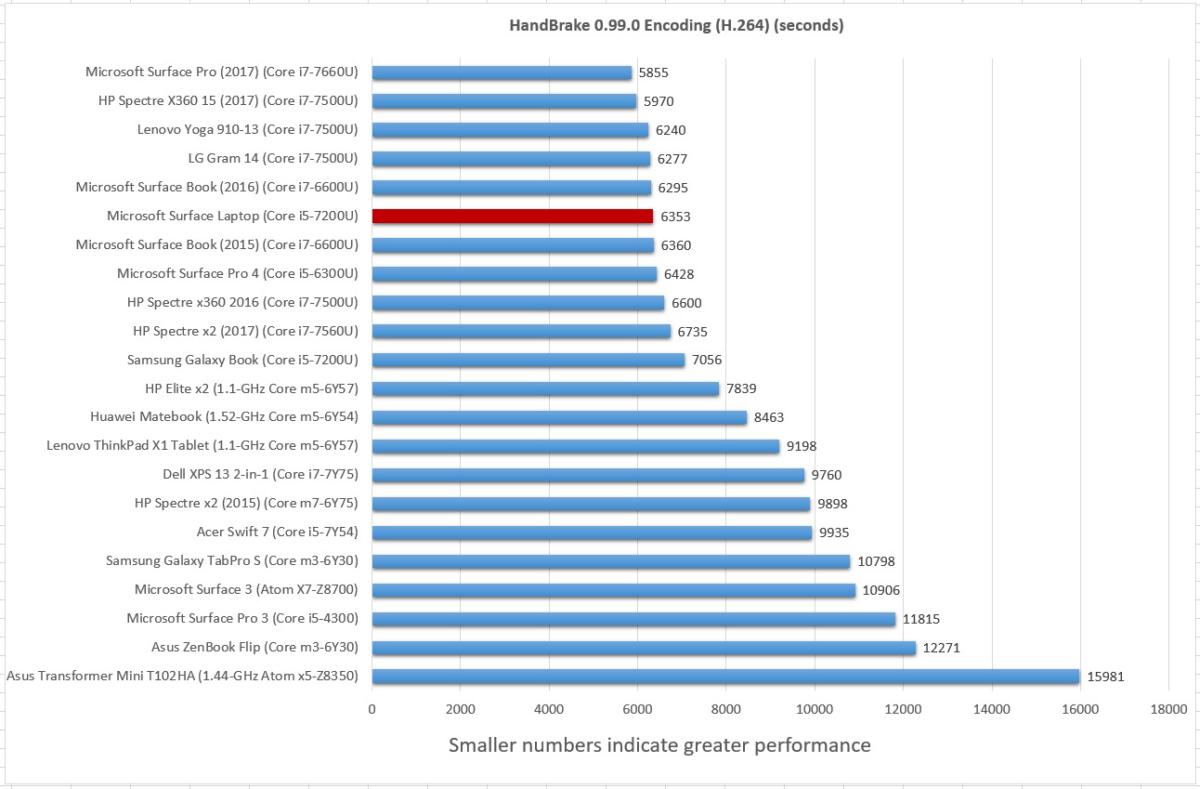 Cinebench (below) stresses the CPU in a different way: asking a single core of the microprocessor to render a scene, and also asking all of its cores to complete the task as quickly as possible. While design students would probably be given workstation time to complete these tasks, it's possible students would also need to have a decent rendering engine on their lap.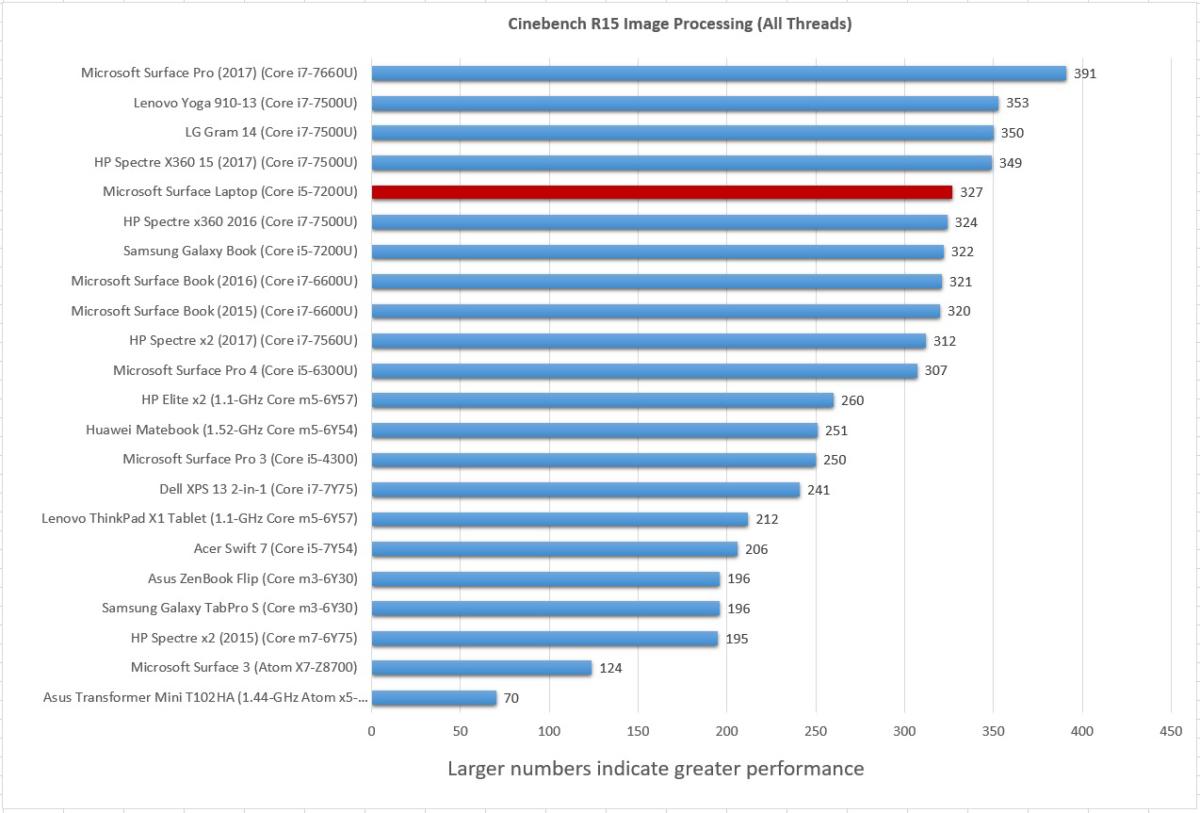 We then turn to 3DMark, and the firm's Sky Diver 3D graphics benchmark (below). Generally, Sky Diver's graphics load is a little too much for a laptop like the Surface Laptop, and we've already seen how poorly it fares on the Tomb Raider benchmark, above.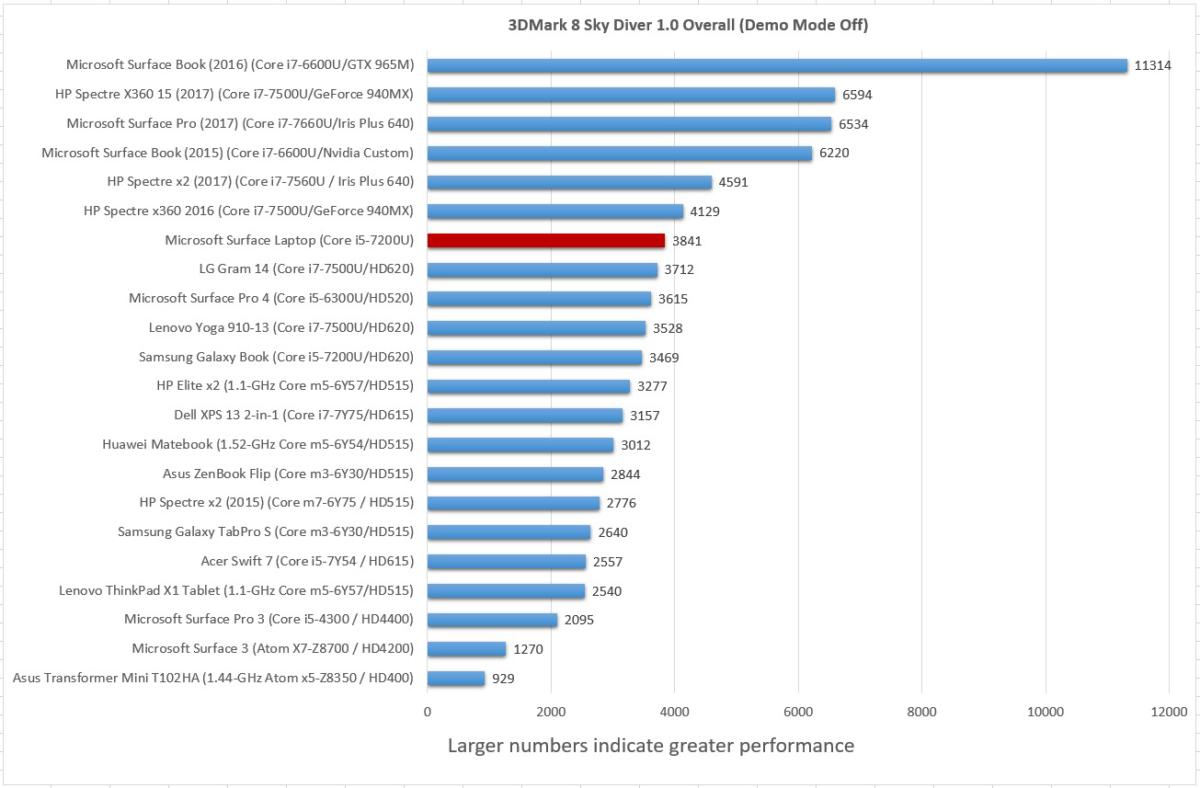 Finally, there's our follow-up battery life test. We already ran one with Windows 10 S, but we wanted to see how Windows 10 Pro affected the battery life. After setting the same test parameters (full battery, and with the display at a fixed, moderately bright level), we loop a 4K video over and over until the battery runs down.
The results, below, are interesting: On Windows 10 S, the Laptop took 765 minutes to expire, as shown above. But when we upgraded to Windows 10 Pro, battery life dropped sharply: 654 minutes when Windows 10's battery slider was dialed up to emphasize performance, and 689 minutes when we slid the power slider to emphasize battery life. That's more than an entire hour lost when switching from Windows 10 S to Windows 10 Pro.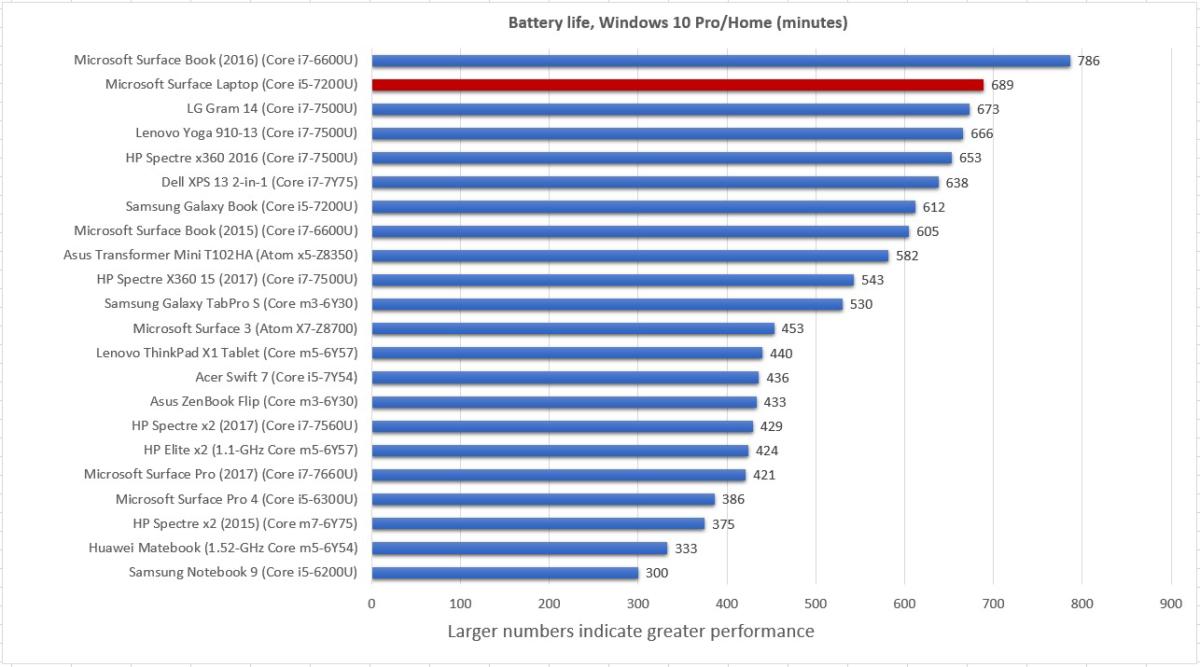 These more detailed performance tests mostly show how Windows 10 S benefits battery life. Given that no other tests showed a dramatic , we're leaving the basic score of the Surface Laptop unchanged.
Conclusion: A great choice for back-to-school
Oddly, the Surface Laptop feels like progress forward and back, all at once. Microsoft originally designed the Surface lineup to hustle its hardware partners into the future, implicitly stripping Apple of its design cachet and encouraging consumers to buy new PCs. Now, the Surface Laptop has stepped down a rung, challenging some of the cheaper, more mainstream product lines of its hardware partners to keep up. Laptops like HP's latest Spectre x360 already do, but other vendors could use a push.
As someone who enjoys diving down into a Settings menu or adjusting the registry, Windows 10 S feels cramped. I have to believe most college students will encounter some app they either need or want before too long, and chafe at the restrictions. Sure, the upgrade to Windows 10 Pro is free for now, but it should be free forever.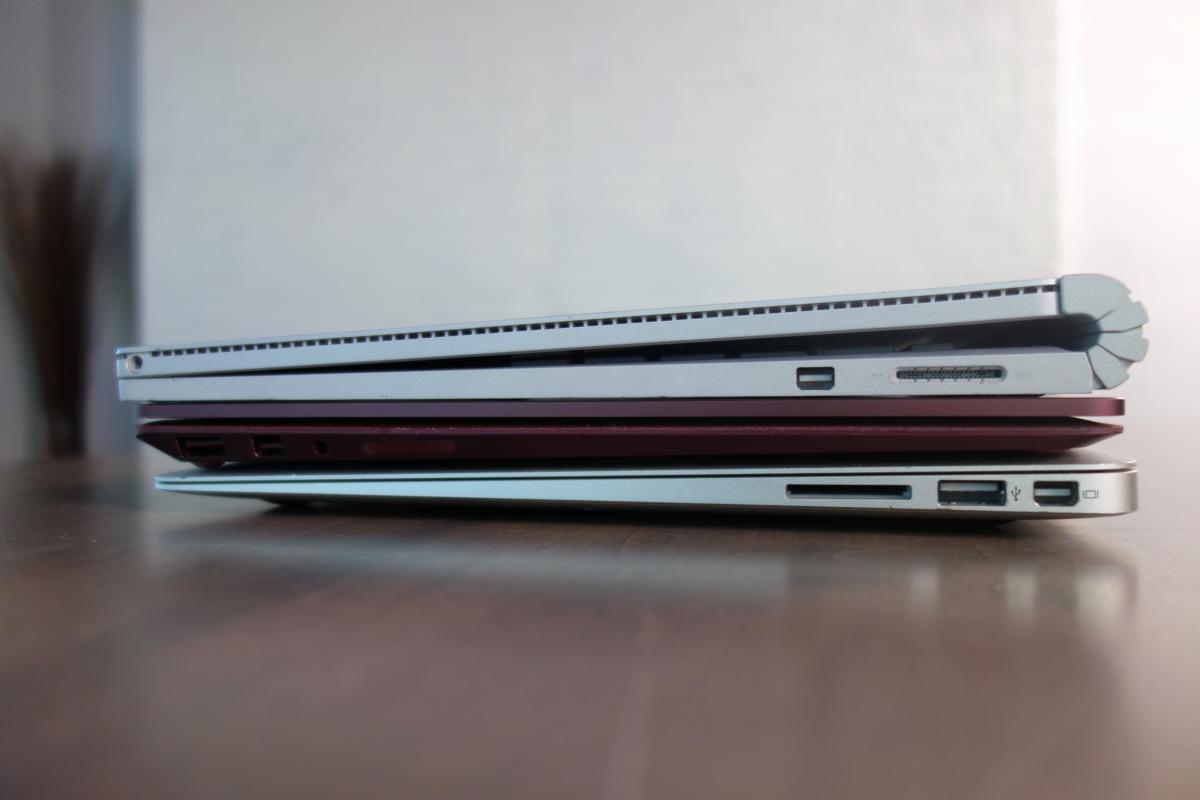 I'm also still a bit leery of Microsoft's port choices. Apple received praise for eliminating the floppy drive and DVD-ROM, but received criticism for the single Lightning port that forced users into a web of dongles. In four years, will students curse Microsoft's cheapness, and reluctance to invest in USB-C? Maybe, though today a USB-A connector is still the right choice. The tipping point to USB-C isn't that far away, though.
That doesn't change what Microsoft has accomplished with the Surface Laptop. Decent performance, a stylish exterior, and outstanding battery life check all the boxes of a product designed to upend the MacBook Air. Sure, the Surface Laptop might not have as much to write home about as its fancier Surface kin. But for Microsoft, that's nothing as long as the Surface Laptop is what those students are writing on.
Best Prices Today: Microsoft Surface Laptop (Intel Core i5, 8GB RAM, 256GB) - Burgundy